June 2008 Edition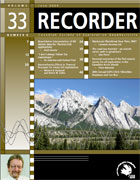 LUNCHEON
Keith Hirsche
INTERVIEWS
An interview with Gerhard Pratt
ARTICLES
Maurice B. Dusseault and Patrick M. Collins
Canadian Discovery Ltd.
John Peirce
Pierre Marechal
Recorder Committee
COLUMNS / REGULAR FEATURES
Material published in the RECORDER includes views and opinions of the respective contributors, and does not necessarily represent those of the CSEG or its affiliates. The CSEG does not endorse or warrant the information printed. While the CSEG strives to ensure the content published is correct, the CSEG cannot guarantee its accuracy.