As I am writing this, we are not many weeks away from the 9th CSEG Symposium and it is as popular and relevant now as the day the idea was conceived. I graciously accepted being the Chair for the 2020 Symposium and felt truly honoured to be invited to help shape this great event.
The creation of CSEG Symposium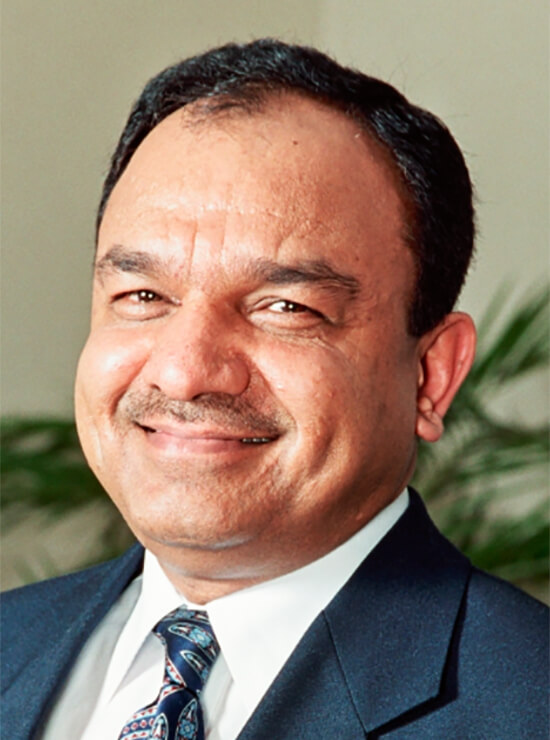 The Symposium idea was the brainchild of Satinder Chopra in 2011 to honour Canadian geophysicists who have distinguished themselves through their outstanding contributions to our industry.
During the summer of 2011, the thought that came to his mind was that there are many geophysicists from the Canadian oil patch who have made life-long and significant contributions to geophysics and they should be honoured. This would not only be the right thing to do, but also serve as inspiration for the up-and-coming geophysicists in our industry. When this idea germinated in his mind, he discussed it with some colleagues and close friends - they liked it and suggested it should become a reality. He approached the CSEG Executive and made a formal presentation about why and how a CSEG Symposium could be organized and that it would be a self-funded annual event through sponsorship and ticket sales. With the CSEG Executive's encouragement and support, Satinder organized a small team of like-minded individuals to create the event. The desire was to create a forum which would be more than a regular conference and would provide an opportunity to participants for scientific exchange through actual case studies. To encourage companies to share these studies, it was decided that no written extended abstracts or data examples would be published.
The inaugural CSEG Symposium took place in 2012, with Dan Hampson and Brian Russell as the Honourees, since the first committee felt that they were well-known faces of the Canadian oil and gas industry as well as respected internationally. With some very interesting talks delivered by eminent speakers, this first CSEG Symposium was attended by over 300 participants and was a huge success. The second Symposium honoured Bill Goodway, another renowned geophysicist, and the rest is history…
Satinder Chopra has 35 years of experience as a geophysicist specializing in processing, reprocessing, special processing, and interactive interpretation of seismic data. He has rich experience in processing various types of data such as vertical seismic profiling, well-log data, seismic data, etc., as well as excellent communication skills, as evidenced by the many presentations and talks delivered and books, reports, and papers he has written.
CSEG Symposium Mission
For just over seventy years it has been the mission of the CSEG to promote and advance the art and science of exploration geophysics. Our work in exploration geophysics has always been a team effort and we work with businesspeople, accountants, engineers and geologists. Our mission today requires us to combine our efforts as we never have before. Ours is a mission of interpretation that generates value.
The CSEG Symposium will strive harder than ever to be of practical business use to everyone involved in the field of exploration geophysics. The talks are industry orientated and will aim to measure value. The Symposium seeks the participation of all attendees. Discussion, comments, and active sharing will be a cornerstone of the event. We strive to make the Symposium a formal classy event where invited speakers consider it an honour to participate.
Every year we select an honouree that is relevant to industry and in the past, we have had many distinguished members of our society that have had long standing contributions to geophysics, industry, and the CSEG. We always strive to select the most relevant honouree that we can build a theme around and select speakers relevant to the honouree's experience. If you have a specific honouree in mind that you think should be considered for 2021, please do not hesitate to contact any member of the Symposium Committee.
Past CSEG Symposium Honourees
2012 Dan Hampson and Brian Russell
2013 Bill Goodway
2014 John Boyd
2015 Dave Gray
2016 Bill Nickerson
2017 Satinder Chopra
2018 Mauricio Sacchi
2019 Roy Lindseth
2020 Lee Hunt
2020 CSEG Symposium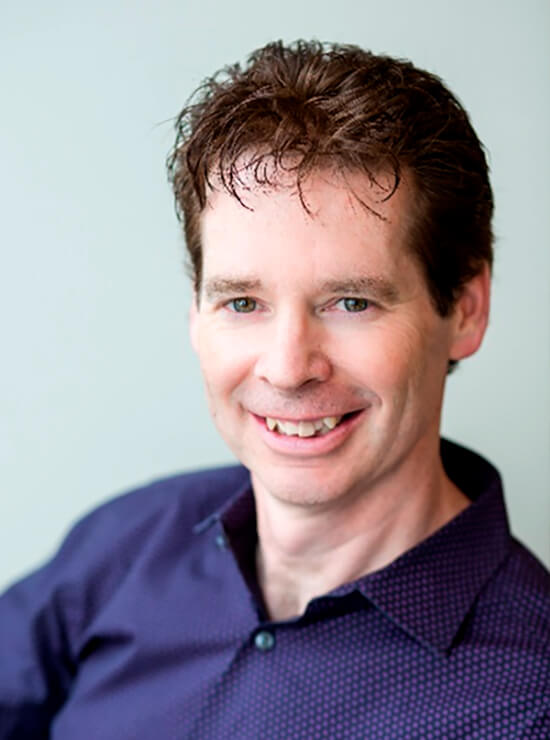 The 2020 CSEG Symposium is our ninth annual event that showcases the CSEG's best speakers, with talks highlighting our mission to estimate the truth about the earth in a case study format. In 2020, the Symposium will feature the theme of "the Hunt for value" and honours Lee Hunt.
Lee Hunt was read the last rites at the age of twenty-five. He was three and a half years into his career as a geophysicist when a congenital pulmonary defect put him on death's door for nearly three and a half weeks. In surviving that mortal experience, Lee was determined to live a happy and meaningful life. He would later become an important contributor to the CSEG, an Ironman triathlete, an enthusiastic sport rock climber, and an open water swimmer.
Lee graduated from the University of Alberta with a B.Sc. in geophysics in 1990, and immediately started his career with PanCanadian Petroleum Ltd. His experience ranged from interpretation to managing a business unit, from the old conventional days of high-risk exploration to the new days of high-capital resource plays. Lee has drilled over 350 wells in most of the play types within the Western Canadian Sedimentary Basin. His work has focused on performing the quantitative analysis of a variety of geophysical technologies including: multiple attenuation, resolution enhancement, depth and geo-hazard predictions, stress estimation, AVO, AVAz, VVAz, curvature, prediction of fluid, lithology, porosity and fracture treatment production characteristics. At Jupiter Resources, Lee and others formed two self-organizing teams, one of which was concerned with the interconnectedness of the company, and the other with technical problems in geosciences and engineering.
Throughout his career, whenever possible, Lee has shared his technical findings with the larger CSEG community through talks, papers and articles. Lee and co-authors won the Best Oral Presentation Award for the 1997 SEPM Convention, the 2000 CSEG Convention Best CSEG Paper, the 2008 CSEG Convention Best Abstract, and the 2008 Best Technical Luncheon Talk. He and his co-authors also received the Best CSEG Paper in 2010, the Best Exploration Paper at VII INGPET in 2011, Best Paper in the CSEG Recorder in 2011, and Honorable Mention for Best Paper in the TLE in 2011. The TLE paper subject matter was short period multiple attenuation and was an extension of some of Lee's earliest technical work. Lee has won awards and served our society by volunteering in various capacities, including:
2000 CSEG Convention, Technical Committee member
2001 CSEG Convention, Technical Committee Chairman. This included the memorable Greek theme that Lee and Jim Stenhouse spearheaded.
2008 CSEG Convention Technical Committee member
CSEG MLA Committee (2000-2001)
APEGA Practice Standard for Quality Inspection of Geophysical Data (2001-2002) Committee. This standard grew from the work on the CSEG MLA and serves CSEG members.
APEGA Guideline for Ethical use of Geophysical Data (2007- 2010). This document is the final APEGA extension of work that began with the CSEG MLA, and further serves CSEG members as well as practicing professionals.
2012 and 2015 CSEG Symposium Committee member
2014 CSEG Symposium Chair
2011-2012 CSEG Distinguished Lecturer
2012 CSEG Meritorious Service Award Recipient
Value of Integrated Geophysics Committee member as well as co-teacher of a value-oriented course at the Doodletrain (2015, 2016).
Lee has delivered four CSEG Technical Luncheon talks, all of which were very well attended because of his communication skills and his focus on the useful application of scientific methods:
2008, 5D Interpolation / AVO
2011, Fracture estimation
2012, Quantitative Interpretation
2016, Value thinking
In 2017, after twenty-seven years as geophysicist, Lee left the industry to pursue a lifelong dream of writing fiction.
2020 Technical Speaker Lineup
The lineup of speakers at this year's CSEG Symposium will have something for every interpreting geophysicist in Calgary, and we have ensured to add talks on Machine Learning as it was suggested by over 40% of the 2019 attendees that they would like to see more case studies on this topic. The technical talk abstracts and bios for the speakers are now on the CSEG Symposium website and I have included a snapshot of the selected talks and titles here: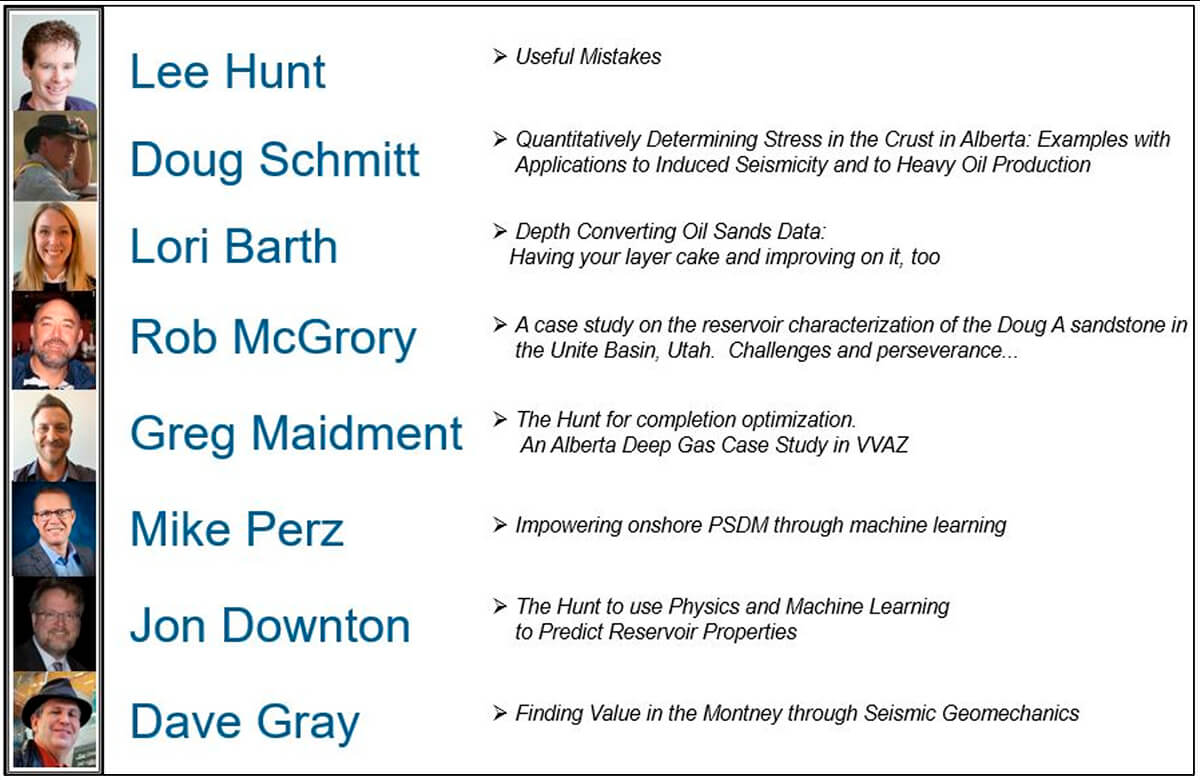 https://cseg.ca/symposium/speakers.php
2020 Keynote Speaker
As our luncheon keynote speaker, we are fortunate to have a "former" geophysicist join us. Amanda Hall was working at CNRL as an interpreting geophysicist and she had an idea: to unleash the power of nanotechnologies to exploit new resources in Alberta. It has brought her new experiences as a CEO of a clean technology company and she is excited to share her journey from Geo to CEO with us: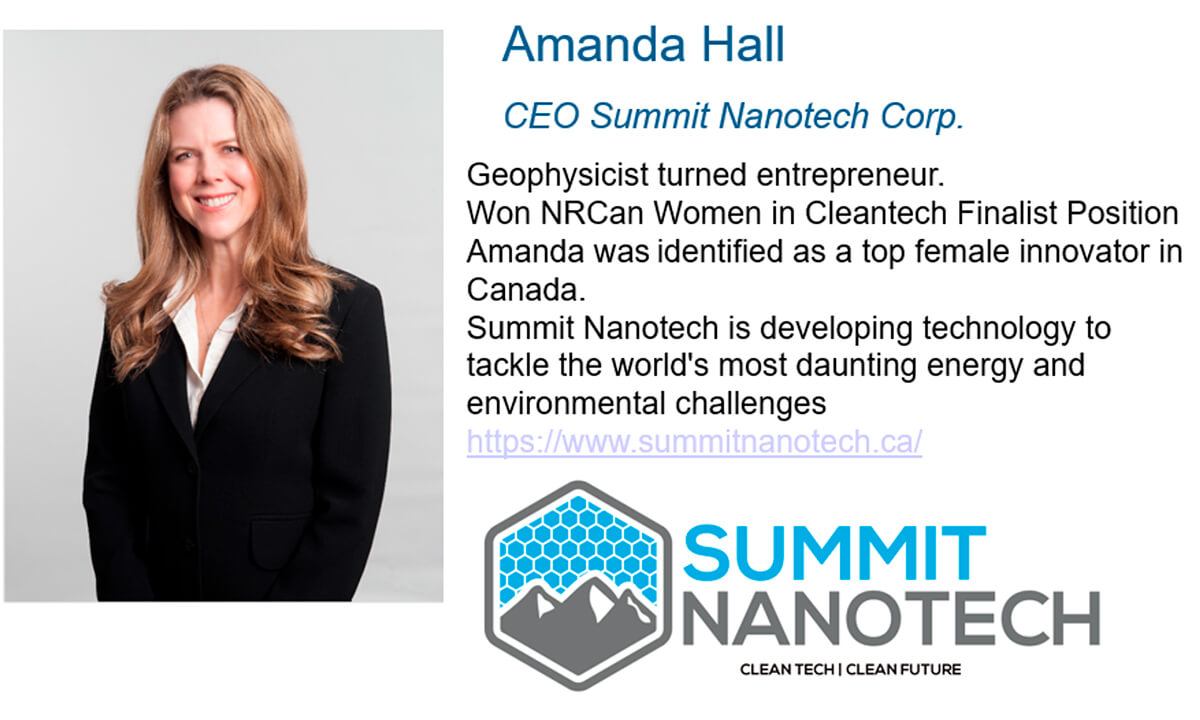 https://cseg.ca/symposium/keynote.php
The Volunteers: Honouring the 2020 Committee:
Without the tireless efforts of our volunteers, the CSEG Symposium and many other initiatives from the CSEG would not be possible, so when you see one of the CSEG Symposium volunteers next time, please thank them for their efforts. Consider taking a role in planning the 2021 Symposium! The committee will start brainstorming on April 9th, 2020 – the day after the 2020 Symposium.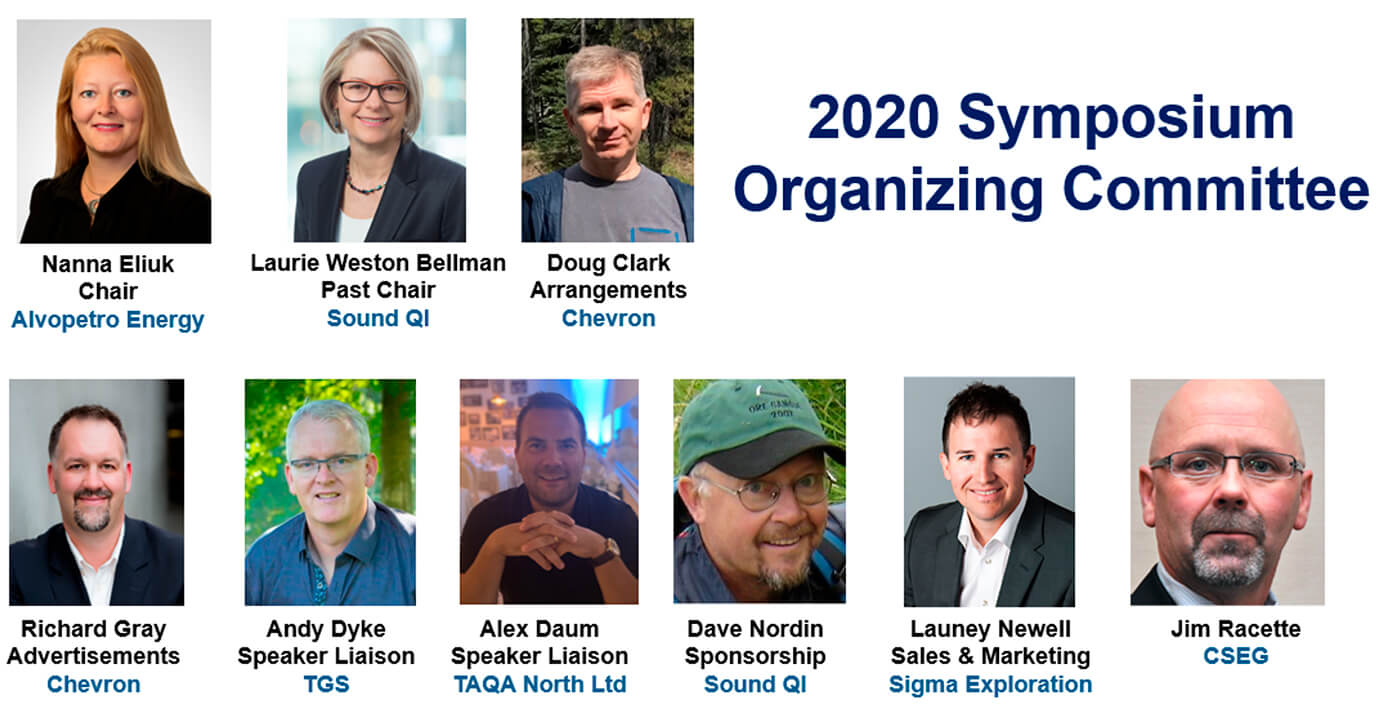 https://cseg.ca/symposium/committee.php
The Sponsors
And last, but not least, the 2020 Symposium is generously sponsored by numerous best in class companies here in Calgary. Don't forget to thank your local sponsor when you have a chance. Without the support and generosity of these companies, we would not be able to host the CSEG Symposium.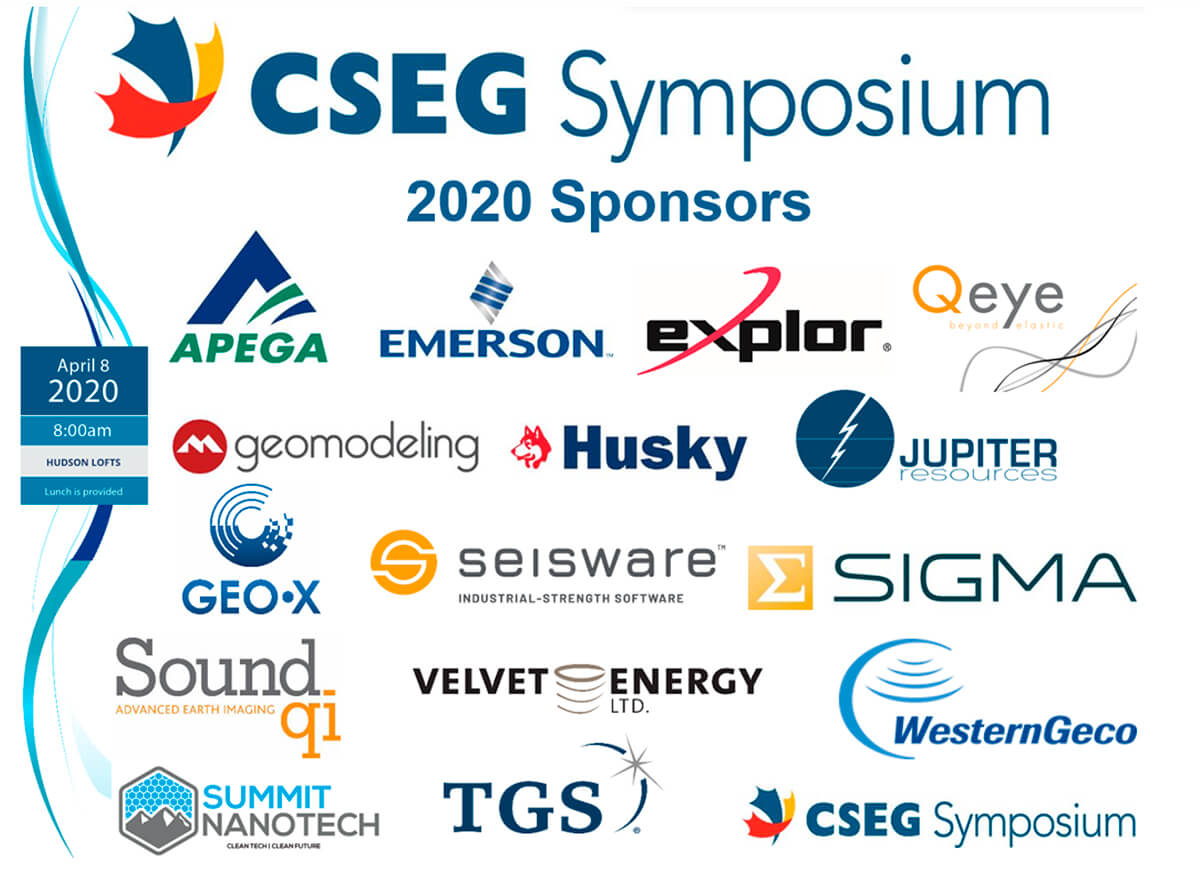 https://cseg.ca/symposium/sponsorship.php