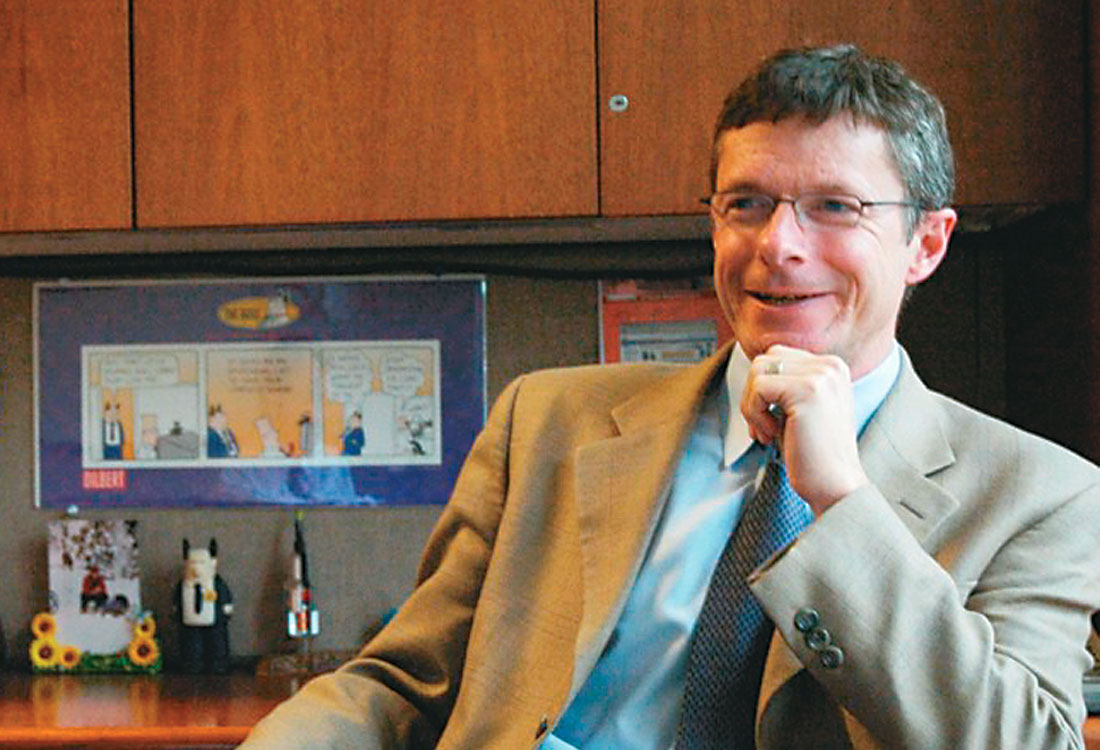 Soon after his very interesting talk on Microseismic and timelapse monitoring of a heavy oil extraction process at Peace River, at the CSEG luncheon, Peter McGillivray (Shell Canada) was approached for a RECORDER interview. Peter's response was encouraging, albeit it took some months for us to actually sit down and give Peter a chance to talk about his experiences and thoughts on a wide range of issues. The interview was conducted at Peter's office at Shell Centre, Calgary. Following are the excerpts.
Peter, let us begin by asking you about your educational background and your work experience.
I started my post-secondary academic career in Geology at Carleton University. I worked a summer doing mapping for an environmental/geotechnical firm in Ottawa, then a summer for a mining company doing geophysical field work and interpretation over a remote uranium property in northern Saskatchewan. I then transferred into the geophysics program at UBC in Vancouver. While completing my B.Sc. at UBC I worked one summer for Anaconda Exploration in the central Yukon doing EM, magnetics and gravity over a lead zinc property and another summer in the Frontier Exploration team at PetroCanada in Calgary. Upon graduating, I decided to go the Oil and Gas Industry route in Calgary and began work with Canadian Superior Oil where I rotated from department to department as part of a two-year training program. Canadian Superior Oil was taken over by Mobil just after I had accepted the offer of employment, but it wasn't until 3 years later that the companies were merged, so in a sense I was working for Mobil as well. At about the time the two companies were merged, I decided to return to UBC to begin a Masters degree in Geophysics. My intentions were to return to the industry after the two-year program was up. I began the Masters program under the supervision of Doug Oldenburg and my research focused on the large-scale joint inversion of geophysical data. After a year it became clear that there were some really exciting things to be done in this area and that the scope of the research would not fit into a two-year Masters program, so I transferred into the Ph.D. program. As part of the research we collaborated with a mining company based out of Nevada that had patented an innovative DC resistivity survey that is the electrical analogue to 3D seismic and was being used to map out gold deposits. As I got close to finishing my thesis, I accepted a full-time offer from Shell Canada, as well as an offer to do a half-year of work as a visiting scientist for Schlumberger-Doll Research in Ridgefield, Connecticut. Here I worked on an approach to inverting cross-borehole EM data and also worked on a project where we were inverting data from a surface resistivity array to monitor radioactive waste remediation.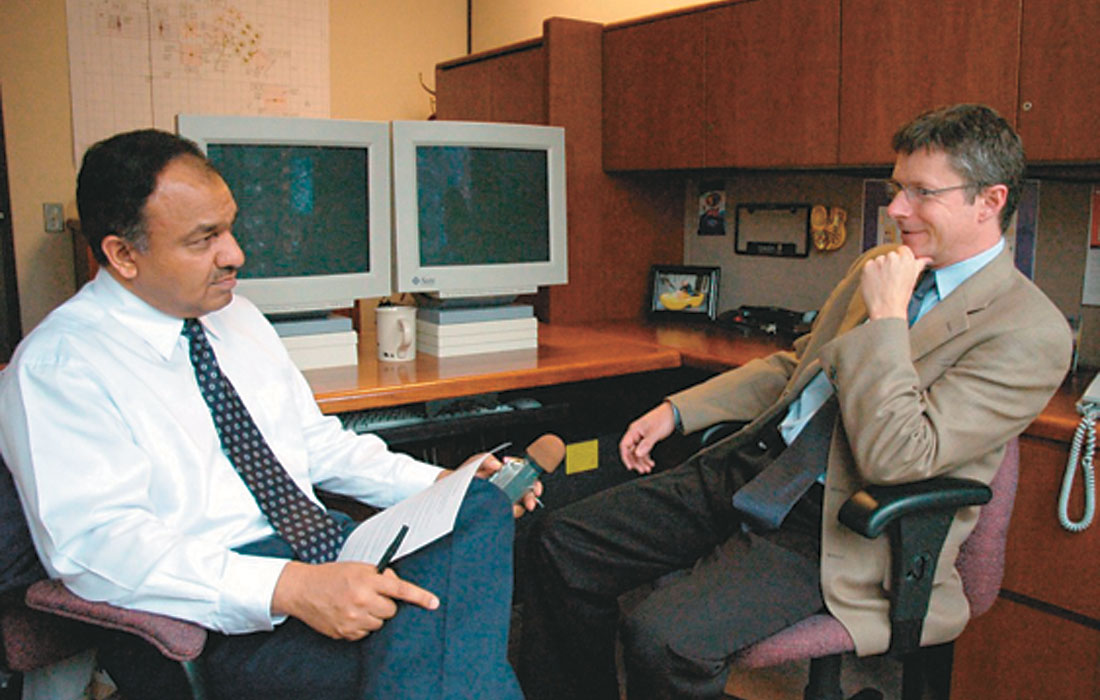 After finishing up with Schlumberger and completing my thesis, I moved to Calgary to begin my career with Shell. My first 3 years with Shell were spent in the plains processing group, where I worked primarily on special processing projects, prospect verifications and other more specialized processing/analysis efforts. I was also the team leader on a number of large 3D processing projects. I then moved into a supervisory/managerial position as Coordinator of the processing group. I managed the group for about 3 years before moving into one of the asset teams to begin my life as an interpreter. I have spent roughly 3 years in each of Oil Development, Frontier Exploration and now Peace River Heavy Oil Development. The most recent assignment in Peace River is notable because of the diversity of projects and the technical nature of the work. I have been managing all of the geophysics for the Peace River area – both exploration and development seismic programs and the monitoring effort that we kicked off three years ago. I've also managed a number of large drilling programs and even the initial phases of a $70M expansion project. The monitoring effort has been the technically most challenging and rewarding part of my work with Shell. Here I initiated an ambitious effort involving time-lapse seismic, microseismic, permanent VSP arrays, tiltmeter arrays, observation wells and various and sundry surveillance information to give us a handle on what was going on in the reservoir when we inject steam into it. The results were very illuminating and have had a major impact on how we are drilling and operating our wells. Because of the excitement generated by this work throughout the Shell world, as well as the importance now placed on heavy oil, we are now faced with massive additional investment in geophysical monitoring at Peace River – both for acquisition and processing, as well as for a global and multi-disciplinary R+D effort. Part of the reward of working on this project has been being able to work closely with several research groups in the Netherlands and US, and to help steer the research effort to allow us to solve some very complex scientific problems and at the same time to add value to our Peace River asset.
Peter, could you give us three words to describe what kind of geophysicist you are.
"Detailed" – would be one of them. When you are dealing with millions of dollars worth of expenditures that will be made based on your analysis and interpretation, you want to make sure that you put the right level of detail into the work. You don't want to over-science it either. The key is finding the balance.
I think "enthusiastic" would be another one. Because that's what creates the energy around your work and helps make things happen. If you're not enthusiastic about what you're working on, it's hard to get anyone else pumped up about it. November And, a third, I guess, would be "people-person", because a lot of doing business nowadays involves multi-disciplinary and multi-national interactions with other people and utilizing people resources effectively. Without the people skills it's impossible to be effective even in a technology driven environment.
Let me give it a slight twist; could you now can give us three words that would describe what kind of a manager you are.
Okay. I think "empathetic" would be one word. Another would be "Builder of Bridges" – someone to clear hurdles away for people to actually get their job done. "Motivator" as well – being able to motivate people, getting them as excited about the project as you are.
Good. Yes, that explains it fine. What is that you particularly enjoy about your work, about your job?
My current job has many, many different aspects to it. The one part of it I really enjoy right now is the technical challenge. It's utilizing a side of geophysics that is of a very technical nature and applying it to a very tough problem. So I find that very rewarding. I find the people side of it also very exciting. I'm working with people from not just within Shell Canada, but also outside of Canada, within the Shell G roup. I collaborate with scientists working in Shell research labs and operating companies around the world and then also externally with contractors and consultants, so I find that quite rewarding as well.
Being partners also, partners with projects.
We do work with partners from the point of view of the Shell Group being a partner, at least in the technical aspects. Peace River, being 100% Shell owned, doesn't give me the opportunity to work with other partners in the Alberta Oil and Gas Industry. I do miss that, because often the partnership can be greater than the sum of the individual partners.
Would you like to share with us some of the memorable moments in your professional life?
I think there are some particularly memorable moments when I was working in the Mining Industry, certainly doing a lot of field work up North and working out of fly camps, dealing with bears and bugs, having to chase bears out of my tent, things like that, that was quite memorable. And I think what I am working on right now for Peace River is very exciting, especially given the importance of heavy oil and the technical achievements we've been making in the area of geophysical monitoring.
What has been the most difficult challenge in your professional life?
One of the biggest challenges was going from a pure technical role into a more management-oriented role. That was a bit of an eye opener in terms of the different skill sets you needed to be good at that kind of job. It was extremely satisfying and rewarding, but it also required a lot of learning as well.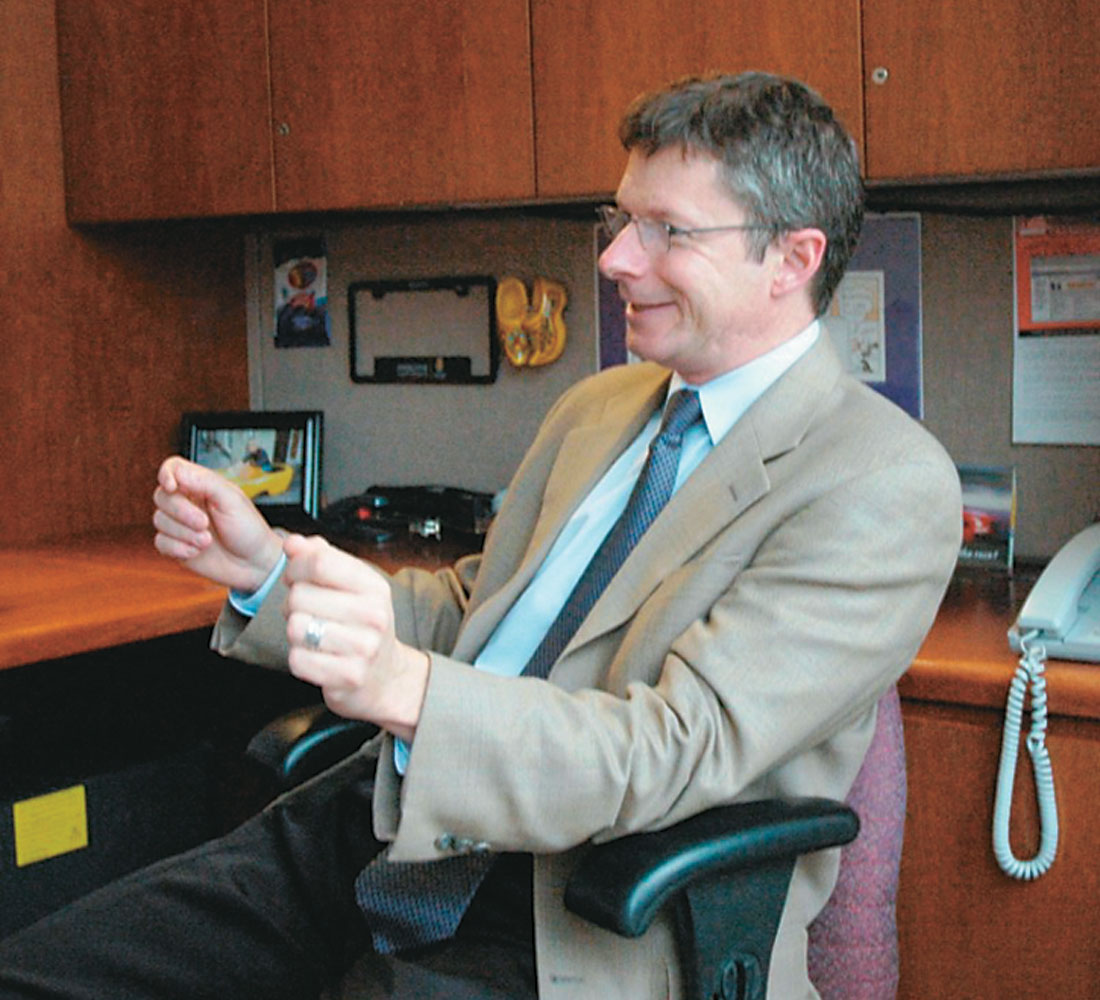 The second one which was more recent was when I first came on to the Peace River Team and I was trying to kick off the geophysical monitoring program that we now have in place and trying to deal with some of the history associated with a previous attempt to utilize time-lapse seismic. Time-lapse was perceived to have failed because it didn't show any effects related to our steam injection, but in fact it turned out to be more of a problem with the wells and the process being used to steam the reservoir. The timelapse seismic showed exactly what it should have – that nothing was really happening in the reservoir. So it really had been successful, but the history made it very difficult to propose any further work. Although management was intrigued by the possibilities, it wasn't convinced that the technology could be applied successfully at Peace River. A lot of work had to go into trying to convince them, trying to show them the technical case as well as the business case for launching into this ambitious effort.
Your career is looking very good and so is far from over, but looking back, would you have done anything different even what you did?
I would say there have certainly been some decision points in my life in terms of career and academics and I have had some difficult choices to make, but I made them and in the end I have not regretted any of them. They have all been the right decisions at the right time. So I would say "No" I would not have made any other choices.
Yes, that's good. Okay, let me ask you the problems that researchers are facing today they are somewhat narrow in scope and nature and about 50 years ago, a little more, we had from generally problems like Deconvolution that came in, so what is your opinion. Are there focused areas in geophysics that people will keep on working or, we still have some fundamental problems to solve?
There are two avenues of research right now, at least from my own perspective. I have seen areas where we are drilling down to solve some very fundamental technical problems – it is truly becoming a very narrow focus in some areas of research. But more and more I am also seeing another side of it that is a broader, integrative effort where you are looking at different data sets and working with researchers from other disciplines to solve a common problem. A lot of that I think is being driven by the fact that the resource is becoming scarcer and more difficult to find and develop and so we need to bring in the full arsenal of technologies in order to make a go of it.
Now with a higher position the administrative responsibility takes away a lot of your time. In some cases it could mean losing hold of the technical expertise. In your case this does not seem true?
It's kind of true (laughter).
I think it depends on how the winds are blowing management- wise. I have seen cases where as a manager things can become fairly bureaucratic and it just depends on the corporate environment at the time. Right now I think there are a lot of opportunities for technical work even for people at a higher level. Because of the shift in the industry away from chasing the easy, low hanging fruit towards pursuing the prizes that are much more challenging technically, people are expected to really flex their technical expertise. And so I find it right now actually quite a nice environment to work in where you can do management type stuff and deal with the administrative things but also have a lot of opportunities to focus on the technical side as well.
There is a good balance between the two.
There is, yes. Some positions probably not so much but certainly in this position right now, lots of opportunity.
Who were some of your mentors or role models?
Okay, I think role model number one would be my supervisor from UBC, my PhD Supervisor Doug Oldenberg – of ITA fame. He's a real technical leader and innovator and somebody that dreams about what the possibilities are. I found him quite exhilarating to work around.
And the second mentor would be Rodney Calvert whom you know as well.
Yes, he is the SEG DISC instructor for 2005
He is a brilliant geophysicist and an incredibly creative person – a real out of the box thinker. If there is a way of doing something he will think of it.
And third would be Wayne Glover, our chief geophysicist. Incredible from the point of view of balance between the technical side and then also the people side and then also somebody who really stands up for what he believes in. So those three.
Wonderful.
[Penny]: I need to ask – you are recommending that people attend the SEG short course then right?
Yes, absolutely.
[Penny]: Particularly recommend it to U of A students in Edmonton if they can get on the bus at 5:00 am sponsored by the CSEG — CSPG they would be well worth their time and effort to attend that course.
I think they would be missing out on something incredible if they did not.
[Penny]: Wouldn't matter if they were geologists or geophysicists or —
No, I think Rodney is the kind of guy who appeals to any audience.
[Penny]: I am trying to make sure last year about 33 students from U of A got on the bus to come down to hear last year's speakers and I am trying to ensure we get some —.
Oh, it's a tremendous opportunity, you won't see it come by very often that somebody of his caliber emerges from behind the Shell wall of secrecy.
Some professionals feel that sticking out with one company for a long time leads to stagnation and switching companies is what makes real professional. So what are your comments on this?
One of my roles here at Shell has been acting as a formal mentor so this kind of question pops up often. And of course, I have my own experiences to draw on as well. I think for some people they do need to move around from company to company in order to get what they want out of their career. I think I personally am in a different situation. Working in a large company like Shell has its positives and negatives, but one of the positives is the ability to move around and develop your career without having to hop from company to company. Not only are there lots of opportunities within Canada in Shell Canada, but also externally within the Shell Group. So just because you are in one company doesn't mean that your career is static. There are lots of opportunities in other disciplines to pursue if you want to do that, as well. So I think in some cases, yes, you are right, but in other cases no.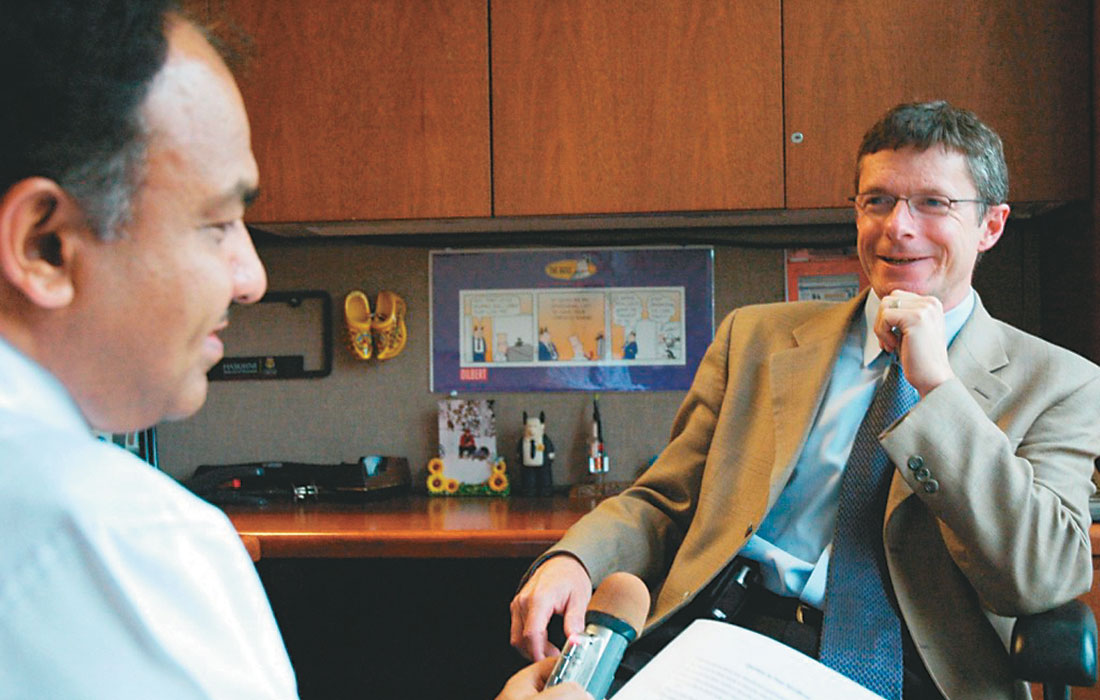 Plenty of opportunity for your aspirations.
That's correct, yes. You still have to take the opportunities yourself, of course. But at least they're there.
[Penny]: You said you are rich on experiences in mining. How did you make that transition from mining to a petroleum world?
Well, when I was working through my B.Sc. in Vancouver I was working in the Mining Industry during the summers and enjoyed that quite a bit but at the same time I was interested in seeing what the Oil and Gas Industry had to offer and to get my foot in the door, so to speak. So I spent one summer working for PetroCanada and enjoyed that and decided that Calgary was a pretty nice place to work and that the Oil and Gas Industry was for me. The transition was pretty smooth, I think, because UBC gave us a really good foundation in all aspects of geophysics – not focused exclusively on mining or oil and gas or whatever.
[Penny]: I know from my contacts recently with the students of U of A and U of C a lot of the second, lets say third and fourth year students are quite attracted by Canada's North and summer jobs all over the place and those I think, I call them the adventurers and there is also the ones that actually want a very focused job at a Petroleum Company maybe in Calgary because they think it is going to lead to a high paying career and jobs but there is also the ones that want to get their feet wet out in the North, somewhere else in the world, I don't know how or what you would recommend as a mixture for that kind of experience.
Well, I have experienced that dilemma myself and because I am a recruiter for Shell, I have also heard these questions from people that I have interviewed, and the thing I have found as a kind of a consensus is that the Mining Industry can be, from a geophysical point of view, very technical and can be very rewarding, but from the point of view of a stable family life and social life I guess, it can be challenging and a lot of people will gravitate more to the Oil & Gas Industry just because they know they will have a stable life.
[Penny]: Does it make any difference from a recruiter's point of view about a company like Shell or other companies, does it make any difference if students have that background, do they tend to want people that already have 3 years of a sum of working experience. I have heard different rumors of trends of what top students various companies want to hire and it is like summer students or right out of University. Is there any particular trend or guidance that is now different than in the past?
I can only speak from my experience recruiting for Shell, but I think we look at people from all backgrounds and related disciplines and if they have industry experience in mining, then it is certainly looked on favorably, just as it would if they have worked for an Oil and Gas company. We have hired people who have had no Oil and Gas Industry experience who have done extremely well. So it's more the tool-kit of skills that they bring, not necessarily the experience, that makes the difference.
Peter, what are your aspirations for the future?
My aspirations for the future? That's a good question. Continue doing things that are technically interesting and add business value, have a high business impact. I may actually go overseas in the near future to work at one of the Operating Companies for Shell to get some international exposure and then come back to Canada and continue with my career here.
Is your company involved in exploration and development of non-conventional sources of oil and gas and where is this work being done?
I think there is a significant trend in the Industry right now, moving away from the conventional towards the unconventional. Certainly Shell is pursuing that as well. Peace River is one example, where we are pursuing new and exciting technologies, looking at different geophysical techniques, developing new extraction processes and strategies.
Where is the work being done? A lot of the work is being done locally here at Shell Canada, but also a lot of it is being done in research labs in Houston and in the Netherlands. It is very much a multi-national, multi-disciplinary effort.
So you are referring to heavy oil exploration?
Heavy oil is one of the main focus, although not the only one. I can't get into too much detail some of our other initiatives.
A couple of years ago, Andy Wood, the head of the global exploration with Shell's International E&P program at the EAGE general session had publicly mentioned that DHIs, ( direct hydrocarbon indicators), which we presume is AVO and things like that, did not significantly alter the actual success rate of prospects drilled in recent years. We would like to get your comment on that.
Sure. I didn't see Andy's presentation myself but I have heard rumblings from literature and conference presentations and I think what he was referring to was the fact that there has been some successes using amplitude supported interpretations but there has also been some failures and the conclusion is that amplitudes are not necessarily a reliable indicator on their own of hydrocarbons and so the sentiment is that we need to start bringing in a lot of other supporting information – information from other disciplines, other geophysical techniques – to try to support what we are seeing from the amplitudes.
Yes, so that information is corroborated?
Right, as opposed to just charging in and drilling on a bright spot or an AVO effect. You get a few successes and then everybody thinks that will be the silver bullet, but then the successes run out and you have to put your thinking cap on again.
Yes, it's more like the bright spot technology that was quite popular in the earlier days.
Exactly. You get burnt a few times and then suddenly you have to pull back and say – okay, what's really the information that I am getting from the data and what can I do to confirm it.
[Penny]: Does that include multi-component geophysics and seismic as well as maybe geo-chemistry, surface traces and that a controlled source, electromagnetic –
The whole gamut – yes, you name it. Any kind of data that you can bring in to support what you see from the basic, fundamental seismic data becomes fair game.
Okay, let us ask you about this ambitious program that you talked about that involves time lapse seismic, micro- seismic permanent VSP arrays etc. what other latest technology is being adopted by Shell and where?
The latest technologies? Okay, this I can't really talk about too much because of confidentiality.
That's fine.
What I will say is that Shell's research effort world-wide is enormous. It is focused on practically every aspect of geophysics and the integration of geophysics with other disciplines. So it covers everything under the sun and it involves not just of course the research labs and the operating companies, but also it draws upon collaborations with universities and consortia and other partnerships, but it is quite extensive.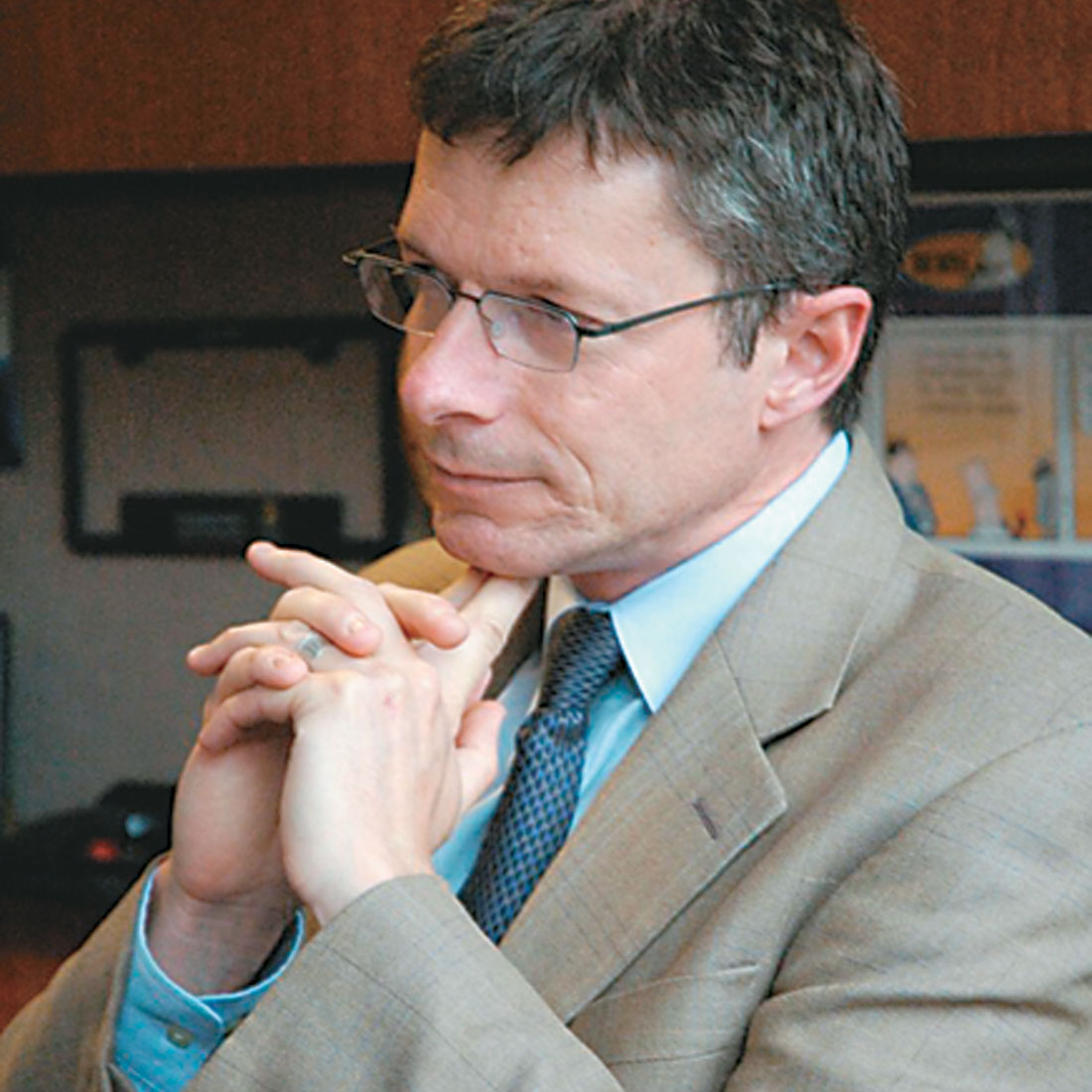 I think you have mentioned the heavy oil program at Peace River but maybe you want to elaborate a little bit more what exactly you are doing?
Peace River has been an asset of Shell's for I think it has been about 50 years and has been in operation for 25 of those 50 years. And in those 25 years it has not been a particularly overwhelming performer, although incrementally it has improved. But we are now having to make a step change in terms of how we operate in anticipation of a large expansion being planned that will take us from our current capacity, which is 12,000 barrels a day to 30,000 barrels a day. So we need to figure out what is the best way of optimizing this huge resource. A lot of effort is going into right now trying to understand what is going on with our steam and where the oil is actually being mobilized and how it is finding its way back to the well. And so geophysics has become key, although it was met with some skepticism early on because of the barrier that I mentioned earlier. We were able to demonstrate through a pilot that in fact a lot of techniques, when combined, would help you understand what in fact is happening. And so our whole mindset about how we actually operate the wells and produce the resource has changed and we are looking forward to seeing a lot more productivity from our wells and the field as a whole. Quite an exciting piece of business, actually.
[Penny]: Does any of that affect what you have to report to the EUB? Do they recognize any of the geophysical importance in any of their questions sometimes?
It has implications in terms of how well we are managing the asset and also in terms of some HSE issues, like cap rock integrity and well integrity, so certainly something which we make available to them and that they are aware of. They want us to operate, they want everybody to operate their fields responsibly and this is the way of showing them, that yes, in fact we are doing that.
[Penny]: I was wondering if they are becoming aware if you perceive that either to what is being provided to them or to what they are asking for. They are saying there is an increased recognition of geophysics other than just geology or engineering – what they recognize is important for their consideration.
They seem to be responsive to it, for sure. For example, from the point of view of lease retention, seismic can be used in lieu of a portion of the wells required to delineate a heavy oil deposit. So certainly there is some recognition of the importance of geophysics.
There is an impression in the minds of people that Shell is one company that is quite secretive or tight lipped and does not let people present what they are doing and so on. I would like to get your comment on that.
That's actually fairly accurate. It is not often that we are allowed to publish externally. Shell makes a huge investment in fundamental research and applied research and it considers that to be a strategic or competitive advantage. So why would you want to make public your results and help your competitors? Now that being said, we have been publishing recently and the decision was made to do that because we felt that in, for example Peace River, which is a heavy oil development area, that the competition wasn't so much other oil companies, but that it was more the challenges that mother earth presented to us. How do you actually extract the resource economically was the real challenge. So we felt that by actually making things more public, that we could possibly generate some dialog within the industry – the heavy oil industry – and help each other solve some common problems and I think that we are starting to see some of that. That was the rationale. Generally you are correct, we are very quiet about what goes on in the area of research.
Fair enough. Let's ask you about your other interests. Apart from your professional work, what other interests do you have?
I am an avid mountaineer and back country skier. One of the big attractions for me to come out West and ultimately settle in the Oil & Gas Industry was the fact that I could actually go skiing and climbing. Calgary has always been a big draw. I always use that as a selling point when I go to campuses for recruiting, especially back east where they are not as familiar with what the Oil and Gas industry has to offer. And I like traveling as well, and fortunately in the position that I have right now, I do get quite a bit of opportunity to travel.
Does your wife also go for skiing and all with you.
Absolutely.
What words of advice would you have for young people who are planning to join our profession in geophysics?
I come up against this often when I'm recruiting, especially in Eastern Canada or on the West Coast. A lot of young people want help in making a decision about where to go in their careers. Looking at a career in geophysics in the Oil & Gas Industry, the perception is that it's a sunset industry. That's the perception, despite the fact that we are seeing very high oil prices and a lot of activity. They look long-term and say "well, will there really be a career for me right up to when I retire". So this is a bit of a challenge for a recruiter to try and come to grips with. And when I was coming into the Industry 20 years ago, I was wondering the same thing. There are still jobs and things look as rosy now as they did back then, although still uncertain. But one thing is for sure, what we are seeing, especially in the unconventional resources side of things, is that there is a lot more scope now than even before for bringing in good technical people in geophysics. So that's the way I couch it: If you thought it was good before for a career in geophysics, it's even better now. Things are that much more challenging and geophysicists really are an important part of the equation, even more so than before. But the skills that they are going to need are going to be different. They are going to be much more technical and they are going to need to integrate a lot more information from other disciplines.
Maybe now you can tell us something about this (pointing at the souvenir on the wall) Haskayne School of Business.
Six years in a part-time MBA at U of C that I kicked off because there was a significant business element in my job and I wanted to further develop those skills. It took a long, long time, but in the end it was well worth-it. One thing you can certainly see in this industry, especially working in development, is that the business side of things is overwhelmingly important. Nothing happens here unless it has business value, so when you go through an MBA you certainly pick up those skills so you can actually apply them to your work. Having good technical skills is one thing, but you need to have a practical, business side as well.
[Penny]: If you sometimes wear the MBA hat, the business side of the recruiting hat, the University of Calgary Geology and Geophysics program I think is promoting an Honor's Degree in Petroleum Geology and a new Master's Program in kind of combined Engineering, Geology and Geophysics related to petroleum kind of team type analysis that is actually reservoir characters, have you been involved in any of the – I know they were consulting with Industry for some of the background for proposing that.
Yes, I have spoken with some of the Professors at U. of C. about some aspects of that but I haven't been directly involved with it. There are a number of collaborations between Industry, Government and Universities that are being kicked off as we speak and I am involved in several of those programs. It sounds fabulous, the way to go.
Okay, thank you very much for giving us this time and I have really enjoyed it.
[Penny]: This can be a geo-science mixer but a pegger geo-science student, geo-science mixer right after Rodney Calvert's talk at the Metropolitan Centre and actually I haven't even sent out the official invitations to the CSEG, CSPG, I talked to all the presidents about it, we haven't sent our official note about it yet, but I am hoping that people from the industry will be there. We, more, this time because it is going to be here in Calgary rather than Red Deer, well it was at the University of Calgary separate at the University of Calgary, this year it is going to be combined. We are trying to get the U of A students and the U of C undergraduates there in one place so more people from the industry can meet them. It is harder, there is not many people in Industry but U of A students to meet. The Red Deer bus to meet half way in Red Deer got quite a bit of reactive people but not any where near as much as we are hoping for this year, so but I did find having gone to that for 2 years that I have forgotten what it is like to be a third or fourth year student and your impression of what you think you want to do in Industry and what the Industry opportunities are. There is a lot of mystery there and there is still a lot interest and a lot of really keen things and we forget what it is that draws people into the business.
Yes, and the mindset has changed dramatically. It used to be that an oil company was a place where you had a career for life. Even up until not that long ago it was considered kind of a cradle to grave thing, but that has certainly changed. And the students, the new people coming on stream, are well aware of this. So in their mind they're thinking "What's in it for me?
Well, Peter, thank you very much for giving us this opportunity to come and talk to you.
My pleasure.