Welcome back everyone! September has rolled around and it is a different oil patch in Canada than it was even a year ago... It will be interesting to see how our membership is weathering the recession, and the different industries many of us have chosen to investigate in the interim. Regardless, with the tens of thousands of people un(der)employed in the oil patch, I think alternate industries will thrive by utilizing our skilled workforce appropriately. Stay positive my friends.
CSPG/CSEG/CAPL Roadrace!
The annual 10km/5km road race and fun run will be held on September 23rd at 6pm, starting from Eau Claire. Registration is limited to 200, so register early! Go to the CSEG website for more information: cseg.ca/social/road-race-fun-run.
8th Annual CSEG T-Wave Golf Tournament
The 8th Annual CSEG T-Wave Golf Tournament took place on June 27th, 2016. The committee would like to thank everyone who made the tournament such a success and a great event once again. We are thrilled that, despite the economic conditions, we received the maximum amount of golfers we could support, and were extremely fortunate to have great weather all day at Valley Ridge Golf Course. We offered a student rate as well as a 'career transition' rate which helped get 138 players out for our tournament this year.
A gigantic 'Thank You' to our sponsors who help make this event successful. Without them we really couldn't put on an event like this.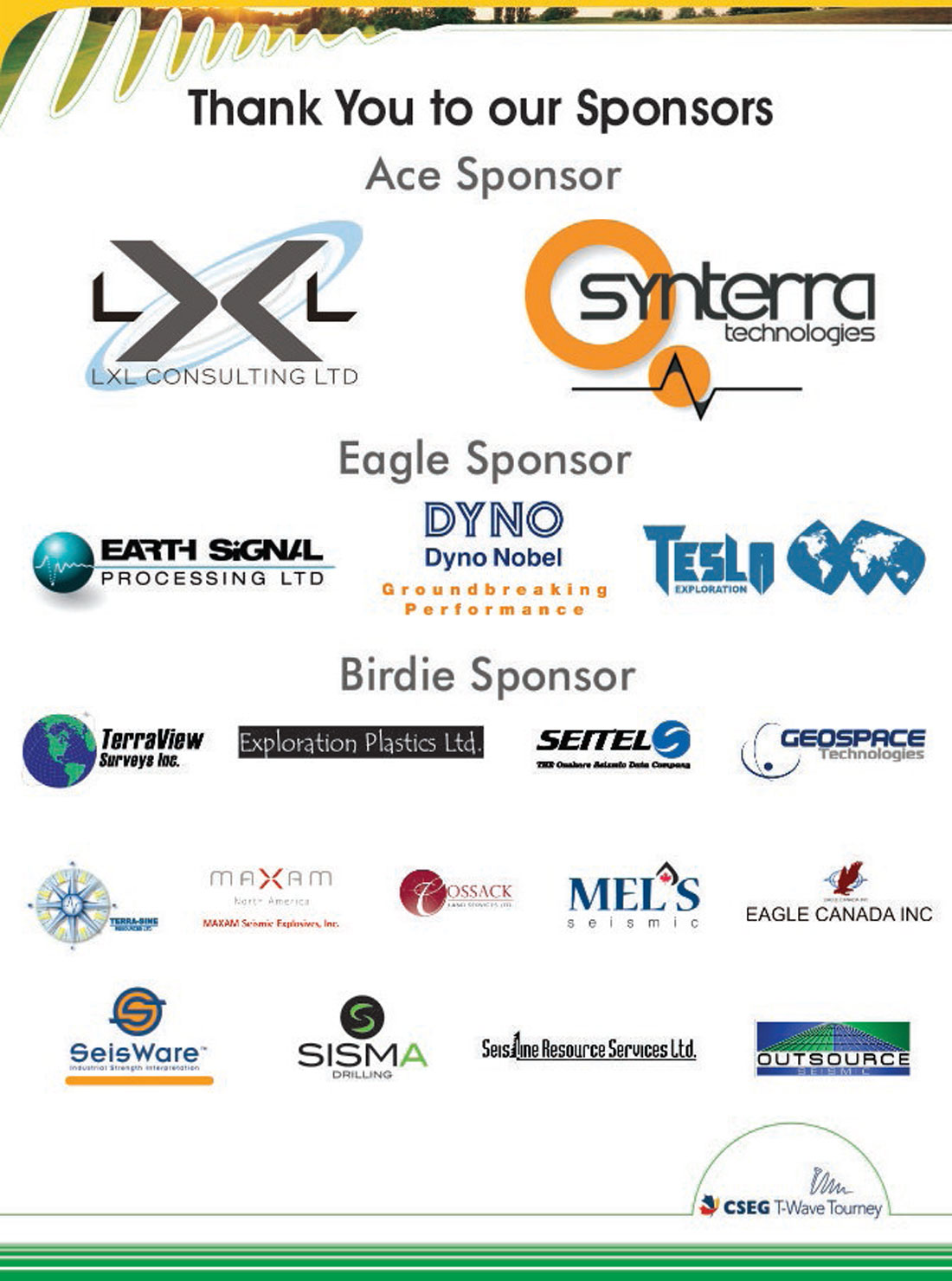 This year's charity was the CSEG Foundation. Supporting our industry during these tough times seemed appropriate and the CSEG Foundation does tremendous work in helping CSEG members through many programs and support. For more info on the CSEG Foundation please visit: cseg.ca/foundation/about-the-cseg-foundation.
A big thank you goes to all the great committee members who made this tournament such a huge success. Based on the feedback we received from our sponsors and participants, it seems we are succeeding in providing value for money. Committee members are:
Sponsorship – Jocelyn Frankow, Sandy Lucas and Wade Whitlow
Golf – Jim Hostetler
Prizes – Elwyn Galloway and Andrew Nicol
Finance/Registration – Flo Reynolds
Communication and Signage – Patty Evans
Slideshow – Flo Reynolds
Chair – Rob Curts
Thanks again and see you next year!
Rob Curts, T-Wave Golf Tournament Chair
Women in Seismic – Spaces Still Available!
There are still spaces available for both players as well as sponsors for the 2016 golf tournament happening on Thursday, September 8th at Fox Hollow Golf Course in Calgary. Shotgun start at 1pm for a fun-filled 9 holes of networking and golf! Yes, men are welcome and our theme is "Think Pink!" while we raise money for breast and ovarian cancer research.
Please go to the CSEG website for registration and sponsorship information cseg.ca/social/ wise-golf-tournament.
Junior Geophysicist Forum
The joint Junior Geophysicist Forum (JGF) / CSEG Foundation Mentorship Kickoff event will be held on October 5th, 2016 at the Glenbow Museum. All CSEG members and students enrolled in a university geophysics program are invited to attend. A panel will discuss how the field of geoscience is evolving. For more details visit: cseg.ca/social/jgf.