AUGC 2012
The Atlantic University Geoscience Conference (AUGC) is one of the most successful student conferences in the region. 2012 saw the 62nd anniversary of the event, hosted by Dalhousie University. Approximately 180 geoscience students attended the conference from the following Atlantic Universities: St. Francis Xavier, St Mary's, Acadia, Memorial, Dalhousie, and the University of New Brunswick. The conference hosted 18 student presentations and 7 posters. The CSEG Foundation award for the best Geophysical Presentation, which included a $300 cash prize, was awarded to Earth Science student Lianabel Selviz from Memorial University in St. John's, Newfoundland.
Students also had the opportunity to attend field trips around Halifax, one of which was a trip to the Bay of Fundy to view reservoir characteristics of estuarine and braid channel systems. Students from different geoscience departments from the six Atlantic universities had the opportunity to create ties with fellow students, meet researchers from other universities, and network with industry professionals. The CSEG Foundation was a proud sponsor of this event with volunteers Tiffany Piercey (Imperial Oil Resources) and Adam Flynn (RPS Energy) attending the conference on behalf of the CSEG Foundation.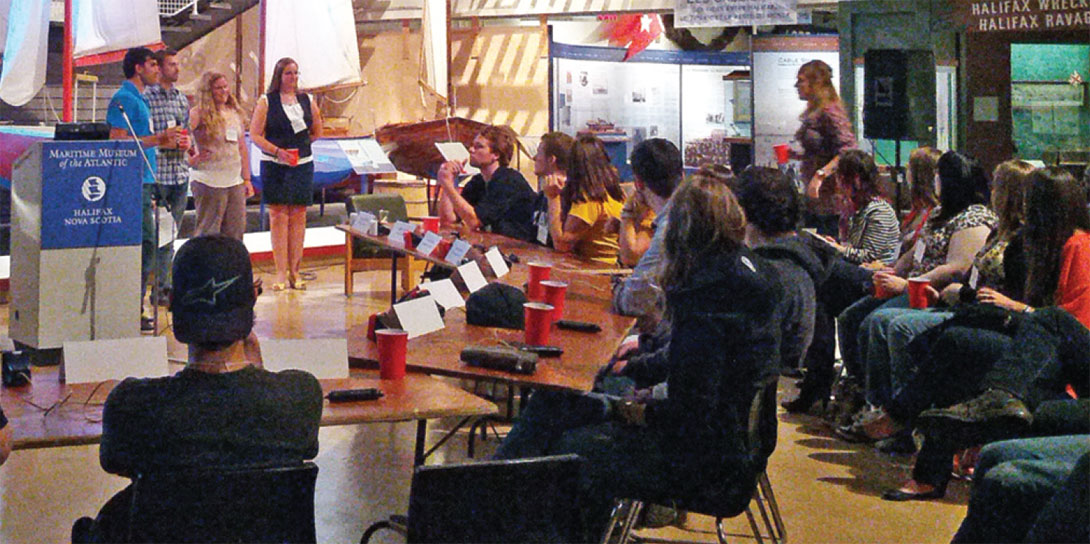 On the first night of the conference, the AUGC Challenge Bowl took place at the Maritime Museum of the Atlantic hosted by Tiffany Piercey. Each university was represented by two students, with the winning team being Aaron Bustard and Michelle Jacobs from the University of New Brunswick. They look forward to competing in this year's CSEG Convention Challenge Bowl finals in Calgary! The 2012 AUGC was very successful and a huge part of this success stems from the ongoing efforts of the organizing committee. The key organizers were Jimmy Burg, John Hirschmiller, Dawn Tobey and Nicole Marshall. Students look forward to attending the 2013 AUGC next fall at St. Francis Xavier in Antigonish, Nova Scotia.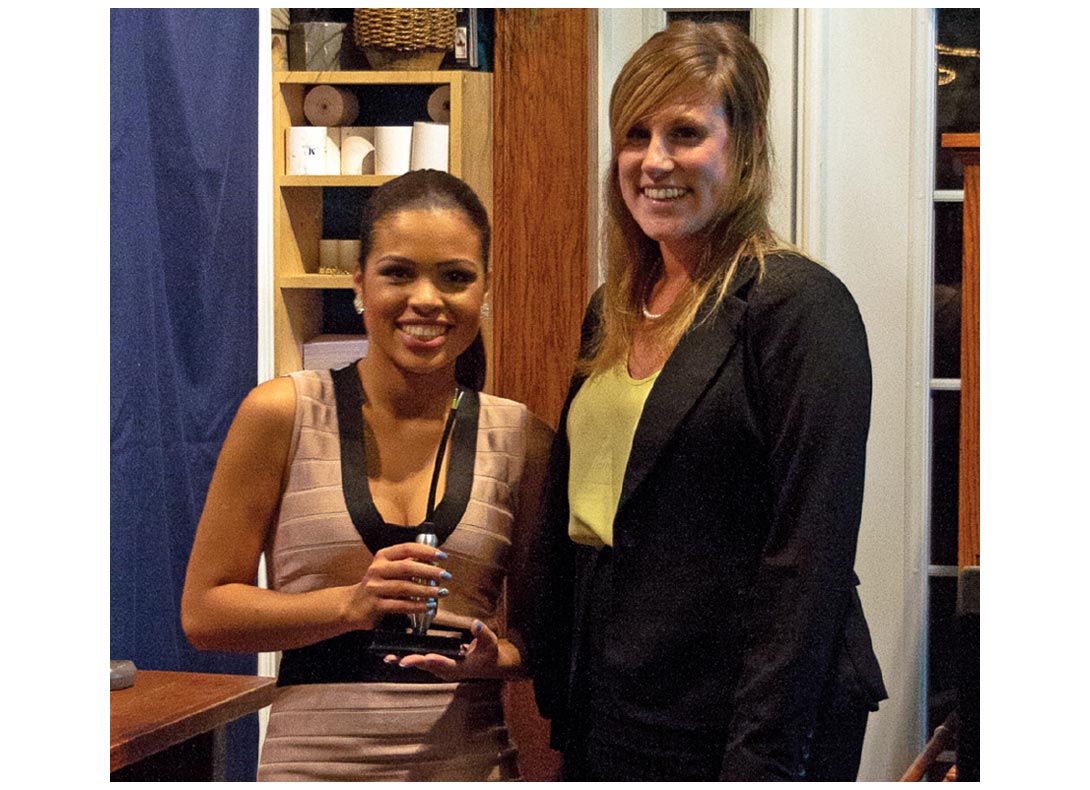 - Adam Flynn and Tiffany Piercey
Geophysics Undergraduates Students' Society of University of Calgary at SEG 2012
Sixteen geophysics students from the University of Calgary were fortunate enough to attend the 2012 82nd SEG Annual Meeting in Las Vegas. This trip, made possible by the hard work efforts of the Geophysics Undergraduates Students' Society (GUSS), was intended to facilitate growth between academia and the professional industry. The annual meeting provided an excellent opportunity for geophysics students, who are seeking professional advancement while networking with industry leaders, attending technical sessions and exposing themselves to leading edge research.
Increasing global energy demands have placed an importance on discovering new technological breakthroughs for efficiently extracting our planet's natural resources. With this daunting task at hand, the SEG has become responsible each year for creating one of the world's largest oil, energy and mineral expositions. This year's conference brought together talented individuals from across the globe for a week-long program aimed at sharing knowledge and thoughts in the advancements of geophysics through continuing education courses, special-interest luncheons, technical posters and oral sessions.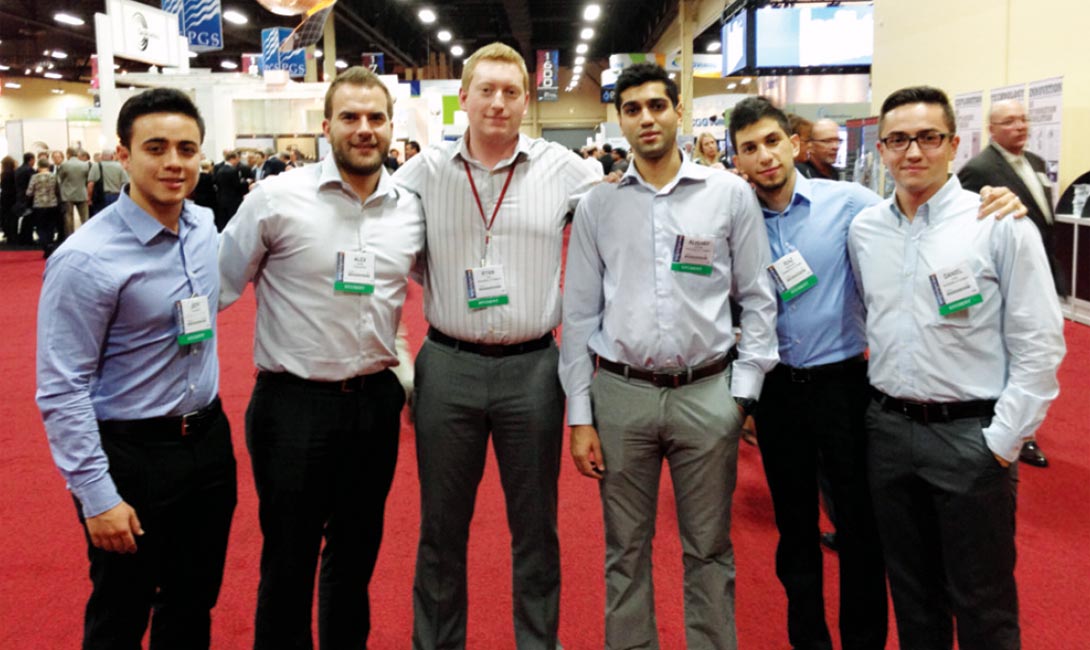 The student group took full advantage of these wonderful opportunities by attending a multitude of diverse talks that ranged from offshore presalt hydrocarbon prospectivity to identifying fractures through azimuthal interpretation in unconventional shale plays. These sessions assisted students in understanding the importance of their educational experience and for supplementing their strong theoretical knowledge base, in order to make them well rounded geoscientists. It was evident that the SEG has built a strong vision to encourage students to become leaders of tomorrow by including student-oriented events such as the Challenge Bowl, Student Pavilion, Career Panel and much more. Students were able to converse and receive advice from reputable geophysicists, broadening their perspective of the profession on an international scale.
Attendance of University of Calgary students would not be possible without the continued support of our sponsors. On behalf of the attendees, we would like to extend a sincere thank you for your contribution to making this event successful. Financial assistance was provided by the Canadian Society of Exploration Geophysicists Foundation (CSEG-F), Association of Professional Engineers and Geoscientists of Alberta (APEGA), Earth Signal Processing Ltd., Sigma Explorations Inc., and by Shell Canada through its Shell Experiential Energy Learning Program. Your generous contribution helped make our goals a reality. The experience gained from attending the SEG annual meeting was invaluable and with continued support of this student endeavour we hope future geophysics students are granted the same opportunity.
- Jeffrey Calvert and Daniel Loas
The University of Manitoba Geophysics Student Society at SEG 2012
The University of Manitoba Geophysics Student Society would like to thank the CSEG Foundation for their generous support which allowed us to enjoy the 82nd SEG Annual Meeting. We were fortunate to attend multiple lectures on many different areas of geophysics. Some of the topics we found interesting included the analysis of multiple arrivals in seismic data, interpretation of fault structures and their application to petroleum exploration, and various rock physics studies. In addition to attending presentations, we frequently visited the exhibitor area. This gave us the opportunity to meet many industry professionals and learn from them in a one-on-one setting. Specifically, we gained valuable advice pertaining to a successful career in geophysics.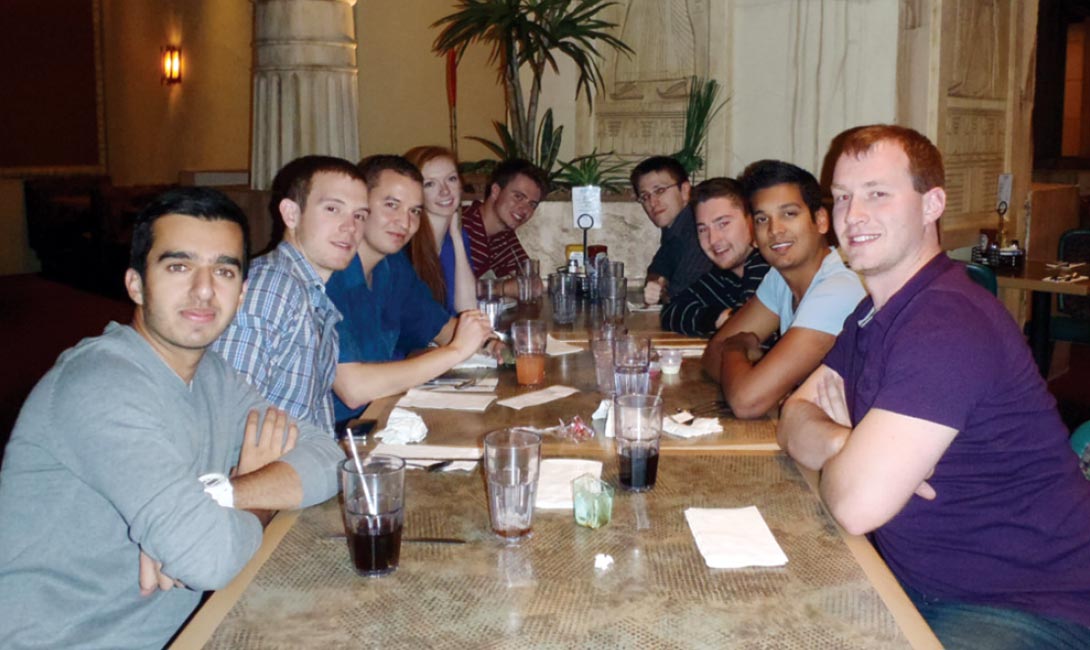 One of the highlights of the conference was the Student Networking Event. Here, we were able to talk with company representatives to discuss specifics regarding their companies as well as employment prospects. Many of the students in our society used this opportunity to create contacts that hopefully will lead to future employment. It was also very interesting to meet fellow geophysics students from around the world, which gave us a wider perspective of the academic world of geophysics.
Overall, the Geophysics Student Society greatly enjoyed the time spent at the SEG Annual Meeting, and we look forward to attending again in the future. Thank you once again for your support.
- Shelby Perreault and Tim Hayward
Canadian Undergraduate Physics Conference
The 2012 Canadian Undergraduate Physics Conference was held last October in Vancouver. About 200 physics students gathered to share their research experiences in all fields of physics. Thanks to the CSEG-F I had the opportunity to present a talk about the work I did this summer at INRS-ETE with Mr. Erwan Gloaguen and Mr. Bernard Giroux in applied geophysics. The presentation, High Resolution Seismic Modeling – Electroseismic Rock Characterization, was in two parts. The first part covered the use of geophysical techniques, especially high-resolution seismic methods, to image the near surface in order to create models for a large region. The second part was about combined electric and seismic measurements at reservoir conditions in the context of CO2 capture and sequestration.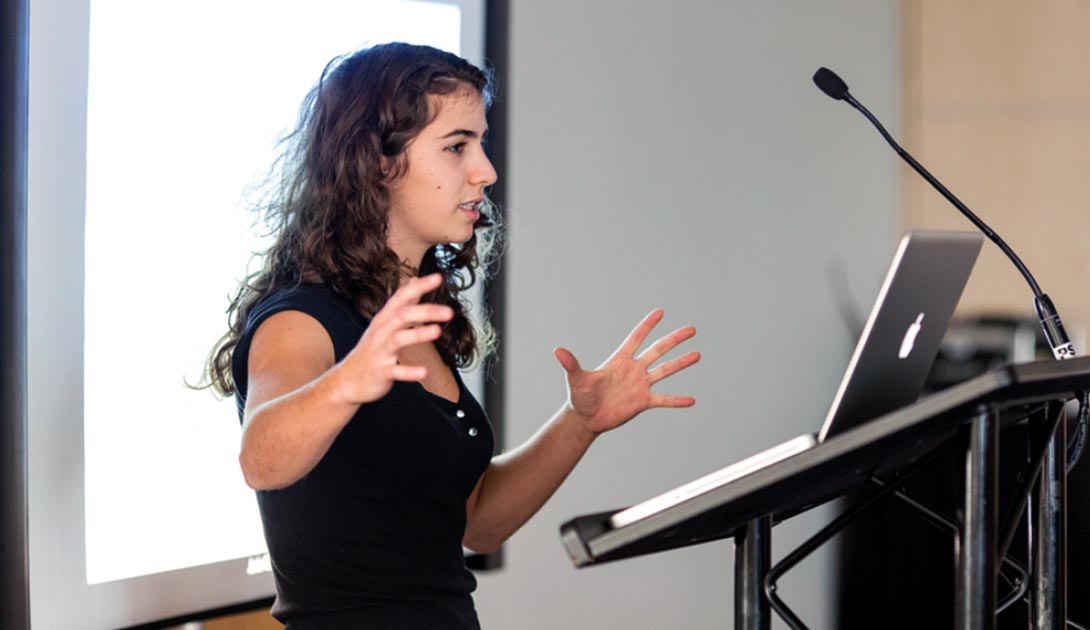 This event was a very good opportunity to reach students and to establish multiple contacts with other physicists. It was really great to talk about what I had done in the summer, and it provided me an opportunity to underline the importance and relevance of geophysics. I thought it was extremely relevant to share what I had learned with other physics students, and in return to understand what they had done. I believe it will greatly contribute to my further comprehension of geophysics, therefore it was a really good experience.
- Jade Ghaoui, Quebec