Entrepreneurship from Junior High students, innovation, volunteering and kama muta
Recently Steve Kotkas, Seismic Data Broker at Sigma Explorations Inc. and a member of the CSEG Foundation Outreach committee, organized the judging of the Tom Baines Junior High Invention Convention and William Pratt School Icubed. Steve is a former Physical Education teacher with the Calgary Board of Education and his wife teaches English at Bowness High School. Both events required 30 judges and I was one of the 30 people who volunteered to view and judge the kids' wonderful ideas and projects at both schools.
To me, these types of events encourage students to become involved with science, math. and engineering because they see how it can be innovative, develop entrepreneurship, inspire creativity and imagination. It is not just about learning the facts but being able to apply what they learn in a meaningful way and bringing out the students' passions.
Kudos to those who are teaching the students these principles and taking the time to work with the students on their projects from helping them to build a box to soldering wires.
Tom Baines Junior High Invention Convention
It was interesting to view so many innovative ideas from such young students. They were way beyond where I was at mentally at that age. They incorporated market research, and statistics producing colourful graphics around their prototype and tried to pitch their innovation which taught them how to present and to communicate.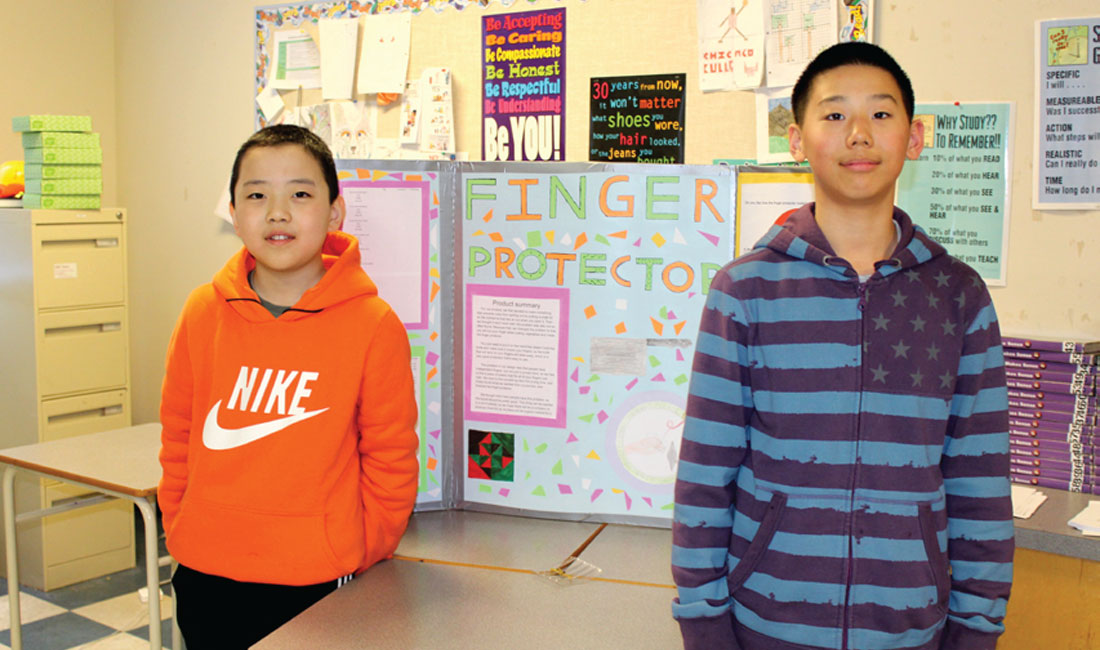 For me, one of the most innovative inventions was a machine that dispensed a pill at a predetermined time. The prototype was a box with a digital clock inside, a servo-motor to dispense the pill and a lock on it. For 12 year olds, it was impressive; and for someone who had an elderly father who had difficulty taking his pills, it was very ingenious. The prototype needs work, but it is the idea and the issue the girls wanted to tackle which was to prevent people from overdosing themselves on prescribed medication. Especially with the increase in the number of people over 55 and the need for such a device. It seems as we increase in age the number of prescribed drugs increase and when we need to take them can become complex.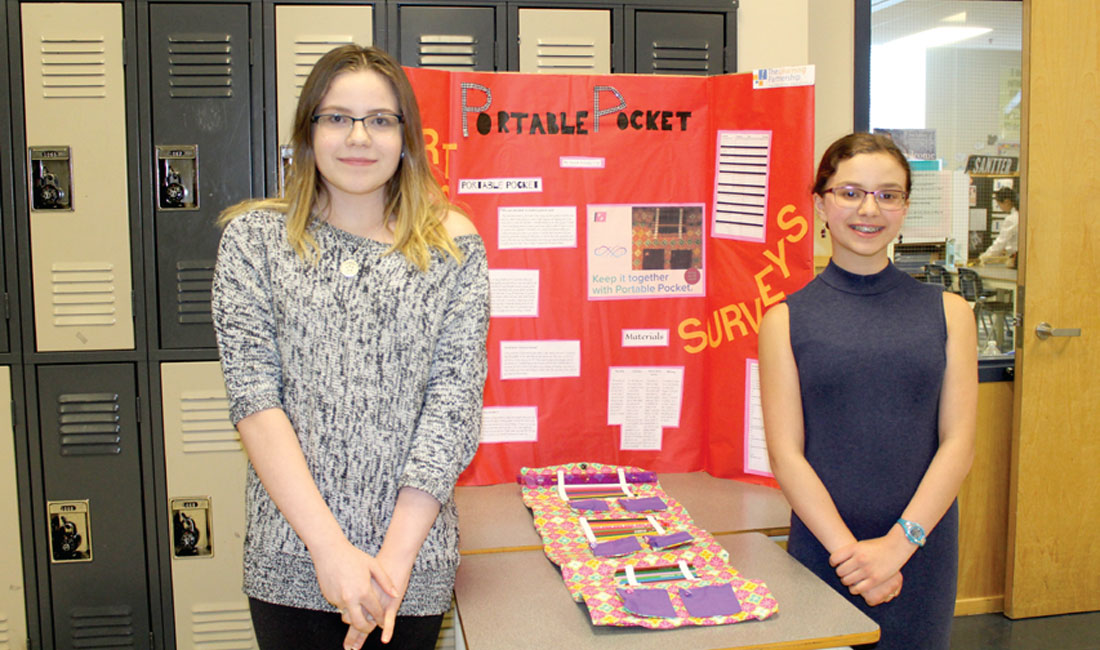 William Pratt School Icubed Convention
The difference between this event and the previous one was the level of passion and the simplicity of the innovations. The students focused more on costs to produce and their profit margin and discussed how they changed their innovation to drive the cost down, so it was more economical. Some included a brief video / commercial for their product.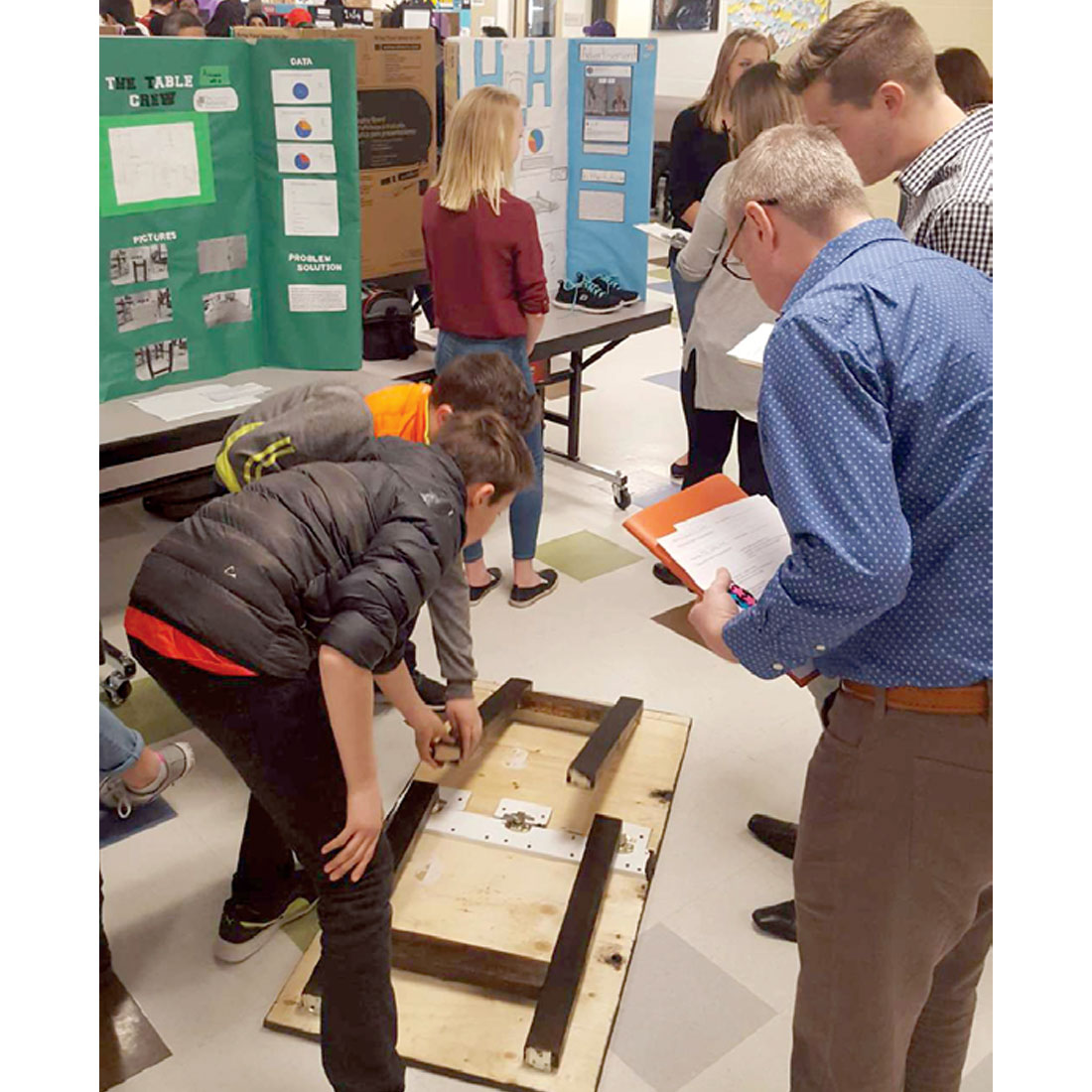 They talked openly about their failures and why they made the changes to their innovation, but it was the simplicity that stood out for myself. The four projects that I enjoyed the most were: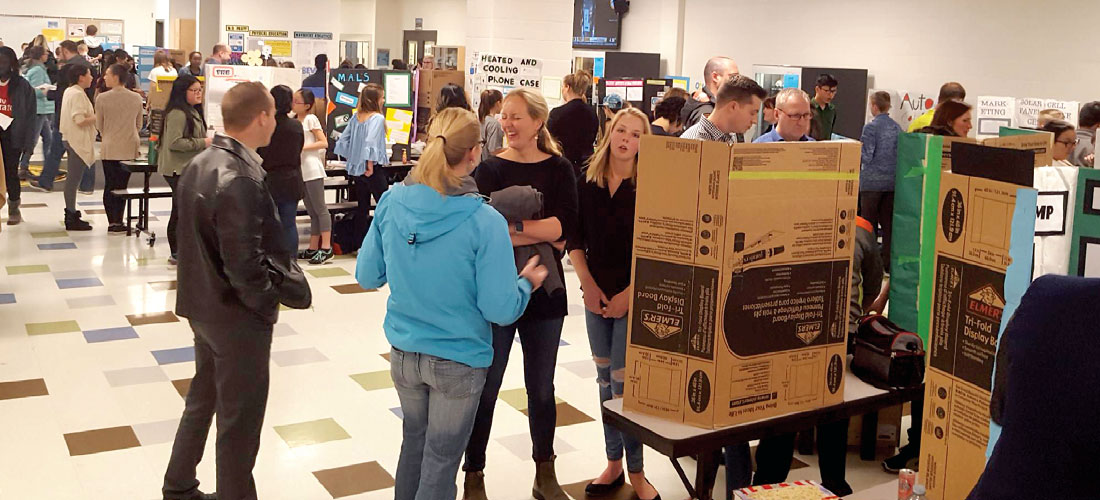 Tooth paste dispenser which dispensed the right amount of toothpaste
Extendable hockey stick for 3- to 6-year olds
A methodology to stop dogs from barking when the door bell rings using citrus which I did not know that dogs did not like the smell
A way to reduce wear and tear on shoes due to skateboarding by adhering a strip of fine sandpaper on the sides of the running shoe. It was their passion as skateboarders that drove them to produce this product. There are times that the entrepreneurs are what you invest into and for me this was an example of that.
Innovation in Geoscience
As geoscientists there are times when we need to be innovative and create new solutions to reduce our break-even points (BEP) on a barrel of oil equivalent (BOE). Gone are the days when we just understood wiggles. We now need to learn about drilling, fracking, geology, geophysics, petrophysics, etc. to be able to see how we can apply new ideas to lower our BEP to increase profits.
We at the RECORDER plan to publish more papers from different disciplines, look at the research that is being done in all the universities and try to emphasis the integration of all the disciplines to solve problems in completions and production. We welcome any suggestions!!
We are seeing changes in how we do things, and this is leading us to be better in:
Determining what is the best rock to frack based on elastic and geomechanical properties;
Designing the horizontal well to optimize its path from surface to subsurface;
Determine presence of subtle faults that may limit the lengths of the fractures.
Some of our papers in this edition reflect that philosophy and there has been an attempt to integrate different disciplines into this edition. We are hoping by publishing these types of papers we inspire ingenuity and even open conversations on how we can improve. We learn more by having conversations.
Volunteerism
The other side of this discussion is about volunteerism. It is not just about volunteering for the CSEG and its committees, but also that our members are willing to volunteer for other things such as Earth Science for Society or serving dinner at the Drop-in on a regular basis through the Emerging Professionals Program (EPP).
It is amazing that 30 people gave up their Thursday night to judge the Invention Convention. According to the Volunteer Calgary Wikipedia page, 71% of Calgarians volunteer on average 15 hours per month which is 20% higher than the provincial average. Over ¾ feel that they are driven by a desire to give back to their community, and they believe that volunteering helps volunteers feel good about themselves.
As I began to write this column, CNN published an article entitled "Seeing the Pope help strangers made me tear up. Later I learned why", written by Daniel Burke. In it he quotes President Thomas Jefferson, who said almost 200 years ago, "When any ... act of charity or of gratitude, is presented to our sight or imagination, we are deeply impressed with its beauty or feel a strong desire in ourselves of doing charitable or grateful acts also."
Psychologists use the term 'elevation' to describe the warm, uplifting feeling we experience when we see unexpected acts of kindness, courage or compassion. Alan Page Fiske, an anthropologist at UCLA, uses the term "kama muta" to describe this.
We at the RECORDER would like to encourage people to tell their stories of 'kama muta' and so share their successes and elevate our community. In today's world, especially in our industry that has gone through so much, we see too many people who are depressed, angry and disillusioned. Maybe by sharing our stories, by showing what the committees across the CSEG and the industry are doing, we can begin to uplift individuals.
Geoscientists are the epitome of change and innovation and cooperation. Try volunteering, and by using those skills, feel that 'kama muta'!!