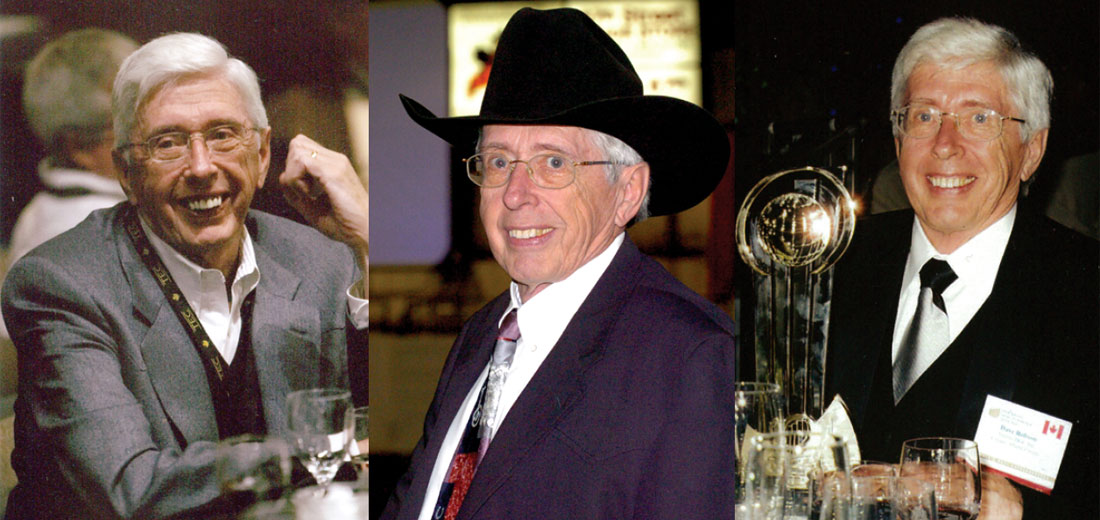 I did not know Dave Robson, I knew of him. We at the CSEG RECORDER feel that we should honour those who have made a significant contribution to our society or our industry and Dave has done both. We do this to honour them, reflect on them leaving us, and to learn from them and how they lived their life, so we too can be as successful as they were.
It has been said to advance yourself you need to learn from those who have done better than you have.
We could easily quote facts about his life from his obituary, but we decided to collect thoughts and memories from those who knew him, worked with him or learned from him.
Dave's obituary begins with "After a life well lived..." which says some thing about all that he had accomplished. Dave was the founder of Veritas in 1974, and under his leadership Veritas had changed from a seismic company that held most of the market share in Calgary to being one of the top 5 seismic companies (Western, Geco, CGG, VeritasDGC and PGS) in the world through its purchase of Digicon in 1996. Purchasing Digicon, a company that had struggled, allowed Veritas to enter into the Houston market and become a major offshore player.
Throughout the memories we see a man who had a vision, did what he said, spoke his mind, made time for others, listened and most importantly he valued people. This is significant because if you take leadership courses these are traits that they encourage you to develop.
Dan Hampson (Vice President CGG) and Brian Russell (Vice President CGG) the founders of Hampson-Russell:
With the passing of Dave Robson, Calgary has lost a true oil patch giant. Unlike many people who have had an impact in Calgary, Dave shunned the spotlight, so many of his achievements went unnoticed by the average Calgarian. However, those of us who worked for and with him admired him tremendously and knew exactly what an impact he was having on the Calgary business scene.
Dan first met Dave when he joined Veritas Seismic in 1976, and Brian first met Dave when he joined the same company in 1981. Dave had created Veritas by buying R.B. Cruz and Associates (from Senator Ted Cruz' dad!). During our time at Veritas, we were always impressed by Dave's incredible work ethic and integrity, something he passed on to all his employees. In the downturn of 1985, Dave spun off Veritas Software with a mandate to generate a profit, and this gave us the first hint that selling software could be both fun and profitable. When we decided to create our own software company in 1987, Dave could easily have thrown us out onto the street to fend for ourselves. But instead, in what was both an act of loyalty and foresight on his part, he decided to buy a minority share in our company and let us buy out some of the software we had developed for Veritas Software. Without Dave's backing and business advice, building Hampson-Russell would have been a much more difficult task. Throughout our years as an independent company, we came to rely on Dave's great advice and he had an impact on our business decisions.
In 2001 we sold the company back to Veritas (Dave recused himself from the negotiations), which by now had become VeritasDGC. Thus, Dave was once more our boss, and it was amazing to see what a huge international company he had built by then. Dave then turned over the reins to a new CEO, so he could concentrate on being an angel investor to other up and coming companies in town. This was something he was perfectly suited for, and over the years he nurtured some of Calgary's best young companies.
We will finish with an anecdote that shows the type of person Dave was. While Hampson-Russell was an independent company Brian was once waiting to fly to an Australian SEG meeting from Los Angeles when he noticed Dave in the waiting area. It turned out that Dave was going to the same conference. Brian had upgraded to Business Class so when it came time to board he suggested that they should board together. Dave said that he had to wait since Economy Class had not been called yet. It turns out that Dave had a company-wide policy that nobody could fly Business Class and he was not going to set a bad example for his employees, despite having to squeeze his tall frame into a cramped seat for fifteen hours (as we all know, he could probably have bought all the seats on the plane if he had wanted to)!
Dennis Langlois (Project Development Manager TGS):
I started working for Veritas in the spring of 1988, but I really got to know Dave that fall after the well known Black Friday in September that year. The following summer I moved into the office and thus began a 29-year relationship that will have an impact on me for the rest of my life.
Dave's vision, leadership skills, business sense and words of wisdom are still qualities that one whoever had the chance to work with him are still being practiced today among fellow employees. Dave was always approachable whether for business or personnel reasons.
I feel very honored to have been lucky enough to spend this many years around Dave and be a student of his, he will certainly be one of the most influential people in my life.
Doug Horton (Key Seismic – Geophysical Technology Support):
I first met Dave Robson back in 1993 when I had my second interview with Veritas. I was a bit surprised that the owner/CEO of the company would make time to meet with me. After the interview, Dave shared with me his vision of where he was planning on taking the company. At the time, Veritas only had an office based in Calgary. His vision was to grow the company into a top international, billion-dollar seismic company with offices around the world. He said it would take too long to achieve this by adding one employee at a time, so his strategy was to look for a company that needed an infusion of cash to grow. Three years later, Dave brokered a merger between Veritas, and Digicon. 10 years after the merger, the company sold for 3.1 billion dollars. Dave's vision had been fulfilled.
Even though Dave was a successful businessman, he was very personable, and took the time to get to know many employees on a first name basis. The annual company BBQ's were at his home, and he personally cooked and served the steaks for the staff. He led by example and empowered those who worked for him. I am glad I had the opportunity to work for Dave and being a part of seeing his vision come to fruition.
Wayne Millice (VP Onshore Multi-Client Seismic TGS):
My family had the privilege of knowing Dave both professionally and personally. My father was with Dome Petroleum in the heady days of the 70's and 80's and interacted with Dave and his various teams over the years and I was introduced to Dave when I was 10 years old. Little did I know that in 1989, when I went to work for Veritas, I would understand why so many people spoke so highly of him. The experiences I had working with teams Dave ran and with Dave personally have greatly influenced my career and me personally. I am and always will be driven by the lessons I learned early in my career from Dave and his teams: do what you say, have integrity and always speak your mind. We have lost a great influencer in our industry, he will be missed.
Betty Kunka (Office Manager at Vada Capital) Dave's Executive Assistant for 25 years:
I had the pleasure of working with Dave Robson for 25 years. There were so many amazing qualities which speak to the character of this man. He was a great leader known for his honesty and integrity and always generous with his time and money. Dave touched the lives of so many in so many genres and circles: business, western horse industry, cancer research, mentorship, music and more.
Dave always had time to talk. He would invite new employees to a luncheon and sit and have a sandwich with them and talk about the vision for the company. Company barbecues were held at Dave and Val's ranch in Airdrie. Dave and Val would serve steaks and wouldn't sit until every single employee had been served a steak. Dave would walk through the floors and divisions of Veritas and say hi and chat to as many employees as he could. If you were new to the cutting horse world he would gladly sit with you and give you the ins and outs of cutting. Dave's door was always open to talk about business, family, a new venture, kids, cutting, charity, etc. He would listen to any life experiences you wanted to share and probably throw in one or two experiences of his own. It didn't matter what level you were at, Dave cared about everyone.
Dave was not an extravagant man and sometimes had a hard time spending money. I remember telling him once that I was a firm believer in spending your money before you go, and he had a lot of spending to do! He would just laugh, but over the years I kept reminding him. One day at work he came in to my office, sat himself down and said guess what I did over lunch? I would have never guessed the answer. He said he went out and bought a motorhome. My response was "why did you go buy a motorhome?" The answer was "so he and Val could travel around to the bluegrass music festivals, enjoy the music and, someone once mentioned that you need to spend the money before you go!" We had a very good laugh that day and many more after.
Taking the job at Veritas all those years ago was a life defining moment for me. It brought Dave Robson into my life as my employer, but he became my great friend and a part of my family. I, along with many others, will miss him. RIP Dr. Dave.
Dave insisted on integrity, honesty and truth in the business that he enjoyed so much (Geophysics). His customers were his number one priority. That is how he built Veritas and that is why he was the recipient of the 1991 CSEG Medal.