On behalf of Junior Geophysicist Forum (JGF) and Mentorship committee, I would like to express our sincerest appreciation to all of our 2017 JGF & Mentorship event sponsors. Thank you to Cenovus Energy, our Venue Sponsor, and our featured sponsor, Explor. We would also like to thank our tier one sponsors, LXL Consulting, Pulse Seismic, Earth Signal, Ikon Scence and Katalyst Data Management and our tier two sponsors, Trish Mulder, ESG Solutions, Qeye Labs, and Seisware. In the toughest of times, it is your financial support that has helped us make this event possible.

The JGF & Mentorship Kick-Off event took place on Wednesday October 4th, 2017 at Cenovus' Odd Fellows Ballroom. The event was a huge success, with approximately 100 attendees of all experience levels. Thank you to those that brought donations to the Food Bank. The JGF and Mentorship Committee brings together up and coming geophysicists and experienced professionals to highlight the community of support and mentorship available within the CSEG.
The event was themed the Future of Energy, which featured a diverse panel of professionals representing different perspectives from the energy industry. Craig Dunn, Chief Geologist at Borealis GeoPower represented alternative energies, highlighting how Borealis uses geophysics for geothermal initiatives. Amanda Hall, Geophysicist at CNRL represented geoscience in oil and gas, expressing the need for geophysics, even as our roles move from exploration to exploitation, and her accomplishments augmenting the role of geophysics beyond seismic into nanotechnology. Alishah Nayani, Analyst at RBC and former geophysicist at Encana, provided a fiscal perspective on the diversifying energy economy, and explained how and why he chose to transition from geoscience to financials. Dr. Kris Innanen, Geophysics Professor at the University of Calgary explored the role of education in preparing geoscientists for success in an evolving energy economy. He highlighted how professionals can use critical thinking and foundational scientific principles they've already developed to solve emerging challenges. Panellists explored their visions for the future of energy, the role of geophysics, and how emerging geoscientists can succeed in this future. A recording of the panel discussion can be viewed on the CSEG website, https://cseg.ca/social/jgf. Students and young professionals were grateful for the honest and open discussion, outlining the importance of their skills and the many options available at a time when careers in Oil and Gas are difficult to obtain and maintain. A resounding conclusion was that collaboration and effective communication are crucial for each of us to continue to show value to our respective organizations. As CSEG members, we need to all take a few moments with a colleague, friend or student (or better yet be part of the mentorship program) to work together to increase the regard of geophysics and its benefits.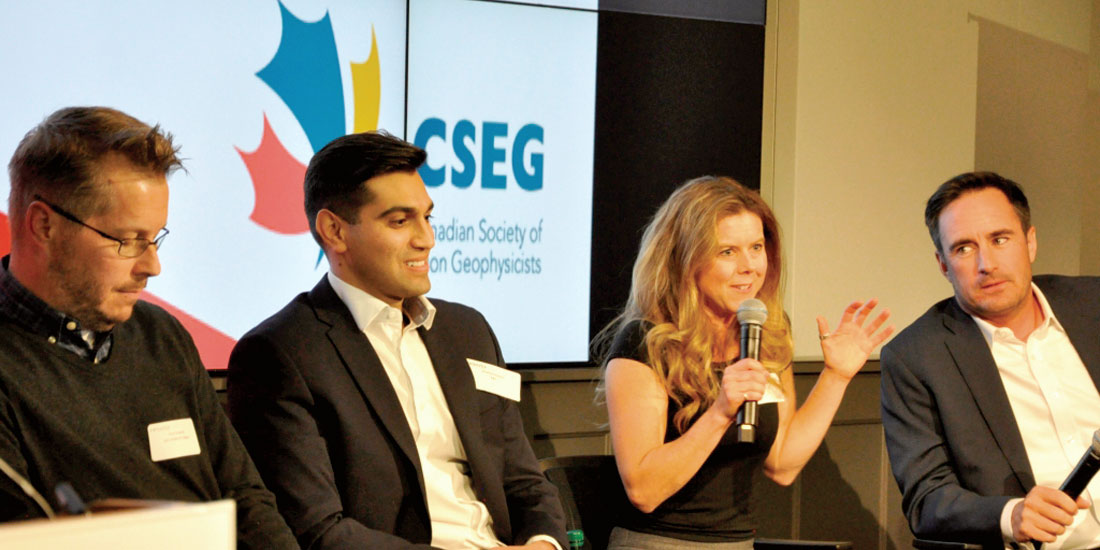 The 2017 JGF & Mentorship Kick-Off was a great success not only due to the generous donations from our corporate sponsors, but also from the great volunteer effort of the JGF and Mentorship committees. A special thanks to co-chairs Khevyn Gormley and Elizabeth Ramsey, our panel moderator, Alex Shrake and committee members Jordan Vandean, Nathan Fester, Paul Hausmanis, Stephen Kotkas and Hassan Odhwani for their time and dedication.