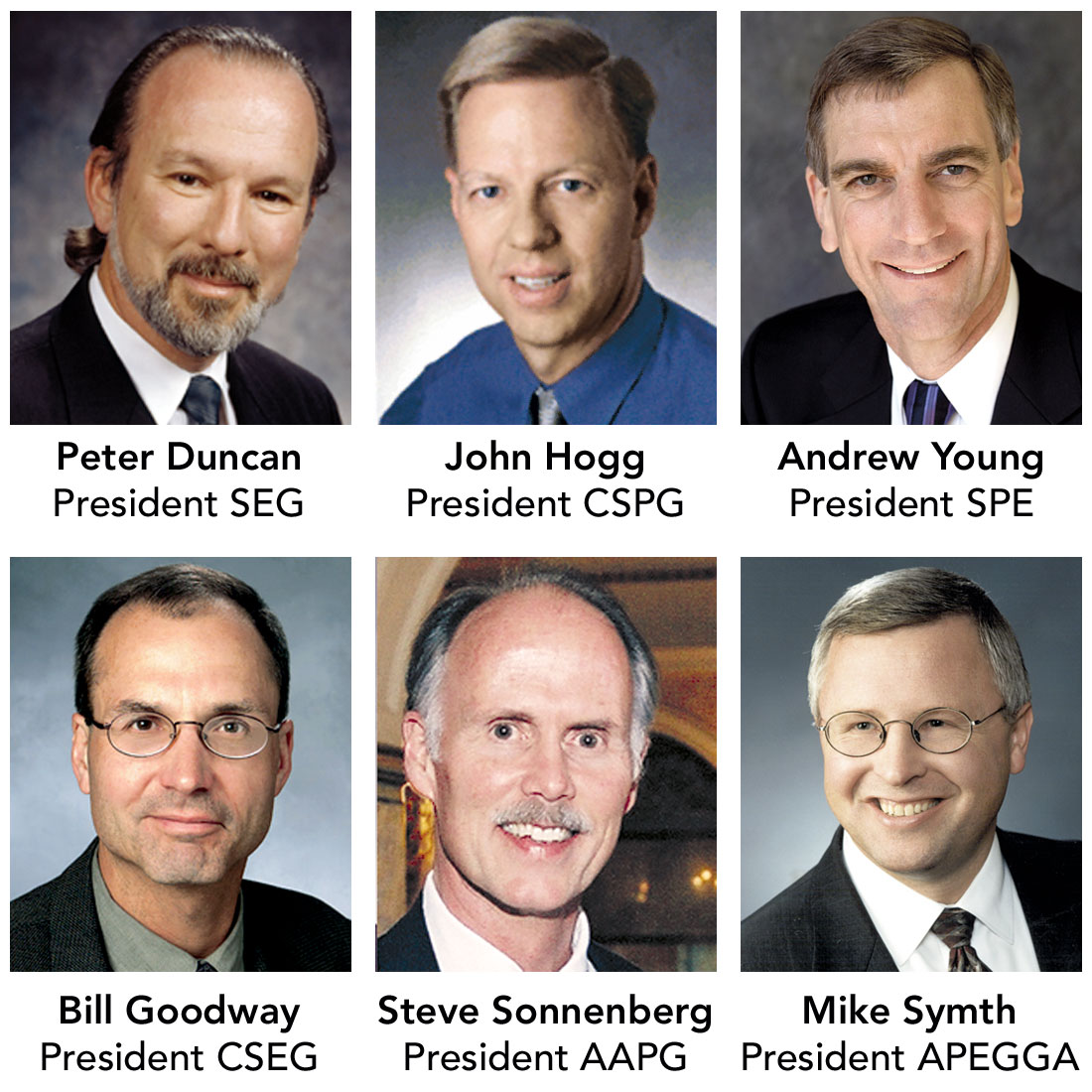 The RECORDER Editors recently approached the Presidents of a variety of geotechnical/professional societies and associations. The aim was to get their views on a wide range of topics, and gain an understanding of issues that members appear to be curious or doubtful about. Our questions elicited interesting and insightful responses from these industry leaders. (Please note just as this article goes to print in November the 2003 SPE President Andrew Young hands over to the new 2004 President Kate Baker).
Could you briefly review your educational background and professional experience for the information of our members?
[Peter]: I received my B.Sc. in 1973 at the University of New Brunswick (Physics and Geology), and my M.Sc. (1975) and Ph.D. (1978), both at the University of Toronto, both in Geophysics.
I began my career as an exploration geophysicist with Shell Canada, before joining Digicon Geophysical, first in Calgary then in Houston. In 1987 I helped Digicon found ExploiTech Inc, an exploration and production consultancy. I was named President of ExploiTech when it became a subsidiary of Landmark Graphics in 1989. In 1992 I was one of three founders of 3DX Technologies Inc., an independent oil and gas exploration company where I served as Vice President and Chief Geophysicist. Finally, I was the founding President of MicroSeismic, Inc. a Houston based geophysical service company.
[Bill]: I obtained a B.Sc. in Geology from University of London in 1977 and an M.Sc. in Geophysics from University of Calgary in 2001, after what might be a record 13 years of geophysical course work!
Since 1985, I have been with PanCanadian Petroleum, now EnCana, in positions with titles that varied from Processing Specialist through Advisor, to my current designation as Team Lead of the Seismic Analysis Group. This is a group of specialists involved in acquisition design, processing, complex imaging, experimental projects such as multi-component applications, and new AVO interpretation methods.
I have presented and co-authored a number of papers at CSEG, EAGE and SEG conventions and research workshops on seismic acquisition and processing, borehole geophysics, anisotropy, multi-component recording and AVO.
For my efforts I have been honoured to receive both the CSEG's annual "Best Paper Award", and the CSEG convention "Best General Paper" award on two separate occasions. I am a member of the CSEG, SEG, EAGE, APEGGA and the SEG Research Committee.
[John]: I earned my B.Sc. in Geology from McMaster University in Hamilton, Ontario Canada in 1981. After graduation, I joined Gulf Canada Resources, and worked for three years exploring for oil and gas in the Sverdrup Basin in Canada's high Arctic.
I began my work as an Exploration Geologist in Atlantic Canada in 1984 with Husky Oil Operations. Since then, I have been directly involved in the drilling of more than three dozen exploration and delineation wells on the Scotian Shelf and the Grand Banks with Husky Oil, Petro-Canada, PanCanadian and now EnCana.
I'm employed at EnCana as Vice President of Atlantic Canada and am responsible for a multidisciplinary team of two dozen explorationists that work a variety of exploration plays on the Scotian Shelf and Grand Banks of Newfoundland, and offshore Western Greenland.
Other than my CSPG involvement, I also have volunteer efforts with the AAPG, Ocean Drilling Program, and APEGGA.
[Steve]: My educational background includes:
B.Sc., Geology, Texas A&M University;
M.Sc., Geology, Texas A&M University;
Ph.D., Geology, Colorado School of Mines.
I have over 25 years experience in the industry. I have worked for a major company, an independent, myself (independent), and am currently with a large independent, EnCana Oil and Gas (USA) Inc.
[Andrew]: I hold a BE degree in chemical engineering from Melbourne University and a MBA degree (Hons) from the University of Rochester, New York. I am a senior advisor and regional director for Gaffney, Cline & Associates' (GCA) technical and management team in Sydney, providing advisory services in Australia and Asia and supporting other project teams internationally.
Prior to joining GCA in 1999, I served as managing director of Century Drilling Ltd., an Australian oil/gas, mineral and geothermal drilling contractor. From 1994 to 1997, I was General Manager of Operations for the New Zealand Natural Gas Corp., responsible for gas processing and high-pressure pipeline operations. I also spent 11 years at Bridge Oil Ltd., where I was production manager, and eight years with Esso Australia Ltd. in various technical and management positions.
In addition to my SPE Presidency role, I currently serve on the Advisory Board of University of New South Wales School for Petroleum Engineering, recently completed a four-year term as a director of the National Safety Council of Australia, and am a member of the Australian Institute of Company Directors.
[Mike]: I'm a professional engineer (P. Eng.) with a B.A.Sc. (Civil) from the University of Waterloo in 1980 and a M.Sc. in Structural Engineering from the University of Calgary in 1990. I was registered as a professional engineer in 1983, and have had an array of experience in business, consulting and project management over the past 23 years. I am currently Senior Project Manager at Optima Engineers and Constructors of Calgary.
What made you offer your services for the position of President of the Society/Association you are serving?
[Peter]: I have been involved with the SEG since I served as CE Chairman for the CSEG in 1984. After moving to Houston I served as CE Chair for the SEG. That led to a year on the SEG Executive Committee in 1992-93. The experience of being on the Executive Committee with the likes of Mike Schoenberger, Rutt Bridges, Ian Jack, Sally Zinke, Pat Lindsey and Marion Bone was so positive that when I was asked to run for office again I didn't hesitate.
[Bill]: As a member of the CSEG, I obtain significant benefit from unparalleled opportunities for further education and technical exchange amongst geophysicists dealing with general seismic exploration issues and challenges peculiar to the Canadian setting. Innovation and breakthroughs in technology made by members of the CSEG continue to be recognized worldwide and these individuals who are based in Canada are leaders in many areas of seismology. Consequently when I was asked to volunteer on the Executive I was both honoured and proud to accept. I also wanted to ensure the continued success and enhancement of this technical prowess within the society as defined by our mandate and to promote the CSEG's activities and publications more widely.
[John]: I have always believed that we need to give back to the societies and associations that helped us to discover our professions. I have been involved in some aspect of volunteerism with the CSPG for more than 20 years, and will continue to volunteer well after serving as President.
[Steve]: I have a strong belief in supporting the profession that I work in and the easiest way is to get involved in the professional society pertaining to the profession. The road to the Presidency took many years of professional society work.
[Andrew]: I firmly believe in the Society of Petroleum Engineers' goals and missions. I believe that the Society offers many benefits to industry professionals worldwide, including the publications it offers, the Web site, meetings and conferences, local Sections, continuing education, and much more. SPE has made it its goal to disseminate technical information to E&P professionals globally. I am passionate about promoting professional excellence in our industry, and SPE is the perfect vehicle to do this, being an industry-based organization. In this role I have been keen to develop a Society that is inclusive of all professionals wherever they may reside.
It has been an honor and a privilege to work with SPE and help build on and further this mission. As part of that, SPE has opened a fifth office in Dubai, U.A.E., to service members in the Middle East and Indian subcontinent. During the past year, SPE also has reorganized and improved the Web Site so members can access information more readily.
[Mike]: I have been an APEGGA volunteer for more than 15 years, starting with the Calgary Members Liaison Committee. I have made it a part of my professional practice to get involved in my community, public life and professional activities beyond the immediate demands of my employer. There is always more to be gained by being actively engaged with these broader aspects.
What is your perception of the role of a professional society in the scientific community?
[Peter]: The SEG and perhaps most such societies exist to foster the science, to promote the professional practice of the science and to provide a community for the practitioners of the science.
[Bill]: My belief is that a professional society, or more appropriately, a scientific society, has a primary responsibility to ensure that its members have the opportunity to maintain and advance their technical competence through ongoing education and formal meetings to exchange new ideas. I also believe that the CSEG plays a significant role in generating enthusiastic interaction within a scientific community that is engaged in the search for improved and more cost effective methods.
Recently the CSEG has expanded beyond its mandate "to promote the science of geophysics" into the business world of setting guidelines for standard practices such as the MLA. There is a case to be made that standards by which the seismic industry conducts business should be clear and well established. However, this is not the case as industry has dealt with its own specific needs for contracts, agreements and methods to control data exchange practices. Societies such as the CSEG and the SEG have seen the need to get involved but it is still unclear as to whether this responsibility is best handled by scientific societies. I am not suggesting that we stop the current effort but we may need to have a clear plan with other societies or regulatory bodies such as APEGGA, CAPP, CAGC and CAPL before we contemplate any future initiatives. Consequently, we continue to have further discussion with these groups focused on synergies that might help members conduct their business.
[John]: I think that most professionals would view professional societies as providing services to the members that would include a monthly publication, scientific publications, a yearly conference and field trips and short courses both at the annual convention and throughout the year. As an involved member, I see many other roles for the professional society including the above plus, public outreach, student outreach, industry relations, and building our relationships with other sister societies and associations.
[Steve]: The role is to advance the science, to promote technology, to foster the spirit of scientific research, to disseminate information pertaining to the science, and to inspire a high standard of professional conduct.
[Andrew]: A professional society should be a resource for its members. It should disseminate information to its members in an effective and efficient manner, to keep them aware of the latest best practices and innovations in the industry. A professional society should provide expert technical information on which its members can rely. A society also should educate the public about what its industry does and how it affects them. It should give its members opportunities to network with other industry professionals and also opportunities to further their careers through continuing education.
Finally one should note that SPE is not solely a discipline- based Society but is inclusive of all professionals who work in the industry and academia, to add value to their stakeholders. Generally today this is in multi-disciplinary teams and accordingly SPE believes it underpins the very modus operandi of our corporations, while still providing specialized media to disseminate specific discipline technology.
[Mike]: APEGGA is more of a regulatory agency than a professional society, but also directs efforts in meeting the needs of
What does your society do for students at their career decision stages with respect to career opportunities in geosciences/geo-engineering?
[Peter]: The SEG supports kindergarten through grade 12 programs in the earth sciences both directly with our Geoscience Education Program and its traveling Geophysical Display, and through the programs of the American Geological Institute. Recently we have supported the development of a Seismograph and Earthquake Training Kit aimed at middle and high school science teachers. Each year at the annual meeting, the SEG runs a half-day program directed at local middle and high school students. Last year's program, for example, featured Dr. Robert Ballard of Titanic fame, who gave an impassioned description of the adventures a career in the earth sciences can offer.
At the University level, SEG has 117 student sections in more than 30 countries. Student members get price breaks on courses and convention attendance. Each year through the SEG Foundation we distribute more than $200,000 in undergraduate scholarships to earth science students. We are cosponsors, with AAPG, of a student expo (a job fair) twice a year, an event that will soon go virtual with a web presence opening next spring.
[Bill]: We have a number of initiatives within the CSEG, including scholarships that identify and recognize accomplished students through our Scholarship Fund. Other events offer direct career information and advice through industry/student contact such as the APEGGA Geoscience Sponsored Mixer, student receptions at conventions, outreach such as "Geophysics in the Mall", and the annual "Fall Honorary Address" sponsored by the CSPG, CSEG and APEGGA. Through inter-society discussion with the CGC and CSPG we plan to improve our outreach initiatives to promote and disseminate information on the geosciences to encourage students to consider a geoscience career, as well as informing the public across Canada.
[John]: CSPG works through our Education Trust Fund to fully sponsor our very successful student industry field trip in the spring of each year and work with the various university student conferences to provide a lecturer and awards for each of them. We also work with the universities to provide a CSPG Student membership for each of the geology clubs in Canada.
[Steve]: Career opportunities in the geosciences are good, especially considering the average age of current workers in the industry. The average age of an AAPG member is 49, which probably also represents the average age in the industry. There should be abundant jobs available as this group begins to retire. AAPG is sponsoring Job Expositions at many of our section meetings. We are also working on a virtual student exposition that should go live next year.
[Andrew]: SPE provides an online Career Center. A big part of student membership is discounted rates or sometimes free registration to meetings around the world. At these meetings, students are able to network with professionals in the industry, therefore building relationships that will guide them into their careers. SPE also has a partnership with Worldwideworker to organize and manage Oil career fairs at several SPE conferences throughout the year. These career fairs attract major industry companies and their HR representatives to recruit students. At the Annual Technical Conference and Exhibition, SPE arranges sessions for the students and provides opportunities to hear from industry leaders who can guide and give advice on entering into this field.
[Mike]: APEGGA reaches into elementary and secondary schools to build awareness of the amazing career choices in engineering and geosciences. APEGGA volunteers are present and active at career fairs with information about the education and training needed for professional recognition.
Are there any increased opportunities for women or minority groups within the technical/professional societies? Could you base your answer on factual numbers pertaining to membership within your Society/Association?
[Peter]: Increased opportunities? At SEG we make every effort to be race, nationality and gender blind. We do not request any information of that sort from our members nor keep any such records. I believe about 10% of our committee chairs are female. We have had females serve in every position on the Executive Committee, including President. Our current Executive Director, head of our Tulsa based staff, is a woman.
I think every opportunity exists for all who want to participate.
[Bill]: From my perspective within industry and in the CSEG, I believe that opportunities for women within geophysics are good and improving. I believe that there is no inherent gender-based impediment to obtaining a career in the geosciences and there is certainly no restriction for opportunities within our technical/professional societies. In fact during my career, the restriction on the number of women that we could hire was dependent on the number graduating from universities and not on internal corporate limitations. However, I believe the number of women graduates has increased from 10% to 20% over the past 20 years. In the same two decades within PanCanadian, I estimate that women made up between 25% to 30% of geophysicists. However, I do believe that this number was and still is unusually high in the Oil and Gas industry. In the last CSEG member survey in 1997, all women members including geophysicists accounted for only 9% of membership in the society. This number has improved slightly and now stands at around 10%.
More importantly I think that the opportunity for advancement to top management levels for women within the Oil and Gas industry is still restricted by various company cultures and I hope that my generation will be the last to adhere to this anachronistic attitude.
[John]: We do not track the opportunities for volunteers by gender or minority. The CSPG volunteers are not selected by race or gender and everyone has always been welcomed to participate in the societies volunteerism. This year, for example, our Executive Committee of eight has four women! I personally see our industry employing the best and brightest, without restrictions of culture, race or religion.
[Steve]: Opportunities for women and minorities within professional societies are good. AAPG recently had its first female president of the organization. We have minorities and women throughout our committee system. We also have a special ad hoc committee on Diversity to help us focus on the issues.
[Andrew]: SPE has a worldwide membership of more than 55,000 industry professionals. This includes members of both sexes (7 % female) and more than 110 nationalities. Based on my travels among Sections I believe the percentage of women involved in officer positions is substantially higher than at the general membership level.
Each member of SPE receives the same benefits and opportunities through the society. Membership dues are based on tiers depending on where members reside and their financial capacity to pay, therefore making it easier for professionals in less developed countries to join.
[Mike]: We believe that the engineering and geoscience professions have always offered, and continue to offer attractive and rewarding career opportunities for women and minority groups. Enrollment in approved courses at post-secondary programs in engineering and geoscience is now around 25% female, and this is changing the face of the professions. Although we do not have programs directed explicitly at minority groups we make sure that all qualified people are welcome regardless of being a member of a visible minority.
How much education should I get? In general, it is believed that the more education you have, the more money you earn. Is that true?
[Peter]: The latest (2002) SEG salary survey showed the opposite. Our highest paid member segments were those with Bachelors and Masters level degrees. Ph.D.s had slightly lower salaries on average as they tend to work in research oriented companies or divisions where the pay scale seems to be lower than on the front lines of operations. It is certainly true that without some university level degree there is a ceiling that is practically impossible to break through. Beyond that, no degree is a guarantee of success. Seeking a higher degree should be a choice based on your desire to stay in school and dig a little deeper into the science. It's a matter of personality more than practicality. Once in the work world it is diligence, industry, creativity and honesty that will drive your career and earning power.
[Bill]: Generally, this would be the case. However, there is a minimum requirement of a B.Sc. degree and the trend has been to favour M.Sc.s as they have had a chance to cover more applied seismology courses as well as having potentially had some work experience in either summer jobs or co-op programs. Some Ph.D.s could be too specialised and employers run the risk that these employees might eventually return to university as professors, as this was their original goal.
[John]: In Canada, a B.Sc. from a Canadian university is sufficient for a position in most of the oil and gas companies in Calgary. A Masters is preferred by some of the major companies and all companies have a certain quantity of Ph.D.s for the research necessary in most of our organizations.
[Steve]: I believe that for geoscientists, the Masters degree is necessary. For the engineering side of the business a Bachelors degree is the minimum. Our industry is cyclic and advanced degrees should help employees survive the cycles.
AAPG salary survey information shows that the M.Sc., and Ph.D. degrees earn similar amounts of money. Both earn more than B.Sc. degrees, in general.
[Andrew]: SPE offers continuing education opportunities for anyone who is interested, no matter where they are in their career. The question of "amount of education" is very subjective. One may learn "on the job" (experiential), from one's peers and superiors, via company inhouse courses or through formal external education. What SPE offers is a range of learning media that is very much at the control of the member. These include all the journals, short courses, Distinguished Lecturers, monthly meetings, books, conferences, forums, ATWs etc. One can always learn, and I would certainly encourage everyone to maintain their currency of knowledge, in order to add the most value and enjoyment in their job. If this logically adds value to your employer, then yes, one would presume it flows through to one's compensation. Unfortunately I do not have salary data at present to quantify comments with respect to higher tertiary education qualifications.
[Mike]: The basic educational requirement is an approved four year degree in engineering or the geosciences. Our salary surveys confirm that post-graduate degrees do correlate with increases in salaries.
Training is more than formal education and degrees. A geoscientist's/geo-engineer's current training can get him/her a job, but will not keep him/her attractive as a consultant/employee throughout a decades-long career. How do you cater to such needs?
[Peter]: At the SEG continuing education is one of our core values. We support the ongoing professional development of our members through publications, workshops, lectures, and CE short courses. International and regional meetings provide a prime opportunity for all of us to stay current. Finally, SEG has recognized the need to deliver more training opportunities over the web and we are working to meet that need.
[Bill]: Primarily this is done through continuing education internally within organizations or externally in the form of industry courses. The CSEG has recently ramped up opportunities for training during one's career beyond university education. These opportunities include the popular CSEG DoodleTrain week and the SEG's Distinguished Instructor Short Course program. However the majority of continuing education is undertaken by individuals attending courses throughout the year at various conventions and venues such as the GPDC facility, which the CSEG co-sponsors.
Beyond any formal training there is a general community of practice within a number of successful organizations where the mentoring of junior staff by experts is encouraged and allowed to flourish. However this aspect of an individual's training continues to diminish as a direct consequence of a general management trend to fund projects that are solely driven by the bottom line. We have seen the demise of this mentoring expertise within a number of companies that have undergone mergers with the consequent lack of interest in encouraging any knowledge that might have been usefully applied to exploration challenges. There will be a price to pay from this reduction in a genuine desire to push the technological edge that would enthuse the brightest of new grads entering our industry. I am glad that I caught what I believe to be the last opportunity to freely experiment where my imagination might take me.
[John]: CSPG has long had a training component within the outreach of the society. Lately, we have worked more closely with the University of Calgary on training through their GPDC, (Geoscience Petroleum Development Centre) which was developed on Grants from AAPG, CSPG and CSEG. We also offer short course and field trips at our annual conference. Mentorship and networking are the responsibility of the professional in today's world where most of the companies have decided to reduce their company training structures and offer only the most basic of courses and seminars.
[Steve]: AAPG offers life long learning opportunities for members. Our publications, conventions, short courses, and field trips are all designed to help the employee keep up to date with the latest scientific information.
[Andrew]: SPE not only offers Distance Learning, which is online courses for continuing education purposes, but it also offers short courses. Short courses are classes that are held in conjunction with meetings around the world focusing on specific topics. During the Annual Technical Conference and Exhibition, there are eighteen short courses scheduled, meeting the needs of all different aspects of the industry. We also distribute the monthly publication, JPT (Journal of Petroleum Technology), which covers current topics in the industry. SPE provides a whole range of learning media.
[Mike]: A few years ago APEGGA launched an ambitious program of mandatory reporting of Continuing Professional Development. This program underscored the point of your question. Keeping current with your profession through continuing professional development is both an ethical and a professional requirement, and incidentally keeps you attractive as a consultant or employee. A wide range of opportunities is available to our members. We are sponsoring a project to create an on-line learning market place through the PEGGasus initiative, as well as being very active in providing CDP opportunities ourselves.
How do the professional societies reflect the effect of occasional downsizing in the petroleum sector, by way of mergers, etc.?
[Peter]: The SEG has seen 10 years of year-on-year decline in membership. This has to be a reflection of the contraction in our industry on both the buy and sell side. That trend has been reversed this year with a slight increase in members. Interestingly, the growth is largely outside the US. For the first time in history, a majority of our members are living or working outside the US. I believe other societies are seeing the same trends.
[Bill]: Beyond the obvious impact on the membership numbers I suspect there is little change in the activity of professional societies beyond a general commiseration amongst members who are either laid off or still hanging on to dead end jobs. From my own experience and observation there is little or no interest in professional societies shown by the management who control these downsizing or "rightsizing" cycles. In fact I think they are unaware that these societies exist and that some of their employees have volunteered to help run them with the aim of encouraging the technical aspects of our profession.
[John]: We find it hard to keep up with the demand placed upon the society for the training of the younger geologists in the industry because that type of training is no longer found in the mid-sized independents. The training for the "downsized" members for support of their future careers. is also a concern and I think most societies struggle with how to help their members who have become unemployed through corporate mergers and acquisitions.
[Steve]: We see the effect in our total membership numbers. Our membership in 1985 was 45,000 whereas currently it is approximately 30,000. In addition, we see the membership changing geographical areas to relocate in the important oil and gas centers like Houston, TX.
[Andrew]: SPE membership has not been affected by the current downsizing in the sector. Actually our membership has been growing steadily for the past few years to its highest level since 1986, albeit the demographics of membership have changed substantially with nearly 50% of members now residing outside of the USA. Notwithstanding some downsizing, around the globe the aggregate number of people working in the industry is increasing and SPE's reach to the global E&P community is increasing.
[Mike]: APEGGA has not been particularly impacted by these moves as industry restructures itself; there continues to be opportunity and need for qualified, licensed professionals.
In the salary surveys conducted by different professional societies, e.g. SPE, AAPG, CSPG, SEG, CSEG, APEGGA, what differences do you perceive? Do some groups see themselves as better or worse paid than others?
[Peter]: Sorry but I haven't seen the other salary surveys so I can't comment.
[Bill]: I think that the CSEG is probably the most financially efficient society to which Canadian geoscientists might consider joining. By efficient I do not mean the cheapest but rather offering more for the membership subscription than comparable societies.
In the area of technical exchange, we manage to rival societies with two to three times our budget through national conventions and extensive continuing education. We also have recently created a world-class publication in the form of the RECORDER that rivals the SEG's The Leading Edge.
So CSEG members might feel that they get better value from their society, but I don't believe there's much effort to compare CSEG members' salaries with those of other societies'.
[John]: In general, at most levels in Calgary, geophysicists are paid at a slightly higher rate than geologists with the same level of experience and education. The most extensive salary survey in Alberta, APEGGA's survey, also confirms this assessment.
[Steve]: I have not looked at salary surveys from the other organizations. In general, I believe that engineers are paid more than geoscientists.
[Andrew]: I really cannot give you a quantified answer at this time, not having the data at hand.
[Mike]: Our 2003 employer salary survey has just been released. Data on salaries paid within different employment sectors is reflected in that data.
There could be some variance in salaries due to the nationality of the respondents being non-US or non- North American. Do you agree with that?
[Peter]: I don't have data by nationality. Our own surveys show average salaries to be higher in the USA with the exception of a couple of overseas locations.
[Bill]: I agree there is probably a significant variance in salaries but there is an associated variance in the cost of living between countries that may be more significant. Some form of comparison based on buying power would probably show less variance.
[John]: CSPG does not look at surveys outside the Canada market.
[Steve]: The cost of living and salaries vary around the world. The total compensation packages also vary (vacation, salary, benefits, etc.). For that matter, salaries vary from large companies to small companies. International companies generally pay more than the National Oil Companies.
[Andrew]: Again I cannot give you a quantified answer, however certainly qualitatively salaries in many parts of our Industry around the globe are significantly lower than in the North America, however one needs to take into account the local purchasing power for a thorough comparison.
[Mike]: We have no data to support or refute such a variance.
In what way(s) does your society/association help the individual members?
[Peter]: SEG provides a wealth of opportunities for members to stay current with the science of geophysics, to stay current with what the vendors are offering, to stay current with what other geophysicists are doing in their careers and to be active members of a community of like minded professionals, professionals who have a great love of the earth and a great love of the science of exploring the earth.
[Bill]: Primarily we follow our mandate to encourage the technical exchange of ideas through a variety of avenues such as conventions, seminars and continuing education. We also have a strong and active membership network that helps create opportunities for employment and new ventures.
[John]: Training, Luncheons, Conferences, Publications, Social Events, Volunteering Opportunities, Networking, Membership Lists, Website, Employment Database online for prospective employers are all ways the CSPG tries to deliver additional services to the membership.
[Steve]: We offer many products and services to our membership. Our products include publications (such as the AAPG Bulletin, Bulletin Archives Online, Search and Discovery e-journal, AAPG Explorer, and other memoirs and special publications). We also have mid-career training centres set up in various locations. We have distinguished lectures for our membership. We offer conferences, field trips and short courses for our members. We also have personal member programs such as the Retirement GeoVest Program, Health Care Programs. Our products and services are probably the most diverse offered by any scientific society.
[Andrew]: Members of SPE receive many tangible and intangible benefits, that all lead to giving them the knowledge that they need to stay abreast of new information and technology in the E&P world. For instance, SPE members receive discounted rates to more than 50 meetings and conferences worldwide annually; they receive a monthly issue of the Journal of Petroleum Technology, access to SPE.org, free access to internet-based Technical Interest Groups, a monthly e-newsletter, a quarterly printed newsletter, participation in local Section activities, and professional development and continuing education opportunities. All this in addition to the invaluable networking.
[Mike]: Besides the professional recognition granted, there is a long list of benefits of membership in APEGGA. The opportunity to participate in a self-governing profession is top-most and there are over 500 opportunities to do that within APEGGA. I have already mentioned our involvement in continuing professional development. APEGGA members can benefit from sponsored benefits such as insurance programs, RRSP and the like from approved service providers. We continue to investigate additional membership benefits that meet approved criteria of the Council.
Serving as a volunteer or appointment to Committees or Boards on a professional society enables you to meet other active people in the industry. What are the other benefits one gets on serving as an Executive of the Society?
[Peter]: It's not all about benefits. For me there is a certain sense of wanting to give back to a profession that has been a source of great personal fulfillment. Holding an office is just another facet of that fulfillment. Serving on the SEG Exec has been like a trip to summer camp. You make new friends. You do some service work. The change from the normal routine is relaxing. Sometimes you get to start a project and see it grow within the society and become meaningful to others. Frankly, most of those I have served with have all felt the same way.
[Bill]: In my particular situation I have become more aware and can better relate to the traditional Canadian industry within Alberta, B.C. and Saskatchewan, as this is outside my focus at work, which is primarily outside western Canada.
[John]: Experience with management of a company, Budget, Operations experience, Staff management, and working with senior leaders and most of all serving with a great bunch of professional Geologists that make running the Executive Committee fun every two weeks at our meetings.
[Steve]: Other benefits include helping shape policy decisions for the organization. Each new president has an agenda. This year I'm focussing on: promoting Professionalism; enhancing student programs; promoting international development; increasing AAPG's digital products; increasing Public Outreach; increasing inter-society programs; and creating a new long range plan for the organization.
[Andrew]: Someone who volunteers in SPE's activities is able to help shape the society's mission, therefore helping get information out to other industry professionals. All SPE activities require a certain amount of volunteerism. SPE would not function without its volunteers – they make the society work by reviewing papers, organizing technical programs, making board-level decisions, making presentations, managing committees, authoring papers and books, and much more. Volunteers have the added benefit of being involved in a Society that is respected as the premiere organization in the industry.
However, the overarching tangible fringe benefit of being actively involved in SPE, is for one's personal technical and managerial development which will add value to the company. Every manager should be made aware of this attribute, noting that much of the volunteer work is done in the individual's own time.
[Mike]: Meeting a variety of people with similar commitments to leadership of professional associations in Canada is a huge benefit to me both personally and professionally. Working with committed, dedicated volunteers and association permanent staff gives active involvement and "hands-on" opportunity in non-profit leadership and governance.
Are geo-science / geo-engineering adapting to the changes going on around us and positioning for a future in a changed world?
[Peter]: Absolutely. I see all the professional societies changing to address the reality of globalization, to cope with the changing age demographics of their membership, and to attract and retain the entry level professionals as members.
[Bill]: I believe that in the geosciences we have embraced and lead the world in applied computer technology involved primarily in imaging, inversion and visualization. As an example, within my career we have moved from two-pass post-stack 3-d time migration to the verge of economically viable 3-D pre-stack finite difference depth migration that incorporates anisotropy. This has occurred through the use and encouragement of significant improvements in computing power specifically driven by demands within the seismic industry.
[John]: In general, the younger geoscientists seem much more adaptable to the integration of the disciplines of geology, geophysics, and engineering. With many of the lines of each discipline becoming mixed, mostly through technology advancement, I think it's a good thing for our industry.
[Steve]: At AAPG we are working on a new long-range plan to incorporate the changes occurring around us. We want to continually assess the changes so that we may move to make changes to meet the needs of our membership. We are also working on several projects with our sister societies (e.g., SEG and SPE) to help meet changing industry needs.
[Andrew]: I believe that the industry is becoming more technologically driven. We are finding that companies like Intel, Microsoft, and HP are developing sectors that cater to the energy industry. These companies offer innovative ways to move into the future of the industry, with new technologies, software, communications and developments. Communication technology, particularly, is enabling the dissemination of knowledge in a very different paradigm to even just five years ago. The society also is becoming more global by opening new decentralized offices to service members in areas that before did not have direct contact with SPE staff.
Finally it is noted that the Society's strategy is all embodied in a periodically reviewed Long Range Plan which is the road map which guides the Board's governance. This LRP is available for all members to review and have input to.
[Mike]: Absolutely. From such world-impacting issues such as climate change to the impact of technology on daily life, we must adapt or else surrender to becoming irrelevant. APEGGA and its members are adapting to such changes as a normal part of professional life.
Are there demands (by members, the public perception, or regulators) for common professional guidelines, standards or certification or licensing? In Alberta for example, there been new requirements by the Alberta Securities Commission for evaluations of reserves by independent professional evaluators. APEGGA has issued new guidelines for serving as a witness in court, relying on the work of others, and initiated requirements for developing Professional Practice Management Plans to ensure due diligence for applied science practices.
[Peter]: I don't see this very much in my travels. For example, geoscientists have only become licensed this year in Texas, years behind Alberta and other jurisdictions, and the exploration business is exempt from that licensing.
[Bill]: In an ideal world, APEGGA expects total compliance for professional and technologist registration within engineering, geophysics and geology. However, these legal requirements are mitigated by allowing qualified registered professionals to oversee and conduct due diligence regarding the work of non-registered but competent professionals. I believe professional societies such as the CSEG are playing a more significant role in encouraging and facilitating the continued education of geophysicists than APEGGA.
[John]: Across Canada the same new requirements apply for geologists to be registered to protect the public. I believe that most of the other provinces follow very similar rules to Alberta where we all have an obligation to be registered with APEGGA.
[Steve]: We offer the public a means to recognize properly educated and trained professionals. Our membership requirement includes the following: 1) a three-member sponsorship (attesting to the high ethical character of the member), 2) adequate education, and 3) adequate experience levels. We also offer several certifications (Certified Petroleum Geologist, Certified Coal Geologist, and Certified Geophysicist). The certification programs offer reciprocity to other organizations that have similar requirements (SIPES, AIPG). The new demands in Alberta will probably have a ripple effect to other areas. So far, we have not seen any new demands, legislation, etc.
[Andrew]: SPE, together with the AAPG and WPC, many years ago jointly developed and approved of a global standard for Oil & Gas Reserve Definitions. In 2000 SPE further developed a set of Resource Guidelines for use in our industry world-wide. The Reserve Definitions have been accepted by the SEC in US and by equivalent organizations in many other countries.
SPE assists in setting exams for registration of Petroleum Engineers in US, and is currently addressing the wider issue of certification of Engineers in other countries following the demand from members around the globe.
[Mike]: Much of what APEGGA does, and you have picked out a few of them, comes from demands from the public, other regulators, and members for common standards. In many instances an organization that has authority such as the Alberta Boiler Safety Association, Alberta Environment, or municipal organizations such as cities and towns will insist there be professional authentication of work that is submitted to them for approval.
What message would you like to send out to members of different societies/associations?
[Peter]: Professional associations exist only because of their members. The programs of each are usually the direct result of some individual member's initiative. If you see a good opportunity that is being missed by your association don't ask why, rather ask how you can help make it happen. It's your association.
[Bill]: I would like to encourage members of other societies to attend and interact more frequently with the CSEG's technical functions such as luncheons, conventions, continuing education and workshops. This would bring a new perspective and enthusiasm for the challenges that face exploration and development of oil, gas and other mineral resources.
[John]: With continuation of the aging of our professions, it is imperative that all of our societies remain vigilant in the promotion of our profession to the youth of the world. We should also look for ways to work together, as societies and have our industry help the professional associations and societies promote the message of our industry to the students that the industry will, in five to ten years, lose upwards of 50% of the professional staff as the baby boomers of the fifties start to retire.
[Steve]: The petroleum industry will remain vital for world energy and other societal needs. The future looks very bright for new students entering the business. AAPG has many programs that we offer to our membership. Please consider joining our society.
[Andrew]: My message is to become involved in your society at every level possible. My time as the president of SPE has been most gratifying and has opened my eyes to the many benefits of membership. Moreover, I have been astounded at the enthusiasm and passion professionals have for their work and the industry all over the world. In addition I have seen wonderful cooperation between various international and national societies. I encourage this, as I see enormous value to be gained between the SPE, the AAPG, the SEG, the EAGE and others. It is only logical that these societies, and others can mutually benefit from linking websites, e-libraries, workshops, conferences, distinguished lecturers and short-courses. I encourage every individual involved in the E&P industry to learn about their society and the opportunities available to them. It can only enrich their career and help them in their professional development.
[Mike]: APEGGA is pleased to collaborate with related associations and societies. There are hundreds of excellent technical societies to which our members belong. The chief purpose of most of these societies in providing professional development opportunities to professional engineers and geoscientists is entirely in tune with APEGGA's mission to serve society and protect the public by regulating, enhancing and providing leadership in the practice of the professions.