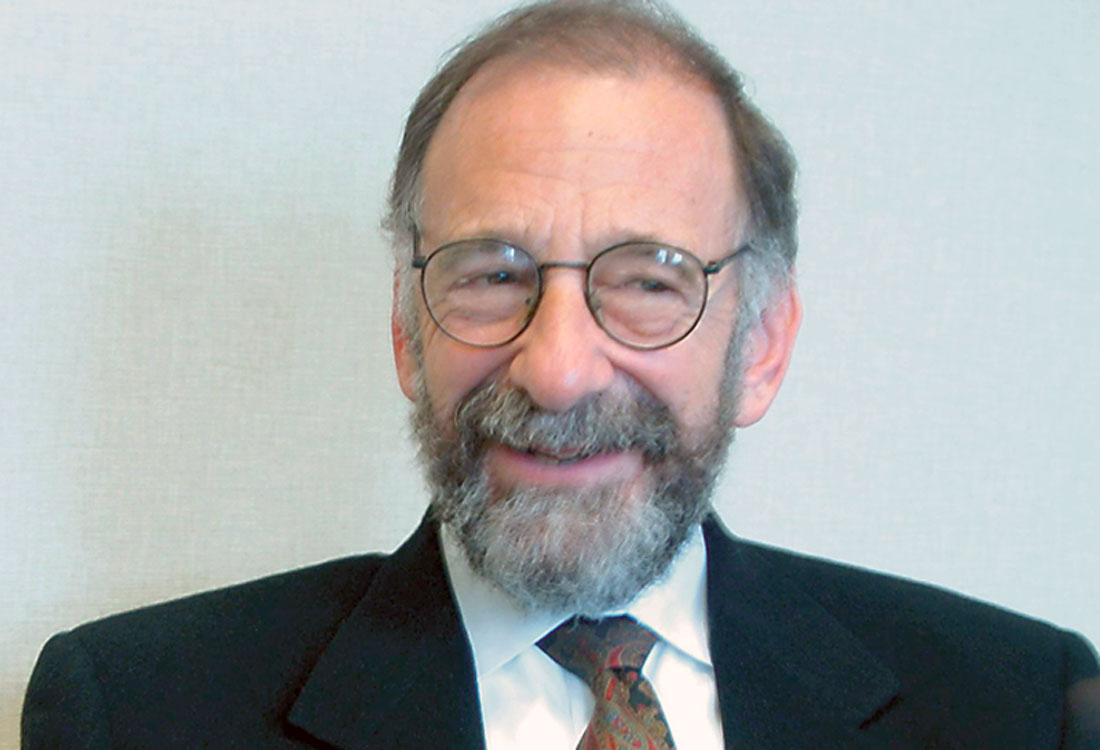 Ken Larner is a well known name in the international geophysical community. An outstanding teacher, scholar and a great practitioner, Ken was the inaugural speaker for the 2004 CSEG Doodletrain held in Calgary in November last, where he delivered his talk entitled "How many dB can we buy?"
In August of 2004 Ken retired from Charles Henry Green Chair of Exploration Geophysics at the Colorado School of Mines (CSM), after 16 pleasurable years. Presently, University Emeritus Professor at CSM, Ken h a s received a number of awards, including the Maurice Ewing Gold Medal of the SEG, and has served on several committees of professional societies, notably as SEG President in 1988-1989. Requesting him for an interview was indeed an honour and Ken surely obliged us. Soft spoken, gentle, and an excellent speaker, Ken gave clear and straight forward answers to our questions.
Ken, you are a well known name in the geophysical industry and have made enormous contributions to the discipline. I would like to begin by asking you about your educational background and experience, and all that.
Okay. I first became interested in geophysics in my junior year of high school. I lived in Florida at the time when geophysics came into my head, and Colorado School of Mines (CSM) was the only University that I somehow ended up applying to. The undergraduate degree at the time at CSM was a Professional Engineering Degree in Geophysics. I then went to MIT to study for a Ph.D. Study there was interrupted by two years in the military including six months in Vietnam. I received my Ph.D. in 1970, in Geophysics at MIT, studying under the noted seismologist, professor and most warm human being, Keiti Aki.
And how about your work experience after that?
Following good guidance and suggestions from people such as Nafi Toksoz at MIT, Frank Levin at Exxon (actually Humble Oil at the time), I went straight to work with Western Geophysical Company. They thought that Western would be a good company to work for. A strong company, it didn't have strong research at that time but was poised to seriously commit to research. I joined the research group as a Research Geophysicist in 1970, and in 1979 became Vice President for Geophysical Research, serving in that position until 1988.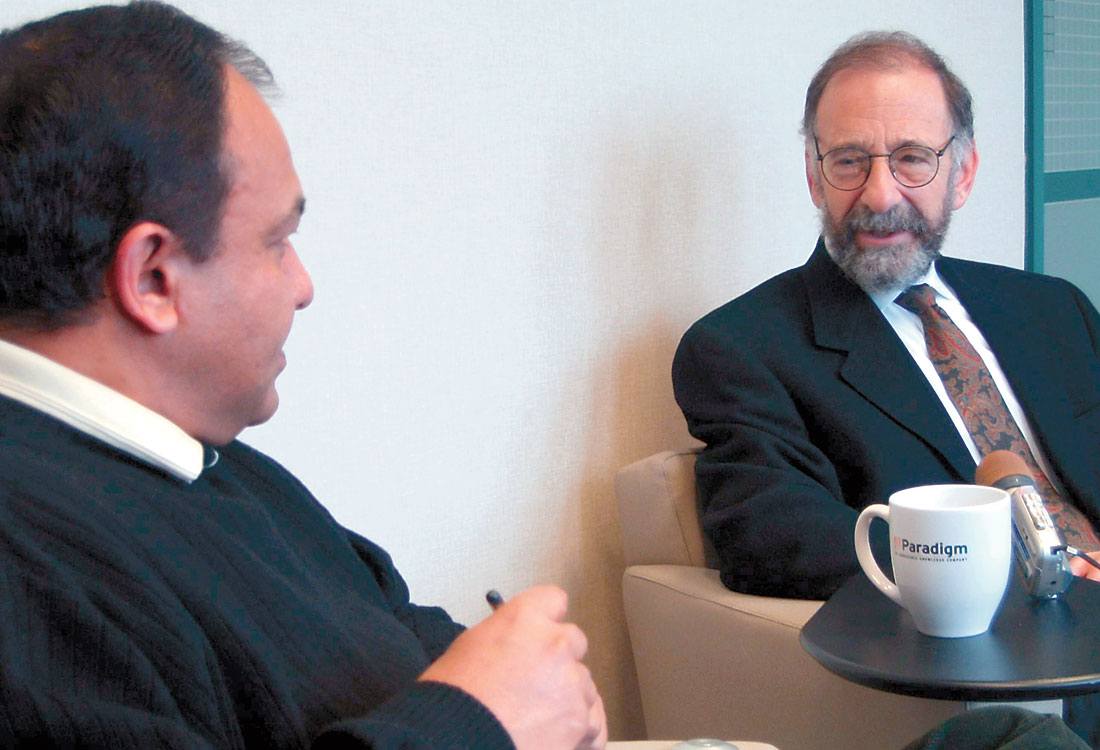 While at Western, I felt there was no place in the industry where I could imagine myself working other than Western Geophysical. It felt right. The company had wonderful people and resources. I wasn't especially interested in an academic career either, but a phone call from Phil Romig, who was the Head of the CSM Department of Geophysics, offered something very special – the opportunity to return to my alma mater. The position was the Charles Henry Green Professor of Exploration Geophysics, endowed by Cecil and Ida Green in honour of Cecil's father. That was the first major change in my career, and the only one until this past August when I retired from the Green Chair. I'm still trying to figure out what retirement is all about.
Right, you said a minute ago, geophysics was stuck in your head early on. So apart from that, did you have an ambition while growing up?
Did I have a particular ambition from an early age? I don't know – I think I wanted to be a tap dancer when I was quite young. I was a serious student in high school and knew that I wanted to study something in a quantitative field – math, physics, engineering; I didn't know just what. My father had a small interest in some shallow oil wells in Kansas. I went to Coffeville, Kansas, with him one summer to visit those wells. That's when I first heard about geophysics. The notion then came that I could be in a quantitative field, engineering let's say, and at the same time do something outdoors.
At the university, who were some of your mentors?
There were two professors who meant a great deal to me. Colorado School Mines had very few of what might be called humanities courses. It doesn't have much now but it had less then. One of them, "History of Western Civilization," was taught by Professor Tony Pegis, someone who meant a great deal not only to me but to many other classmates. So much so that at our reunion in 2000, the class of 1960 made him an Honorary Member of the class. I think he was a first inspiration into life-long interest in subjects not scientific, not in the world of geophysics. In geophysics, it was Professor Paul Rogers at Colorado School of Mines. He taught a course in potential methods – gravity and magnetism. There was something infectious about his way of teaching — so warm and deep at the same time. I could mention others such as George Merredith and John (Doc) Hollister. That was undergraduate. In graduate school my advisor, Keiti Aki, was a great role model.
When you switched over from Western to CSM, what differences did you perceive in the style of working? Obviously you had gone from a service company into academia.
First, I have to say that teaching was not a life-long dream. It was a thought I had way back maybe at the top of my spine, maybe not even in my brain, that maybe someday I would teach, and the only place I could picture was Colorado School of Mines. Yet when this opportunity came my way — a very special one, an endowed chair — it felt like jumping off a cliff in the dark. In fact, I hesitated for a couple of years. I did. Nancy didn't; she was ready for the change. I decided, after looking at the pros and cons, that I would stay at Western. But I made the decision to come to CSM two years later, although the prospect still felt pretty scary to me. I loved it at Western Geophysical Company till the day I left, and I have loved it at Colorado School of Mines since the day I started. I found myself, a few months after I was at Mines, walking the halls of Western Geophysical Company. That soon, it felt foreign to me. What difference did I perceive? I thought I worked hard at Western, but I feel I've worked much harder at Mines.
Was it ever a challenge for you to juggle your time between research and your teaching when you were at CSM?
Yes, but there is no question I gravitated toward the teaching. I have been very much involved with both research in the industry- sponsored research consortium, Center for Wave Phenomena (CWP) and teaching, the undergraduates especially. Whenever I would meet a student in the halls, that's where I wanted to be—talking, even just casual conversation.
And yes, continuing to touch on research. I marvel at those people who can do both really well – teaching and research.
Now, when you look back at your geophysical career, what were some of the successful landmarks according to you?
I think the first accomplishment that I feel strongly about is a change that came about at Western. We didn't have research at Western when I first joined the company. During my first couple of years I felt as if management didn't even know R & D was there. We in R & D were given time to just do our own thing. I found that the first few years, when I did one thing or another, primarily self-motivated, really paid off later on. What I did then was a continuation of my university learning process.
Another thing that I look back upon with satisfaction stems from my impression that when I joined Western, the company was secretive; it wasn't sharing much. I think one of the accomplishments I feel very good about is that we attained a reputation over the years for being open and sharing, and I think it paid off for us. You can be secretive to the point that no one knows what you are doing, including your clients. In contrast, if you share, the sharing returns back several fold. We were then able to publish more, present more papers; I feel that was an important accomplishment.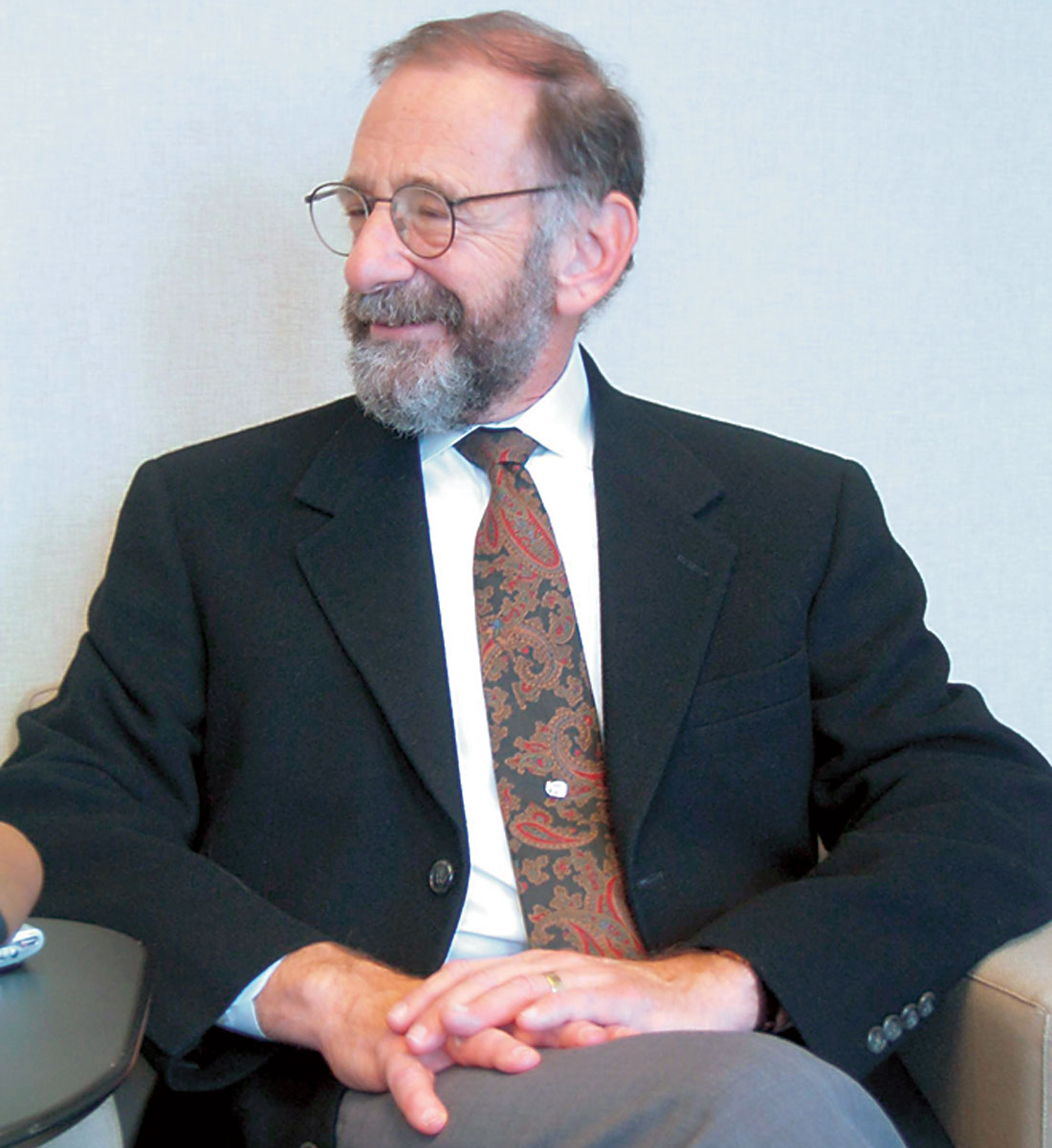 None of this was planned, it wasn't worked out in any special way, but we ended up having the most marvelous people in the research team. These young people have subsequently become noted in various fields. We hired many of them almost on the spot — not the way it is done today. No Human Resource Department, for example. So many people, such as Dave Donoho, who is world class in statistics and now at Stanford, had bachelor's degrees when they did their innovative research with Western. This included Dave Hale, who later received a Ph.D. in geophysics at Stanford. Also Stew Levin, who is now at Landmark, had a bachelor's degree while at Western. Dan Rothman joined Western with a bachelor's degree, later received a Ph.D. in geophysics at Stanford, and now is teaching at MIT. I could name others as well; it was a golden period. I don't know if it's an accomplishment or just the good fortune of being in the right place at the right time, but it was exciting.
You had a reference today to Neil Hargreaves's paper and ….
Yes, Neil Hargreaves – a wonderful researcher. And Bruce Gibson. I hadn't seen him in the past 16 years, but a few weeks ago he came to my retirement dinner. Bruce is the only truly successful geophysicist I know: As soon as he received a Ph.D. in geophysics, he moved to California to raise avocados, then oranges.
I did follow up on some of your research when I was back at ONGC, in India. We were using WGC software running on an IBM 3083 system, so that time you —
Did it work?
Oh yes, and I worked on that software for almost eight years, nine years, so I knew it almost backwards. Good software running on a good system.
What was your favorite topic in geophysics? I know you worked all over the place but still, you must have a preference for something. For example, I notice most of your papers focusing on migration, or migration velocity analysis, things like that.
I don't know that I could say I had a favorite topic. I have some fond memories of papers related to migration, for example, and statics estimation with Ralphe Wiggins. In every case it was with co-authors who were wonderful persons to work with: Bill Dragoset, Wendell Wiggins, Bruce Gibson, Helmut Jakubowicz, and on and on. I would work with one person or another; I was interested in all the topics and wish I could be more effective in even more topic areas. I don't have a favorite.
What personal attributes helped you achieve the professional status that you have today? Was it a tremendous amount of self discipline, or self belief, or something else?
I've seldom seen myself as someone with a lot of self confidence. When it comes to public speaking for example, I could tell a story from the early years of how, for one reason or another, I was almost a disaster in public speaking. In fact, if you ask Norman Neidell, just ask him, without mentioning my name, "What's the worst talk you ever heard?"; he will tell you. Those were difficult years, with this lack of self confidence.
One turning point was when I was preparing a talk on surface-consistent statics estimation with Ralphe Wiggins. It looked as though it was going to be another one of those disasters, although the material was strong. The talk ended up feeling really good. I had the strangest sensation because, while I was giving it, I felt as if I was two people – one up above looking down on myself (the other guy) giving the talk.
One other breakthrough was when I was to give a talk on migration in Denver. Despite my apprehension, I somehow got the notion during the talk that those people out there in the audience 'are my friends. They are interested in what I had to say.' This was a new concept for me. It's a concept, a story, that I often share with students who are apprehensive about giving a talk. The audience isn't worried about you; you shouldn't be worried about yourself. The audience is interested in what you have to say. That was a boon to the confidence I had for giving the talk. Still, I continue to have still had my ups and downs in giving presentations. So self-discipline likely isn't the major factor for me. I think I really do care about the people out there; I think that may be a factor.
Is there an amount of hard work that needs to go into the talk, also a factor? – Obviously.
It's a factor. I think for me it's a process, which may include procrastination, but it's a process to get me keyed up to give the talk. In fact in later years since I have felt more confidence, I have had better and worse talks, but the worst talks have been those for which I wasn't keyed up, when I was a little too relaxed. So I suggest to anybody who might feel nervous about giving a talk – "It's okay. It's okay; it helps you be truly involved, at your best."
Returning to mentors. Beyond mentors at Mines and MIT, the great mentor in my career was Carl Savit, at Western. Regarding presenting ideas, he said, "Accuracy is the enemy of clarity." In other words, don't be overly precise. Also, cautioning about the difficulty of achieving clarity, he said, "If you give a really good talk, maybe 20% of the audience will get 20% of the material." I believe communication is an area of emphasis in teaching for me, both in written papers and in speaking. What am I noted for? My red pen. There are long stories about that, as well as the many rehearsals aimed at, as much as is possible, getting ideas clearly across to the audience. We have clear slides, we hope; we have simple slides so that the story can be aided by and flow cleanly from them.
Well, let's deviate from this topic a little bit. Lately, enrollment in geophysics in the Universities is declining somewhat. In your opinion, how can we turn it around?
Well, first, the undergraduate program at Colorado School of Mines is not declining. It had declined precipitously in the middle 80s. Too many graduated in the early 80s because of the boom; it was crazy. When I first arrived at Colorado School of Mines, we had just six in a class. Now we have 17 or 18 per class. I like that size class.
Each university has to work out its needs for itself, and we are definitely short of manpower in the industry. Nevertheless, if the industry went crazy again — which it probably won't — but if it was to, we should not allow our enrollment to get much larger. I truly like the size of the class of about 20. We are a close department at CSM. It's fun both ways, for the students and the faculty. We know each other well, and I like that. I wouldn't want to have been teaching geophysics in 1984 when 120 students graduated in the little field of geophysics from little Colorado School of Mines. That didn't make sense and wouldn't in the future.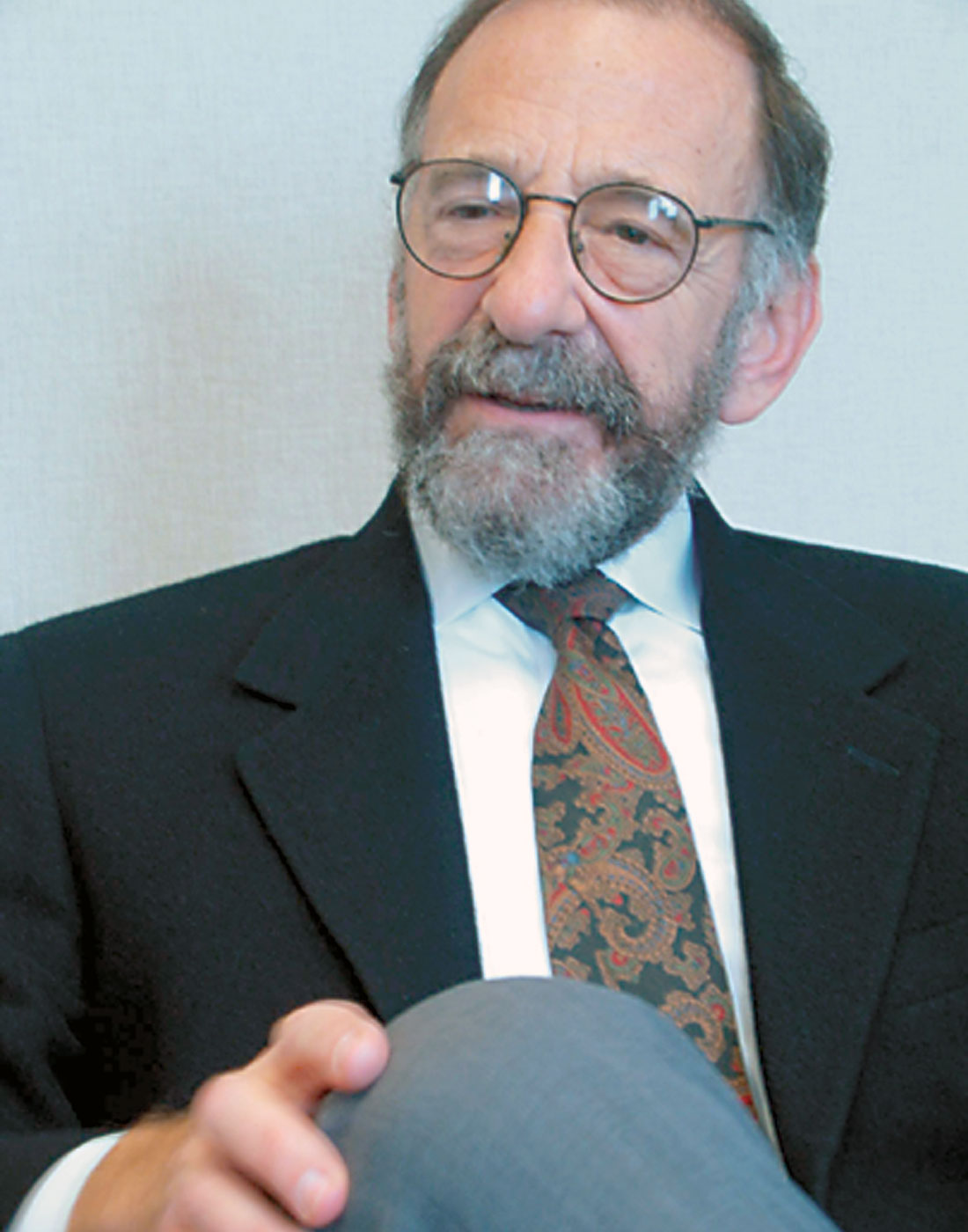 Not all graduates will be going into the oil industry. In fact, most geophysics students are first attracted to environmental applications. They have heard enough about the oil industry to make them wary. Not the least of their concerns is the industry's reputation that it is not as stable as it used to be. Many of the students nevertheless get interested in the fascinating technical problems in seismic exploration while in school, even if their initial interests were in another areas.
So, at the undergraduate level we are holding up pretty well. We actively recruit and try to interest students in geophysics. Telling them just what geophysics is, that is the first problem. In contrast at the graduate level I see problems around the world. At CSM and elsewhere and it is difficult to attract Ph.D. students in the more quantitative aspects of research. This is particularly true of the U.S.; U.S. students seems to be more drawn to do exploration. So, out of 16 Ph.D. students in CWP just two are from the U.S. For many years we had just one from the U.S. If we didn't have that one, we wouldn't be truly international. It's even difficult now to attract students from Europe, and I find friends at the European universities with similar concerns. For many years, students from China were our largest contingent. In the past four or five years, we have had a number of students from India — we hadn't had any before; now we have perhaps an open pathway to graduates from the Indian Institute of Technology, in Kharagpur.
I was also wanting a comment on the maturing workforce in the industry apart from the students. You know we have a demographic bulge from ages of about 45 years and above in the industry. These people will be heading towards their retirement soon.
But do you know what bothers me about the demographics curve, the bell curve, in this area? What bothers me most about it is that I'm not even on it anymore! The demographics problem is of course not new. People in the industry have been talking about this and wringing their hands for 10 years and more. Meanwhile we watch the peak slide toward the higher ages. I am hearing now that the major oil companies are hiring more, and some of the smaller oil companies are as well. Although we are seeing that pick up, industry has to do much more than just pick up a little bit. It's not going to be easy to find enough qualified people, to mentor them, and in short order bring up their level of expertise. So, again, relating to the size of our classes, my feeling is, when the industry truly wakes up to this need, when it really recognizes that it needs lots of graduates, we will have to say, "Sorry, this is the size of our classes; this is what we think is the right number to provide a quality education." We cannot afford to over- respond as we did in the past. So it's a great problem, everybody knows it.
In your career, you have received many awards and have been recognized by many professional societies. I know all awards are dear to the recipients, but which award do you value the most?
I just received an honour, was just notified about this a couple of weeks ago. When you retire from Colorado School of Mines you automatically become an Emeritus Professor. But CSM has a special honour called University Emeritus Professor. There have been only five in CSM's history. One of them, by the way, is Norm Bleistein, a colleague in our Department and founder of the Center for Wave Phenomena. I am in the best of company in joining Norm as University Emeritus Professor. Why does that mean so much to me? It's now 50 years ago that I first thought of studying geophysics at Colorado School of Mines, so my attachment to CSM is that long and that deep.
I was wanting to get your comment on the power of Internet. How is it helping? How do you see it helping in the study of geophysics?
Well, the Internet has great advantages. First, students interested in our program find out about the geophysics program, and the CWP on the Internet. Almost universally they say that's where they found key information. Also, because geophysics is a world-wide field. With geophysicist friends around the world with whom we regularly interact, I don't know how we functioned without email before. I somehow think we functioned very well though, because there is so much in email is wasteful of time. On balance, however, email has been valuable. For the talk that I gave today I found three papers that I contained the material that could fit in well; I sent an email message to each of the three authors asking if I might be able to use some of their figures, and they emailed them to me quickly. Regarding the internet in general, however, currently I think there's more that's harmful than good.
So much more convenient. My daughter is at the University and I see some of their assignments are pulled down online, some of them are submitted online. The professors are making good use of the electronic communication they have at their disposal.
Yes, I have actually started to do some of that but not at those advanced levels at all. I might send an assignment, actually just an email version of a hard copy. The students respond to me in much the same way, so that's been handy. I am not a fan of Internet courses for teaching university-level graduate geophysics because I feel that the geophysics education at CSM is not just the material that's covered. It's hearing Alex Kaufman talk about potential methods, David Hale, or John Scales, or Ken Larner, or whomsoever, each one different in what he is covering, and how he conveys the material. I think that's the real university experience.
According to you, or based on your experience, what do you think is the trick in surviving in the industry these days through the up and down cycles?
I don't know about a trick; I conveyed some thoughts in the opinions article (published earlier in the October 2004 issue of the RECORDER). Industry appears to me to be much less people friendly than in the past. And I don't mean just our industry; it's a world-wide problem. That's unfortunate. As human beings, we each have our one live to live. There should be more to it than just being asked to do a task, asked to do it quickly and get paid for it, and then asked to do the next thing. There was more for decades in our industry. You worked hard then too, no question about that. You were as creative as you could be. But something has changed, not for the better. I don't agree with the idea of more with less. Rather, it's often becomes less with less, or just less.
I don't know the trick to survive. I know graduates who have gone to some of the smaller companies and are having wonderful experiences working hard at this point. So when I say I feel that it's not as friendly I don't think that's across the board, in either large or small companies.
What according to you are the main directions that our R&D is going these days? Of course you can say, you can argue, that R&D obviously goes on in every field, but I was asking about the main focus of the R&D in our industry. Is it in depth imaging or is it looking more in the radon domain or some other fields?
I think the industry is covering a lot of different ground. One of the reasons is the many relatively small hi-tech companies that are marketing niche advances and applications, whether it's AVO, depth imaging, or 4D time lapse. I don't know what is the main direction. It seems to me that we are probing in a number of directions. Attacking multiples in the marine environment has become big. It's a very exciting and difficult field.
Something kind of interesting that I have seen happen over the years is that when a new idea comes along (3-D seismic was new once) often it initially gets oversold, with the danger that purchasers can get turned off. In 1984 or so, a major oil company was ready to wash its hands of 3-D seismic. The method was not yet sufficiently well developed. It wasn't ready yet; the company had paid a price, but didn't get what it expected. Such overselling is likely unavoidable, but I think we actually need to have. We wouldn't move forward at the often tripping baby steps if we didn't have some of that risk-taking. Nobody wants to be the one to have to pay for something that's very chancy. We would like someone else to take the chances and then come in later on.
But the fact is, it could be AVO, depth migration, multiple suppression, 3-D, 4D, none of these innovations has worked as well as we would like at the outset; it has to be tried. It has to be implemented even if hindsight shows it to be initially crudely so; we learn from our mistakes. I remember years ago Carl Savit saying something that seems to be generally true — it typically takes 20 years from the onset of an idea till it actually becomes widely applied technology. We see technology appearing to advance quickly from one SEG meeting to another or one CSEG meeting to another, but typically in little technological increments.
You are right; it takes about that much time.
Yes, it did, though I think that deconvolution and just about every one of these fields, AVO, for example, had been oversold at the outset.
With the responsibility for R & D being shifted to service companies and universities, do you expect significant breakthroughs, some of which historically are the sort that had come from oil companies?
Well, I have opinions on that. It's a tough go to shift the burden of research to the service companies because the service companies have been struggling for a long time, terribly so. They haven't had the financial resources to pursue research in the way they could in the past; rather they have been somewhat in survival mode. Therefore, if we are talking about research and if we need anything like the 20 years typically necessary for acceptance of a new idea, if we are talking about research, which has to include risk, it must include an element of a delayed expectation, and that doesn't go well these days in industry. I see continuing developments from the service companies but they are really hard- pressed to pursue research at levels of the past.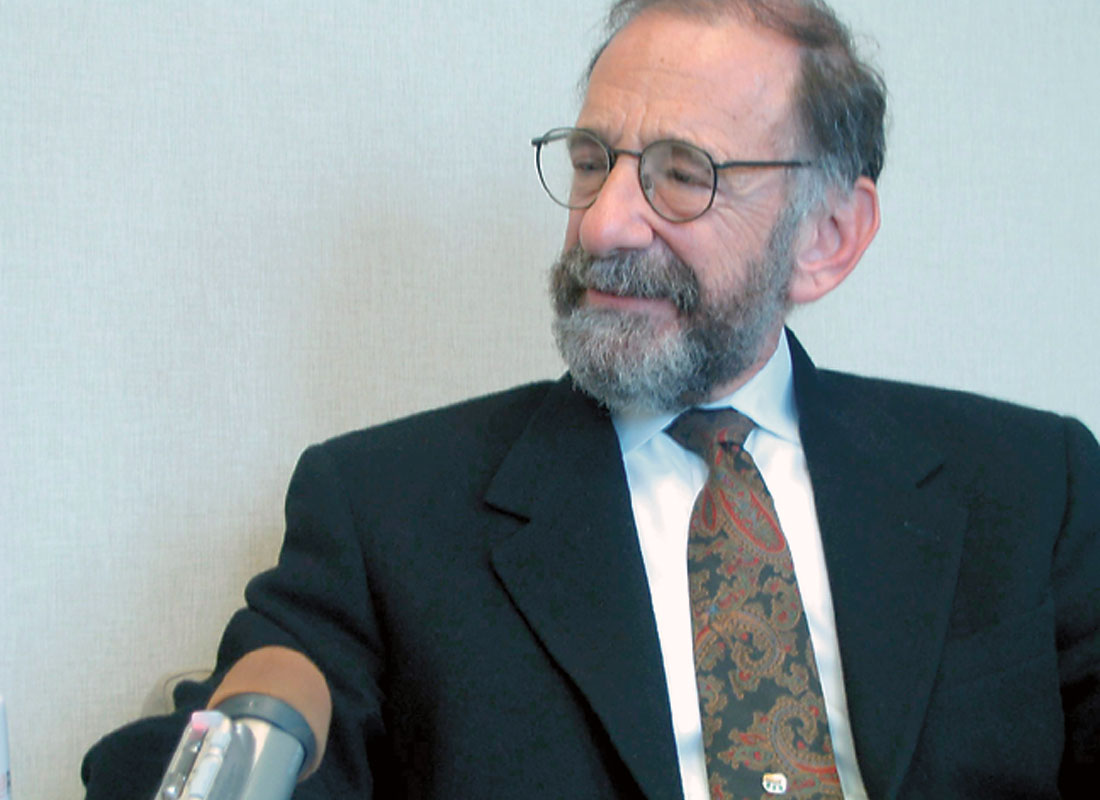 The universities? We've heard that the oil and gas companies were shifting more to outsourcing, and that would bring a windfall of sorts for universities and service companies. We are both still waiting for that windfall. At the same time people in the oil companies were saying they would be turning to universities for the more risk-prone, long-term research, at annual meetings within these companies they would say, "Let's list all the consortia to decide the ones we can drop. Which ones are not producing deliverables for us right now?" This thinking does not engender risk-prone research. The universities have been a wonderful source of innovative ideas, not to mention graduates for industry over the decades, and I think they continue to be.
The service companies have also been a major source of innovations, but the drivers, historically have been the oil companies — the major oil companies with strong internal research. The research done by Rodney Calvert and Andrey Bakulin of Shell that I showed today, is really novel and exciting. It relates to some work that is going on in universities. At CSM, Roelof Snieder is doing some work that area and Gerry Schuster at Utah has been a strong leader in that field as well. I think technological advances in industry have been harmed to the extent industry has lost strong broad-based corporate-supported research in the oil companies; but we have less of that than in the past.
I have followed up on your research and I have noticed that your work has focused mainly on problems in regular seismic processing and not on something like special processing as you call it today. Is there a reason for it?
I think my research interests have been a combination of serendipity, what happens to come my way, and who I have worked with. In CWP we have people who have worked in some very innovative and different areas. Roel Snieder in multiple scattering, all the work that Ilya Tsvankin has done in anisotropy. My interests have always been, let's say, the oldies and the goodies. These problems have been around for a long time, yet are not solved. Whether it's statics, or velocities, or migration or even deconvolution, those are the areas that have been appealing to me.
Okay now, we know that your scientific interests never waned. So are you able to spare some time for other interests that you may have?
Well, I have. I love reading a lot, reading in all kinds of areas: literature, history, science. Other fields of science, such as biology and cosmology I just find absolutely fascinating, essays of all sorts, novels written by outstanding writers who are generally not best-selling authors, but are people who know how to use the language well. So I appreciate reading a great deal. I live in Colorado and love the outdoors. We have a cabin in the mountains, allowing more connection with the outdoors, with nature, with astronomy. I have many interests and hope this retirement allows more time for them. But I won't be walking away from Mines or geophysics yet; that wasn't even part of my thinking at all.
Also, speaking of retirement, the people at the forefront of theoretical physics consider that the world really is 10- and 11-dimensional, as described by string theory. One day, perhaps four months ago — before I retired — my wife, Nancy, called me on the phone to say "I know what you can do in your retirement." I said "What?" She just had heard the physicist, Brian Greene, on the radio talking about string theory. She thought I could do string theory because Nancy always knew there is another dimension out there. I thought "now that is a honey-do list." I may not get around to that item, however. In any case I have lots of other interests. I love listening to music, although I don't play any instrument, and I am looking forward to having much more time with Nancy.
One last question. I have been putting this in a somewhat different way for other interviewees – I usually ask what their message is for the young people who are planning to enter the industry. So maybe I can put it this way – what would you tell a young person considering taking up a career in geophysics? How do you encourage him or her to go ahead?
We start with the fact that geophysics is basically unknown to young people. Step one is just telling them about geophysics, and how fascinating it is to deal with the unseen. This holds for all aspects of geophysics, not just exploration. There are certainly more trendy and popular fields today – exciting fields. Microbiology for one is fascinating; it must be captivating for an outstanding student. But students who are drawn to study physics are drawn to the college in much the same way I was. They don't quite know what they want — science, math, engineering – and then if they choose physics or math, they don't truly know what they are getting into. I would like to see outstanding students who are drawn into physics find out how exciting geophysics is — dealing with the unknown, with the uncertainty, with the difficulties of our variable earth and noises, and trying to squeeze out information from geophysical data, whatever the geophysical field.
So what would I tell them? I don't think most of them could expect it to be lucrative. It could be solid, however. But dealing with problems that are challenging and different every day is exciting. I think students in our program quickly find this out for themselves. As I mentioned, many of them start not interested in the oil industry, but after working at summer jobs in the industry, they get turned on and find out, particularly if they work for a medium-sized oil company, what an exciting career they can have.
Ken, thank you very much for giving us this opportunity of sitting and talking with you.
My pleasure.