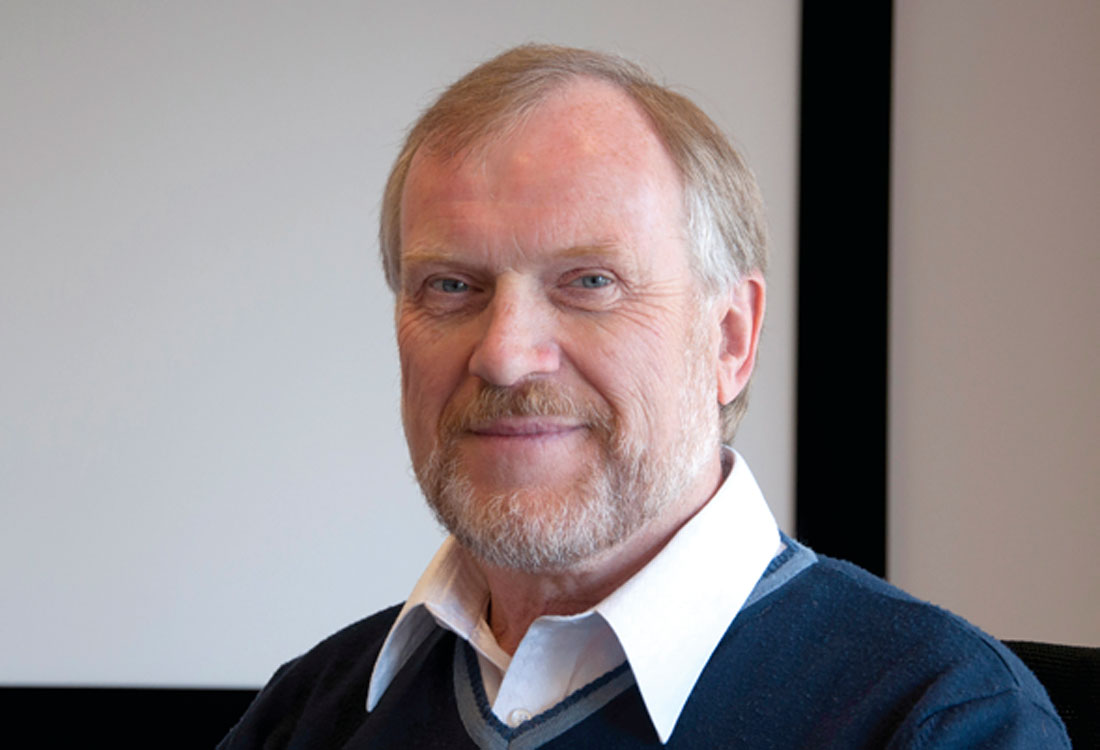 Andreas Cordsen is a well-respected geophysicist who has advanced the science of designing 3D seismic surveys from the early land surveys of the late eighties to the big, complex land and marine surveys of today.
After having worked at BEB (an Esso subsidiary in Hannover), Esso Resources Canada Ltd., and Norcen Energy Resources Ltd., Andreas co-founded Geophysical Exploration and Development Corporation (GEDCO) with John Pierce, with the goal of providing a full range of geophysical services and a geophysical environment. It is here that Andreas applied 3D seismic design innovations to a number of plays in western Canada and also developed the Flexi-Bin 3D design technology, for which a US patent was granted in 1995. Andreas went on to become the lead author of the SEG's early publication on 3D seismic survey design entitled Planning Land 3D Seismic Survey, by Cordsen, Galbraith and Pierce. After the sale of GEDCO to Schlumberger, Andreas became the Solutions Design and Modeling Manager, and is responsible for all aspects of marine and land 3D design for Schlumberger globally.
When the RECORDER approached Andreas for an interview, he sportingly agreed. Following are excerpts from the interview.
Our readers would like to get to know you better, so tell us about your educational background and your work experience.
As I started my university education in Germany, my history of obtaining degrees might be surprising to quite a few readers: while starting out in mineralogy, actually crystallography to be more accurate, I did not know how many math courses to take; so I decided to take whatever was required for a physics degree, figuring that must suffice. After the first year I realized that I only needed to add a few more theoretical physics and quantum physics courses in my second year in order to qualify for a parallel study in physics.
After completing your undergraduate studies in your native country, i.e. Germany, how come you moved to Canada?
Following two years of study I then received an exchange student scholarship from Queen's University in Kingston, Ontario. I arrived with forty transcripts in hand and Ray Price, the head of the geology department at the time, accepted those courses as being equivalent to a Bachelor degree saying "there is nothing more we can teach you in the undergrad program". Hence I began work on the crystal structure refinement for Libethenite, completed it within one year and earned my MSc Geology from Queen's in 1976.
So, you hold a double M.Sc., first in geology and then in geophysics. How come this change of mind, or was it preparation of a well-rounded training in the geosciences.
Finding a job in crystallography is a challenge even in a good year. I could only identify one such position in Canada and did not want to be pinned down like that to one place (Guelph, Ontario). Looking for more choices I was told by George Hobson*, who had worked as a geophysicist in the oil patch in the 1950s, that his chosen line of work still had a good, promising future. So, I decided to go to Dalhousie University, working with Charlotte Keen to compare the oceanic and continental crusts offshore Nova Scotia, graduating with a MSc in Geophysics in 1980. The field work was done through Bedford Institute of Oceanography; it was indeed exciting to say the least to throw up to 900 lbs of dynamite over the stern of the boat (the Hudson) for our refraction experiments.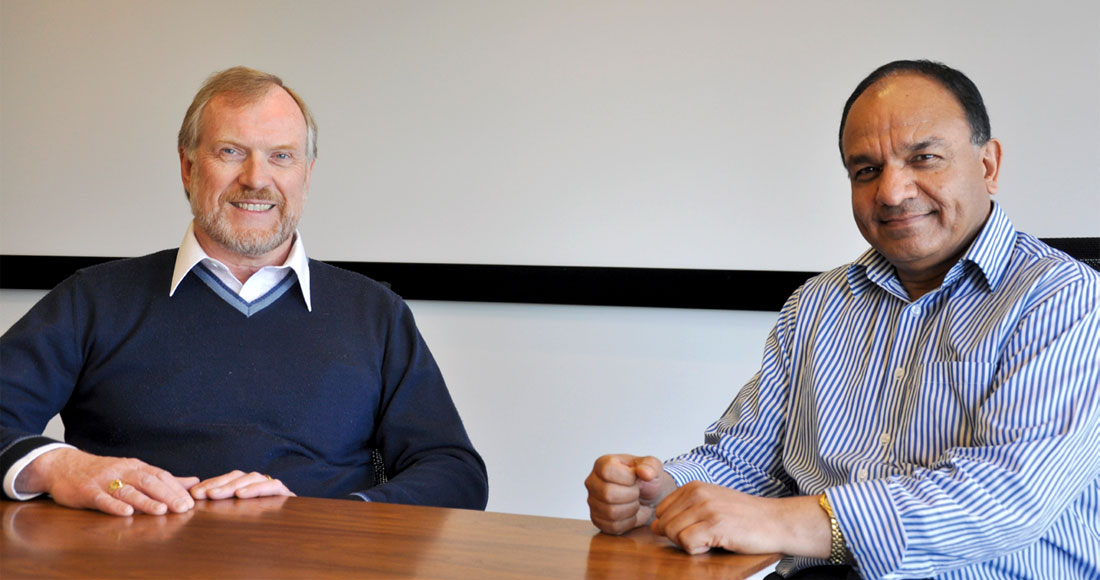 You spent 4 years at Esso Resources Canada Ltd. and gained experience in acquisition, processing and interpretation of seismic data. I believe it must have been 2D data at the time. Why did you move to Norcen Energy?
While the experiences at Esso were fantastic, with field work and interpretation in the Northwest salt basin of Germany for the first two years, then processing and interpretation of 6-12 fold data in Canada, I noticed the growing bureaucracy of what became known as a production company, rather than an exploration company. The move to Norcen in 1984 offered me some challenges in a much smaller company that I totally enjoyed, in particular in the late 1980s when I was the only geophysicist responsible for all development geophysics from Taber in the South to the Beaufort Sea in the North. I was given the freedom to make independent decisions to drive the geophysics at Norcen ahead; the smaller the company the more input you have into the direction of the technical work.
Looks like after working for 10 years at Esso and Norcen, you probably thought you had your fill and so started up a service company, GEDCO with John Peirce as partner. Your comments?
I got to meet John from his time at Dalhousie when he was teaching classes there, while I was his teaching assistant. We spent a lot of time together off campus as well and became good friends. He ended up getting a job at PetroCanada and my work history I already mentioned. Both of us were getting somewhat frustrated with management systems at our respective employers. In the fall of 1990 over dinner I presented the idea of starting a consulting company with him doing potential field work, exploration on the grander scale, while I could offer to identify drilling locations interpreting seismic data.
GEDCO did fairly well as it sustained for 22 years, weathering the ups and downs of the industry. Tell us how you and John were able to accomplish this.
Diversification is the name of the game – or "don't put all your eggs in one basket". We offered services across a broad spectrum of geophysics. We had local as well as international clients, small and large, consulting and selling data. We experienced a couple of significant step changes along the way, firstly when we started collecting High Resolution AeroMagnetic (HRAM) data in Western Canada, starting in 1995. As GPS was an established technology by then, the air plane's positions could accurately be determined during our surveys. These high density HRAM surveys use drape flying over the topography at an altitude of about 120-150m above ground. Such data offers much better resolution than the higher altitude, larger line spacing data that the Geological Survey of Canada had acquired previously. The success of our multi-client surveys allowed us to purchase some additional data, including some gravity data.
The second step change landed on our door step when we had an opportunity to purchase Seismic Image Software (SIS) late in 2000. Integrating a software company was somewhat of a challenge that was made easier because of the high quality and dedicated staff that came from SIS. Mike Galbraith was their President and he continued to lead the software development effort until just very recently. Obviously the interests that Mike had in developing OMNI 3D as a software program for survey design and me wanting to be an expert user made for a perfect match for the two companies.
We did run into some hard times similar to the current downturn. When you run a small company you can react faster, make decisions that can help all of us together to weather any storms. We took pay cuts (up to 50%), gave additional vacation days, and promised to make up the missed pay when the company could afford to do so. We didn't lose a single employee in those difficult times.
Though you gained experience in all three areas, i.e. acquisition, processing and interpretation, your focus in the last 20 years has been acquisition, as is evident from the list of your publications. Please tell us about it.
I like to think that all experiences in our lives have an impact of what we enjoy doing in the end. Crystallography and 3D seismic survey design have the common basis of geometry. I have always enjoyed the math that goes into the calculations, trying to make connections between its different aspects.
Peter Duncan, former SEG President, approached John and I in the mid 1990s to consider teaching classes on 3D design for the SEG. The decision was pretty easy to accept this invitation but putting the class material together was quite the strenuous task. After dozens of revisions we could start teaching in 1995 at the SEG. At a time when digital material was hard to come by, Powerpoint didn't have the traction it enjoys today, we still hand carried overheads to a number of different countries for our course presentations. As we used a lot of colour images we were asked to publish our material as a book, which we did in 2000: "Planning Land 3-D Seismic Surveys". It is very gratifying to see geophysicists around the globe use this on a daily basis for their design work.
Tell us about the challenges in seismic data acquisition.
I like referring to Dave Monk's often presented slide where he shows that the channel count doubles every 3.5 years on average for land seismic. In the marine environment we see similar increases now with the requirements for wide azimuth acquisition. Larger offsets are often wanted as well as higher fold in smaller bins. On top of that we have 3C acquisition, especially in Canada. This increasing demand for high channel count systems places a huge burden on our computer facilities and turn around times of PSTM and also PSDM. Dealing with these mountains of information will demand that we stretch our capabilities over the next few decades.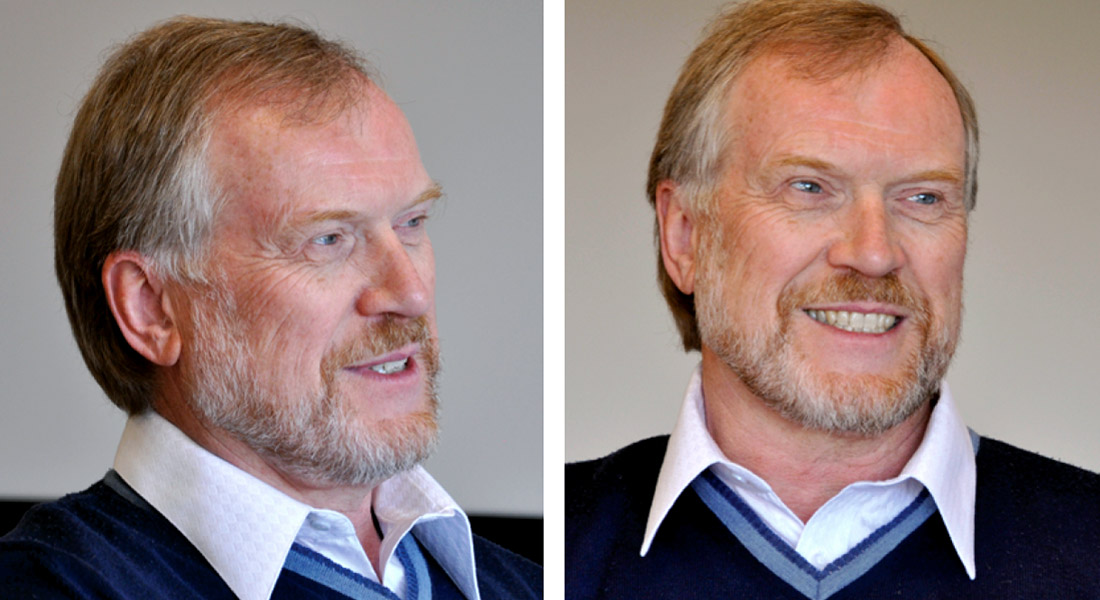 Tell us how 3D seismic data acquisition has changed from say the early 1990s till today?
There have been so many innovations that help us improve the 3D data for our clients whether in 3D design, acquisition equipment technology, processing, inversion or interpretation. All of those have contributed to a better illumination and therefore an improved image of the subsurface. Higher channels counts allow us to lay out tighter grids of sources and receivers, hence offering higher fold in smaller bins. Who would have ever thought that it would be good to have thousands of fold in such small bins? For marine surveys such techniques as dual coil, IsoMetrix, wide azimuth with multiple source boats, or any of the various brands of broadband acquisition offer fantastic improvements.
Do you think we will be able to see more frequency content in marine or land data acquisition in the future?
When we start recording data with decreasing sample intervals (source and receiver station spacing) in combination with S4 (Single Source, Single Sensor) acquisition we are stretching the high frequency limit of our data. In addition to that low frequency sources (e.g. Vibrators) expand the bandwidth on the low frequency end.
What do you feel about the value of modeling of 3D seismic surveys?
When we design 3D surveys we look at sampling requirements, target depths, formation dips, etc. yet it is hard for us to include all geological considerations. Many easy oil and gas fields have already been found; those that are the tougher challenges do require further investigations. So, when we get into more complex geological scenarios, the best thing to do is to prepare the geological model with all available knowledge, populate it with a dense grid of sources into a dense grid of receivers, extract shots for a number of different acquisition options (basically through decimation), and process those to see which acquisition choice offers the best illumination. Often we can get away with using relatively low frequency content for this modeling; as the clients request higher frequency modeling unfortunately the costs rise to astronomical proportions quickly, so this technique must be utilized judiciously. Then and only then can the oil companies understand the cost/benefit ratio for various acquisition scenarios and make the appropriate exploration decisions.
Who are some of your main competitors in the market place?
I trust that the RECORDER readers are well informed about the offerings in the market place for oil & gas services, and the challenges the current environment imposes on all of us. Let's face it: there will be fewer of us left to perform an ever increasing workload. The times are forever changing, at the moment at an extremely fast pace, so I prefer to not go into any further detail.
How is it now, being part of Schlumberger, a very large company?
I went from working for a large oil company to a much smaller one, then to a two person consulting firm which grew into a software company with 30 employees. That was all a natural progression, as actually was the acquisition by Schlumberger. What surpised me the most was the fact that as soon as you are an employee of this huge enterprise, Schlumberger opens the books and gives you access to a vast pool of information, especially about technology, internal and external. Sure there are other systems in place that take a lot of time to digest and get used to, but they are there for a good reason; HSE is a good example whether it is driving to work or proper practices when going to the field and handling heavy equipment. Other advantages are that our former GEDCO employees now have numerous possibilities of transfers to other work locations around the globe or even totally different job functions.
You have patented some of your techniques, correct? What are your views on patents?
Intellectual Property is a huge issue, especially in big companies. I presented on the Flexi-Bin technique at the CSEG meeting in 1993 and was granted patents in the US and in Canada shortly thereafter. Realistically it was hard to track if companies used it or not; even if we had learned about it could we have pursued compensation? Larger companies have legal departments that look after those things and they indeed make sure that there are no patent violations. Having learned what we did, that was the only patent GEDCO ever filed for. With the sale to Schlumberger the above patents were also transferred. As I learned recently they are now expired. Other techniques that we developed at GEDCO were simply kept quiet and used to our clients' benefit. We used those as competitive advantages and it worked out just fine.
Andreas, I would like you to share with us some of your most memorable geophysical experiences.
I recall one of the first 3D surveys I ever worked on from design to interpretation over the Golden field in Northern Alberta while working at Norcen. I called the extensive report my third Master's thesis. The plentiful well information indicated to us that most of the wells had been drilled in the lows (on 2D only). The 3D data was so good that I could actually prepare porosity-thickness maps over the entire field and make recommendations to management about an improved field development.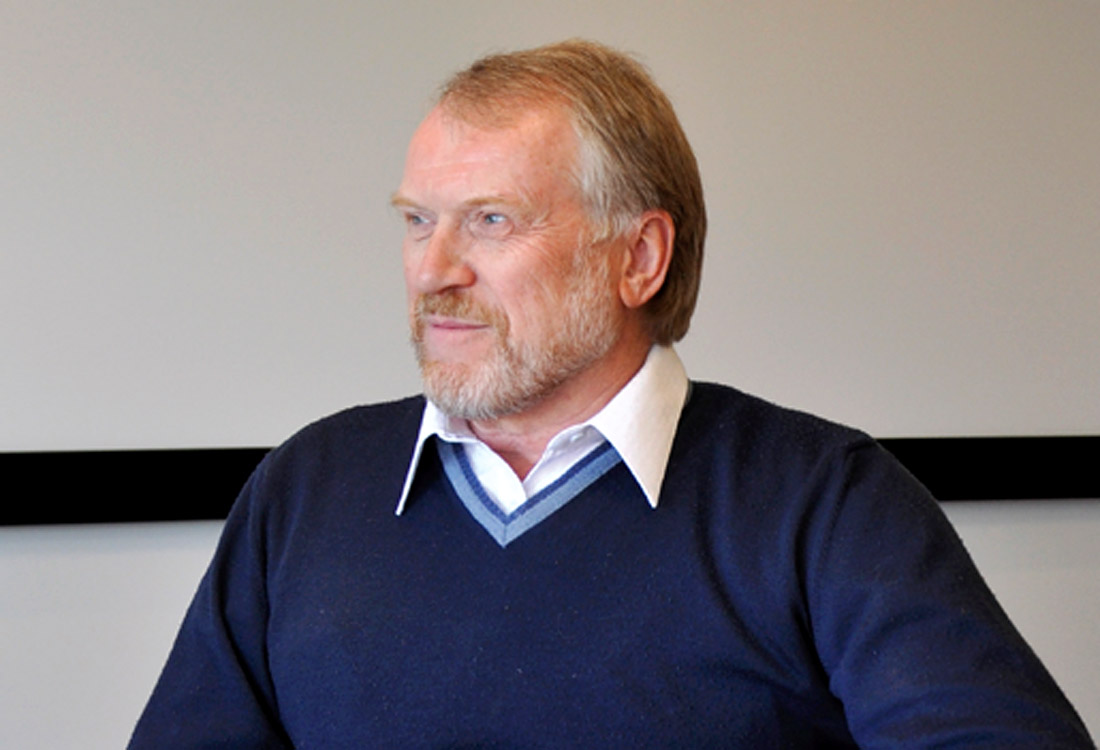 Other experiences that I will treasure for the rest of my life are the interesting places and people around the world that I got to visit; foremost come to mind Oman with its cultural history and generous people, Mexico where I had the pleasure of sharing many meals in small village homes, because that was Pemex's office location, or India where I was shocked to see all the horizontal stripes on cars in Kolkata (Calcutta), India because there five cars were driving too close to each other on a two lane road. Most of my travels were related to teaching assignments or attending conventions to meet up with clients.
All right, let's ask you this. When you look back on your life and career, which spans more than 35 years of professional life, would you have done anything differently than what you did? If you were to start all over again?
I had the priviledge of working with some incredible folks, friends I should say, in all aspects of seismic exploration ranging from acquisition to processing to interpretation. These days so many of us are specialized; I really enjoyed having the perspective of the various activities and how they impact each other. I wouldn't want to change a single thing.
You published a book on planning land 3D surveys with the SEG in 2000. With rapid advancements taking place in 3D data acquisition, isn't the book outdated by now? Have you considered publishing the second edition for it?
There is continued demand for the basic material we published in the book; it is really quite practical and the same principals continue to apply. The SEG asked me several times already when we could write about the advances in recent years. I still like to do that, however it is difficult to find the time. It would probably be good to just simply start and get the ball rolling; the rest will come easier then.
You also teach courses on seismic data acquisition at least twice a year. Is teaching something that you enjoy?
The best way you can learn is through teaching. I keep encouraging others to do the same because it is such a rewarding experience. My courses took me to over 20 countries teaching well over 1,000 students and I still keep on gaining from those experiences.
How do you think the low price of the barrel is going to impact your business? Do you think there is a lag here unlike the rig count, which plummets immediately?
Any downturn like this gives companies an opportunity to "rightsize" or whatever term you want to use. We focus on the essentials, take on new assignments and learn new parts of the business. Leaner organizations are healthier in the long run. The decreased demand for new acquisition is certainly very noticeable and Schlumberger had to e.g. reduce its number of acquisition vessels (and therefore the crews), which followed the drop in oil price and then rig counts. Oil is a limited resource and hence the price per barrel will come back into equilibrium over time. This time of reflection now gives us a chance to engage together with our clients in long overdue research projects to prepare for the next round of exploration in more difficult areas.
What are some of your other interests?
I have so many interests that this RECORDER issue could become quite thick if I were to detail all of them. My wife and I like being in the outdoors at our acreage in the foothills just an hour's drive away from downtown; the property requires a lot of physical work which I enjoy thoroughly along with the aspects of breathing the fresh mountain air, relaxing while going for hikes, skiing or relaxing around the firepit, and of course watching the wildlife.
Through a neighbour of ours I got into some antique cars, which are nice to drive and also neat to tinker around with as it is hard to find experts that can actually still work on them; previously I had just fixed bicycles – the cars are a fun challenge.
Music is another passion which I had exposure to from an early age through my parents; while I do like to listen to music I have also sung in many choirs over the last 40 years. Today I conduct a small handbell choir at church.
Photography: I never leave home without a camera; the advantages of medium format film cameras have now given way to the fantastic versatility of digital cameras which I am looking forward to exploring more when making my own prints.
What would be your message for young entrants to our industry?
Oil prices will rise over $100/barrel again! If you are patient enough you will have a fantastic career. Us baby boomers are retiring over the next few years, so you have to get whatever practical education you can from the older generation in your early years in the industry. The more varied your experiences are, the better geophysicist you will become. Go for it!
*George Hobson, Director of the Polar Continental Shelf Project from 1972 -1988, recipient of the 2014 RCGS Sir Christophe Ondaatje Medal for Exploration, recently passed away on April 16th, 2015.