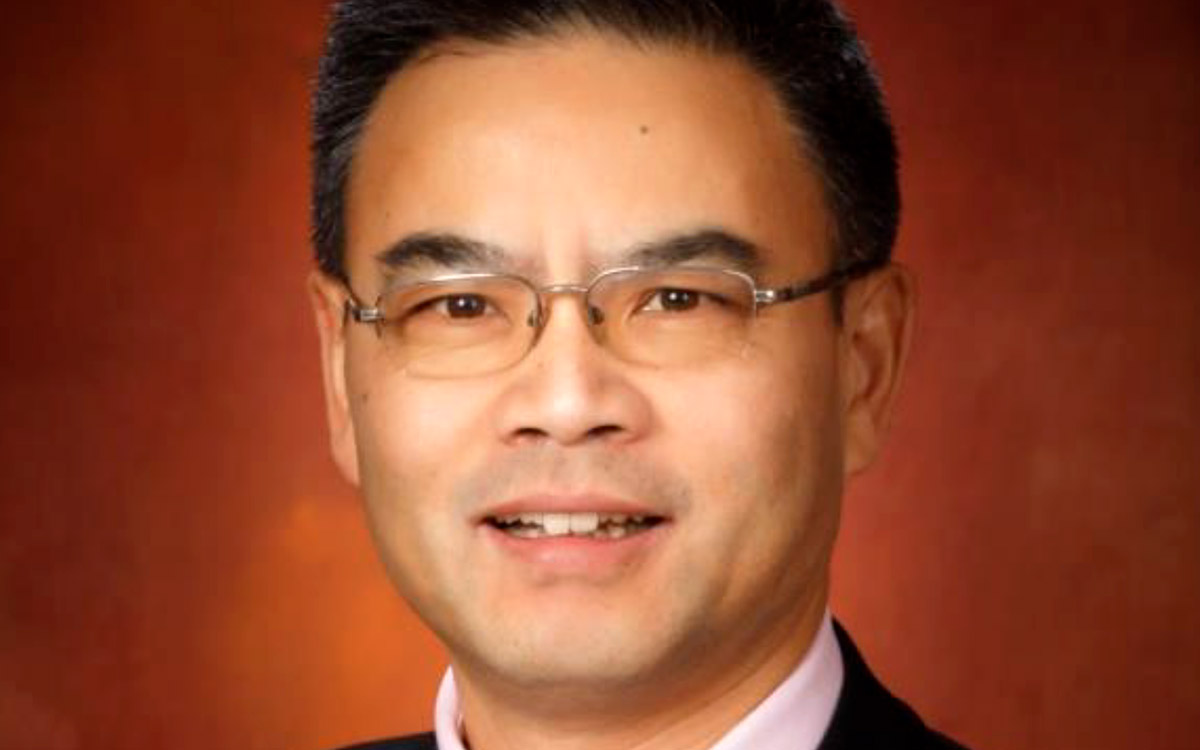 Renjun Wen is an experienced geoscientist who has been successful in both entrepreneurial and technical roles in the oil and gas industry. He is the founder of Geomodeling Technology Corp. in Calgary, an international geoscience software company with an office in China, as well. He has a Doctorate in Petroleum Geology from the Norwegian University of Science and Technology. Renjun is well-known in Calgary and has been actively participating in professional society conventions and seminars. He graciously agreed to my request for an interview and was open in sharing his impressions and opinions on different topics. The following are excerpts from the interview.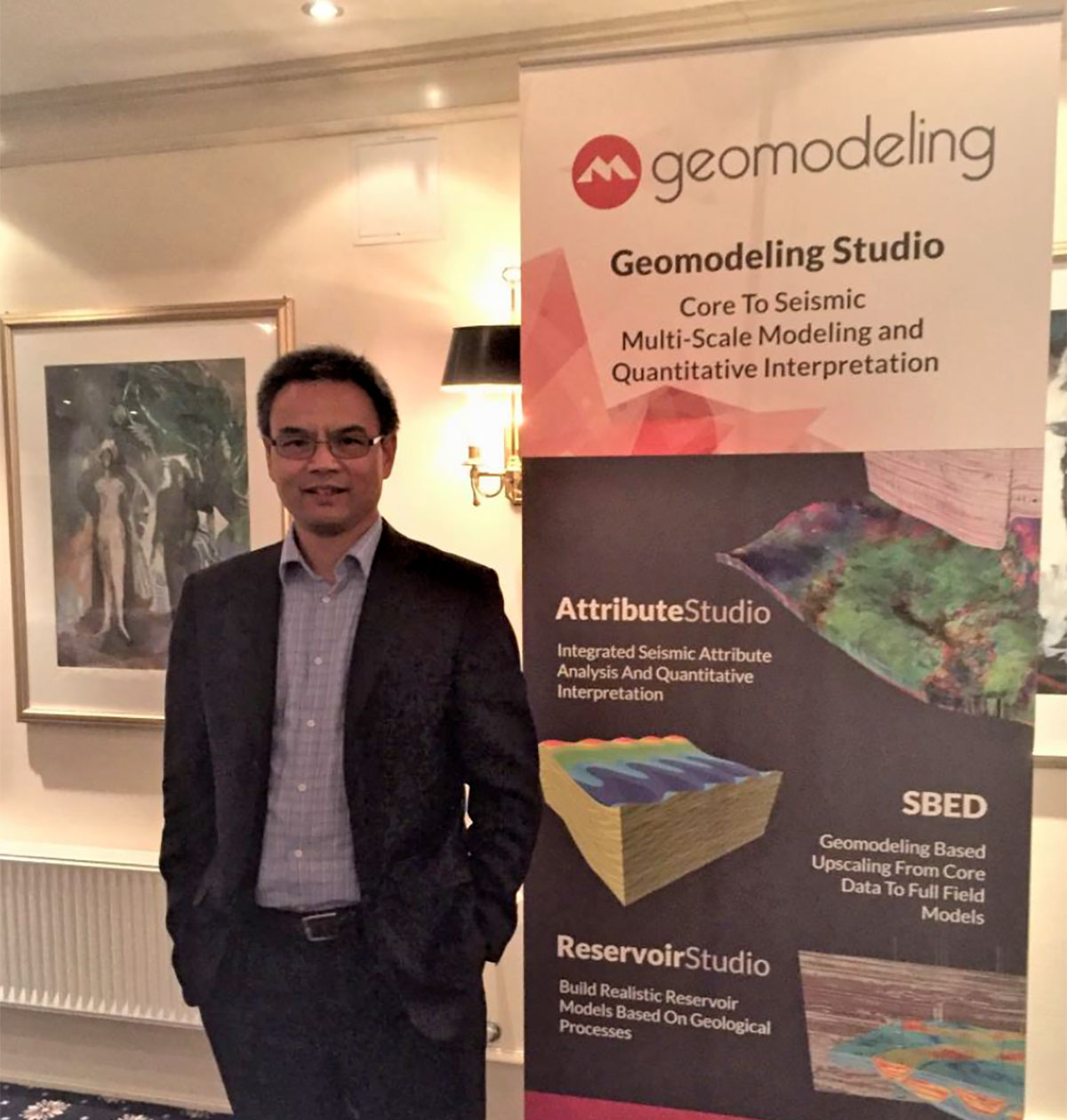 Our readers would like to know you better, so please tell us about your educational background and work experience.
In 1983, I earned a B.Sc. degree in Petroleum Geology from Jianghan Petroleum Institute near my hometown in Hubei, China. Subsequently, I worked in the Geophysical Survey Group of the Yumen Petroleum Administration Bureau in Gansu Province, China, after a 3-month field work posting on a seismic crew. My work in Yumen was in seismic interpretation, with coloured pencils on paper sections and making structure maps by hand. I also started learning programming for Monte Carlo simulation to generate probability distributions of oil and gas in-place, applying fuzzy mathematics for prospect ranking, and doing thermal history modeling (TTI). In August 1987, I got the opportunity to study at the Norwegian University of Science and Technology (NTNU) for a Petroleum Exploration graduate course. The course was funded by the Norwegian government. I was lucky enough to have the opportunity to continue my studies toward a Doctor of Engineering (Dr.-Ing) degree at the same university. During my Dr.-Ing study, I was employed by my supervisor's project team to work on several industry funded research projects, mainly related to the application of geostatistical methods for reservoir modeling, such as sub-seismic fault distribution and seafloor side-scan sonar image processing for deep-sea fan morphology mapping.
After completing my Dr.-Ing degree in 1995, I continued working on an industry-funded post-doctoral research project for permeability upscaling. After that, I worked at the Statoil Research Center for a short time in 1996, where I prototyped two computer programs, the first to calculate seismic attributes for small fault detection, and the second to build 3-D bedding structure models for estimating directional permeability. I received a job offer from a company in Stavanger, Norway, but could not work there because I had no work permit beyond the university campus, so, I immigrated to Canada in October 1996.
You got the chance to head a research team early on in your career. How did that happen? Were you always interested in research?
In my early career, I was lucky enough to have incredibly good mentors who helped me immensely in gaining the practical skills of seismic interpretation and subsurface mapping. There were two reasons that I got the chance to head a research team at Yumen Geophysical Survey. Firstly, there were very few technical personnel in the company after a 10-year hiatus in university education in China because of the Cultural Revolution. We were the first-generation undergraduates after the hiatus. So, there were a lot of opportunities for young people. The second reason is that I demonstrated, in several project works, that I had a passion for doing research and developing new things.
Tell us how you decided to move to Norway and do graduate work at the Norwegian University of Science and Technology.
I was very lucky to be one of two NORAD fellowship recipients in 1987 from the Petroleum Ministry in China after writing for two exams in the selection process. The NORAD fellowship was provided by the Norwegian International Development Agency. I got even more lucky when I got the chance to know Professor Richard Sinding-Larsen, through his student Dr. Zhuoheng Chen who is now working at the Geological Survey of Canada. I was accepted by NTNU for a Dr.-Ing thesis study after the NORAD program with Prof. Sinding-Larsen as my sponsor and supervisor.
China to Norway, how different did you find living in Norway? Please tell us about your experience there, both positive and negative - if any.
There were enormous differences for me between China and Norway when I first landed in Trondheim, Norway in late August of 1987. The differences were in terms of food, language, study, and living conditions, as well as the cultural aspect. In my first year, we were well taken care of by the university, because we were the government-funded NORAD students. During my Dr.Ing study time, the only things I remember are the project work and exams. Because I had no financial support, while I was completing my thesis, I needed to work on my supervisor's various projects to support myself and my family. That was challenging, but now when I look back 30 years later, I feel I learned a lot during that period.
Norway is a very well-developed country, and the university in Trondheim had much better study and research facilities than in China. My supervisor and staff at the Geology Department in NTNU were incredibly supportive and helpful during my time there. I would like to express my deep gratitude for their generous support during my stay at NTNU. The less desirable aspect of living in Norway is its long and dark winter. In Calgary, we also have a long winter, but we have a lot of sunshine, too.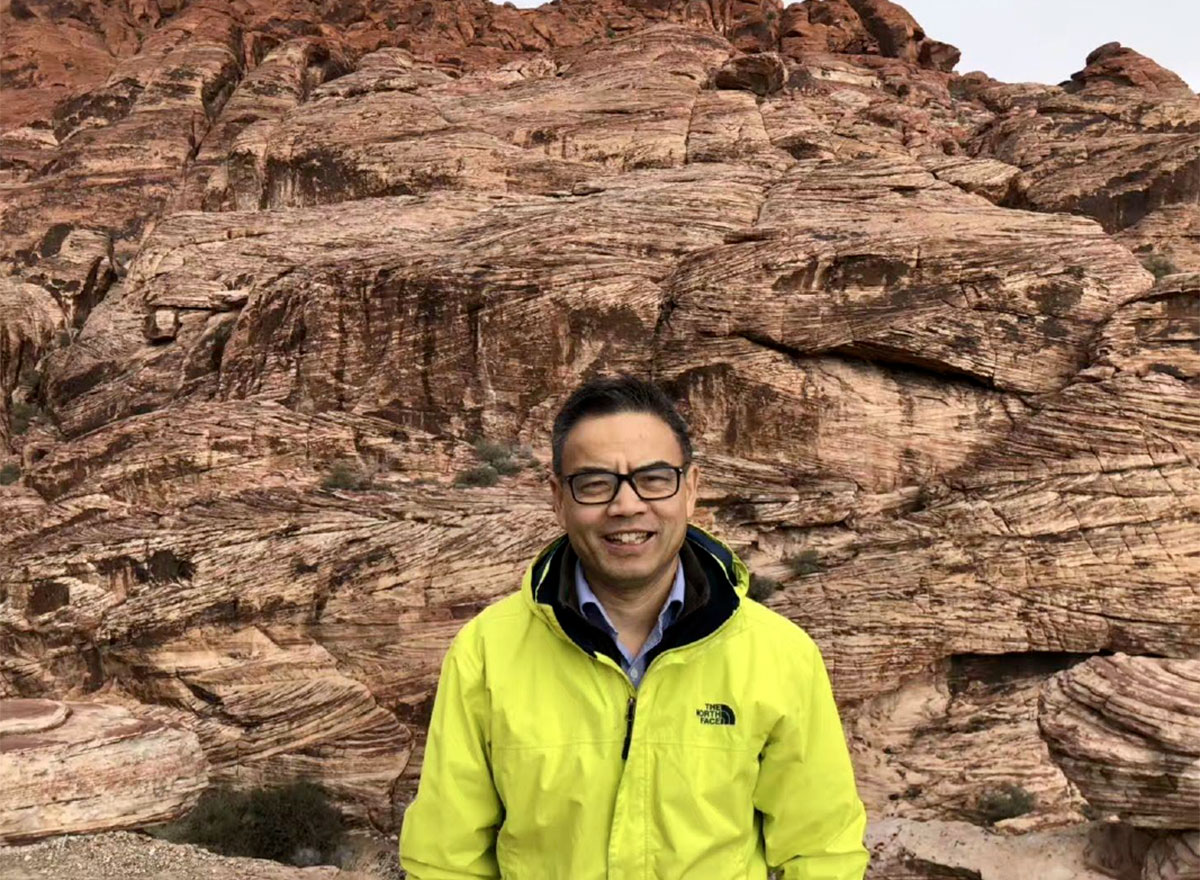 And now to an important question: how did you decide on becoming the founder of Geomodeling Technology Corp.? It is a big step in life to start your own company, and an added responsibility to make sure that it stays profitable. Also, can you tell us about the challenges you faced initially?
I founded Geomodeling Technology Corp to continue the research work I had started in the Statoil Research Center. I registered the company three days after I landed here, on October 15th, 1996. There were many challenges when I started the company. The initial challenge for me was to learn how to deal with uncertainty in a new place and in a start-up. Since I did not have business skills, and had no work experience with a private company, I had to learn basic business skills in actual practice. Unfortunately, I learned all these through making and correcting my mistakes. Luckily, I had quite a few capable people who helped me through the initial years.
In your opinion, what are the qualities required for an individual to become an entrepreneur?
To become an entrepreneur is certainly not a task for the faint of heart. I wish I had known more about the challenges to be faced while starting a new company, though I do not think any one person would have all the skills required. In my humble opinion, the two most important qualities required for an individual to become an entrepreneur are the courage to face uncertainties, and the commitment to vision. Additionally, one needs to find the right people who have complementary skills to yours.
How does it feel to be the CEO/CTO of a company, and to stay in that position for two-and-a-half decades? What leadership practices have you adopted at your company, enabling you to have sales and profitability each month?
There are many responsibilities as the CEO of a company, certainly more than a CTO, which is essentially a technical position. As I mentioned before, I learned a few of my business skills through mistakes. I gradually learned how to delegate work to my colleagues and inspire a team to perform. The important part for a viable business is to have a capable team. I am not too much concerned about monthly sales and profitability, but to be able to have positive cash flow is critical for a business to survive. I think sales and profitability are partly a reflection of how well we serve our clients. If we continue producing something useful and valuable to our clients, I am confident that we should have the financial resources to sustain the business.
There are other commercial software development companies in the oil and gas industry. How does Geomodeling Technology Corp. stand apart from its competition?
It is a competitive market space in geoscience software. Geomodeling Technology Corp. stands apart from our competition by offering a few niche solutions to the industry. We are not a big player in this segment. I wish we had a broader client base, but we do have quite a few happy customers who have used our solutions for the last 20 years.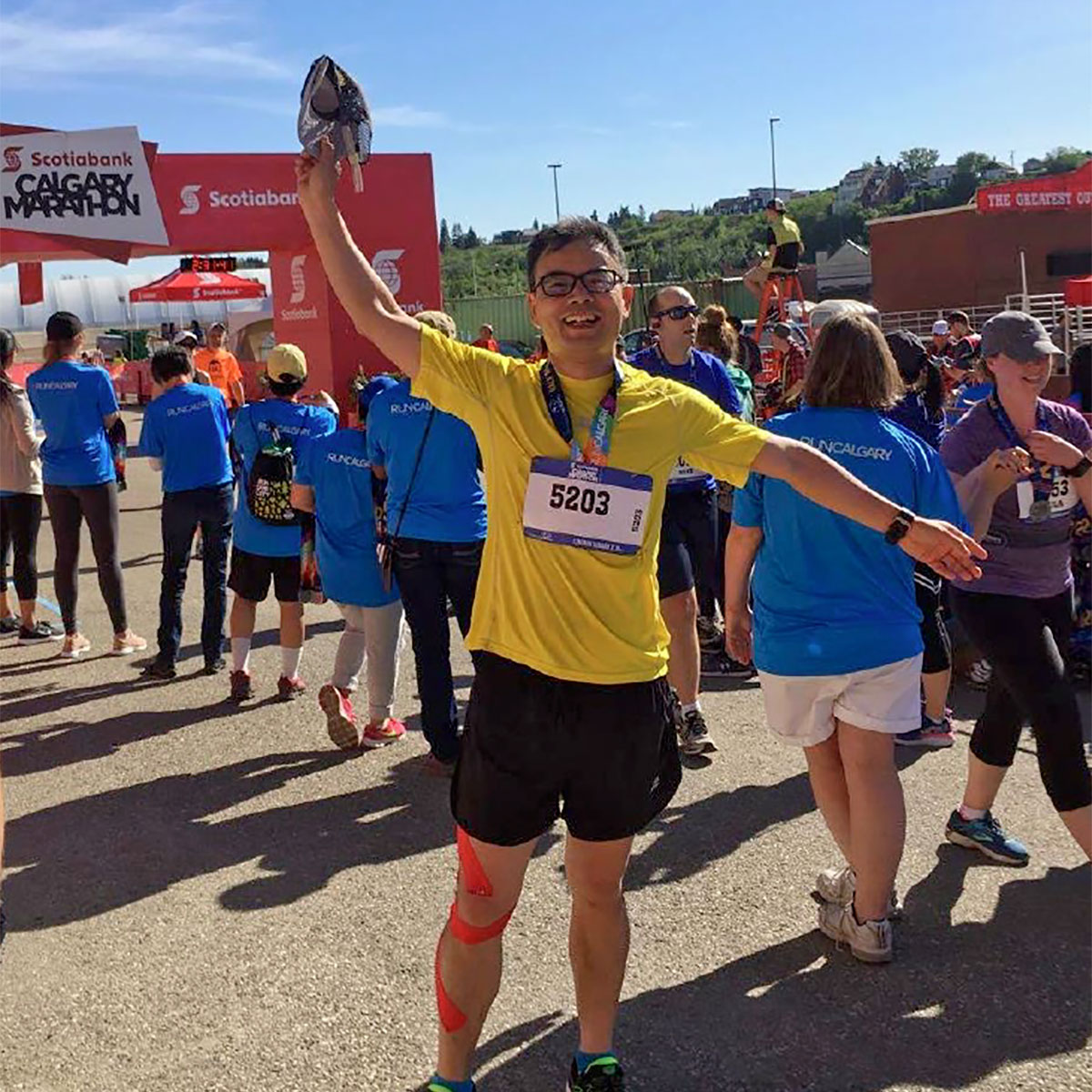 What new software modules have you developed recently and tell us about their applications.
Our recent R&D efforts are focused on introducing artificial intelligence (AI) technology to seismic interpretation and reservoir characterization. We are going to release an AI computation server for seismic interpretation and data integration this summer. All our existing products can utilize the AI server that requires a high-end video card to run the calculations. Feedback from a few pilot projects has been incredibly positive. In certain cases, we have observed productivity enhancements of more than twenty times. Geomodeling's AI solutions are to cover the following six aspects, namely: 1) direct seismic inversion of reservoir properties; 2) auto-generation of fault surfaces; 3) horizon volume auto-generation; 4) seismic sequence and facies classification; 5) prediction of missing logs; and 6) prediction of production rates and sweet-spots. Recent releases of our products already include some of these capabilities.
Can you share with us some of the major R&D projects that you have carried out, and are proud of?
A major R&D project we have had in Geomodeling Technology Corp is the SBED joint industry project (JIP), which ran from the years 2000 to 2010. Nine major international oil companies participated, although no Canadian companies, unfortunately. We had research workshops and annual meetings in Banff or Calgary every year for ten years. The work funded by the JIP resulted in a few unique solutions in reservoir modeling. We have commercialized the JIP results in two commercial products: SBED and ReservoirStudio, which now find applications in building training models for our AI solutions.
What differences have you perceived in your daily professional life in say, the 1990s, and 2020?
I think the major difference in my daily professional life between the 1990s and 2020 is that we now have unprecedented easy access to technical information online. What we take for granted today was unthinkable thirty years ago. However, the advancement of information technology is a double-edged sword. The downside is that we may find it hard to focus due to distractions from mobile devices.
How do you look back at your professional life over the last three decades? Are there a couple of narrations that come to mind?
I consider myself to be an extremely lucky guy, moving from a remote oil town near a desert in northwest China to study in Trondheim, Norway, to now working and living in Calgary. What a journey! I cannot help but thank God for this great time, and the many wonderful people who helped me on this journey. My professional life as a geoscientist has experienced levels of change similar to those found in information technology in the last thirty years. The computers and software we are using on a daily basis only existed in science fiction some thirty years ago. Geoscientific advancement in the petroleum industry is a major contributor to the seemingly endless supply of oil and gas, which meets the energy needs of billions of people and improves their living standard, but unfortunately it results in pollution and makes the CO2 levels in the atmosphere increase in an unsustainable way.
You might have come across a tag line which says, 'the reply to a setback is a resurging comeback'. What do you think about it? Do you relate to it in any way?
'The reply to a setback is a resurging comeback' should be the attitude towards any adverse situation in one's life, and I certainly have had them a few times in my life. This is the attitude that we should have to grow as a person. It is inspiring when such an attitude is prevailing in a difficult situation for a team or company. However, I would hesitate to use this tag line for the oil industry situation we are facing today. On the other hand, the geoscientists or service providers in the oil and gas industry may be inspired by the tag line to come up with the next innovation.
Where do you believe our industry/profession will be in five years?
The world certainly needs more oil and gas to sustain and improve the living standard for the world's population that is increasing fast. Geoscience as a profession has a lot to offer in both producing oil and gas in a more responsible manner - both socially and environmentally or achieving net zero emission in the future. We are now in a critical energy transition period. The technology sector in other industries is experiencing rapid changes, the so-called 4th industrial revolution characterized by AI, 5G, automation, etc. I believe that in five years our industry will operate in a much more efficient manner through digitization and achieve major milestones in adopting many new technologies, such as cloud computation, as one example.
What other interests do you have, apart from the science that you practice?
I enjoy golfing in the summer and cross-country skiing in the winter, almost every weekend if I can find time. During this pandemic time, I miss travelling and running marathons. I also like reading history and business books.
What would be your message for youngsters who have joined our industry recently?
The young professionals who have just joined our industry will face both career and professional challenges that will be different from our generation. There will always be new problems and new solutions in our industry. Life-long learning is a must. Our industry is characterized by booms and busts, so they should be prepared for this. I think the current energy transition and net-zero emission goal will create new opportunities for geoscientists.