Many volunteers work behind the scenes, ensuring that CSEG initiatives are successful. Those who want to volunteer, or to say thank you to those who do, often don't know what committees and opportunities exist.
This column aims to bridge those gaps. In addition to the column, the CSEG website will be updated regularly with committee and volunteer information.
– RN
CSEG Doodlespiel
In 1973, the inaugural CSEG Doodlespiel took place in Banff. The $60 bonspiel fee included curling costs, prizes, accommodation, meals, a cocktail party and banquet. There were seven committee members and it is recorded that the event was undersubscribed. Since then, the event has been capped at 64 rinks in some years but often expanded to 96 allowing nearly 400 CSEG members to participate in a single year. Over 50 members have received the Jim Hume Award for 25 years of participation. In 2016, the CSEG Doodlespiel first draws will take place in Springbank, Canmore and Banff. The $125 fee includes curling costs, prizes and participation gift, networking, Friday evening buffet dinner, costume contest, no line-up/cover to various pubs and clubs and shuttle service with accommodation paid for separately. There are now ten committee members (Trent Olson, Matt Ng, Chris McGregor, Daniel Perez, Andreas Georgousis, Nathan Baker, Karen Chong, Bryce Davis, Luc Gravel and Chad Wildman) and we meet three of them below.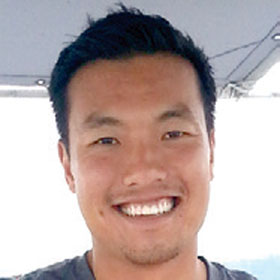 Matt Ng (Painted Pony Petroleum Ltd.) has been curling for 17 years, won the event in 2013 and 2015, has never fallen on the ice, and volunteers because he wants to help this great event take place. As the current Chairman, Matt acknowledges that the Doodlespiel provides a sub-community within the CSEG and he especially felt that sense of community when respects were paid to Al Richards, a prominent figure of the Doodlespiel, two years ago. The Doodlespiel community is expanding and Matt sees the Doodlespiel evolving with increasing participation by students and new graduates. The main committee is stable but three additional student volunteers are usually required to help out during the event. On non-Doodlespiel weekends, Matt enjoys barbecuing or watching sport – two things that bring people together. So, it is appropriate that he will tell you that the Doodlespiel is a great annual event that brings CSEG members together,
promoting fellowship, networking and competition in a unique, fun and social setting!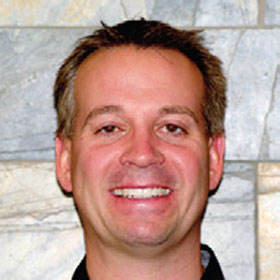 Trent Olsen (Sigma) started curling in Grade 7 and has curled at the Doodlespiel since 2000 – but never fallen on the ice. He enjoys the event immensely, along with up to 96 teams, and enjoys volunteering on the committee along-side competitors, clients, potential clients and others he didn't previously know well. Although he has been on the committee for 6 years (currently as Past Chair), he has participated for 16 years as an auctioneer with Tom Kelly – first roped in because Tom was losing his voice.
When not curling or volunteering, Trent may be found reading Unbroken, playing hockey, fishing, golfing, camping, or travelling along the East Coast of Canada with his wife and two children – ask him about the Cabot Trail when you see him next.
As well as relaying tales of the East Coast, he will tell you that if you are passionate about an event, and would like to see the continued success of that event,
you should volunteer within the CSEG.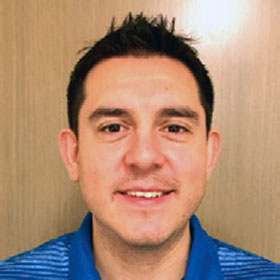 Daniel Perez (Earth Signal Processing) has been curling for five years, on the Doodlespiel committee for four years, fallen on the ice three times and won the Doodlespiel twice. He first started volunteering for the CSEG as a co-founder of the CSEG GIFT committee in 2010 and now dedicates his time to the Doodlespiel, currently in charge of Finance. He laments that the Doodlespiel is much more than curling and that it is an event that brings the geophysical community together for a few days allowing old friends and colleagues to catch up over the weekend. It is the most attended event on the CSEG social calendar and is deeply rooted in tradition but the current market and demographic shift are causing the event to evolve. If you see Daniel at the Doodlespiel or another CSEG event, ask him about Costa Rica, the NFL, where he loves to ski or scuba dive. Daniel suggests that members consider attending the Doodlespiel as it is
arguably the best social event of the year.