Many volunteers work behind the scenes, ensuring that CSEG initiatives are successful. Those who want to volunteer, or to say thank you to those who do, often don't know what committees and opportunities exist.
This column aims to bridge those gaps. In addition to the column, the CSEG website will be updated regularly with committee and volunteer information.
– RN
Chief Geophysicists Forum
At a 7am breakfast meeting, four times per year, the CSEG Chief Geophysicists Forum (CGF) meets. They act as a think tank for the CSEG and work on specific goals based on suggestions by the CSEG Executive, committees or individual members. There are presently 60+ members of the CGF representing a diverse array of companies. In this column we meet a few participants of the CGF subcommittees along with the currently leadership. Thank-you to everyone involved with the CGF.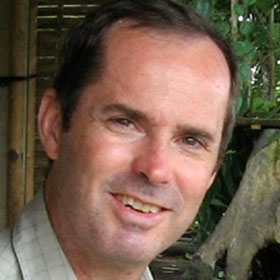 As well as being the CGF Secretary 2014 and CGF Chair 2015, Tom Borthwick represents Talisman at the CGF meetings. He sees the CGF as a group of experienced geophysicists who are committed to improving the practice of geophysics while also shaping its role for the future.
On the personal side, Tom enjoys walking. He walks to work and at 5pm on a Saturday he'd like to be relaxing after a day of hiking with friends and family. He also likes to travel and recently spent two weeks exploring the Big Island, Hawaii.
Over the next few years, Tom sees the CGF as remaining focused on geophysical topics but with
more collaboration from engineers and geologists.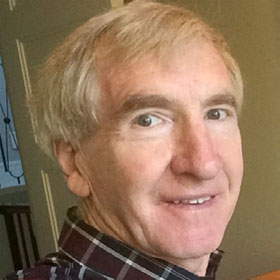 Neil Orr (CGF Secretary 2015, CGF Chair 2016) has been volunteering for the CSEG for over 30 years primarily as a Joint Convention session chair and organising committee member.
Neil notes that some companies are not represented at the CGF and would like to see them join. He feels that it is an important part of his job to represent the 50+ geophysicists at CNRL. Neil finds time to jog to work but admits that it is sometimes hard to find dedicated time for issues requiring a lot of effort. That's why the CGF is so important – knowledge sharing, networking with peers in industry, academia and regulation, and working together to make progress on important geophysical issues.
Giving back to your professional and industry is part of being a professional.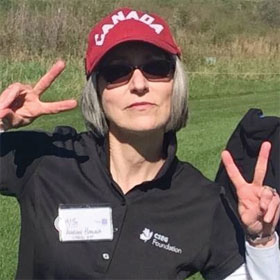 Current CSEG Vice President, Marian Hanna is Chair of the CGF Reserves Subcommittee and has provided insight and technical relevance to reserves, micro-seismic and MLA documents. She felt a real sense of community within the CSEG when the CGF and CSEG Executive supported the Geophysical Applications – Using Geophysics for Hydrocarbon Reserves and Resources Classification and Assessment document that can be downloaded from the CSEG website. She sees the CGF evolving with both a rotation of representatives and new ideas on how to face challenges within the industry. Personally, she is taking a short break from the CGF until she returns as CSEG President in April 2016.
Marian is reading Bossy Pants by Tina Fey, always loves travelling to Japan, and since she is from New Orleans it isn't surprising that on Saturdays she likes chillin' with her husband and sons as they cook up something good together. She suggests that
Volunteering is rewarding because the value that you add is appreciated.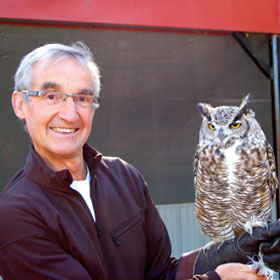 Chris Szelewski has been heavily involved with the CGF as Encana Representative (~2007-2012), Secretary, Chair, and most recently for three years as Chair of the CGF Microseismic Subcommittee. As all the microseismic deliverables have been completed, the committee stood down in June, 2015 and Chris, himself, recently stepped down from the CGF due to retirement. Highlights for Chris over the past 8 years include helping generate the 'Guidelines for Standard Deliverables from Microseismic Monitoring of Hydraulic fracturing' and being part of the organisation of an Induced Seismicity Forum in Calgary. Despite his heavy involvement with the CGF, Chris really felt a sense of community within the CSEG while listening to seasoned geophysicists talking about their career experiences at the Junior Geophysicist Forum (JGF). He has recently read Edith Frome, has taken a cruise from Buenos Aires to Santiago via Antarctica, enjoys the theatre, likes to hike and comments that volunteering is a great way to give back to the society that has contributed so much to the geoscience community over the years. He advises that, as he did in the early part of his career,
it is too easy to stand back and let others volunteer.
Interested in Volunteering?
Interested volunteers are invited to contact the CSEG at office@cseg.ca.