Happy October! So after the early September snowfall and cold snap lead to the postponement of WiSE to late September, while the brave Doodlebuggers carried on in the frosty temps, I decided to check the Farmers' Almanac to see what we are likely to get for the upcoming winter. It looks like the East Coast will have "mild" snow (does that mean 4ft snow drifts instead of 8ft?) and the Prairies are going to be cold and lots of snow. Lots. Hmmmmm. I suppose that'll be good news for the Doodlespiel (January 18-20th) and Ski Spree (Feb 9th-10th). Those are your SAVE THE DATES BTW, information will be out on those soon too. Keep an eye on the www.cseg.ca website.
On the Move...
Christopher Chalcraft would like for his friends and colleagues to know that he has joined Chevron as a Data Scientist. He may be reached at christopherchalcraft@chevron.com.
Nicole Willson, P.Geo. has joined CGG as a Technical Writer in the GeoSoftware group. She has several years of experience in the geophysical software industry, first at GEDCO and then at Schlumberger Canada. Since leaving Schlumberger, she has expanded her writing and editing skills as a freelance technical editor at Pen & Trace Geoservices and as a member of the CSEG RECORDER committee.
Jordan Domin is pleased to announce he has accepted a job as Business Development Director for Canstrat. Jordan's new role will involve seeking out opportunities for new business development and growth. Additionally he will promote LogSource, Canstrat's GIS enabled web platform that gives Geoscientists full access to over 35,000 wells of drill cuttings analysis across North America. He can be contacted at Jordan.Domin@canstrat.com, land line: 403-284-1112, and cell: 403-993-7161.
Socially Speaking
66th Annual Doodlebug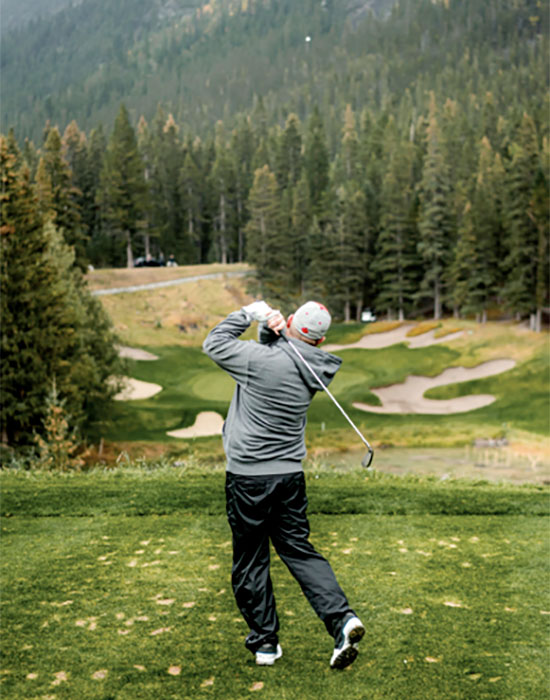 Sept 14-16, 2018, the 66th annual CSEG Doodlebug Golf Tournament was again a huge success. Known as the premier sporting and social function of Western Canada's oil and gas geophysical industry, the event was originally held in the majestic Rockies of Banff, Alberta in 1953, where we returned this year once again! Attendees stayed at the Rimrock Resort Hotel – a world-class resort originating back to the 1850s.
Doodlebuggers (majority of geophysicists, some geologists and supporting seismic service providers) adapted to snowy conditions of the iconic Stanley Thompson – Banff Springs Golf Course (opened in 1911), on the first day by taking in some fun and competitive rounds of bowling before socializing at the local-renowned Rose & Crown Pub. All the Doodlebuggers took full advantage of Saturday's good weather to play in a stroke format to determine the winners of those who wanted ceramics. This year, our grand champion and 66th Mr. Doodlebug went to Scott Patterson with an impressive 78!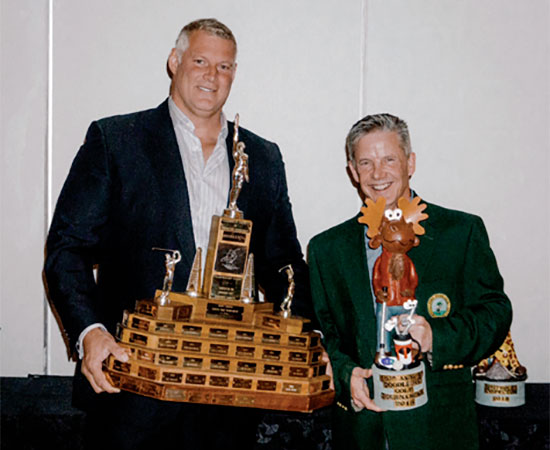 Guests of the Doodlebuggers enjoyed a delicious brunch inside the elegant Rimrock – Primrose Dining Room, followed by a hike up Tunnel Mountain with scenic, panoramic views from the top of Banff's townsite, the Bow Valley and Mt. Rundle. Those that wanted to golf enjoyed the Banff Springs Golf Course.
This year's charity event was heart-touching and graciously supported! Cystic Fibrosis is the most common fatal genetic disease effecting Canadian children and young adults. Presently there is no cure. CF causes various effects on the body but mainly effects the lungs and digestive system resulting in chronic lung infections, malnutrition, vitamin deficiencies, progressive lung damage, sinus infections and some CF related diabetes eventually leading to death in the majority of people and/or the requirement of a double lung transplant accompanied by the risk of body rejection. The Doodlebug event raised $5500 in donations for the Cystic Fibrosis Foundation of Canada to assist CFers who require enormous amounts of daily medication and life-saving research. Together we make a difference!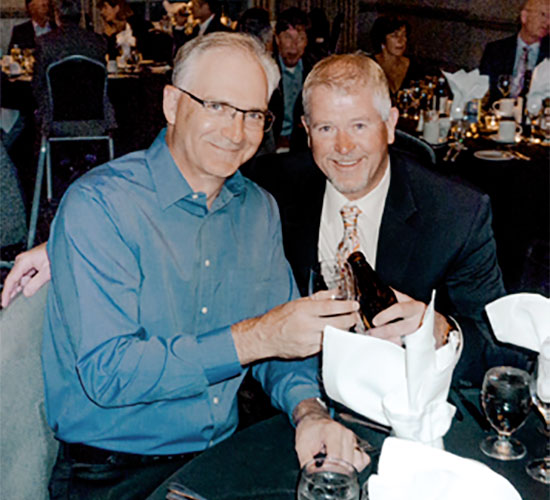 Overall, everybody had an epic weekend making new friends and reuniting with old ones. Looking forward to seeing you at the 67th Doodlebug! Now is time to start thinking about the upcoming 2019 Ski Spree. Registration will open in November.
A huge thank you to the committee for all your efforts to make this awesome weekend happen and also a big thank you to all the sponsors as without you we could not do it.
Alex Gauthier, 66th Doodlebug Chairman
2019 Symposium
The Symposium Committee has named the late Roy Lindseth as their honouree for the 2019 Symposium, which will be held in March 2019. The actual date will be confirmed very soon. Please go to https://cseg.ca/symposium for updates as they become available.