Happy April! We're back for our yearly print edition, and I would like to say a personal "thank you" to Nicole Willson, who has served The RECORDER committee as Chief Editor, and has now stepped back fully to let Brian Schulte take the reigns. Best wishes for a successful technical writing career Nicole, you will be missed. It's GeoConvention this month: hope to see many of you out at the Ice Breaker and at the Core Meltdown.
On the Move...
Andy St-Onge has started PFS Interpretations Ltd. to investigate Upper Cretaceous faulting and fracturing within the Western Interior Seaway. Andy can be reached at 403-969-3272 or geophysicist@shaw.ca.
Judy Baker would like to announce she is now part of the Katalyst Data Management Operations team, and may be reached at judy.baker@katalystdm.com.
Corporate Grapevine
Absolute Imaging Inc. and Sound QI Solutions Ltd., both of Calgary, Canada, are pleased to announce a Joint Venture to offer combined seismic data processing, advanced imaging and quantitative interpretation services for reservoir characterization.
Absolute Imaging is a leading provider of land, marine and transition zone seismic data imaging solutions including depth imaging, diffraction imaging, multicomponent processing, and environmental near-surface imaging. Sound QI is a leading quantitative interpretation (QI) solutions company integrating seismic and well data with rock physics and geological knowledge, to create high fidelity volume predictions of geology and geological properties. These volumes are delivered in a unique multi-attribute interpretation environment for reservoir characterization, Sound QI's signature interactive classification software QI-Pro™.
With the formation of the Absolute Imaging – Sound QI Joint Venture, clients will immediately benefit from a simplified bidding process; close collaboration between processing geoscientists and QI interpreters; delivery of advanced imaging and QI attribute volumes; and access to QIPro™ software. Contact: Elvis Floreani, www.absoluteimaging.ca | Laurie Weston Bellman, www.sound-qi.com.
Katalyst Data Management Launches Well File and Well Log Scanning "Paper To Digits" Service
Katalyst Data Management announced today that it has launched well file and well log scanning services for the oil and gas industry. The company now has the capacity to scan volumes of well logs and associated files that are created during the life cycle of a well into an accessible PPDM database. This announcement follows Katalyst's recent completion of a successful well file project involving the scanning and classification of physical well files associated with over 20,000 wells in the US Lower 48.
Oil and gas companies moving towards big data analytics are missing a critical dataset in their analytic data pool by keeping information locked up inside paper logs and well files. Scanning "paper to digits" is the first step in Katalyst's initiative to create a complete electronic well file to enable analysis of the data. The electronic well file contains data that is already in digital format, such as LAS, DLIS and other well logs, XLS spreadsheets and other digital data, along with the "paper to digits" data that has been scanned.
"Well log and well file scanning is part of our electronic well file initiative, the first step for us to complete our well data management solution for iGlass users," said President and CEO Steve Darnell. "We've led the industry in seismic data management for years and are excited to pave the way for our solution to become an all-encompassing data management portal for all subsurface data types used for oil and gas exploration and data analytics."
To learn more visit katalystdm.com.
Socially Speaking...
The 46th annual 2018 Doodlespiel has now come and gone and this year we had 64 teams with over 300 participants. The town of Banff, the Banff Curling Club, and the Best of Banff company once again created an amazing venue for the Doodlespiel that was enjoyed by all. The A event final had the Brack rink against the Olson rink. In the end, the Brack rink – consisting of Jim Brack, Dale Johnson, Dave Cryer, Bill Campbell, and Mike Langois – won the A event. Congratulations Team Brack on winning back-to-back Doodlespiels!! Other event winners include: B Event = Kevin Mullie, Rob Curts, Launey Newell, Greg Groten. C Event = Wade Whitlow, Calvin Wall, Toger Bilger, Noel Leach. D Event = Sandy Jenkins, Scott Law, Jeff Deere, Andrew Boland, Scott Leaney. Team Spirit best costume awards go to: 1st Place = "Wrestle Mania Wrestlers" – Team Ohler. Well done!!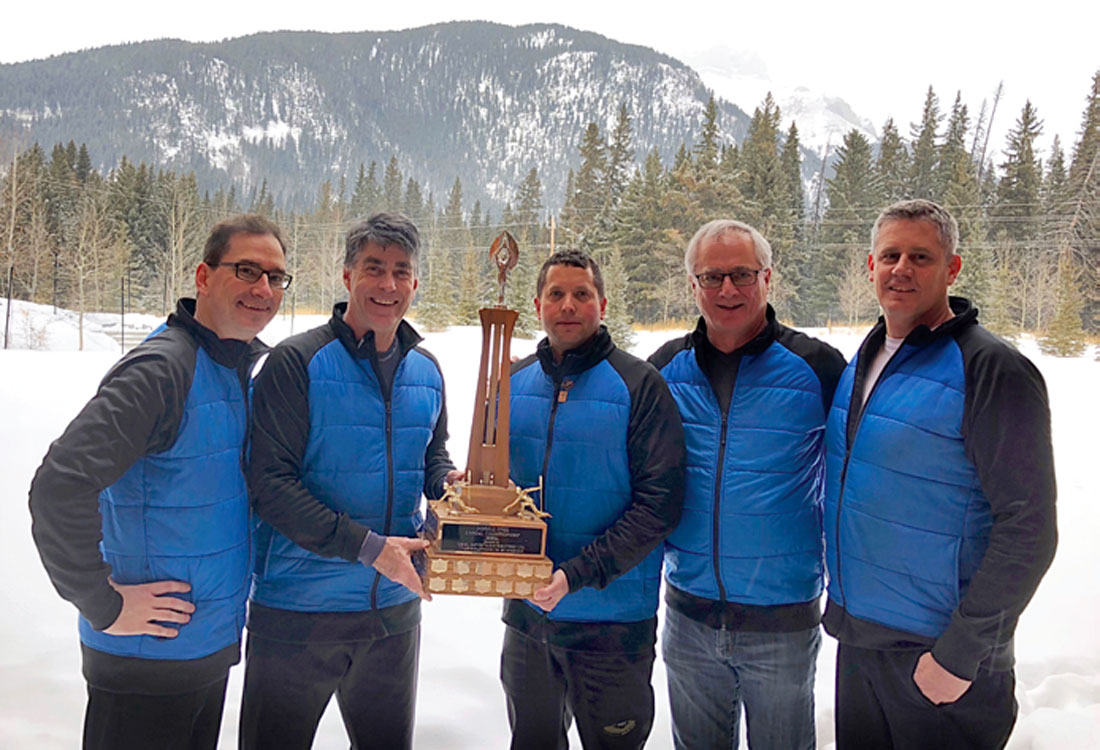 This year we held a charity raffle once again with all proceeds going to the CSEG Foundation "In the Rings" Scholarship Fund. With everyone's amazing generosity we raised over $2000 from the raffle. And once again, Larry Herd has generously matched all proceeds towards the fund, bringing us to a grand total of over $4000! Thank you Larry!
As Chairman of the 2018 Doodlespiel, I would like to take the opportunity to thank ALL of our sponsors, especially our Title Sponsors, SEITEL and EXPLOR... we could not do it without you!! THANK YOU!!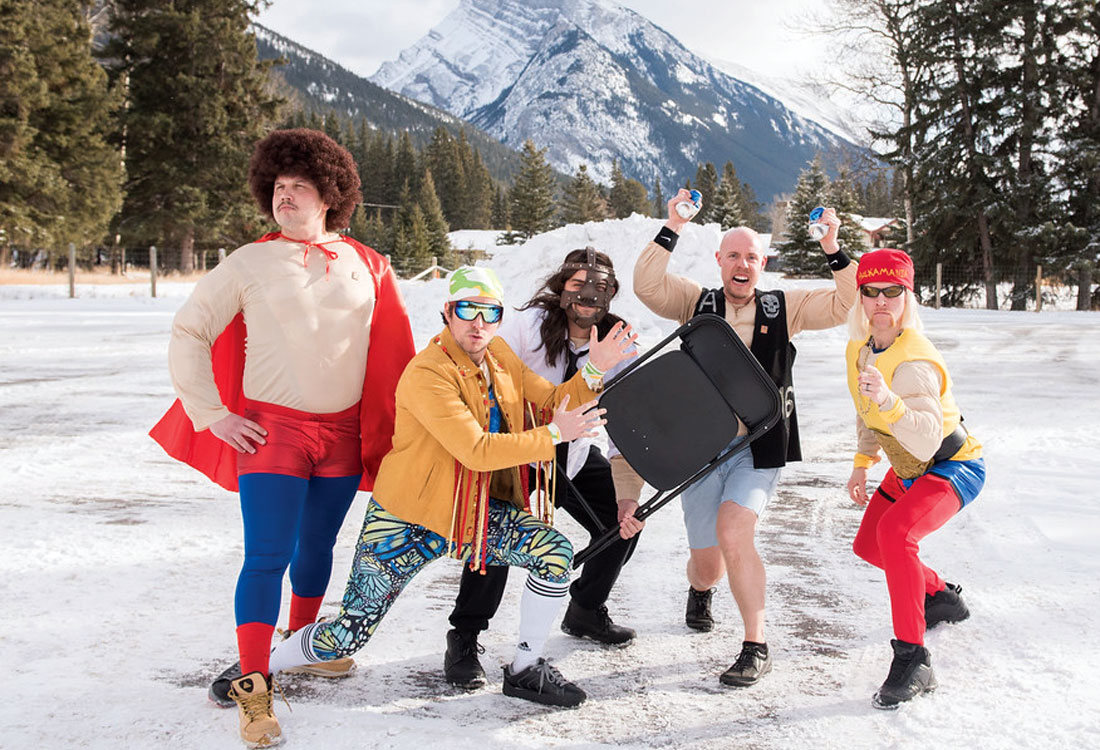 Without the continued support of the industry, this great event would not be able to continue. Sponsorship and overwhelming participation of our industry continue to make this one of the largest curling bonspiels in Western Canada. As outgoing Chairman I am confident that next year's Doodlespiel committee will no doubt deliver another excellent event. On behalf of the entire committee, THANK YOU and we look forward to seeing everyone back in Banff for 2019.
Andreas Georgousis – Chairman, 2018 Doodlespiel
Resources For Future Generations – RFG 2018 June 16-21, 2018 – Vancouver
The Resources for Future Generations 2018 Program Schedule has been released and it boasts an impressive line-up of speakers covering an engaging and provocative number of panels, debates, thematic keynotes, and public lectures.
Some of the topics that will be discussed include:
Future resources: sources and constraints: an overview of resource opportunities and challenges.
The Earth through time: a look at some of the major tectonic, magmatic, geochemical and biological changes that have occurred on Earth over time, and their implications for resources needed to sustain humans.
Future of Energy: How will we continue to increase our supply of energy to meet human needs while minimizing the impact on the environment?
Energy supply and use: Relationship to water and mineral extraction.
The Arctic: A introduction from northern political and Indigenous leaders followed by overviews of the critical geoscientific data, the relationship to Indigenous communities and resource development.
Resources: Who owns resources and who ultimately benefits from resources? Should this change and how will change happen?
Water constraints: What controls and limits the supply of water, globally and locally? How do we evaluate the availability and sources of water and how does that impact mining and Indigenous communities?
Mineral supply: Two lectures examining the availability and supply of different minerals and their critical importance to the modern world.
Check out the program and speaker list here: http://www.rfg2018.org.