Happy March! The GeoConvention is right around the corner… have you signed up to attend yet? Registration opened up in December, and I noticed that they are still promoting free advanced registration for those people who just want to access the exhibit floor and see what's new. Check it out!
On the Move...
Todd Lloyd would like his colleagues to know that he has started with the International Petroleum Company, and may be reached at todd.lloyd@international-petroleum.com.
Matt Lennon is pleased to announce that he has joined the RPS team and that he may be reached at matthew. lennon@rpsgroup.com.
Marivi Molina would like to announce that she has started as a Senior Geophysicist with NEP Canada ULC, and may now be reached at marivi.molina@nepcanada.com or 403-243-4271.
Corporate Grapevine
Sound QI Solutions Ltd is pleased to welcome Dennis Ellison to our team. Dennis will focus on consulting and software business development as well as support for QI-Pro, Sound QI's modern interpretation environment for simultaneous classification of multiple attributes. Dennis brings 5 years of experience as a geophysicist and is nearing completion of his M.Sc.
Dennis is a current member of the CSEG, APEGA, EAGE, CSPG, and SEG. He actively volunteers with CSEG, APEGA and Scouts Canada, and was recently awarded Best Student Oral Presentation – Honourable Mention at GeoConvention 2017. Dennis can be reached at: dennis@sound-qi.com.
Katalyst Data Management would like to welcome the following new additions to their Calgary Operations team:
Janine Pagalilauan (janine.pagalilauan@katalystdm.com)
Pat Shannon (pat.shannon@katalystdm.com)
Angela Spencer (angela.spencer@katalystdm.com)
Mary Cameron (mary.cameron@katalystdm.com)
For more information about Katalyst's seismic, wells and project management core services in Calgary, please visit www.katalystdm.com or contact Neil Baker at Neil.Baker@katalystdm.com /+1 403.294.5268.
Socially Speaking
Saskatchewan Geophysical Society (SKGS)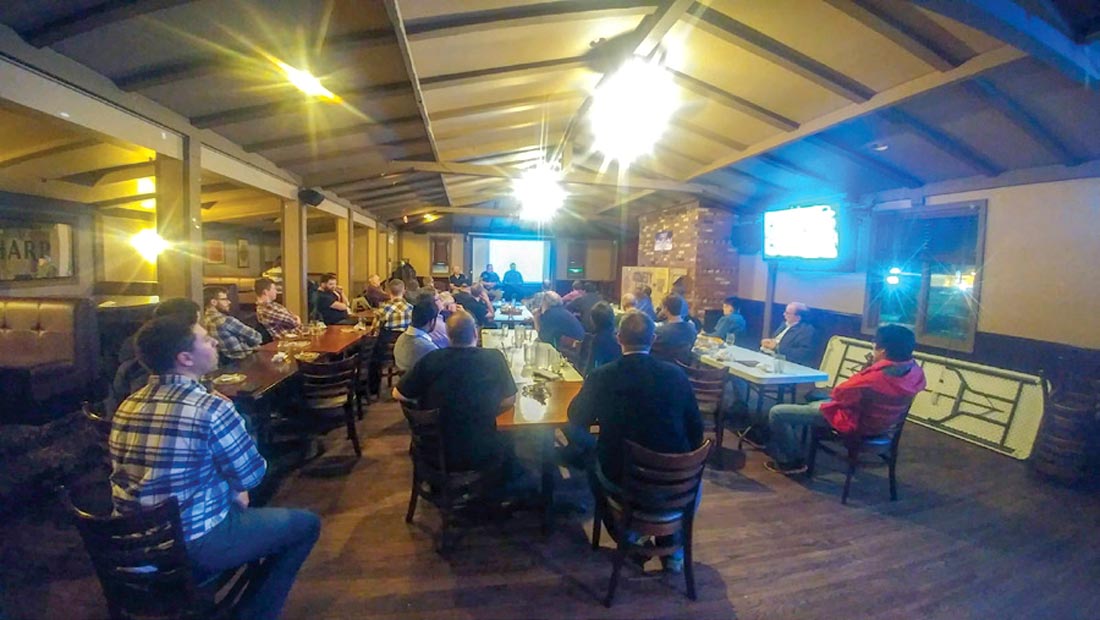 The event organizers would like to extend thanks to all the participants who attended the inaugural meeting of the newly revived Saskatchewan Geophysical Society (SKGS) on January 19th, 2018. A special thanks to our guest lecturer, Clinton Keller (Cameco Corporation) who spoke on "Parameters Affecting Bulk Resistivity in Athabasca Sandstone" and our discussion panel comprised of Sam Butler (University of Saskatchewan), David Bingham (Bingham Geoscience) and Garnet Wood (Cameco Corporation). The meeting was well attended with about 40 geoscientists from industry, academia and students coming together for some informative discussion and productive networking. The SKGS would like to extend a final thanks to our inaugural meeting sponsor Dias Geophysical for supplying appetizers and refreshments.
All official announcements will be made via the SKGS email list, so if you are not on the contact list and would like to be, please send an email to: saskgeophysicalsociety@gmail.com.
Calgary Geoscience Data Managers Society
Data is Information and Information is Insight! The Calgary Geoscience Data Managers Society would like to invite you to take a look at their new website that rolled out in February. Inside you can find upcoming educational and networking events, access to white papers/presentation archives and a sign-up for a fresh stream of current information. www.cgdms.ca.