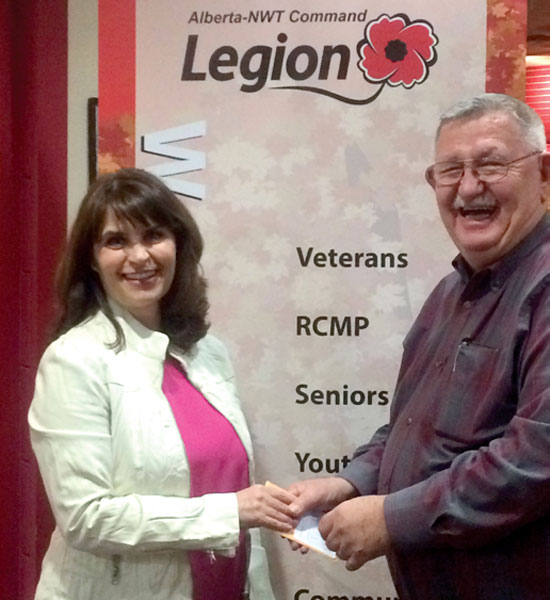 I wanted to give some recognition to the Crew that organized the "It's a Break-Up… Spring Fling" social at the Unicorn Super Pub: Angela Spencer, Maggie Stratton, Mike Clement, Chris Heaver, Wendy Lambert and Sandy Lucas. This group of geo folk raised spirits and raised a total of $164 for the Veterans Food Bank. "Yahoo!" is a shout-out from Bill Cox, President of Royal Canadian Legion Kensington Branch #264 who accepted the donation. Bill was also thrilled to update on the new Legion and restaurant opening up this June to the public: 1918 Taps & Table. They are extending a big welcome to anyone who wants to make the short jaunt from Downtown.
On the Move...
Mantu Sihota is pleased to announce he has joined NAL Resources as Chief Geoscientist; his new contact information is 403-538-8978 and msihota@nal.ca. Mantu will be responsible for managing exploration activities, A&D and technical advancements to help the company meet strategic growth targets. Mantu has over 23 years of experience in unconventional and conventional reservoirs. Prior to joining NAL Resources he was the manager of Geophysics at Long Run Exploration (Galleon) and Senior Geophysicist at Encana (PanCanadian).
Scott Reynolds has moved over to Jupiter Resources. His email address is sreynolds@jupiterresources.com and phone number is 587-747-2608.
Michelle Korodimas is happy to announce that she has joined Serafina Energy, and may be reached at Mkorodimas@serafinaenergy.com.
Socially Speaking...
T-Wave Golf Tournament
The 9th Annual T-Wave will be held on Monday, June 26th, 2017 at the Valley Ridge Golf Course in Calgary. Shotgun start at 1pm. Registration is now open! Check the CSEG website for additional information: https://cseg.ca/social/t-wave-golf-tournament. Any questions, please contact Chairman, Rob Curts at curtsr@echo-group.net.
Women in Seismic 2017
Bring on your leg warmers, big bangs (not theoretical ones), neon spandex (eww...) and your inner Randy the Macho Man Savage! Women in Seismic is flashing back to the 80s and will be racing at 88km in a DeLorean to Fox Hollow for another great round of networking on the golf course on Thursday, September 14th, 2017 for a 1pm shotgun start! Registration is now open! Go to the CSEG website at https://cseg.ca/social/wise-golf-tournament.
Doodlebug 2017
I'd like to extend an invitation to all CSEG members to join the Doodlebugs for the 65th Annual Doodlebug Golf Tournament in Banff this upcoming September 8-10th. This year, what is old is new! We are returning to Banff for the first time since 2000, and are holding the event in its traditional timeframe of the first weekend after Labor Day. We will also be streamlining the event to 2 nights and 2 days of golf, moving the golf to Saturday and Sunday, and eliminating the guest/warmup event. It is hoped that these changes, along with proximity to Calgary, will lead to improved enrollment of our CSEG members and their guests.
Registration is through our website and can be found at: www.doodlebuggolf.ca.
David Wardlaw, 65th Chairman
Corporate Grapevine
Arcis is pleased to welcome David Wilkinson to Arcis' Processing and Reservoir Services team as a Senior Geophysical Advisor. He will provide technical support to the processing team and input to R&D to help guide new technology development and existing algorithm enhancements. David may be contacted by email, david.wilkinson@tgs.com or by phone at (403)781-5872.
Arcis Seismic Solutions Corp (Arcis) is a wholly owned subsidiary of TGS-NOPEC Geophysical Company based in Norway and Houston. Arcis was founded in 1996 and still has its head office located in Calgary, Alberta Canada. Arcis offers seismic solutions to the energy industry including seismic data processing, reservoir analysis, advanced imaging, multi-client surveys, geotechnical solutions, seismic acquisition services and access to an extensive 2D and 3D onshore and offshore seismic data library.