I am very pleased this month to include an announcement about the new GUSS executive at the University of Calgary. This is the first time I have received something from a university student association. I would like to commend them on being so proactive. It is not often I get unsolicited announcements so I appreciate it! If you have a new job, have been promoted, retired, or want to share your contact information, you can contact me at carmen.swalwell@shaw.ca or 403-560-8431.
Student News
The Geophysics Undergraduate Student Society (GUSS) club at the University of Calgary is pleased to announce the results of its election of officers for the academic year starting in September 2015. By way of introduction, below is a photo and brief bios of our new executive team. Please feel free to contact any of us with questions about our activities.
President: Zoë Vestrum
Email: zoe.v@me.com
Zoë is going into her fourth year of study. She is doing a combined degree in Geophysics and Mathematics. As the President, she is in charge of coordinating the VPs and keeping track of all the club's activities.
VP External: Carly Hornstra
Email: carly.hornsta@gmail.com
Carly is the fourth year of her Geophysics degree. As VP External she is in charge of collaborating with the Rundle Group, the geology version of GUSS, and going to CSEG meetings.
VP Finance: Dave Artuz
Email: dave.artuz@gmail.com
Dave is in his final year of his Geophysics degree. As the VP Finance Dave is in charge of balancing the budget.
VP Events: Bradley Lindgren
Email: bradlingren@live.ca Bradley is the youngest member of the executive. He is going into his third year of study. As VP Events, he organizes all of our academic events, which include technical talks, workshops and software orientations.
VP Student Life: Zach Anderson
Email: zanderson@ucalgary.ca
Zach is going into the fourth year of his geophysics degree. As VP Student Life, Zach is in charge of our social events, which include our annual squash tournament and other networking events throughout the year.
VP Logistics: Moriah Rempel
Email: mkrempel@ucalgary.ca
Moriah is in her fourth year of study. She is doing a combined degree in Geophysics and Geology. As VP Logistics, she is in charge of sending emails and keeping track of upcoming industry events.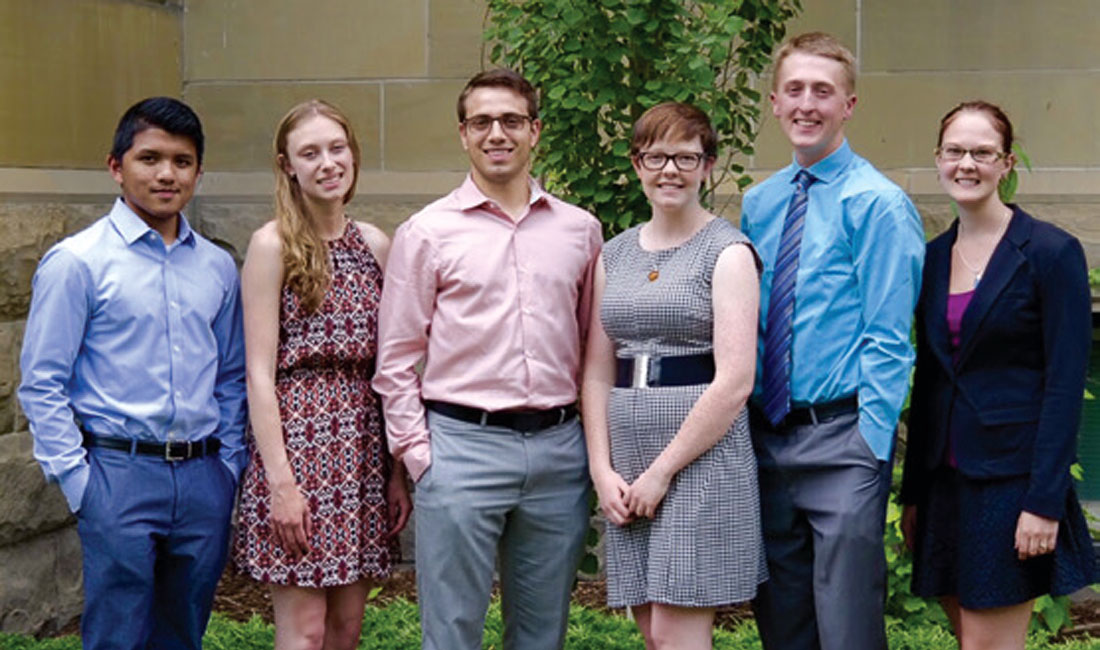 On the Move...
Tanis Millman-Atkins would like to announce that she's completed her 4 month internship at Long Run Exploration and would like to thank them for the opportunity to have worked throughout the summer under the mentorship of Kevin Frankiw and Mantu Sihota. For anybody looking to contact Tanis, she can be reached via email at tmmillman11@gmail.com.
Blayne Gardiner is pleased to announce that he and his wife have re-located "downunda mate". He started his full time Senior Geophysicist position in mid-February with Senex Energy Ltd. in Brisbane, Australia. He can be reached at blayne.gardiner@senexenergy.com.au and of course, still at gardiner6blayne@gmail.com.
After 9.5 years in Canada and Australia, Paul Anderson has resigned from Apache Corporation to take on a new position with Denbury Resources in Plano, TX. He can be reached at paul.anderson@denbury.com.
Kyle Dreher is pleased to announce that he has accepted a job at Twin Butte Energy in the role of a geophysicist. He is very excited to continue his geophysics career there and can be reached at kdreher@twinbutteenergy.com.
Geo-X is pleased to announce the addition of Luis Lugo to its team as of June 1st, 2015 as Business Development Manager, Latin America & Technical Advisor. Luis brings 33 years of combined experience in acquisition, processing and time/depth imaging of 2D/3D land and marine seismic data for the oil and gas industry. He has a strong background in structurally complex areas such as overthrust geology and rugged topography.
Luis is originally from Venezuela but left there to go to University College in London, England where he graduated with a BSc in physics. He then went back to Venezuela, where he worked as a geophysicist from 1982 to 2002 for GSI and PDVSA, the Venezuelan national oil company. After a brief time in Kavala, Greece he came to Calgary where he has primarily been since 2006. Most of his career has been as a senior geophysicist and technical advisor. Luis will be a valued asset to the Geo-X team with his knowledge and experience.
Call Luis at 403-669-4368 or email at Luis.Lugo@geo-x.com and he can tell you about Geo-X's offerings; 2D, 3D and 4D processing, Reservoir Characterization, Fracture Detection and Depth Imaging.
Absolute Imaging Inc. is pleased to announce that Carson Yarham, P. Geo, M.Sc. Geophysics, has joined our team of geoscientists in the capacity of Senior Processing Geophysicist. Carson comes to us from a major seismic services company and has eleven years' experience in research and processing roles. He has extensive experience in time and depth processing of marine seismic surveys and is a welcome addition to our marine group. Carson Yarham can be reached at carson@absoluteimaging.ca or 403-806-6731.
Absolute Imaging Inc. is a leading provider of land and marine seismic data processing solutions including depth imaging, reservoir characterization, multicomponent processing, and environmental near-surface imaging. Absolute's professional team has extensive experience processing 2D and 3D data from basins around the world in both subtle stratigraphic and complex geological environments.
Edge Technologies is pleased to announce the appointment of Mike Hall, P. Geoph., as the new President of Edge Technologies Inc. Mike received his Master's in Electronic Engineering from the University of Calgary in 1977 specializing in sign bit Vibroseis. He has over 40 years of experience with service at CGG, FSI, Geokinetics, INOVA, GXT, SIS and others, covering seismic acquisition, processing, interpretative processing and seismic survey design. His main interests are in reservoir characterization, seismic imaging and development geophysics; using 3D seismic in conjunction with other disciplines to achieve interpretation objectives. He has extensive experience in interpretive processing and a strong interest in the use of time lapse (4D) and multicomponent surveys plus accurately imaging the subsurface in depth. Mike's experience covers land, transition zone, OBC and marine seismic throughout the world. He is keen on ensuring integration between acquisition, processing and interpretation while incorporating external information for calibration and control. Mike was Chairman of the ProMAX Users Group, Geophysical Adviser to the UK government R&D LINK funding program. He has provided geophysical training for the OETB, presented courses on 3D Survey Design and on the QC of 3D seismic processing. Mike is a member of the SEG, AAPG, CSEG, EAGE and APEGA and a current member of the CSEG DoodleTrain & VIG committees.