My first TTI column was June 2003. I have missed two columns over the 12 years, so that means this is my 118th column in the Recorder. I want to extend a heartfelt thank you to all the people that have submitted announcements over the years. And to all the people that have helped me track down announcements. I appreciate it!
Member News
While visiting New Zealand in March 2015, Rachel Newrick spent an afternoon at Victoria University of Wellington discussing the petroleum industry, the CSEG, a petroleum based course being developed within their Earth Science department and then gave a presentation on Petroleum Exploration in Frontier Regions to approximately 50 people. There were numerous questions and discussion on the risks, the environment, the challenges and the opportunities in both the frontier and the petroleum industry in general. She enjoyed the lively debate and encourages other members to take time to visit academic institutions while travelling.
On the Move...
Mark Tobin is pleased to announce that he has recently joined IMaGE (Itasca Microseismic & Geomechanical Evaluation) as Manager of Microseismic Geomechanical Solutions. Mark will be responsible for heading up the Canadian sales and marketing division for IMaGE. He can be reached at 403-968-4135 or by email at mark.tobin@itasca-image.com.
Itasca Microseismic and Geomechanical Evaluation (IMaGE), is an initiative that combines microseismic excellence with state-of-the-art geomechanical simulations to offer a new standard in engineering hydraulic fracture treatments for unconventional reservoirs. IMaGE brings together a team of globally recognized technical experts, added to Itasca's leadership in geomechanics, to provide unique microseismic project design, processing and interpretation services.
IMaGE products and services allow our clients to extract the maximum benefit from their microseismic investment, optimize hydraulic fracture stimulations, reduce economic and environmental risk, and improve production from unconventional reservoirs.
Roger Bilger is very proud to announce the commencement of working with Wolverine Group Inc. He is enthusiastically looking forward to working with the present seismic industry and building connections in other sectors of the oil and gas trade!
Cell: 403-862-9034 | rbilger@wolverinegroupinc.com | www.wolverinegroupinc.com.
On March 24, 2015, after working in a consulting role for 5 months, Charlene Beckie started as a full-time Senior Geophysicist for TransGlobe Energy Corporation. Based in their Calgary office, she is actively involved in expanding their operations across their Development and Exploration acreage in Egypt.
Canstrat is pleased to announce that Jason Moore, B.Sc., has joined the company as Director of Business Development. Jason is a graduate of the University of Calgary and holds a degree in Geology. He brings several years of relevant experience to the job as well as a strong customer centric approach to business. Under Jason's leadership, Canstrat is poised to accelerate our exposure to new geoscientists and broaden the utilization of its proven data types as companies focus on getting the most out of their investments.
Canstrat is a wholly owned subsidiary of Sigma Explorations and provides data, training, software and services that can enhance the workflow of every geoscientist through the detailed lithological data they exclusively provide. Jason would be happy to answer any questions and can be contacted at Jason.moore@canstrat.com or 403-284-1112.
Whatever Happened To...
Gay (Ali) Ruddy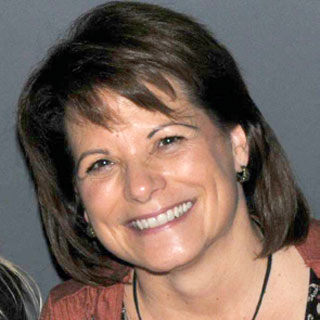 I was honoured that Carmen asked me to write something for her column; social media is a great way to stay connected although I have lost touch with many of you. After working for 20 years in the seismic data industry I got the wanderlust fever for travel in 2008. After visiting Belize and Turks and Caicos early in the year I decided I wanted to experience more of this beautiful world so I transitioned by selling my house and leaving the security of the O&G world where I had developed many long-term connections and friends. Most were supportive, a few were jealous and the rest thought I was a little nuts. I don't regret it one bit, it was truly one of the best experiences of my life. I shortened my middle name to Ali thinking it would be easier, only to find out in Muslim countries such as Indonesia, I was told, "That's a man's name". Too late!
For 7 ½ months I travelled extensively and cheaply (backpacked) to many parts of SE Asia, New Zealand and Fiji. I loved all the different cultures and the food! Met some amazing people, saw many breathtaking sites and experienced some wild adventures- never did I think I'd skydive! Upon my return to Canada I decided to explore beautiful BC and chose Victoria as my new home, on Vancouver Island, commonly referred to as Canada's Hawaii. With its endless ocean and beaches at every turn it seemed perfect for the outdoor enthusiast I am. Fortunately I found a couple positions suited for me, one with a kayaking company, Pacifica Paddle Sports, and another start-up company where I could use my sales and marketing skills and also got to do online publishing. After several years with these companies plus a major renovation project, I spent a winter sailing in the Sea of Cortez. I am now in the process of starting up a new venture- Today's Lifestyle Concierge (TLC), with a goal to focus mainly on services to people relocating, assisting seniors and organizing travel plans. My other goal is to still have the freedom to help arrange and take people on kayaking tours to fill my adventure side. If anyone is planning a visit or thinking of moving to the island I'd be happy to connect, I can be reached at ali@todayslifestyleconcierge.com or visit my website: www.todayslifestyleconcierge.com.