This month I want to tell you about a great restaurant and deli that we found, Francesco's Food and Coffee. They make their own sandwiches, soups and daily specials on the premises. They also have one of the best and most reasonably priced cheese selections in town. I suggest you try the Prestige Bourgogne, it is the best cheese I have ever tasted. They have meals to go, frozen pizza dough, speciality fondue cheeses and European grocery items. It is located in Killarney at 26th Avenue and 33rd Street. For long time Calgarians it is where the Blaine MacLean pharmacy used to be. Try their turkey, pear, brie and cucumber Panini, you won't be disappointed.
ON THE MOVE...
Hampson-Russell are pleased to announce that Emma Yu has joined their Calgary software support team. Emma graduated in 2012 from the University of Calgary with a B.Sc. in Geophysics and is ready to help with AVO, inversion and related reservoir characterization questions. Emma can be reached at emma.yu@cgg.com or 403 205 6368.
Caroline Mongrain is pleased to announce that she has joined Katalyst Data Management as a Business Development Manager, Canada. Katalyst Data Management provides the oil and gas industry with an end-to-end solution that includes every step in the process, from data capture and verification to data storage and organization. With 30+ years of experience, Katalyst has consistently been able to handle the complexities of cleaning up, verifying and organizing our customers' geophysical data. Our clients are able to manage their data more efficiently, with a lower cost structure than traditional storage methods. You can reach her at 403-703- 2142 or caroline.mongrain@katalystdm.com.
There's lots of interesting news from Pulse Seismic Inc. including some great beginnings and a happy ending. It might be old news for some folks, but last November Neal Coleman was appointed to the position of President and Chief Executive Officer. Graham Weir, Chair of Pulse's Board of Directors, commented at the time, "Neal has been instrumental in driving Pulse's business development success, and has clearly demonstrated leadership skills during his time as Interim President."
Other news includes the promotion of Trevor Meier (trevor.meier@pulseseismic.com) to Manager, Sales and Marketing. We are also pleased to announce a new member of the sales and marketing team, Krista Nicholetts (krista. nicholetts@pulseseismic.com). Krista's energy, enthusiasm and previous sales experience make her a welcomed addition.
Moving on Out...
In February, Brent Gale, Senior Vice President and Chief Operating Officer, announced he will retire from Pulse Seismic Inc. effective May 22, 2013. Brent (brent.gale@pulse seismic.com) is looking forward to the many pursuits he has planned for his retirement. Brent had a long and distinguished history with Pulse. He joined Pulse in July of 1993 as one of four partners that eventually took Pulse public in October of 1999. His wealth of knowledge of the seismic industry and extensive personal connections were valued by the management team and the Board of Directors.
Those who know Brent, won't be surprised to hear that Brent will continue to be actively involved with Pulse after he retires. Pulse's Board of Directors has asked Brent to stand for nomination as a director at the May 22, 2013 Meeting of Shareholders, and he has accepted. "Brent has had an outstanding career in the seismic industry and we are excited that he has accepted our invitation to become a Director," stated Graham Weir, Chair of Pulse. "With over 35 years of seismic industry experience, Brent's knowledge of field operations, the oil and natural gas industry and business in general will further enhance the Board's strength. We look forward to Brent's contributions."
Blast from the Past…
I received this picture from John Simmonds at Apoterra Seismic Processing. Thanks John. CS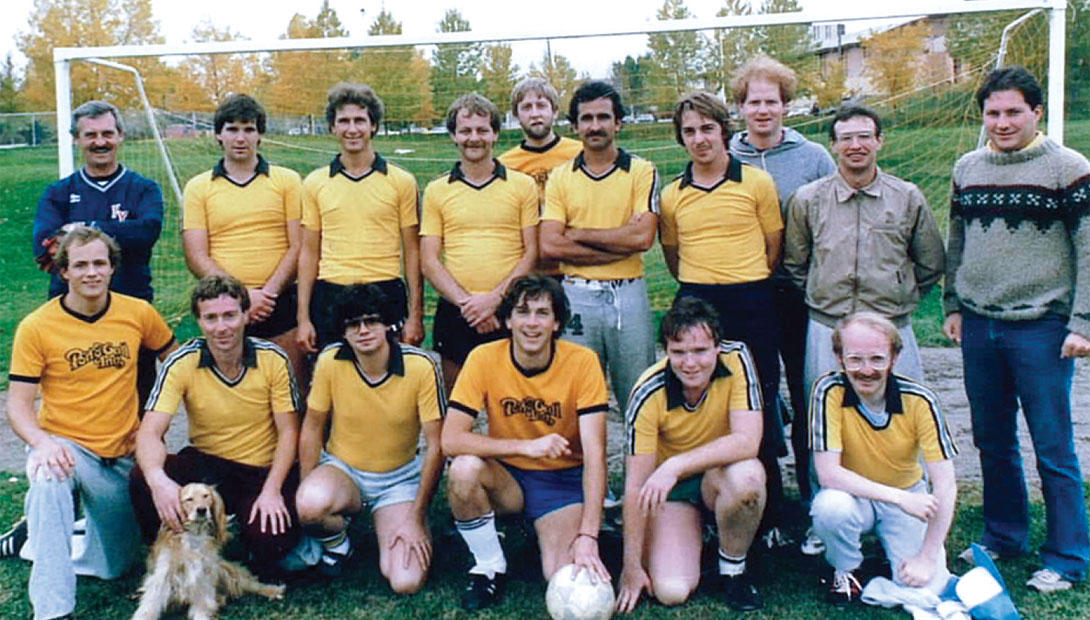 Have a close look at this photograph and see if you can name some of the CSEG members who played in this Air Canada soccer tournament in the mid eighties? Answer is below.
.
.
.
.
Answer:
In the picture (in no particular order) are Oliver Kuhn, Norbert Bernoth, Leo Macht, John Simmonds, Bob Macht, Steve Fuller, Bob South and Carmine Militano. Some people might recognize Kent Fargey and Vince Sisko who used to work in the industry.