Happy New Year! The last year has been very challenging for a lot of us. Some days it has been hard to keep a positive outlook. I started in the industry at Hudson's Bay Oil and Gas in late 1979.( Wow, did I just date myself!) I have been through years like this before and have been laid off more than once in my career… All I know is that it will get better. It is a question of when not if. I sincerely hope that this year is when. Keep in contact with people and stay positive! If you have lost someone's contact information you can check the CSEG member database or give me a call. I will do what I can to help you find people.
NEW CONTACT INFORMATION...
As you are aware in the last year there have been a number of people laid off in our industry. It is always a challenge to find someone after they have left a company. Often you don't have time or think to email your contact information to your friends and colleagues. To help you stay in touch you can send you new contact information to me and I will run it under this new heading. You are welcome to just say something simple like "Joe Seismic can now be reached at joe.seismic@shaw.ca or 403-555-1212 or more detail if you wish.
Remember—update your contact information with the CSEG office.
ON THE MOVE...
There has been quite a development in seismic brokerage recently. Vern Swagar and Michelle Fillion are pleased to announce that they have joined Apollo Seismic Brokerage Ltd. Apollo is a wholly owned subsidiary of Sigma Exploration Inc. providing professional brokerage services to the exploration community in Calgary.
Clients and friends may reach Michelle by email at michelle.filllion@apolloseismic.com or direct phone at 403- 444-1362. Vern can be reached by email at vern.swagar@apolloseismic. com or direct phone at 403-444-1361.
MicroSeismic, Inc. (MSI), a leading geophysical service company providing 3D passive seismic Imaging for energy exploration and production, today announced that Chris Heaver has joined the company to manage its Canadian sales organization based in Calgary, Alberta.
MicroSeismic, Inc. is a leading provider of microseismic data acquisition, analysis and interpretation to the global oil & gas industry. MicroSeismic's technology and services enable E&P operators to better manage their reservoirs, increase their production rates and decrease their completion costs and risks.
Heaver has more than 28 years of energy industry experience in seismic data processing, data analysis, and business development. He has worked in Canada, Europe, Indonesia, and Singapore.
"Chris is a seasoned and successful manager with a demonstrated history of leadership and accomplishment, traits that are vital to our expanding Canadian operations, and we are pleased to welcome him to MicroSeismic," said Peter Duncan, CEO and Founder of MicroSeismic, Inc. "Canada is important to the success of MicroSeismic and Chris' appointment is an important component of MicroSeismic's plans to continue growing its operations in Canada in the future."
"I am excited to be a part of a leading edge technology company such as MicroSeismic," said Chris Heaver, Sales Manager, MicroSeismic (Canada) ULC. "The technology and services offered by MicroSeismic are unique in E&P and they are making a significant difference in production for our customers in the Canadian shale plays such as the Montney, Horn River, and Bakken as well as the North American shale plays."
Heaver is a graduate of Wilfrid Laurier University, Waterloo Ontario, and a member of the Society of Exploration Geophysicists, the Canadian Society of Exploration Geophysicists and the Canadian Heavy Oil Association.
For more information, contact Chris Heaver in the MicroSeismic (Canada) office at 403-262-5780, ext. 685, by email at cheaver@microseismic.com or visit: www.microseismic.com.
THE STORK HAS ARRIVED...
New parents (Stephen and Katie Kotkas) and first-time grandparents (Perry and Karen) are pleased to announce the arrival of twins Luke and Lily Kotkas. They were born on November 3rd and are now at home and doing well. A busy time ahead for that family!
GIVING BACK...
Many people in our geophysical community give unselfishly of their time and resources in volunteer work outside the geophysical community. This month I bring you something a little different. One of our long time members Bob Rintoul has written a book about his experiences and is donating the proceeds to the "Bob and Nola Rintoul endowment in Bone and Joint Research–Southern Alberta, University of Calgary.". I would say that is Giving back in a big way! I know I am looking forward to reading the book.
The RECORDER committee would like to give our members an opportunity to share their experiences and details of the charity that they support. Who knows? Maybe you will inspire someone else to support your charity. If you are interested please contact me directly. CS
No Regrets, No Apologies: The Life of Bob Rintoul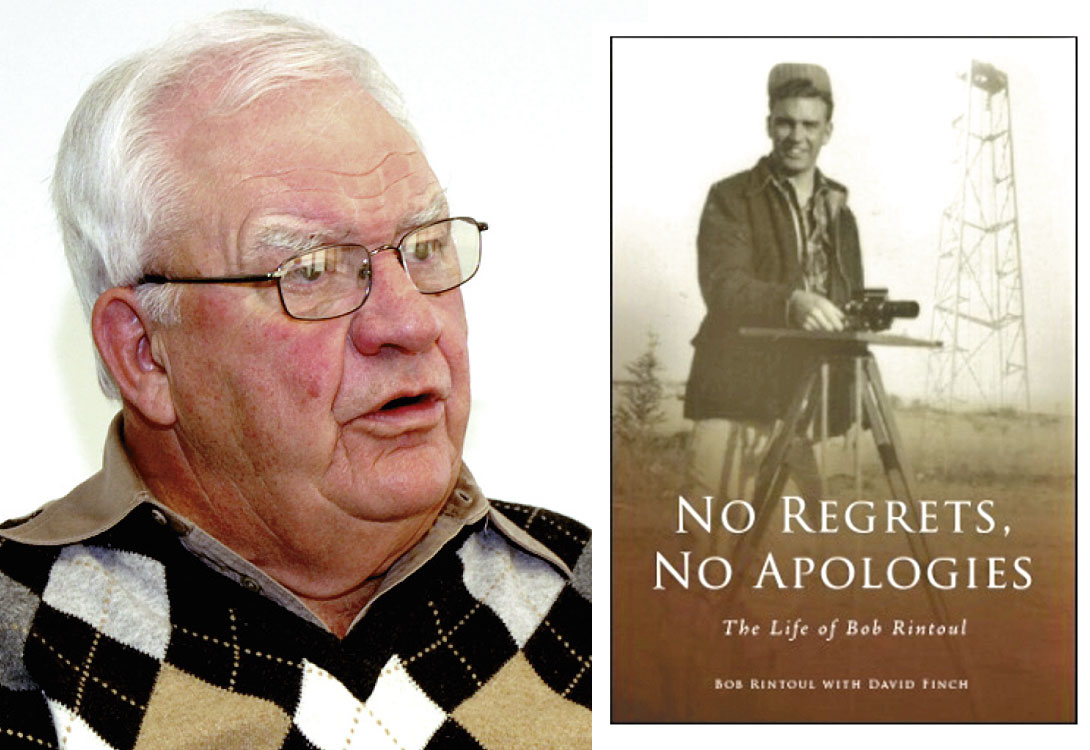 "With Bob, you camp throughout Alberta and Saskatchewan with roughand- tumble, hard-drinking seismic crews… You bed down in shanty-town bunkhouses after rowdy nights in prairie bars. You survive dangerous winter roads and hole up in farm homes while blizzards blow through…
Bob introduces you to dozens of men and women who helped build a province. He weaves the genesis of their legacies through his chronological account of the dawn of a new western Canadian powerhouse…
When you see this life in full, with "No Regrets and No Apologies," you will be left with no voids or ambiguities. "As always, Bob puts it all on the table—a life laid bare for us all to see and learn from." – from the Foreword by Ken King, President and CEO, Calgary Flames.
BOB RINTOUL was born into depression-era Alberta. He showed an entrepreneurial bent from a young age and grew to become one of the province's successful businessmen through his company, Ace Explosives. In No Regrets, No Apologies, Bob, a born storyteller, gives an inspired account of his life: a rollicking tale of hard work, sheer determination, novel ideas, and holding fast to what matters in life.
Entrepreneur, oilman and philanthropist Bob Rintoul explains, "I have never sacrificed my principles to satisfy other people. I'm a risk-taker. I try to make life a little better for others as well as our family, and that pretty much summarizes my time on this earth. I've done my best."
No Regrets, No Apologies will be available in January, 2010 from the University of Calgary bookstore. 403 220-5937 Toll Free 1-877-220-5937, bkstore@ucalgary.ca.
Book production costs have been paid by the author. All book sale proceeds are being donated by the author to the Bob and Nola Rintoul endowment in Bone and Joint Research–Southern Alberta, University of Calgary.
The launch party for No Regrets, No Apologies will be at the end of January, 2010. Stay tuned at http://bobrintoul.com launching this week.
About the Authors:
Gordon Robert (Bob) Rintoul was born in Calgary, Alberta, in 1930 and completed his education at Calgary's Central Collegiate High School. He married Nola E. Cooper of Moose Jaw, Saskatchewan, in 1951, and they now have two children, five grandchildren, and four great grandchildren.
Bob worked for Safeway as a young adult, and joined the geophysical industry in 1950, attaining the position of party manager. In 1957 he began work in the explosives industry and in 1967 started his own explosives distribution business, Ace Explosives Limited, distributing for both Canadian Industries Limited and subsequently DuPont of Canada Limited in western Canada and the Territories. His employees bought him out in 1984 at which time he retired.
While in business Bob served the community in the following organizations: Secretary of the CSEG; Alberta Motor Truck Association Board; Calgary Heritage Park Board; Charter Member of the Bank of Montreal Small Business Advisory Panel; Cofounder, first President, and Honorary Life Member of the Canadian Explosives Distributors Association of Canada; Member of the Board of the Canadian Federation of Independent Business; and a member of the Group of Twelve, who made it possible for the Canadian National Hockey Team to move to Calgary in 1978.
Currently, Bob is on the board and is Vice president of the Petroleum History Society, a member of the Southern Alberta Pioneers and Descendants, an Ambassador for the Calgary Flames, and on the advisory boards of the Alberta Bone and Joint and Patient Wellness for the new Calgary Health Region South Campus Hospital.
The CSEG RECORDER told part of his story in two issues: RECORDER December 2007 article "Early Days of Seismic Field Operations in Western Canada" by Rob Rintoul. RECORDER September 2008 has his interview.
David Finch researches and writes the history of the Canadian West and is the author of more than twenty books, including Pumped: Everyone's Guide to the Oil Patch. In 1985 the CSEG commissioned him to write the CSEG history and published his book Traces Through Time – the history of geophysical exploration for petroleum in Canada.
For review copies, to book speaking engagements or interviews, or further information, contact Lyn Cadence at 403.465.2345 or lyn@cadencepr.ca.