We're back! What a wonderful summer. As I mentioned in June's column we were off to Alaska. We flew to Fairbanks and did a 5 day land tour. The first night we flew to Fort Yukon( 8 miles inside the Arctic circle). I never thought I would be inside the Arctic Circle! We also took a plane tour wildlife viewing, a train ride on the McKinley Explorer, a tour of the Denali National Park, a Riverboat Cruise, a tour of a native settlement, a jet boat cruise, a gold dredge tour and whale watching. And that was just the first four days. Then we got on a cruise ship in Seward and sailed to Vancouver. My highlight was in Sitka where we took a helicopter tour and landed on a glacier and spent an hour. We had such beautiful weather that we were able to land on the Chilkat glacier. Even the guides had only been there once before. It was a trip of the lifetime.
In August we thought we would take a helicopter tour of our own Colulmbia Icefields. That was as spectacular as Alaska. Chinook and Aaron from Icefield Helicopter Tours were wonderful tour guides. I highly recommend taking this tour someday.
I am very sad that I am including an obituary for my friend Mark Noble in this column. I worked on many, many committees with Mark and we became good friends. He taught me a lot and I will miss him. I urge you to attend his memorial and share your memories with his family.
IN MEMORIUM...
It is with great sadness that I am putting this notice in the RECORDER to inform our Society of the passing of Mark Noble on June 21, 2008. For those who didn't know, Mark graduated from Geology in 1988 from the University of London and worked for Scott Pickford in the UK. He joined GX Technology, moved to Calgary in 2002 and was part of our Society since then. In that short time he made numerous friends through his many, many volunteer positions. I met Mark when we worked on the 2004 and 2005 CSEG Convention committee. Mark was an integral part in making both of those conventions so successful. From that committee sprung the Junior Geophysicists Forum (JGF), which Mark worked to build over the last few years. Many of you may have also worked on the Doodletrain with Mark. It's obvious that our Society has lost a great asset and wonderful person.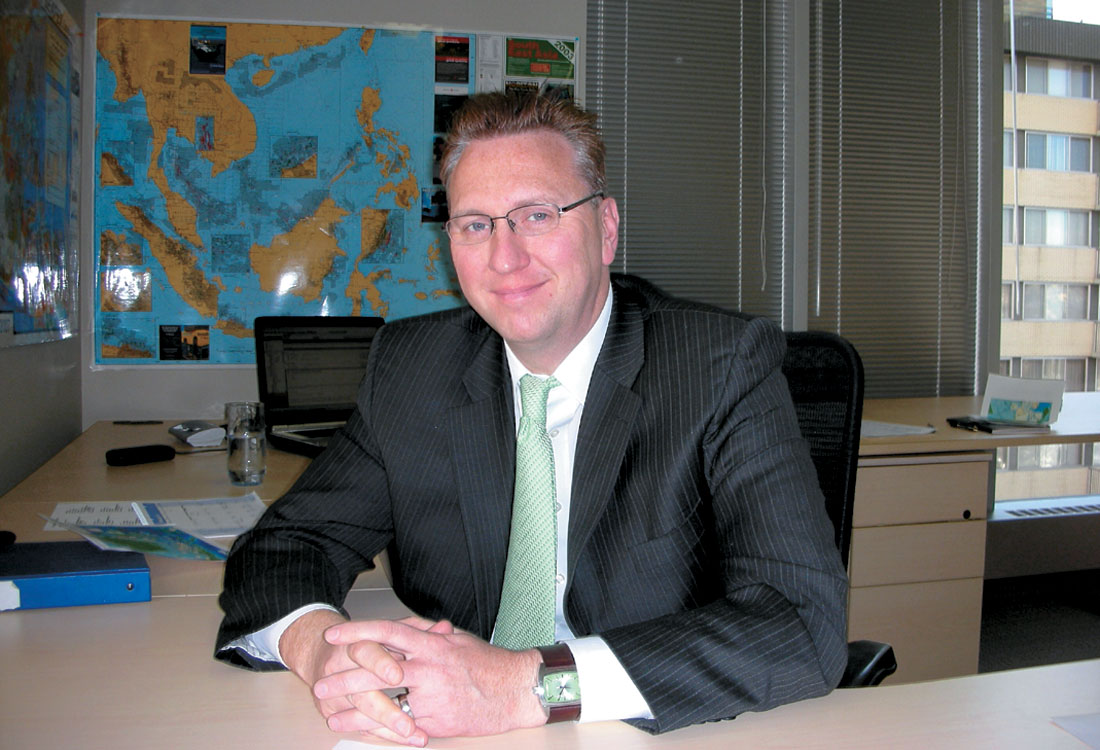 There will be an informal memorial for Mark on Wednesday, October 8th at Barclay's Lounge in the Sheraton Eau Claire at 4 pm. I invite anyone who knew Mark to come and share your stories and tributes to him. We would like to put together a book of his achievements within our industry and I would ask any of you to email me your pictures and notes so that they can be formally put together and presented to his family. Please also let me know if you intend to join us on October 8th. I can be reached at 403-298-5614 or Laurie.Ross@Divestco.com.
Laurie Ross
"To Thine own Self be true"
Mark certainly lived his life to the full. During his 41 years, he followed his heart and his passions wherever they led him. This made his life colorful and exciting – filled with the adventures that he thrived on.
His childhood love of geology and fossils eventually led a shy young boy to develop into a confident, successful Project Manager in the Oil and Gas industry. A career that gave him opportunities and experiences that as a young man he could only have dreamed of. Mark traveled to over a hundred countries both for work and pleasure. During these travels, he always took time to talk to local people and understand the local history and customs. He loved going off the beaten track, to discover new experiences and to taste the true flavor of the cultures he visited. Mark's passion for photography allowed him to explore his artistic talents and gave him a fresh eye to look upon the world and record the joys and sorrows that he saw. He was an avid reader of current affairs and historical texts which gave context to the world that Mark embraced.
Above all the other passions in Mark's life, was his love of family. He had an extremely happy childhood in the UK and was loved and cherished by all his family. He had a special bond with his parents, grandparents and sister that will never be broken. Only days prior to his passing, he spoke of how happy his early years had been and how lucky he felt to grow up in such a loving environment. It had been his life goal to recreate that happy family atmosphere. As an idealist and a hopeless romantic he strived for that goal and it provided him with two beloved sons, Dexter and Hadrian, who meant the world to him.
Mark was an Englishman through and through. He lived with honour and like his father and grandfather before him, his word was his bond. His love for his homeland did not stop him relocating initially to America and then to Canada. He loved Calgary and exploring the mountains nearby. His love of life in Canada was made complete by his mother and sister relocating to be closer to him. Despite the loss of his beloved father in June 2000, many happy new memories were made the two years that his remaining family was together in Calgary.
It is a testament to Mark's personality that he made so many strong friendships during his lifetime. Many of these friendships overcame the trials of distance and time – none more so than those with his two closest friends, Robert Bass and Christopher Logan. They became friends when they started high school at age 11 and their companionship continued for 30 years.
The lives of everyone who knew Mark have been changed forever. Changed for the worse by losing him but changed for the better for having the privilege of knowing and loving him. While we grieve for the future with Mark that we have lost, we have not lost the happy years that we had with him. The memories of which we will treasure forever.
ON THE MOVE...
Kelman Technologies Inc. is pleased to announce that Doug Kuervers has returned to Calgary to run our local processing operations. Doug brings with him a wealth of international processing experience, which he gained from nearly 4 years of running KTI's Houston Centre. This will assist us greatly with the increasing number of international projects being done out of Calgary. He encourages friends, colleagues and clients to contact him, at (403) 294-5259 (direct), doug@kelman.com, or 828-8062 (cell).
As a result of the sale of E4 Energy to Twin Butte Energy, Derek Boeckx is now working with Twin Butte Energy. Phone number is 215-2698 and email is dboeckx@twinbutteenergy.com.
Robert R. Stewart will be moving from the University of Calgary to take a position with the University of Houston, effective August 1, 2008. Rob was instrumental in founding the CREWES Project in 1989, and has served as its leader and Director from its inception. As Professor at the University of Calgary in the Department of Geoscience for 21 years, he initiated and implemented important and varied research in elasticwave seismology, supervising and inspiring numerous graduate students, many of whom carried seminal ideas into the exploration industry to its benefit. Rob will become a faculty member at the University of Houston as a Cullen Chair in Exploration Geophysics and assume duties as Director of the Allied Geophysical Laboratories (AGL). At Houston, he also has the opportunity to enhance his engagement with NASA and the space program. Rob has been nominated as an Adjunct professor at University of Calgary and will continue to advise CREWES graduate students and the Project for some months. As well, Rob aspires to lay the ground work for joint U. of Calgary and U. of Houston programs and exchanges to further connect two of the major centres of the North American energy community. We wish him great success in his new surroundings, and look forward to synergies and collaboration between the CREWES Project and an invigorated AGL.
Gary Margrave is the new CREWES Director. We congratulate Dr. Gary Margrave on his appointment as the new Director of the CREWES Project, effective August 1, 2008. Gary has been a long-time Associate Director and has contributed significantly to the Project in his dual role as a researcher and teacher. CREWES looks forward to the continuation of effective and inspired leadership from Gary. Dr. Margrave is professor of geophysics in the Department of Geoscience and also an adjunct professor in the Department of Mathematics and Statistics. Gary received his Ph.D. from the University of Alberta in 1981 at which time he joined Chevron Corporation. After a variety of assignments as a technical and research geophysicist, he came to the University of Calgary in 1995 as a CREWES researcher. The following year he was appointed an adjunct professor in geophysics and in 1998 became an associate professor. He was appointed to full professor in 2006. In addition to his role in the Department of Geoscience, Dr. Margrave has served as Site Director for PIMS (Pacific Institute for the Mathematical Sciences) where he has actively encouraged the growth of industrial mathematics. Under Dr. Margrave's supervision, 15 graduate students have successfully completed their degrees (6 Ph.D.) and 8 are presently actively in the program. Dr. Margrave's research interests include all aspects of exploration seismology with emphasis upon deconvolution, imaging, and inversion.
David Eaton has been appointed Associate Director of CREWES, and we look forward to his involvement with the Project. Dave has been associated with CREWES previously. In 1992 he received his Ph.D. degree from the U of C, as one of the first CREWES students, supervised by Rob Stewart. Dr. Eaton became Head of the Department of Geoscience at the University of Calgary in October of 2007. Prior to that, he spent ten years at the University of Western Ontario where he was a faculty member in the Department of Earth Science. He has also worked with Arco Research and Technical Services and the Continental Geoscience Division of the Geological Survey of Canada. Dave's current research focuses on seismicity and structure of the lithosphere and core, applications of seismic techniques to deep mineral exploration, and seismic wave theory. These projects seek to understand the architecture and geological evolution of the North American continent, as well as potential earthquake hazards in continental interior regions. His work also contributes toward the development of new and better techniques to image features buried deep within the Earth. Dave is past president of the Canadian Geophysical Union (a national scientific organization dedicated to the advancement of geophysical sciences), associate editor for the Geological Society of America Bulletin and founding member of POLARIS (Portable Observatoris for Lithospheric Analysis and Research Investigating Seismicity), a $10M infrastructure project funded by the Canada Foundation for Innovation and the Ontario Innovation Trust Fund. In 2006 he was appointed Honourary Professor at the Dublin Institute for Advanced Studies, after having spent 6 months there on sabbatical in 2004/05.
Seitel,Inc. (Houston) is pleased to announce that David A. Richard has accepted a corporate executive position as Senior Vice President. David will be based locally in the Olympic Seismic Ltd. office and be responsible for corporate business development in both Canada and the United States.
Prior positions include President,CEO and Founder of FX Energy Ltd.,President of Paradigm Canada Ltd.,President and CEO of Kelman Technologies Inc. and a CEO of IHS Energy Ltd. David can be reached at david.richard@seitel.com tel. (403) 515- 5894 (direct) .
Sam Johnston, of Johnton Seismic Consulting Ltd., would like to inform his Calgary clients and colleagues that he has been working in Puerto la Cruz, Venezuela in 2006 (with PDVSA), Dehradun, India in 2007 (with ONGC) and Llandudno, North Wales in 2008 (with Fugro-Robertson). If any prospective clients have an interesting seismic interpretation and integration project (in a good location that his wife Lindsay would like), Sam can be reached at johnstos@shaw.ca.
Jocelyn Frankow would like to let everyone know that she has joined Sensor Geophysical Ltd. as Director, Marketing & Sales. Sensor Geophysical specializes in processing 2D, 3D, 4D and Multicomponent seismic data, including data recorded with the latest generation of digital sensors: INPUT/OUTPUT's "VectorSeis" and SERCEL's "DSU". Sensor Geophysical also specializes in providing Reservoir Geophysics Services , which include PP and PS AVO Modeling, AVO and LMR Analysis, Seismic Inversion, Seismic Facies Classification, PP-PS Registration and Simultaneous Inversion, Spectral Decomposition and Fracture Detection Analysis. Jocelyn is looking forward to working with everyone at Sensor and can be reached at (403) 260-6582 or at jocelyn_frankow@sensorgeo.com.
Paul Hausmanis would like to announce to his friends and colleagues that he is working as a Geophysicist at CNRL. Paul would like to thank all those who have been generous in offering their valued time and good counsel. He hopes to pay it forward one day so long as there is someone eager and willing to listen. Paul can be reached at (403) 386-5612 or Paul. Hausmanis@cnrl.com.
Boyd PetroSearch is growing, and is pleased to announce the following recent additions to the team:
Sandi Bredy recently became the Office Manager at Boyd PetroSearch, where she applies her skills in administrative organization, coordination and support. Sandi's broad experience base in the oil and gas business makes her a valuable asset to Boyd and its clients. Sandi can be reached at 403.543.5372 or via email at sandib@boydpetro.com.
Andrea Costello joined Boyd PetroSearch in June 2008 as an Operations Geophysicist. She is responsible for survey design, acquisition and technical management of Boyd's numerous 2D, 3D, and 4D land seismic operations. Andrea graduated from the University of Manitoba in 2002 and worked for a major oil and gas company before joining Boyd. Andrea can be reached at 403.543.5394 or via email at andreac@boydpetro.com.
Adam Flynn as a G.I.T. is currently providing geophysical technical support to our Interpretation Group; he recently graduated from the University of Calgary majoring in Geophysics. During his time there he was on the executive of the Geophysics Undergraduate Student Society and was a student liaison to APEGGA. Adam can be reached at 403.543.5360 or via email at adamf@boydpetro.com.
Sujata Godse is the Assistant to the Controller and is in charge of all accounts payable functions and sub-contractor / vendor relations. She has completed her fourth level towards a designation as Certified General Accountant and continues toward that objective. Sujata can be reached at 403.543.5393 or via email at sujatag@boydpetro.com.
Micheline Lavallee as the Controller oversees the daily accounting functions. Micheline has over 15 years of accounting experience and is working towards obtaining her CGA designation. Micheline can be reached at 403.543.5370 or via email at michelinel@boydpetro.com
Damien Thenin recently joined Boyd PetroSearch to manage the new Earth Modeling Division, providing advanced consulting services in GOCAD for the mining and the oil & gas industry. Damien graduated in 2003 with a Master degree of geology at the Nancy School of Geology in France and brings 8 years of modeling experience in the Middle East and in Canada. Damien can be reached at 403.543.5381 or via email at damient@boydpetro.com.
SMT, the leader for Windows-based geoscientific interpretation software, announces the opening of its Calgary office and the appointment of Brian Kulbaba as Account Manager, SMT Canada Operations. Commenting on the announcement, Bill Stephenson, Sr. V.P. Sales-Americas, who will oversee the Calgary operations, said, "Canada is a natural growth prospect for SMT, and Brian will play a critical role in our plans to expand our global reach into this region. With a proven track record in the growing oil & gas arena of Canada, we are excited to have Brian on board to help SMT drive our expansion strategy." You can reach Brian at 403 303 3365 or bkulbaba@seismicmicro.com.
MOVING ON OUT...
Greg Davidson has taken on the challenge of retirement. He is now acclimatizing to his new role as a kept man, and preparing to return to school in the fall to pursue personal interests. He would like to stay in touch with the industry that has treated him so well over the past 38 years, and can be contacted at gregdavidson@shaw.ca.
GIVING BACK...
Many people in our geophysical community give unselfishly of their time and resources in volunteer work outside the geophysical community. The RECORDER committee would like to give our members an opportunity to share their experiences and details of the charity that they support. CS
Hank Geerlof – Murphy Oil – Retired
Thanks so much for your support of the Betty's run for ALS. Again this year it was a great success! Over a half-million dollars was raised again for equipment and for research. Due to your support I was again the top individual fundraiser for the second year in a row. ($16,000 and counting) Thank you.
The run was again held at North Glenmore Park on the eighth of June in iffy weather. It was threatening all day and actually rained for a little while during the walk, but then it stayed dry for the rest of the walk and run and program. So it wasn't bad at all. All my family came down for the run, from Las Vegas, Vancouver and Edmonton. Many friends also came out, some of them raising their own support and running in the run. The support was great and the ALS society is very thankful. It will help those who are living with ALS and also hopefully work towards a cure for this disease.