This column is a little different this month. One of our members, a geologist, is sharing his story of how he got involved in the oil industry. It was great to find out the RECORDER is being read in Nigeria! It would be great to hear from other members who work outside of the country. Send us an update on what you are up to!
In the Giving Back portion of this column Carrie Youzwishen has sent an update on her fund raising efforts for the Juvenile Diabetes Foundation. Carrie shared her story in the February issue of the RECORDER. If you would like to profile your charity, please get in touch with me.
I also want to congratulate Ruth Peach on joining Kelman. Ruth was one of the first people that I "cold-called" when I started in this industry 10 years ago. She was very gracious and I have always remembered that. I finally had the pleasure of meeting Ruth last year. I wish you every success Ruth and thank you for being so nice to me all those years.
ON THE MOVE...
Kelman Technologies Inc. (KTI) is pleased to announce that Ruth Peach has joined their team as Sales Manager. Ruth will be responsible for selling seismic processing services to the Calgary market. Ruth has a BSc (Hons.) in Geology, and approximately 8 years of geotechnical sales and marketing experience. Ruth can be reached at 403-262-5220 or by e-mail at ruthp@kelman.com.
Trango Technologies is pleased to announce that Brenda Vandermey is working with us. Brenda is Director – Client Engagement and will be helping us build a better Trango. Brenda can be reached at 240-7881 or at brenda.vandermey@trangotech.com.
Annette Milbradt (nee Zoetemelk) is pleased to announce that she has joined Duvernay Oil Corp. She can be reached at (403) 267-3352 or via e-mail at milbradt@duvernayoil.com.
Zita Mulligan has joined the team at Geophysical Service Incorporated (GSI) as their Chief Financial Officer as of January 1, 2007.
Jeff Kary is pleased to announce the formation of Target Data Services Canada Ltd. Target Data Services is the newest full service geophysical brokerage firm offering services to the E&P industry in Calgary. Also joining the new company is Katherine O'Brien, geophysical broker. Target Data Services is located at 410, 333 – 5th Avenue SW, Calgary, Alberta, T2P 3B6. Jeff and Katherine would like to wish the industry all the best in 2007 and invite their friends and colleagues to contact them at (403) 294-0868, or by fax at (403) 294-0875 or by e-mail at jeff@targetdataservices.com or katherine@targetdataservices.com.
C.D. (Sam) Johnston of Johnston Seismic Consulting Ltd. would like to let his colleagues and clients know that he has moved from the Venezuelan Caribbean coast to the Himalayan foothills. In 2007 he and his wife will be in Dehradun, India. Prospective south Asian clients, or weekend trekers, can still reach him at johnstos@shaw.ca.
MOVING ON UP...
Kelman Technologies is pleased to announce the appointment of Steve Darnell to the position of Senior Vice President, Data Management. Steve will be located in Kelman's Houston office and will report to Rene VanderBrand, President and CEO.
In this new position Steve will assume responsibility for all of Kelman's data management and archiving activities. Neil Baker, who has been so instrumental in the growth of Kelman's Canadian data management business will continue his responsibilities in Canada and will report to Steve.
Steve brings to Kelman an extensive background in data management and storage having severed most recently in an executive position with an international data management and physical storage business. His detailed knowledge of the US data management business will provide Kelman with an accelerated entry to this important growth market.
Steve may be contacted by phone at (281) 293-0537 or by email to steve.darnell@kelman.com.
MOVING ON OUT...
Terry Sinton President of DataStream is pleased to announce her retirement from the industry after 39 years. It has been a pleasure and a privilege to work with the many amazing people who have crossed my path over the years. I have moved to Sicamous BC and hope that my friends and colleagues will look me up when they are passing through. To all those special people who played a part in making my career a successful one thank you.
CSEG MEMBERS IN THE NEWS...
Rachel Newrick, P. Geoph. P. Geol, I.T, (Nexen Inc.) is on the cover of the December, 2006 Oilweek. The title of the article is Speed Rocks! Congratulations Rachel.
HOW I GOT INVOLVED IN THE OIL INDUSTRY...
This portion of the Tracing the Industry column is where people share how they became involved in this strange industry. I was very pleased to hear from Tako Koning. He has been donating his back issues of the RECORDER to the library at the Department of Geophysics at Agostinho Neto University in Luanda. If you would like to share your story, please let me know! CS
Tako Koning – Consultant, Oil Exploration & Water Well Drilling, Luanda, Angola, West Africa
I have been a member of the CSEG for a couple of decades even though I am not a geophysicist, I am a geologist, but I have interpreted quite a few seismic lines over the years. I may be a unique member of the CSEG since while being a member I have lived in Africa for the past 14 years.
I love seismic data since in many of the places where I have worked globally, had there been no seismic, there would have been no discoveries of oil. Accordingly, I have developed this theorem: "no seismic = no oil". Also here in Angola, a country which is becoming a major oil producer with current production of 1.5 million barrels of oil per day and increasing to 2.3 million barrels of oil per day by end 2007, all of the oil was found on the basis of seismic so I have developed this more-or-less biblical view which is "honor thy geophysicists".
I was born in Holland in 1949 and in 1954 my family immigrated to Edmonton where I grew up, so I describe myself as "Holland born and Edmonton-raised". In Edmonton, we lived in an inner city neighborhood of mostly immigrants called Rossdale which is located on the North Saskatchewan River flats and as early as age ten I was fascinated with the thin coal seams and fossilized shell beds which outcrop along the banks of the river. I was already driving my parents crazy with all of the rocks I was bringing home. So by age ten I knew I wanted to be a geologist and in 1967, with no second doubts, I enrolled in geology at the University of Alberta. To pay for my university studies, I spent my summers fighting forest fires in northern British Columbia and working as a geological assistant in mining exploration programs in northern Saskatchewan and the North West Territories looking for uranium, gold, silver or anything we could find. When I graduated from U of A, I had spent five summers in the bush and I decided I no longer wanted to be a "bush bunnie". What I really wanted was an office job where I could lead a more settled lifestyle. So I went to Calgary to look for work.
I was hungry for work – I needed the money - so in Calgary I took the first job which was offered to me without doing any research on the type of work it involved. The job was with Continental Laboratories being a mudlogger on drilling rigs. I was under the impression that it would involve some office work, but in the two years I worked for them I spent one day in the office. I worked the entire two years on offshore rigs on the Grand Banks of Newfoundland and on land rigs around Inuvik and Tuktoyuktuk. My record time on an offshore rig was 62 days nonstop in the winter of 1972. Never again will I do that! But the experience was excellent and made me "rig wise" meaning that I learned a lot about drilling and field operations and in 1974, I landed a job as junior geologist with Texaco Canada Limited in Calgary.
When I signed on with Texaco, I viewed them as kind of a big, stodgy, American oil company and I planned to stay with them for two years, get some good experience, and then jump from there to a job with a junior oil company which would provide me a company car, stock options, membership in the Calgary Petroleum Club and all of that stuff. But that did not happen and I spent the next 29 years working for Texaco in Canada and globally. The Texaco Canada team in Calgary turned out to be a great bunch of people and some of them I still meet from time-to-time when I am back in Calgary. It was tremendous learning experience working oil and gas exploration plays in Western Canada and the Canadian East Coast. I also learned that working for a major multinational oil company like Texaco offered all sorts of opportunities to live and work outside of Canada.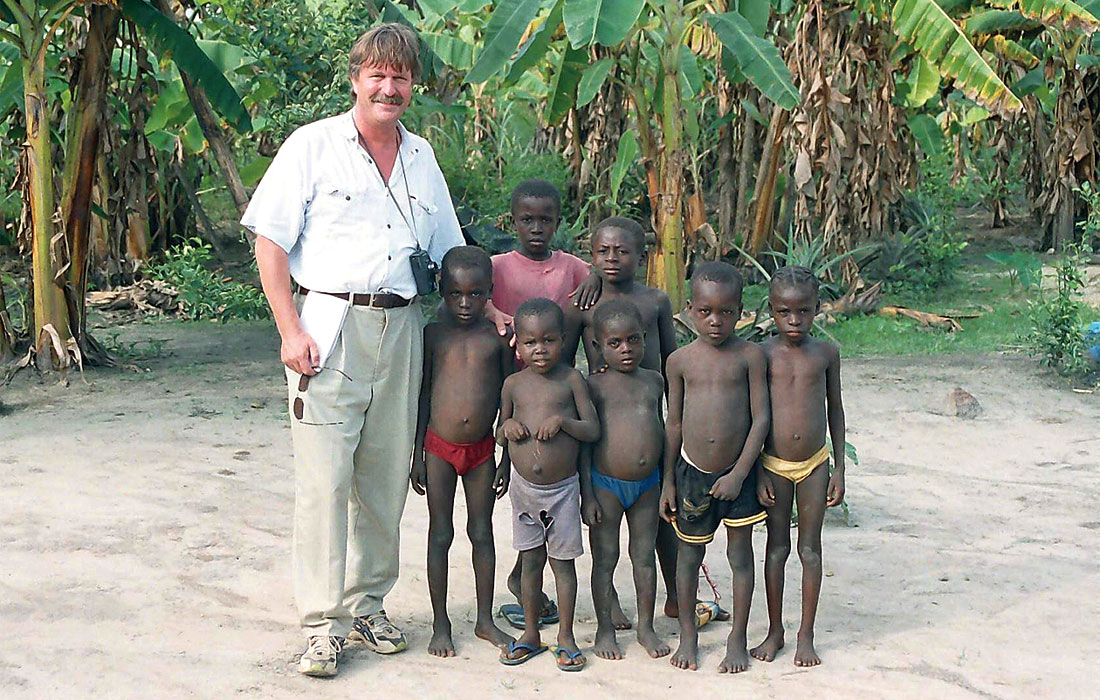 In 1980 I transferred with Texaco to Sumatra, Indonesia where I spent the next seven years as Head Area Geologist. My wife, Henrietta is originally from Lethbridge and our souvenir from Indonesia was our daughter who was born in Sumatra. Then in 1987 we moved back to Canada where eventually I became Vice President Exploration for Texaco Canada Petroleum Inc, and in 1992 I was appointed Exploration Director for Texaco in Lagos, Nigeria. Since that time, I have remained in Africa so I have lived and worked in Africa for the past 14 years, something which I never expected to happen when I enrolled in geology at U of A back in 1967!
While working for Texaco Angola in Luanda, Chevron bought Texaco and in 2002 I opted for early retirement. However, instead of moving back to Calgary, we decided to stay here. Due to some thirty years of horrible civil war which ended in 2002, Angola is still in rough shape but the conditions are starting to improve. My wife and I are both challenged by what we do here. She teaches English and there is a huge thirst by the Angolans, whose national language is Portuguese, to learn English in this post-war era. I currently work part-time as consultant for Irish-English explorer Tullow Oil. I also work part-time on a volunteer basis as country representative for a small Norwegian aid organization called Yme (www.yme.no) which drills water wells (drinking water) in northern Angola. The photo is of me with some local kids near a water well we drilled in rural Cabinda. As I tell people, "drilling for oil or drilling for water is the same thing; basically you are looking for good reservoirs with good productivity".
Based on my thirty five years in the oil industry, my advice to young people contemplating a career in geophysics or geology is to go for it! There's a world of exciting opportunities out there!
GIVING BACK...
Many people in our geophysical community give unselfishly of their time and resources in volunteer work outside the geophysical community. The RECORDER committee would like to give our members an opportunity to share their experiences and details of the charity that they support. CS
Curl for the Canadian Diabetes Association!
Carrie Youzwishen – Husky Energy Inc.
In January, I wrote regarding the fundraising I am doing as a runner with Team Diabetes Canada. I am participating in the Rio de Janeiro, Brazil marathon to raise money for the Canadian Diabetes Association.
Come out and support our cause at our Curling Funspiel, on March 23rd- 24th. Held at the Huntington Hills Community Curling Club, a banquet and silent auction wrap up the event. All proceeds go to the Canadian Diabetes Association. Teams are any combination of men and women, and entry fee is $160/team, with a guarantee of 3 games (6 ends per game). Additional banquet tickets can be purchased for $20. Contact me at youzwishen@shaw.ca or 229-0629 for entry forms. The entry deadline is March 1, 2007.
All gifts in lieu of cash towards our silent auction will receive a tax receipt when accompanied by a receipt of their value. Please contact me if you have anything you can contribute.