December is here! Merry Christmas to you all. If you are looking for something special to do over the holiday season, I can tell you about a couple of wonderful places I recently visited. I had the pleasure of going to Le Beaujorlais in Banff for dinner one evening with my significant other and two of our friends. WOW! Going to this restaurant is not going out for a meal, it is an event. The food is superb and the service is impeccable. As for the wine, it doesn't get much better. The cost is quite reasonable, IF you do not get carried away with the wine. We were very impressed that we had our own sommelier that evening. Not bad for four stubble jumpers from Saskatchewan!
The next day we went for lunch at a vegetarian restaurant, Sunfood in Canmore. I am definitely not a vegetarian, but this restaurant is one of my favourites. The mushroom ravioli is the best pasta I have ever tasted. This is high praise coming from a confirmed beef eater. So if you want to try something different, try out Sunfood. They are located in a building next to the Rose and Crown.
My apologies to the Seismic Gourmet (Jim Ross, Apache) I am definitely not trying to review these restaurants, just give a couple of suggestions of great places to go in Banff and Canmore.
This month I got to read Gina's column before she read mine. I see that she is lamenting the Stampeder's loss. I was at the game and can only say, Go Roughriders! To quote one Saskatchewan fan, he has some green paint for your red shirts.
ON THE MOVE...
Larry Smith and Len McBeth are very pleased to announce the official opening of their new company MAXAM Seismic Explosives, Inc. Two Branches in Alberta will service the needs of clients throughout Western Canada. Greg Kathol in Stoney Plain and Larry Fritz in Grande Prairie provide MAXAM with many years of experience and technical support in the Seismic Explosives industry. MAXAM Seismic Explosives looks forward to meeting the challenges of the upcoming winter season.
Len McBeth
Vice-President
MAXAM Seismic Explosives Inc.
101C 9705 Horton Rd. S.W.
Calgary, Alberta T2V 2X5
403-640-9840
Garnet Knopp would like to let everyone know that he has transferred to the ConocoPhilips Alaska and will be based in Anchorage. You can reach him at garnet.j.knopp@conocophillips.com or (907) 263-4204.
GeoTir is pleased to announce Ryan Barnett, formerly with Arcis Corporation has joined our team as "Operations Supervisor". Ryan brings ten years of operations experience coupled with three years seismic sales which will compliment our organization and be a benefit to all of our clients. Ryan can be reached by phone at (403) 508-9815 or by email at ryan@geotir.com.
Martin Naundorf would like to inform friends and colleagues that he has moved to Vital Energy Ltd., as Chief Geophysicist. You can reach Martin at (403) 920-9522, or mnaundorf@vitalenergyltd.com
Rafed Kasim has recently joined Geophysical Service Incorporated (GSI)/Precision Seismic Processing Division land processing group as Sr. Geophysical Processor. You can reach Rafed Kasim at (403) 514-6290 and email rkasim@ geophysicalservice.com.
United DataWyse Ltd. is pleased to announce, and would like to welcome Colleen Delisle as the newest member of the UDL team. As head of sales and marketing, Colleen is excited to be back in the industry and looks forward to getting reacquainted with old friends and colleagues. Colleen is looking forward to the new challenges and can be reached at 403.993.9998 or by email: cdelisle@uniteddatawyse.com.
Amanda Nicholls has joined GSI/Precision Seismic Processing. She is very excited about this new position. Amanda will be working part-time as she finishes up her Bachelor of Geophysics at the University of Calgary. Amanda can be reached at (403) 514-6288 or at anicholls@geophysicalservice.com.
Chris Barton has joined Kereco Energy Ltd. as Vice President of Exploration. Chris would like to thank all of his clients he has worked with over the past three years and wish them all success going forward. Chris can be reached at 290-3444 or cbarton@kereco.com.
Trudy Pelletier is making a career move. It is with sincere appreciation that I thank all of my clients who have trusted me as I represented the geophysical services provided by Excalibur-Gemini and now Divestco. I have enjoyed developing friendships and building sound business relationships over the last 7 years. I am transitioning to serve the Oil and Gas Industry and Corporate Calgary in a new capacity. Simply More Inc. is a leadership consulting firm providing coaching services in performance and communication, as well as development and mentoring for leaders. In addition I will be providing training through custom designed workshops in a variety of areas such as team building, conflict resolution and negotiation as examples. You can reach me at 510-6187 or trudy@simplymore.ca or take a look at my website www.simplymore.ca. I look forward to continuing to serve you.
NAME CHANGE...
Alison Gollop was married on August 25th, 2006, and will be changing her name to Alison Newell. Her new email is: alison.newell@huskyenergy.ca and her phone number remains the same at: 750-5076.
THE STORK HAS VISITED...
Heath (Talisman Energy) and Kirsten Pelletier welcomed the arrival of baby Ezra on October 4th. He was 7lbs-12oz and has been embraced by his big brother Eli.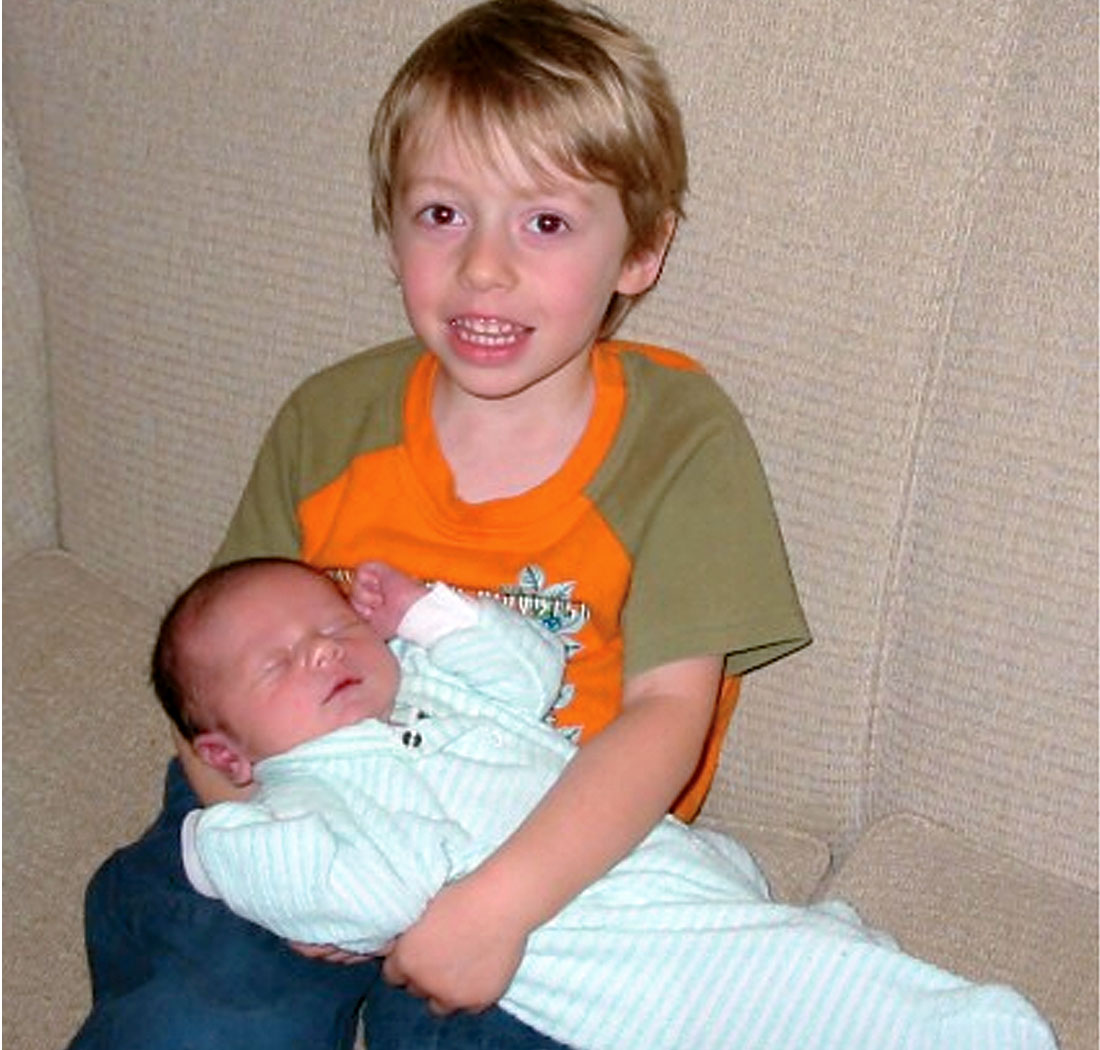 HOW I GOT INVOLVED IN THE SEISMIC INDUSTRY...
This portion of the Tracing the Industry column is where people share how they became involved in this strange industry. Geophysics and the seismic industry seem to be "accidental" professions. Not many people start out with the goal of becoming a geophysicist or working in seismic. Each month I like to have someone trace their pathway into this business. If you would like to share your story, please let me know! CS
Lei Sha – Recent Arrival to Calgary
My name is Lei Sha. Sha is my family name. I come from China.
I was born in Ka'shi, the city at the very west end of China. My mother was the head nurse in the Twelfth Hospital of Xinjiang Military Region, and my father, an officer, was in Urumqi, the capital of the Xinjiang Uygur Autonomous Region. At that time China was recovering from the 3-year natural calamity, and the living conditions in the army were little better than in locality. My father hoped to have a daughter, and he was also happy to have another son. My elder brother lived with my grandparents in Lanzhou, the capital of Gansu province, because he is the first grandson in my father's family.
Just before the beginning of the Great Cultural Revolution, 1966, my father was transferred to Shaanxi Architectural Engineering Bureau at Xi'an because of his gastric disease. Then my mother and my brother also came to Xi'an. So my family lived together at last. My childhood was spent basically in this famous old city, being accompanied by the revolutionary songs and parades. Children didn't understand what adults did, however they did like the bustle and excitement of parading. In primary and middle schools, all students had to join the productive labor, named the education revolution, in addition to basic learning. I once worked in a factory to repair post truck every half a day from Monday to Saturday for one year (1976). I liked to do it. I was called workman master. They all worked hard, and were always kind and friendly to us. The knowledge about the truck I learnt from my masters has almost been forgotten but I remember my masters even now. In all of the spring of 1977, my teacher Xuke Qi, a historian from Beijing and being responsible of my class, led us to participate in agricultural labours in Gaolan, one of the poorest counties in Gansu Province, it is near the Yellow River. The labours were very heavy and the quantities of our foods were fixed, even for our teacher. The three months were really endless and painful. After many years passed, I have not forgotten that hunger. In the west-northern countryside of China, the poor living conditions of the native farmers and shepherds I saw shocked me. I came to understand what poverty means. Recently I am very happy to hear that the living conditions there have been become better and better.
In 1977, the Great Cultural Revolution was over. Students spent more time to study their courses and learn more. After high school, I started my university education in September, 1979. Because Nature, Mathematics and Physics are my favorite subjects and I found out in a university bulletin that geophysical prospecting was a secret specialty, I was very curious, so I selected it as my major. I remember the first day of enrolling now. When I checked in at Library, the librarian, a very nice lady, smiled and said to her colleague and me, "SHA LEI! Only the glance at your name makes me believe that you are fated to be working in geology." I also smiled understandingly because the meaning of my last name is sand in Chinese, and LEI, not a necklace made of flowers, it means arrayed stones in pictography. That was a really interesting experience. Upon graduating I passed oral defense of my thesis and got the BS degree, then remained as a faculty member. It was the early period of the reforming and opening in China. We all knew that we learned more from the United States and other developed countries through books, movies, TV programs and so on. Our living conditions became better. I was satisfied with my job. I had much time to read various kinds of books, and did interesting research and teaching work. In my spare time I played 'go', an oriental chess originating from ancient China, with my colleagues or professional go-players. I enjoy it even now. In October of 1989, I met Bolin Cai, a professor of China University of Geosciences (Beijing), at Chongqing for research cooperation. The Campus Upheaval on the Fourth of June had just had subsided. I was determined to continue my education. So I went to Beijing and became an on-the-job graduate student in next year. Under the instruction of Professor Cai I studied underground geophysics for 3 years. Beijing is a really big city. Many people like or want to live there. I like it from my childhood. But I had to return to Xi'an because of the agreement between my working unit and me. In August of 1993, I returned to Xi'an two months later, I met my wife Xia Ye, a telecommunication engineer of GD-Nortel Company. After half a year, we registered our marriage. One year later, our daughter was born. The new-born baby weighed 4.5 kilograms, less by half a kilogram than I weighed when I was born. The doctors and nurses in the hospital called me " jiu jins' dad". Jiu is nine in Chinese, and jin is a common weight unit in China, one jin equals to half a kilogram. I was very happy, even though I asked myself in my heart 'Am I ready?' time after time. From that time, my family lived in Xi'an until I by myself came to Calgary on the fifth of February, 2006.
During my professional experience, I have successively participated in twenty geophysical projects that included field operations for data acquisition, data processing & mapping, and its interpretations. These projects covered most categories of geophysical methods: 2D/3D reflection seismology, lithology borehole logging, and magnetic & gravity for analyzing sedimentologic & structural geology of basin, seismic attribute analysis, structural and stratigraphic interpretation and drilling target selection. In the last four years with the help of my colleagues and the cooperation of oil companies, I have successfully developed a new geophysical technique to detect the shallower oil trap. This technique was designed especially for the shallow lithologic trap (<1500m) in loessland or other regions with serious cutting surface, where seismic effectiveness will be limited by topographic conditions and/or the grave absorption of source energy from near surface. It has been used for four years in Changqinq Oil Field, Er'lian Oil Field and Ji'lin Oil Field, and has achieved great successes in catching high quality drilling opportunities in their conditions of complex geology
Now, after the graduation of Enhanced Language Training for Engineers, Geologists and Geophysicists at CCIS, I am looking for a workplace for 4-week unpaid practice to accumulate working experience in Canada. My email address is shaleius@hotmail.com. I would appreciate any response from you.
GIVING BACK...
Many people in our geophysical community give unselfishly of their time and resources in volunteer work outside the geophysical community. The RECORDER committee would like to give our members an opportunity to share their experiences and details of the charity that they support. This month I thought I would share an experience that I had recently at a charity event and educate the RECORDER readers on the work that they do. CS
Sean Callaghan – Surveyza
I've recently become a member of the board of a new theatre company in Calgary called Urban Curvz. Urban Curvz was created to provide engaging artistic opportunities for female artists in Calgary's vibrant, but still male dominated, cultural scene. They fill a niche in the artistic community by:
Fostering the Calgary audience's appreciation for female driven narrative
Creating opportunities for female writers, directors, actors and designers to further hone their craft
Producing theatre with strong female viewpoints and of a style, structure and topicality not commonly experienced by local audiences
In April 2006 UCT staged their first production, Necessary Targets, a ground breaking play about women and war that garnered rave reviews from audiences and the media alike. In September 2006 they presented Living Shadows, A Story of Mary Pickford written and performed by Tracey Powers. This play has won awards at Fringe Festivals across Canada and has recently been booked for an exclusive run in Milan, Italy.
There is considerable excitement surrounding their next production, the Western Canadian Premiere of a play called Thy Neighbour's Wife by Tara Beagan. This play will be performed in the Joyce Doolittle Theatre at the Pumphouse May 16th – 26th, 2007. Set in 1915 in Alberta, this piece is inspired by the true story of the first woman sentenced to hang in Alberta, and is a frank and scrutinizing look at marriage, manners, money, and murder.
My work with Urban Curvz, apart from the standard board of directors' duties, has been to help artistic director Jessica Dollard to build a community of support both in and outside of the oilpatch. We have also launched some fundraising initiatives including sponsorship opportunities for upcoming productions. One of the fundraising activities I've been able to create is to run survey courses (datums & projections etc) and donate all revenues to UCT. The next course running after this article prints will be in January 2007. The venue for the courses has been generously donated by United Datawyse Ltd.
Jessica and I would like offer our sincere thanks to the individuals and companies that have already provided encouragement and financial support.
If you'd like to sponsor Urban Curvz or to provide help of any kind please contact Jessica Dollard Jessica@urbancurvz.com or sean@surveyza.com. To find out more about the company visit www.urbancurvz.com. We look forward to hearing from you.