June is here. This is the last issue of the RECORDER until September. What in the world will I do with all the free time? Seriously, I really enjoy writing this column. This month it is three years since I started writing the Tracing the Industry column. I remember reading the first column I wrote in my hospital bed after I broke my leg. It seems like yesterday. And my leg has healed quite nicely.
I just finished reading the April RECORDER and Oliver Kuhn's new Presidential column. First I would like to say, GREAT! I enjoyed it and it was very thought provoking. In the column, Oliver mentions the debut of the new section of this column- Giving Back. Oliver gives the impression that Giving Back was my idea, when in fact, it was solely his! So if you enjoy that section of this column, all praise should go to Oliver.
Since starting the "How I got involved in geophysics…" section of this column, I have had people ask me how I got involved. Since no one volunteered to share their story this month, I thought I would subject you to my story. I thank you for your indulgence.
Have a wonderful summer and remember if you want to put anything into the September column you have to get it to me by the end of July.
ON THE MOVE...
James Fox has joined Tusk Energy Corporation. He is very excited about the new opportunities that this position will have. This position was discovered through the Junior Geophysicist Forum, which took place in November of last year. He would like to thank all of his colleagues and friends with a special thank-you to Danny Sutherland (Husky) who got him in contact with Tusk Energy.
Olympic Seismic Ltd. is pleased to announce the addition of a new Marketing Representative. Tracy Halasz joined the Olympic Marketing Team in 2001, is currently completing her Bachelor of Commerce Degree, and has over 10 years progressive experience. Tracy can be reached at 515-2815 or 464-9627 and thalasz@olysei.com. Olympic Seismic Ltd., a wholly owned subsidiary of Seitel, Inc. is the leading provider of 2D and 3D seismic data and custom 3D surveys to the Oil and Gas Industry.
Stan Volk has moved. I'm now with Anadarko Petroleum. I will remain on assignment in Houston for the time being with plans to return to Calgary in the next 2-3 years. Same open door policy at the house applies to former colleagues and friends. I can be found at stan_volk@anadarko.com.
Peter Bratton (ex-Iron Mountain, ex-Landmark, ex-Veritas, ex-can't keep a job) would like to announce that he is leaving Calgary and the seismic industry after just thirty years in the business. Pete was planning a move back to Houston or out to Kimberley BC, and Kimberley won out. However, he's still going to be in the Energy Business, just a carbon neutral, very green renewable one. He's formed a new Company called:
Advanced Wood Burning Stoves LTD
Based in Kimberley BC.
The business will be providing advanced wood burning stoves and wood burning furnaces. (plus his own taste in artwork to compliment the decor of the stoves).
With tons of spare wood around (thanks to the pine beetle) and energy costs out of this world he just might be onto something. Anyway, living in Kimberley will be a huge change in lifestyle for this Londoner, (UK) come Calgarian. In the future you can reach him at (250) 421-3229 Please do not pass on this number to his children.
Chaminda (Chum) Sandanayake would like to inform friends and colleagues that he has moved to Husky Energy and will be working in the Southern Alberta & Southern Saskatchewan Group. He can be reached at 298-7155 or chaminda.sandanayake@huskyenergy.ca.
Susan Thomson has taken her vast well of knowledge to Apache Canada and is slowly building her empire by working with Kelvin Colquhoun and the NGL team. She can be reached at 403-261-1331 or susan.thomson@apachecorp.com.
Geophysical Service Incorporated welcomes Todd Muloin, formerly of Grant Geophysical operations in Bangladesh to the team as Marine Operations Coordinator. Todd brings 16 years of seismic experience to the team, eight of which were spent employed by the ARAM division of Geo-X Systems Ltd. Todd can be reached at 403-514-6292 or tmuloin@geophysicalservice.com.
Jolene Goring would like to announce that she has joined Real Resources as an Exploration Geophysicist. She would like to thank all of her former Apache colleagues for their guidance, wisdom and support. Jolene can be reached by phone at (403) 213-3247, or by email at: jolene.goring@realres.com.
Terra-Sine Resources Ltd. is pleased to announce Don Mann has joined our staff as a Seismic Project Manager. Don brings with him many years of strong seismic experience domestically, as well as foreign experience on shot hole surveys in the frozen tundra of the High Arctic, to marine surveys in the North Atlantic, and Vibroseis surveys in the deserts of Syria. Don's experience and expertise in all aspects of the seismic operation will be a great asset to our organization and our clients. With the addition of Don to our staff, Terra-Sine Resources anticipates continued success providing quality project management services to our clients. You can reach Don @ (403) 387-0771 or on his cell @ 403-815-1321 or email @ donm@terra-sine.com.
Heath Pelletier would like friends and colleagues to know that he has joined Talisman Energy to work in the Exploration Technology group. You can reach Heath at (403) 231-6186 or hpelletier@talisman-energy.com.
Graeme Gibson would like all his friends and colleagues (old and new) to know that he has joined Husky Energy Inc. as Geophysicist, Southern Alberta & Southern Saskatchewan. Graeme can be reached at Graeme.Gibson@huskyenergy.ca or 750-4911.
Neil Ethier has joined Talisman Energy to work in their North African Development and Exploration Team. He can be reached at nethier@talisman-energy.com or (403) 237-1439.
GEOSEARCH DATA is happy to announce that Jim and Gloria Stenhouse (formerly of Intercontinental Seismic Surveys Ltd.) have joined their Data Consulting team. Jim and Gloria look forward to providing outstanding service to clients past and p resent. Jim can be reached at 539-0403, email: jstenhouse@geosearchdata.com and Gloria can be reached at 539- 0404, email: gstenhouse@geosearchdata.com.
Melissa Morgan would like friends and colleagues to know that she has joined Husky Energy in the East Central Division. She can be reached at Melissa.Morgan@huskyenergy.ca.
Bogdan Batlai has joined Hampson-Russell in Calgary to provide assistance to Canadian customers through technical support and geophysical projects. Bogdan brings practical experience with well log analysis in fields a round the world and tremendous enthusiasm for reservoir characterization. He can be reached at 266-3225 or bogdan_batlai@veritasdgc.com.
MOVING UP IN THE WORLD...
CGG is pleased to announce the appointment of Malik Bendjaballah to the position of Reservoir Project Leader. His role consists on applying all the leading edge software available at CGG for all aspects of reservoir characterization to better service our clientele. Malik holds a M.Sc. in Geophysics and has been working for CGG since1991. His strong experience around the world, and in Calgary since 2004 includes land and marine, 2D and 3D time processing, along with depth imaging. Malik is taking over from Chaminda (Chum) Sandanayake. CGG has been offering services to the Calgary marketplace since 1967 and welcomes Malik in his new role. Malik can be reached at 266-1011 or mbendjaballah@cgg.com.
NEW DEGREES...
All universities that would like to send announcements about their recent graduates are welcome. Give your graduates and university some well deserved publicity and acknowledgement. CS
The following is a recent recipient of a degree from the Department of Geology and Geophysics at the University of Alberta.
Mingyu Zhang, M.Sc. Jan. 2006, Simultaneous Inversion of Time-lapse Data
HOW I GOT INVOLVED IN GEOPHYSICS...
This portion of the Tracing the Industry column is where people share how they became involved in this strange industry. Geophysics seems to be an "accidental" profession. Not many seem to start out with the goal of becoming a geophysicist. Each month I like to have someone trace their pathway into geophysics. If you would like to share your story, please let me know! CS
Carmen Swalwell – GSI/Precision Seismic Processing
I was born into the oil and gas industry. When I was born, my father was working for British American Oil, which was soon to become Gulf Canada. I was born in Edmonton (I only lived there two weeks!), but lived in Regina, Estevan, Rocky Mountain House and Red Deer before coming to Calgary to finish my degree. I started out to become a pharmacist and ended up with a degree in Biochemistry. I went to school with Mike Werner (Apoterra Seismic) and Blaine Holitzki (Devon Canada) and am still in contact with them today.
When I graduated from Biochemistry, biochemists also had full chemistry degrees. I also had taken courses in Engineering, Geology and had a minor in Math. I was offered a job at Hudson's Bay Oil and Gas in the reserves group. It paid double what I would have earned as a biochemist. The decision was pretty easy! I was with HBOG for a year and then spent the next few years at Lewis Engineering and the D&S Group doing reserve and economic evaluations. By the time I got to D&S I had been working in the industry for five years. D&S was the first company where I worked with another professional female, an engineer. We were the only two women there with degrees at that time. So if people think the oil and gas industry is male dominated now, they have no idea! A few times people have seen an old file or old reserves report and asked me if I am related to C. L Swalwell. Well now you know, that's me! It was just easier in those days, not to advertise the fact I was female. And for the ex Gulf types out there, Clayton Swalwell is my father.
I then joined Sulpetro in their planning group. At Sulpetro I worked with Gary Bilous (Husky) and Ray Ball (Consultant). I was with Sulpetro until they were taken over by Esso Resources. I spent three years at Esso working in the Exploration Business Services Group and the MacKenzie Delta/Beaufort Sea group doing economics on the pipeline. My father had worked in the same group at Gulf. I was pretty sure that being second generation on a major project was not a good thing!
I was sitting at the red light at MacLeod Trail and Glenmore Trail one afternoon. The guy behind me ploughed into me and I was unable to work full time for five or six years. I sold real estate part time and then worked in sales for a software company that was developing training programs in conjunction with the Alberta Research Council and was exposed to the Internet for the first time. This was in the days before windows and the World Wide Web. My email address was on my business cards and no one knew what it was. While I was there, a new start-up software and Internet company, Enernet, advertised for a Sales Manager. They were developing a seismic ordering tool, SEISnet as well as being an Internet Service Provider. I applied and was hired by Chris Jones (now IHS Accumap). Enernet's partners in this endeavour were Geoff Wilcox (Probe Data/now Celtic Exploration) and Mike Kary (Kary Data/now Arcis Corporation). One of the very first clients that we hooked up to the Internet was Wade Brillon (Seisview/now Divestco). Mike and Geoff exposed me to the seismic world, but I was still just on the edge of it, not truly involved.
Enernet was ahead of its time and I was laid off the day before GeoTriad 98. My sister Joan Rickett (now Lerner) was working at Probe Data as Geoff Wilcox's assistant and Geoff was gracious enough to get me a ticket to the Icebreaker. (Geoff had met her at an Enernet reception and hired her.). I was at the Icebreaker for about half an hour when I was introduced to one of the owners of KP Seismic. By the end of the convention, I was hired as their Sales Manager. (Yep, I also got into this because of a cocktail party. The cocktail party/job thing obviously runs in the family). They were in the process of hiring all new staff and the owners lived in the United Kingdom so for a couple of weeks I was all alone in the office. I still remember the first time that I walked in and looked around the KP Seismic office. I said out loud to an empty room: "well I am running this company in Canada, I better figure out what they do!" I phoned an ex-colleague of mine and asked him to meet me at the Penguin Pub. I put the company's marketing literature on the table and asked him "What is a spec survey? What is a seep study? What is scanned data?" The good news is I knew what a trace was! It was a steep learning curve, but I struggled on.
There have been a lot of changes over the years and I am thrilled to be a part of another "boom". One of the things that I am very gratified to see is the increasing numbers of women entering the oil and gas industry, particularly in the seismic world. I like to think that in some small way, I helped pave the way for them and made things a little easier.
I now have been involved in the seismic industry for 8 years. I have often wondered how different my life would have been if I wasn't hit in that car accident. My whole career path was changed. Had I managed to make it a good thing? Do I regret it? Would I have been happier in the engineering side of the business? I was never sure. This Christmas I was at a reception with a lot of the engineering types I worked with in my past life. I realized then, I am doing exactly what I should be doing. The moral of the story is, be careful what you agree to at an Icebreaker. It could change your life. And watch out for Geoff Wilcox!
RETIRE EARLY. WHAT THEN?
(Perry Kotkas is a CSEG past president, Meritorious Service Award recipient, and a volunteer since 1974.)
Here are a few paragraphs about retiring early, its lifestyle, and giving something back…from my perspective. Three years ago – 'Freedom 52' I called it – I stopped working, retired early, went fishin', pulled the plug. Yup, time to hang up the skates. Here's a bit of feedback for those who are contemplating a similar thing – there are a few key items to consider.
Economics. Many friends ask, "How much $$ do you need to retire"? The answer is not especially complex. It depends on how much you spend annually (multiplied by how long you think you'll live – uh, then maybe add a couple of years). Luckily back in '87 when I was laid off – same day as our company's president (as if that gave me some satisfaction), I started keeping a record of our annual expenditures, so had good background info. Next, the forward thinkers ask, "What rate of return can you get"? Average ROR is about 3% over inflation on stocks and about 1.8% for bonds. Really. I didn't make that up. It took about 2 years to finally scrounge a firm guideline. I asked every investment guru I could find but nobody wanted to give a firm answer. They'd rather model multiple variable ROR's and inflation rates, because it looks insightful (?). There are lots of investments that do way better than that but there are lots that don't (anybody remember early 2004 or 9/11 of 2001 or Black Monday of '87?). Also things change a bit when there's no regular paycheck to bail you out of goofy investments, so you tend to be a bit more careful. Final bit of free financial advice: you don't want to be worrying about money if you can avoid it; and…you just might be inclined to spend more, because you have the time to do so.
Reinvigorate. "So, being retired how do your days go?" First: get eight hours of sleep. What a pleasure. Second, for those of you who are totally focused on your job, I guess the answer might be to find some things enjoyable outside your job before you retire. Or after retiring just start dog paddling towards Australia (that'll use up some time or a shark may solve your problem). You can't spend all of your time fishing, golfing or traveling. Just tonight my banker friend dropped by. He said, "Hey, you look good; lost some weight"? Answer: after thirty years of 'one day I'll get into shape and lose some weight' I've had time to do just that. Regular exercise (not at 5:30 am, mind you) is great; it's actually fun, and you feel good. Hmmm, wish I'd maybe done that sooner.
Next big issue (and I mean big) is avoiding your spouse! Dear wife Karen had twenty-odd years to become absolute daytime ruler of the house. All of a sudden here was good ol' what's-his-name home from the wars. She wanted to give me instructions on the hundreds of chores to do or felt she needed to 'play with me' (that's schoolyard speak). That's the time to run for your life! Get away while you can.
The good news? I'm a volunteer-kinda-guy; always have been. I help make Calgary, the Volunteer Capital of Canada. Some ask, "Don't you lose a feeling of self-worth and productivity when you retire"? You read my current list of activities and decide. Scouts Canada: helping young people, (APEGGA) U of C Student Liaison: helping young adults, (CSEG) Outreach: helping students and CSEG members, (CSEG) President's Advisory Council: helping the big guy in our society, church choir: helping the really Big Guy. Yup, it's always been fun, and productive – helping people and making stuff happen. You've heard it before – our society runs on its volunteers. It really does, and what better feeling, looking backward and forward, and being able to say – I am one. People like us make a difference. We feel good. Volunteering is the ultimate 'win/win'.
Bottom line. Be a volunteer, be helpful to people. It's fun and it makes things work. It was fun in 1974 and it is today. By the way – make time to play with your kids while you're working; they'll remember it and play with you later – take you fishing and stuff – if you have time. J
GIVING BACK...
Many people in the geophysical community are involved in volunteer work outside of our community. The RECORDER committee would like to give our members an opportunity to give us more detail on charity they support with their volunteer efforts. If the demand warrants, we can make this a separate regular feature. Send us a short story about your charity involvement. CS
Dick Willott – Geophysical Consultant at Boyd Petrosearch
Mexico house-building trip
I sing in the choir of Grace Presbyterian Church. Last year, the church celebrated its centennial. To commemorate the event, many outreach projects were initiated. One of these was a trip to Mexico to build houses in the "less affluent" suburbs of Tijuana. One of our members is in the police service, and had been down 3 or 4 times with a police and fire-fighters group; he felt sufficiently experienced to volunteer to coordinate the trip. The trip was very successful, with us completing 3 houses.
Many groups have done this trip. Amor Ministries, based in San Diego, coordinates the purchase of the construction materials and arranges to have them delivered to the building site or sites. They also coordinate with the local parish churches in Mexico, to determine who the recipients of the new houses will be.
These houses are not luxury accommodation, by any stretch of the imagination. They are a basic 2 room frame and stucco building built on a concrete pad, without water or electricity. Nevertheless, they are far superior to the dwellings that many of the poorer Mexicans have to put up with; they have solid walls, a roof that doesn't leak, and a solid concrete floor – much easier to keep clean and dry than a dirt floor.
Following on last year's successful trip, many of us decided to go again this year. With a few new willing hands, we made up a group of 50 or so, comprised of about 60% adults and 40% mid-teenage kids. On March 23rd, we piled onto a motor coach at 10 AM, and pulled out of Calgary headed for Mexico. A rented diesel 4x4 preceded us, with all our tools in a large utility trailer
As you can imagine, the bus trip (30 hours straight through from Calgary to San Diego) was not entirely comfortable, but traveling that way keeps the cost down and is certainly a "bonding" experience. Border crossings were facilitated by having sent a list of names and passport numbers ahead of time. After overnighting in San Diego, we entered Mexico the next day and set up our tent camp for the week. We brought our own tents and sleeping bags – warm sleeping bags! – the temperature drops to close to freezing at night.
We used no power tools for the construction. Two reasons for that: first, we are making a point that it CAN be done by hand, and second, in places like the distant suburbs of Tijuana, if there is power available, it could go off at any time and stay off for long periods, so we don't want to rely on it.
We split into 4 groups, 3 building groups of about 16 each, and a kitchen group of 4 who looked after the cooking and food purchases. Each building group had a leader with construction experience.
Day 1 is tough. The concrete pad has to be framed; all the concrete mixed by hand (with the right proportions of aggregate, sifted by hand), and then emplaced, levelled and finished. This has to be done the first day, so that the concrete cures sufficiently overnight that the framing can be started on it the next day.
Day 2 is a bit easier. Framing continues, the roof and walls are erected and squared up. Chicken wire is stretched tightly around the whole building.
Day 3 half the team is back to mixing, this time sand and cement to make the stucco. The other half applies the stucco to the walls. This is the main coat of stucco. At the same time, doors and windows are installed, if that wasn't finished on Day 2.
Day 4 is the final day (or half day, if you're right on schedule). A second coat of stucco is applied and finished. Any final additions or improvements or fixes must be completed.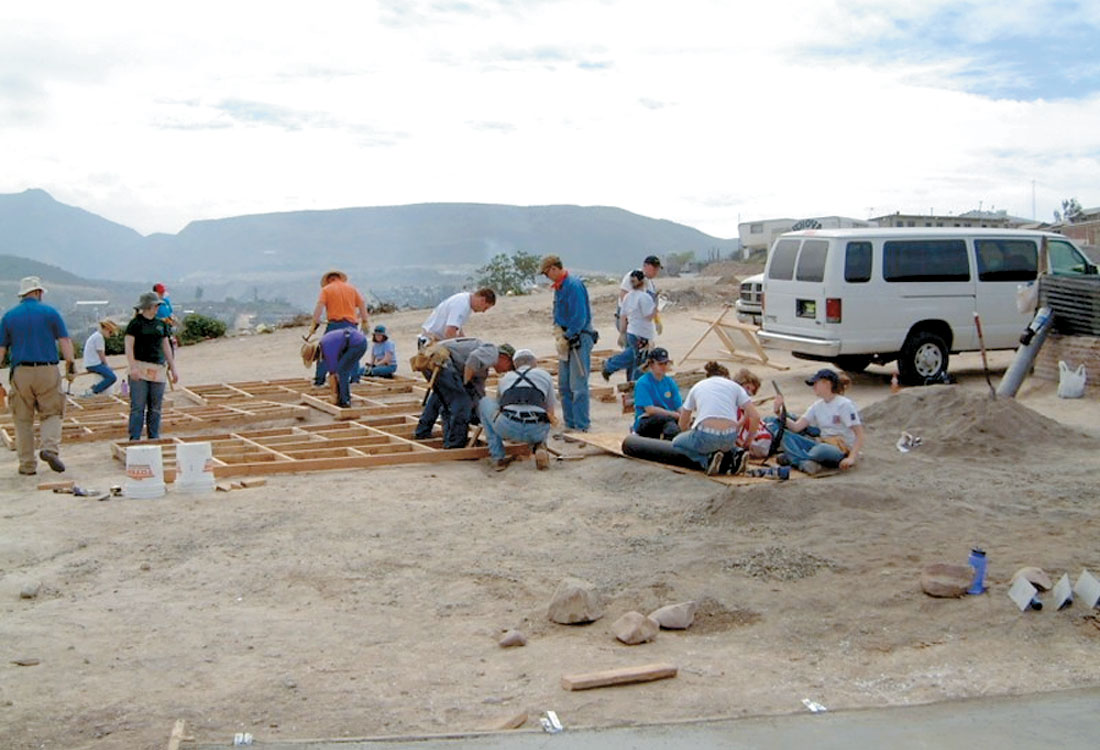 And then it's back out of Mexico, and heading home. We took the opportunity to take an extra day in Anaheim, doing some touristy things, and then it was back on the bus for the 30 hour trip home.
The trip can be viewed as an outreach or charitable venture — certainly the families that received the new houses were very appreciative; when they could, they worked right alongside us —but I have to say, for myself and many others, that the rewards go both ways. We get huge satisfaction out of the trip, just in knowing that we can do it, and in getting to know others on the trip and to meet some of the Mexican people. It's a huge eyeopener, especially for those who haven't had the opportunity to travel much, to see how little others have, and how little they can get along with.