Merry Christmas everyone!!! I hope everyone has a safe and happy holiday season.
I would like to take this opportunity to thank someone who has been associated with the RECORDER for many years. Ron Larson (Apache Canada) has been an integral part of the RECORDER, soliciting articles, writing articles, suggesting innovative ideas and new columns and generally making the RECORDER meetings extremely enjoyable. Ron has been an unsung hero, staying in the background while making a valuable contribution. Ron is stepping down from his volunteer commitment with the RECORDER to concentrate on family commitments with his four teenage children. You will be missed Ron!!!!! I enjoyed being your "tech" on the three issues we worked on together last year. Thank you on behalf of all of us at the RECORDER and the readers!
In Memory of James Maxwell Mallett Dobson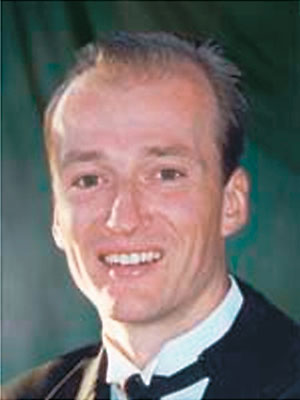 James Maxwell Mallett Dobson passed away peacefully at his home on Monday, October 24th, 2005, with his family by his side. He was 40 years old. For the past five years, James had been gallantly battling against brain cancer. He is survived by his loving wife Julie Thomson, his parents Maxwell and Sonia Dobson and his brother Jeremy Dobson.
James was born on June 24, 1965 in London, England. Later that year, his parents took him to West Wales when his father accepted a post at the University of Wales. He enjoyed an idyllic childhood in the rural calm of a small university town. James excelled both academically and at sports, including swimming, tennis and basketball. Physics, chemistry and especially Geology occupied his mind during High School, such that he won a place at Leeds University to read Geology. Three successful years as an undergraduate that included mapping in the hazardous terrain of eastern Turkey culminated in a B.Sc. Honours degree and the wining of a prestigious BP scholarship to study for a Ph.D. at Royal Holloway College, London University.
His first taste of Canada was a mapping expedition to the Foothills and Rocky Mountains just southwest of Calgary as part of his doctorate project entitled "The Dynamics of Foreland Fold and Thrust Belts, Southern Canadian Rocky Mountains, Southwest Alberta, Canada." James immediately felt at home in the region and made many friends during his two summer works terms here. Upon completing his Ph.D. in 1990, he returned to Calgary to begin his career with Pan Canadian Petroleum, as a structural specialist primarily in the foothills, frontiers and international teams. This in turn led to other successful tenures at Crestar, El Paso and British Gas. James was Coastal's first employee in Canada and built the team and company that eventually sold to BG for $465 million. It was the same team that in 1999 drilled the discovery well a-47-A/94-G- 8 at Bubbles that was rated the #1 well in Canada for 2003 by First Energy, producing a facility constrained 20 mmcf/d and still producing at the same rate today.
James was a member of both the CSPG and CSEG, enjoying the many social and sporting opportunities offered by the societies. He also served both groups in innumerable volunteer roles. He will be missed by his many friends and colleagues and the entire exploration community.
Donations in memory of James Dobson can be made to the Alberta Cancer Foundation, c/o Dr. P. Forsyth, Brain Tumour Research at 1331 – 29 Street NW, Calgary, AB T2N 4N2 Telephone: (403) 944-2433
On the Move...
The geoscience software company, Geomodeling, announces the addition of seven new team members to its rapidly growing North American offices.
In Calgary, we are joined by:
Charlaine Boa – Receptionist
Libing Guo – Computer Programmer
John Hou – Computer Programmer
Lana Norgaard – Sales Executive
Peter Phillips – Reservoir Modeling Solutions Manager
Emily Zhang – Computer Programmer.
In the Houston office, we welcome Paul Casey as our new Sales Executive.
With the professional contributions of our new staff, Geomodeling anticipates continued success in bringing software innovation to international oil and gas markets.
Craig Funk moved to Pinnacle Technologies in July, 2005. Pinnacle offers reservoir engineering and reservoir monitoring services that provide clients with answers and practical solutions to their problems. Geophysical services they offer include VSP acquisition, micro-seismic monitoring and micro-seismic fracture mapping. Craig is leading the development of the micro-seismic reservoir monitoring software and also developing data management systems for microseismic fracture mapping applications. You can reach Craig at 516-2260 or craig.funk@pinntech.com.
Rutherford Consulting Group is going into dormancy as Neil Rutherford has accepted a full time position with Cinch Energy. Neil can be reached at rutherfordn@cinchenergy.com or 515-6190.
Armin Schafer has joined Crew Energy. You can reach Armin at armin.schafer@crewenergy.com or 231-8857.
Veritas GeoServices is pleased to welcome two new Geomatics professionals into the Geomatics group. Grant Domeij brings 18 years of strong field survey experience to our survey audit team as a conventional and GPS Survey Quality Assurance processor. Much of Grant's experience has been focused on the supervision of diverse seismic survey acquisition projects in challenging terrain and environments for Seisland Surveys. Grant's experience will be a great asset to our organization and our customers.
Derek Loo brings Veritas Geomatics valued survey field work and processing experience. Derek is a Geomatics Engineer who has particular strengths in a variety of survey technologies including GIS. He will provide GPS auditing and consulting services to the domestic and international E&P industry and we are confident that Derek's technical strengths and enthusiasm will have a positive impact throughout our operation.
Alex Wright, formerly of EnCana has joined Navigo Energy Inc. You can reach Alex at 261-6329 or by e-mail at alex.wright@navigoenergy. com.
Carmine Militano is pleased to announce that Pat Butler has joined the staff of C&C Systems Limited. Pat will be joining the programming staff in creating new seismic imaging software for our data processing system. Pat invites his friend and colleagues to contact him at 233 0808 or by email at pat.butler@cncsys.com.
Ted Grove announces that he has left Geomodeling Technology Corp. and wishes Renjun Wen, Murray Christie and the rest of Geomodeling Technology Corp. all the best. Ted has joined Steve Vasey, David Golding, and Chris St.Clair at VGS Database International Inc. He can now be reached at VGS, by his email tgrove@vgsdatabase.com and by his cell number (403) 554-4257. VGS Database International focuses on seismic data creation, ownership and marketing in Canada.
Retirement…
Veritas DGC Inc. announces Director and Vice Chairman, Stephen J. Ludlow will retire from the Company in March 2006. Mr. Ludlow will serve in his present role as a director and vice chairman until the next annual meeting of stockholders in December and will then be named an executive vice president of the Company. He will continue in that role until his retirement to assure an orderly transition of his current duties.
Thierry Pilenko, Chairman and Chief Executive Officer, commented that "Steve was a key contributor in building Veritas DGC into the global company it is today... We are sincerely grateful for his positive contribution to the Company in his 34 years of service and wish him and his wife Janet all the best in their future endeavors."
How I Got Involved In Geophysics...
This portion of the Tracing the Industry column is where people share how they became involved in this strange industry. Geophysics seems to be an "accidental" profession! No one starts out with the goal of becoming a geophysicist. Well Jeff Closson has proved me wrong!
If you would like to share your story, please let me know! CS
Jeff Closson – Talisman Energy Inc.
A few years ago, when I was in grade 11, I remember taking several tests that were designed to guide a student and help him or her choose a career path most suited to his or her interests and abilities. I cannot remember the outcome of these tests, but I do remember waiting afterwards in the Student Services room at the Swift Current Comprehensive High School, where I noticed several career brochures out on display.
I was currently taking a geography course, which I thought was pretty interesting, so I immediately noticed the other brochures with the geo prefix, geology and geophysics. The geology brochure attracted my attention because I was always collecting rocks as a child, but the geophysics brochure really caught my eye. At the time, I was finishing up my grade 12 math courses and also took my first pure physics course which I really enjoyed. I thought this would be a pretty neat career path because I would be able to combine my interests of geology, physics, and math. Another aspect that got me excited was the idea that I would be an explorer, looking for oil and gas.
A few months later, I applied and was admitted into the geophysics program at the University of Saskatchewan. Ten years, several years of work experience, and two degrees later (B.Sc. and M.Sc.), I am still as excited about geophysics as the first day I came across it.