The Recorder had the privilege of interviewing OebeI Pasveer earlier this year. We dedicate this inspirational profile in his honour. Oebel passed away June 18, 1999 from pancreatic cancer. He will be sorely missed by his family, many friends and coworkers.
The life and times of Oebel Pasveer was one of perseverance and surprise. After all, who would think that a 17 year-old Dutch immigrant to Canada would end up running a geophysical services and sup ply company one day? That's exactly what happened to this Calgary-based street smart president of OYO GeoSpace Canada, Inc.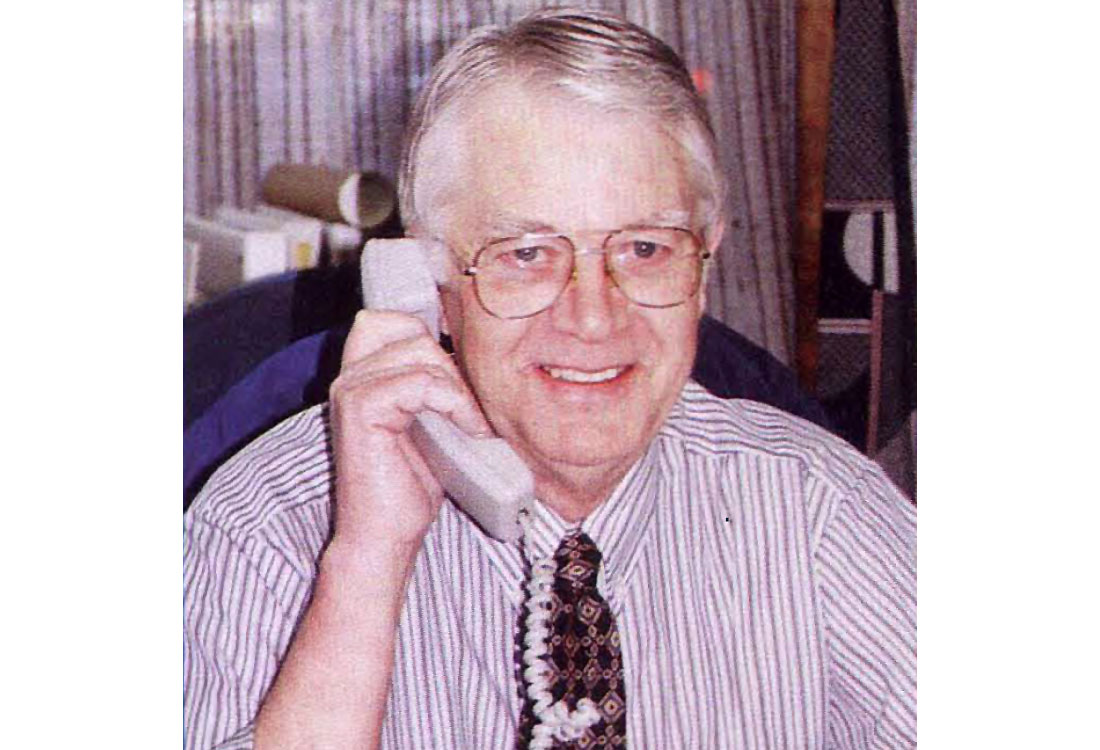 The second of seven children, Oebel was born March 16, 1936 to a general labourer and his wife in a farmhouse, situated in the hamlet of Emmererfscweidenveen in eastern Holland. As a child, he took to ice-skating along canals to school during the winter, and playing soccer when it was warmer.
When he was 17 years old, Oebel's parents made the decision to come to Canada, after a Dutchman visited their hometown and told them the Canadian farmers needed help. "It's after the war and in those days, people started asking themselves, what future does my family have in a tiny country of 16 million persons?" recalled Oebel.
In June 1953, the Pasveer family with their crate of personal belongings and seven children, ranging from 5 to 19 years of age, boarded an ex-military freighter in Rotterdam. "It was hard to leave as a teenager because I left so many friends behind:' said Gebel, who never returned to Holland for a visit. There was nothing glamourous about this cross-Atlantic voyage that was shared by several other emigrants to Canada. Seasickness was inevitable, and privacy was lacking in crowded quarters. "At the time the trip wasn't exciting, but looking back, it sure was:' said Oebel. After a six-day voyage, the ship arrived in Halifax where the family boarded a coal train. Five days later, they arrived in Lethbridge and from there, they moved to Picture Butte where they spent several months picking sugar beets and then beans. Oebel lamented, "Never wanted to do that again. Here it was, a big bag that took forever to fill and weighed hardly anything." For another month, he worked in Bassano as a labourer.
In September of that year, Oebel set out alone on a Greyhound bus to Calgary. He really knew only three words of English, "yes, no and sure". Stepping off the bus in downtown Calgary to make his way over to Montgomery and another Dutch immigrant family was a crucial life moment. "You come to Calgary. Nobody knows you. I had no way of asking, do you know where so and so lives," recalled Oebel. "We took English classes in Holland before we came and I still remember one line to say, 'I have no money: We thought, great, when we get to Canada and say, 'I have no money: they're going to tell us to get back on the boat." By the time he made his way over to Montgomery, it was dark outside. He was too weary to find the house of the other Dutch immigrant family, so he slept overnight in a partially built new home; "I didn't have a clue where I was at. " The next morning he woke up and walked about for another half a kilometre until he found the house.
Oebel found work at odd jobs in Calgary until the rest of the family arrived and quickly settled in. His elder brother and father went to work for Poole Construction, while he went to work as a delivery person for a stationary store. A month later, he went to work for Southwestern Industrial Electronics, where he got his first taste of the seismic world, "My job was making loading poles. Cut the wood into 10 foot lengths, soak the wood in linseed oil and put on the couplers." His first oilpatch job lasted until 1957, "That's when I heard about the downturn in this business." For the next five years, he worked outside the oilpatch, first spending a year with Pittsburgh Paint and Glass and four years as a shipper and receiver in the warehouse for Alberta National Drug.
In 1962, Oebel started working for Halls Sear, which changed its name to GeoSpace in 1963. He started off in inventory control, moved over to the stock room, then into sales and finally ended up as the sales manager. After fourteen years, he left GeoSpace to set up Pasco Geophysical Supplies, which he ran for two years. "If you don't try it, you'll always kick yourself: ' explained Oebel.
In 1978, Oebel went back to GeoSpace, which had been sold to Applied Magnetics of California and became AMC GeoSpace. He came back as a sales representative; "The dream of everybody who wants to get ahead in this business, is that you go from the lowest to the highest job. I did that in 1980 when I got transferred to Denver to become the general manager down there. That happened one afternoon in a half an hour, they pulled me into an office because somebody was leaving."
Oebel worked in Denver as general manager of AMF GeoSpace until the next downturn came in 1983. Then he went to work for Peco Services, a geophysical supply company. When his work visa expired, he returned to Calgary and went to work for Art Baptie, president of Mark Products, another geophysical supply company.
In March 1985, Oebel returned to Denver to be with his future second wife Karen. They married in May 1985. Oebel went back to work for Peco until the owner of the company passed away. Still living in Denver, Oebel went to work selling cellular phones, other promotional items and shoes for a major Denver department store.
In 1988, Oebel and family returned to Calgary where he went back to work as a sales representative for OYO GeoSpace. Two years later, he became assistant manager and in 1995, he was appointed manager. In 1998, Oebel became president and at that point his career success had exceeded his expectations.
Oebel's hobbies included curling, fishing, and coaching soccer. He worked six days a week, confiding that work gave him much pleasure, "The biggest joy is the people I have had to deal with. They treat you with respect and you don't have too many enemies in this business."
As he puttered about his office, trying to make it presentable, he proudly showed off photos of his children, grandchildren and wife Karen. Of the four children, three sons and a 19 year-old daughter Laura from his first marriage, Oebel's three sons are actively engaged in the oilpatch. Forty-year old son Gerry is involved with deep well drilling. His two other sons, Ernie, 37 and Brian, 30, both work for Veritas Geophysical. Ernie works as a design supervisor while Brian works in the processing centre.
Just a few months ago while a cloud of doubt rested over his head about the diagnosis of prevailing health concerns, Oebel stubbornly refused to give up. He had already survived two heart by-pass operations, one in 1980 and another one in 1997. A leg clot sent him to the hospital this past January, but has failed to dampen his inner spirit, "When you're sick and you go to the hospital, one reason you really want to get out of there is the food." Retirement is totally out of the question. "The only way they'll get me out is that they have to kick me out."
His strength in dealing with adversity came from his patience to think things over. Like everyone else, he was concerned about the future of OYO GeoSpace, which is a subsidiary of a Houston-based company. Once a specialist in plotters and seismic instrumentation, a recent acquisition expanded its services to include the rental of geophones and geophone repairs.
"This business is scary," conceded Pasveer. "When it's booming, it's the greatest. When it's down, it's tough..." He stuck with it and would have dearly loved to have seen it through to good times again.