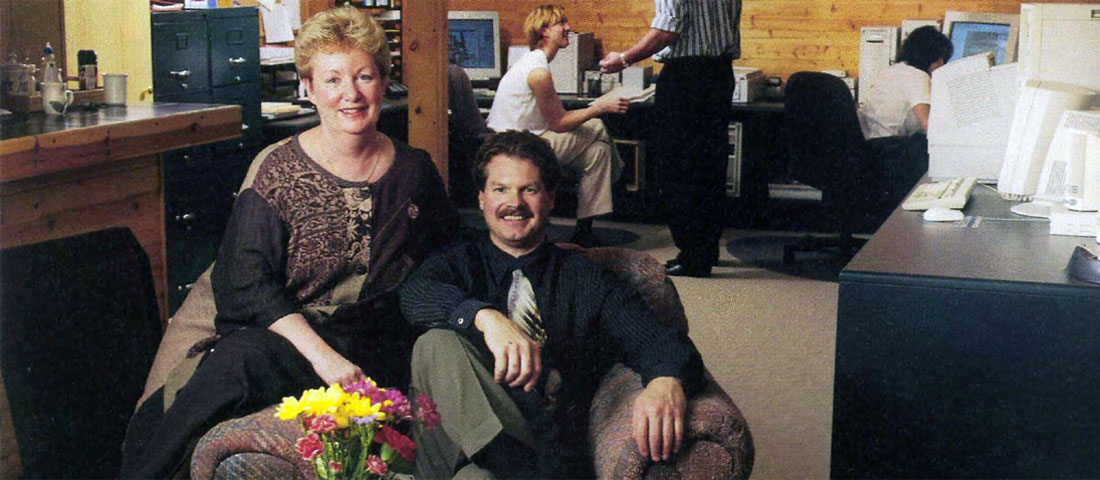 Judi MacDonald and Grafton Cole were awarded the title of Mr. and Ms. Ski Spree this year at the CSEG Ski Spree for their long time involvement in, as well as their volunteer work over the years for the Ski Spree. I called Grafton to see if they would be interested in having a profile done on them, and after checking with Judi, they accepted. I was invited to their office in their home to interview and talk with them. Little did I know this was going to change my entire concept of home based businesses. Upon arrival, I was escorted through the main floor of the house to the downstairs that is their working area. Once downstairs I felt as if I had just entered into a James Bond movie. There is always someone that has the secret high tech secret facilities underground, usually under an island or iceberg, and that is what it looked like. I had just entered a 'state of the art' communications facility, which in no way resembled any basement I have ever been in. Sitting down at their board room table you would never know you were not in some high-rise office tower in downtown Calgary. It is very rare to get a warm fuzzy feeling about someone you meet during the course of everyday business, but that is exactly the feeling I got when talking to Grafton and Judi. People generally find it very uncomfortable talking about themselves but I found Judi and Grafton very gracious and honest when asking them about their lives. It is hoped that this profile will convey how very lovable and hardworking they are.
Judi grew up in Banff where her father was the Food Supervisor at the Banff School of Fine Arts. In the summer, she would work for her father in the kitchen. As part of her chores she would get up at 5:00 am to make toast for 1500 students. At dinner she helped with the meals, as she was the salad girl. Judi attended the University of Oregon, majoring in Music. She must be quite the accomplished pianist although she says she has little time to play at home and only finds time to indulge when on holidays at her mother and father-in-laws. She met her first husband in Banff, and after having their first child – Susan – moved to Calgary. They later had Steven, who has a degree in Marketing and now works for MacdonaldCole full time.
Upon arrival in Calgary, Judi taught music lessons and did some modeling. She started accounting for Allied Vegetation. It was here that she first started to do Ads and mock-ups for trade shows. In the spring of 1977 she took a temporary job at Petty Ray Geophysical doing some accounting. They asked her to stay on full time, but as she had plans for the summer she told them if they were still interested to call her in the fall. She started full time with them in the fall of 77 but was moved almost immediately into Sales as Assistant to Don Winningham, the Processing Manager. Judi said the first time she heard about the CSEG was in 1978, and it was then that she started to volunteer in different capacities. It was also at this time she became involved with the ladies' auxiliary (no longer an organized group), the wives of the CSEG members. The first and only time the SEG was held in Calgary, Judi organized everything for Petty Rays' showing in the convention. Judi as part of her responsibilities at Petty Ray would help in recruiting people, and she was the initial contact with Grafton Cole, talking to him on the phone and setting up an interview for him to see Don Winningham.
She then was at Seiscom Delta United in Sales and Marketing for about three and a half years before being recruited by Veritas in 1983. She was hired by Larry Fichtner, someone Judi said she had always wanted to work for. Hiring of Judi as marketing manager was a significant event back then and an article was published in an issue of OILWEEK in October of that year. Quoting from the article it stated 'One of the less technical, but more interesting occurrences in Calgary's geophysical community this summer was the decision by Veritas Seismic Ltd. to hire a full time marketing representative, and begin an ongoing, consistent effort to promote the company actively through a planned marketing strategy.' Of real note was the fact that she was the first person to be hired in this field as a full time sales/marketing representative and also that she was a woman. As a woman in sales and marketing myself it is very interesting to hear how the industry treated a woman in sales over 10 years ago. Judi says she was always treated well and never really experienced any prejudices from the people she worked with. She remembers organizing an event one time at the Petroleum Club, at the time it was men only, and she was asked if she would go around and enter the club through the back doors, which she refused to do. It is interesting how times have changed.
Grafton was born and raised on Prince Edward Island. He attended Mount Allison University and got his degree in geology. He is fairly reserved, but I was able to find out that he has two children from his first marriage. He moved out to Calgary when he was 21 and started in the field for Petty Ray Geophysical. He than was hired by Petty Ray in 1976 for their computerized mapping department. In January of 1984 he was promoted and required to move to Quebec as part of that promotion to set up and organize their mapping and interpretation center where they were working on East Coast data. While in Quebec he was able to work on state of the art equipment and actually improve the efficiency of the department by 300%. He was to be in Quebec for two years and returned to Calgary in the fall of 1985. Shortly upon his return, Petty Ray was bought by Computalog Ltd. The processing center was closed down and he was transferred into Directional Drilling to write software. He remained with the company for approximately four years after the takeover. When the layoffs began he figured it was only a matter of time before he would be let go. In 1990 he called Judi at work one day and said "I'm out of here". It was soon after that, that Judi quit her job at Veritas and they started their own business.
Grafton and Judi started dating a couple of years before he was transferred out to Quebec and Judi says the distance only strengthened the bond between them. They were married in 1985 in PEl before Grafton moved back to Calgary. He grew up on the ocean and loves the mountains and Judi grew up in the Rocky Mountains and loves the ocean. Judi believes that God has played a big part in them getting together and in a lot of other areas in their lives.
Owning your own business does not allow for a lot of downtime but when they do get time they both enjoy their dogs (their babies - Rufus and Tedi). They are actively involved with their church and volunteer quite a bit there as well. They also like to spend time in PEI with Grafton's parents. Judi does needle work, I can attest to her being very talented in that area as well as I has seen her creations. Judi would like to have more time to spend in teaching Communications Skills but so far has not been able to do so.
Grafton is very interested in Computer technology. He enjoys and is very good at carpentry. He designed and built their offices and is involved with Habitat for Humanity (started by former President Jimmy Carter) where he helps build homes for families less fortunate.
They incorporated MacdonaldCole in 1991. At the beginning Judi consulted back to Veritas as well as Seismic Image Software, but as their business grew could no longer dedicate herself to them. They now have six people employed including themselves. They also have a satellite office in Victoria, B.C.
Judi said she always wanted to have her own company. She saw a need for someone with seismic knowledge to address the needs of the companies within the industry. She and Grafton took their experience and the skills they had acquired over the years in the Seismic Industry and put them to work. The changeover to this type of business was greatest for Grafton, as Judi had over the years already been exposed to this business in one form or another. Grafton is in charge of all the hardware and also works with the Graphic Artists; he is also in charge of the production and quality control side of things. Judi says that Grafton is known as the "Master Tweeter" and has been referred to as " a very knowledgeable person in the business" by his peers and the printers he works with. "He makes it look like it is supposed to as he pays close attention to details" Judi said. Judi is in charge of trade shows and client contact, she is the sales/marketing representative behind MacdonaldCole. She remembers their first Ad was for Technica. Photon's image began in their office as well.
Working for yourself they said can be the scariest but also the most rewarding thing you can do. You can tell that they truly love what they do. Grafton also says that the Industry dictates which direction your business goes in. It is for this reason their business has expanded to include annual reports, tradeshow planning workshops and web page design. They have now diversified and have completed projects apart from the seismic industry including work for Telecommunications and Development companies and the Kingdom of Nepal. They also sponsor the Nepalese delegates to attend AAPG and SEG conventions.
What have they learned? What are the things they enjoy the most about being in business for themselves? .....They have learned to take breathers during their down times as in any business there are cycles. Judi enjoys watching a job go from start to finish and she is amazed at the trust they are given by their clients. Their clients have been extremely good to them. Grafton enjoys using all the skills gained over the years and the ability to work with all the different technologies.
They both like to volunteer for the CSEG as they feel it allows them to give something back to the organization that allowed them to be visible. This visibility helped a great deal when they went out on their own. They both feel it is one of the greatest honors to be recognized by your peers. Judi has received the Meritorious Service award from the CSEG in 1987, and as mentioned before Grafton and her were voted Mr. and Ms. 1998 CSEG Ski Spree.
What do they see themselves doing in ten years? They have land on PEl in Cavendish and the plan is to open a Country Inn, to be called the "River House." The tearoom over looking the river will be called The Strawberry Patch and the Inn would house a business center for seminars and such. While talking about this Judi could describe it almost in minute details, so I suspect that along with all their other accomplishments this one too will become a reality.