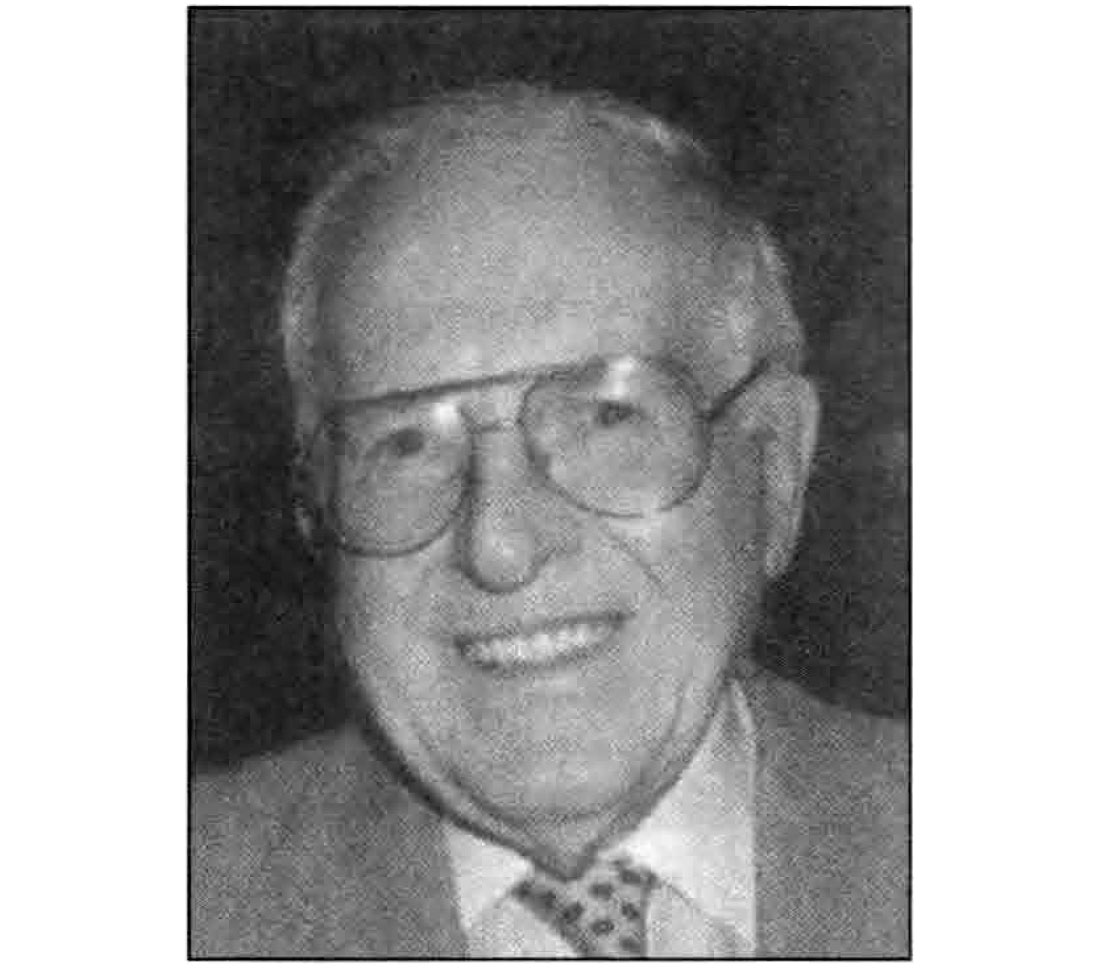 Aubrey Kerr is a native of Orillia, Ontario. He received his Master's Degree in Geology from the University of British Columbia in 1942 and joined Imperial Oil. He was at the Leduc discovery February 13, 1947 and helped plan the 50th Anniversary held February 13, 1997.
As Imperial Oil's District Geologist in 1948, he was responsible for the geology of the two relief holes drilled to kill "Atlantic No. 3" under Tip Moroney's direction. He wrote and self-published his first book 38 years later: "ATLANTIC NO. 3 1948" (since sold out). In 1997, the book was reprinted. His second book: "CORRIDORS OF TIME" was self-published in December, 1988. "LEDUC", Kerr's third book, came off press June 1991. "REDWATER", the story of the largest oil reef in Canada (800 million barrels), was launched in June, 1994.
In February, 1949, Kerr became Chief Geologist for Home Oil. In January, 1960, he was appointed Senior Geologist for the National Energy Board in Ottawa. Kerr returned to Calgary in 1975 to manage oil and gas rights under Indian Treaty Lands (reserves south of 60 degrees north latitude).
Shortly after returning from Ottawa, Kerr realized the importance of recording oil industry history. He liaised with the Provincial Archives and, in early 1980, founded the Petroleum Industry Oral History Project (PIOHP) . Nearly 300 personages have been taped for posterity under his direction; many more remain to be done. Kerr is a Friend of Glenbow (Museum), which body is the repository for all PIOHP tapes and related documents.
Kerr, a member of the Alberta Society of Petroleum Geologists since 1945, served on the Executive. In 1997 he was approached to contribute monthly "SNAPSHOTS" for the CSPG "RESERVOIR". In 1998, Kerr was given an Honourary membership.
Kerr joined the Canadian Institute of Mining, Metallurgy and Petroleum (CIM) in 1954, serving in numerous official capacities in Ottawa, Calgary and on the National Council, for which he received Distinguished Service Awards. In 1978, he was approached to write articles for the Journal of Canadian Petroleum Technology and later assumed its editorship. The Petroleum Society of CIM conferred upon him the "Distinguished Lecturer Award" in May 1991, whereby he addressed numerous branches across Canada.
Kerr is a Life member of APEGGA. He is an Emeritus member of the CSPG, a Full member of the CSEG, and a Director of the Les Rowland Memorial Fund. He is also on the Executive of the Petroleum History Society. That body honoured him in September, 1995, with the 1994 "Book of the Year" Award for "REDWATER" and a "Lifetime Achievement Award". On September 11, 1998, Kerr was inducted into the Canadian Petroleum Hall of Fame. On November 12, 1998, the University of Calgary conferred an Honourary degree of Doctor of Laws (honor's causa) on Kerr.
Kerr has been associated as a volunteer with Kerby, Centre since 1995. He has completed a history of that senior facility. It will be published as "KERBY CENTRE".
A resident of Calgary (912 - 80th Avenue S.W.), Kerr is married to Elsie, and they have two sons: one, a medical practitioner in Toronto, and the other, senior vice president of a gas and oil company in Calgary. They are also the proud grandparents of four.