Happy October! Fall is in the air, oil prices (I hope… am writing this 6 weeks out) are up and people are happy! Okay. Rose-coloured glasses off for a minute. Amanda Knowles has written a moving article on the psychological impact of the recession on our membership. It is definitely worth consideration.
CSEG Doodlebug Report
The 64th Doodlebug was hosted in Kimberley for the 7th consecutive year over 3 days from August 25 to 27th. This Doodlebug looked very similar to the 63rd with 49 golfers registered for the event.
Play over 3 days was under ideal weather conditions with the Trickle Creek Golf Course in ideal tournament conditions. Abundant wildlife is always the norm at Trickle Creek and a momma bear and 2 cubs were seen on the course during play. However the bear wanted nothing to do with the Doodlebugs and quickly retreated into the forest when encountering golfers.
The golfers were divided in to 6 flights, with the winners being:
Flight #1: Ed Slobodian (76) – Mr. Doodlebug
Flight #2: Dave Nordine (86) – Supervisor
Flight #3: Mantu Sihota (84) – Processor
Flight #4: Drew Lane (83) – Interpreter & Low Net (61)
Flight #5: Tim Harris (92) – Rodman
Flight #6: Dereck Boeckx (102) – Jug Hound
Chuckwagon Winners: Brendan Smith, Thomas Schmidt, Alex Gauthier, Victoria Yung
Ed Slobodian has repeated as Mr. Doodlebug and has indicated that the Doodlebug has entered the "Era of Ed" as he foresees winning the Doodlebug flight into the foreseeable future.
The themed costume party was, "Saturday Night Live" with all attendees arriving in costumes from Chippendales, to Spartans, to Bumble Bees. There was even a Buckwheat sighting!
Wildlife was not only seen on the golf course, the evening functions and on into the Chairman's Suite provided ample opportunities to renew friendship and camaraderie that is the hallmark of the Doodlebug Tournament.
The Chairman's Charity this year was, Providence Children's Centers, providencechildren.com, a charity that works with children with special needs in a therapeutic preschool environment. A charity donation of $7500 was generated by contribution, silent auction and raffle, charity long drive and chip off and Chuckwagon charity contributions.
On behalf of the 2015 Doodlebug committee a very special thank you to all of the generous sponsors who supported the Doodlebug and allow its long lasting traditions, particularly in this economic downturn. The continued support of these sponsors has allowed the Doodlebug to continue to be one of the premier social events on the CSEG Calendar.
To all the Doodlebugs that participated, thank you for making the 64th Doodlebug a huge success.
Dave Wardlaw will be taking over as the 65th Doodlebug Chairman, and has selected Banff as the venue to be hosted September 8th to 10th, 2017. Look for information updates on the Doodlebug website www.doodlebuggolf.ca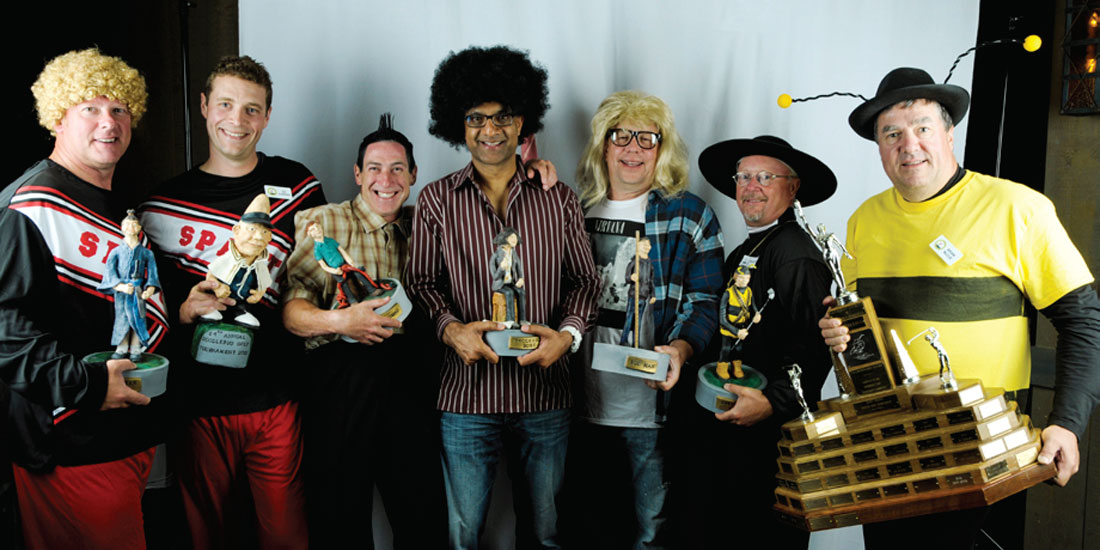 All and all another very successful Doodlebug, now onto the 65th!
Brian McCue, 64th Doodlebug Chairman
SAVE THE DATE – Doodlespiel 2017
The 8th Annual CSEG T-Wave Golf Tournament took place on June 27th, 2016. The committee would like to thank everyone who made the tournament such a success and a great event once again. We are thrilled that, despite the economic conditions, we received the maximum amount of golfers we could support, and were extremely fortunate to have great weather all day at Valley Ridge Golf Course. We offered a student rate as well as a 'career transition' rate which helped get 138 players out for our tournament this year.
The purpose of the Doodlespiel is to bring our industry members together promoting fellowship and competition in a unique, fun and social setting. It's my belief that the Doodlespiel is one of the best social events our industry offers, and without the continued support of participants and sponsors the event wouldn't be possible.
We would like to encourage participants to be present for door prizes and dinner on Friday night after registration. A raffle will also be held to which all proceeds will be going to the CSEG Foundation. Cash prizes will be handed out for the team with the best costumes/team spirit.
Additional information regarding host hotels, schedule of events, draw, rules and regulations, registration and sponsorship information will be posted to the website www.doodlespiel.com when available.
Daniel Perez, Chairman, 2017 CSEG Doodlespiel
Help Support the Calgary Drop-In Centre
On August 17th a group of CSEG members helped serve dinner to over 500 people at the Calgary DI Centre. It was a rewarding and unique experience for all involved. Due to such a success, we are excited to hold another dinner service in support of the homeless people in Calgary during this fall season. It is a great opportunity to humble yourself, and focus on others.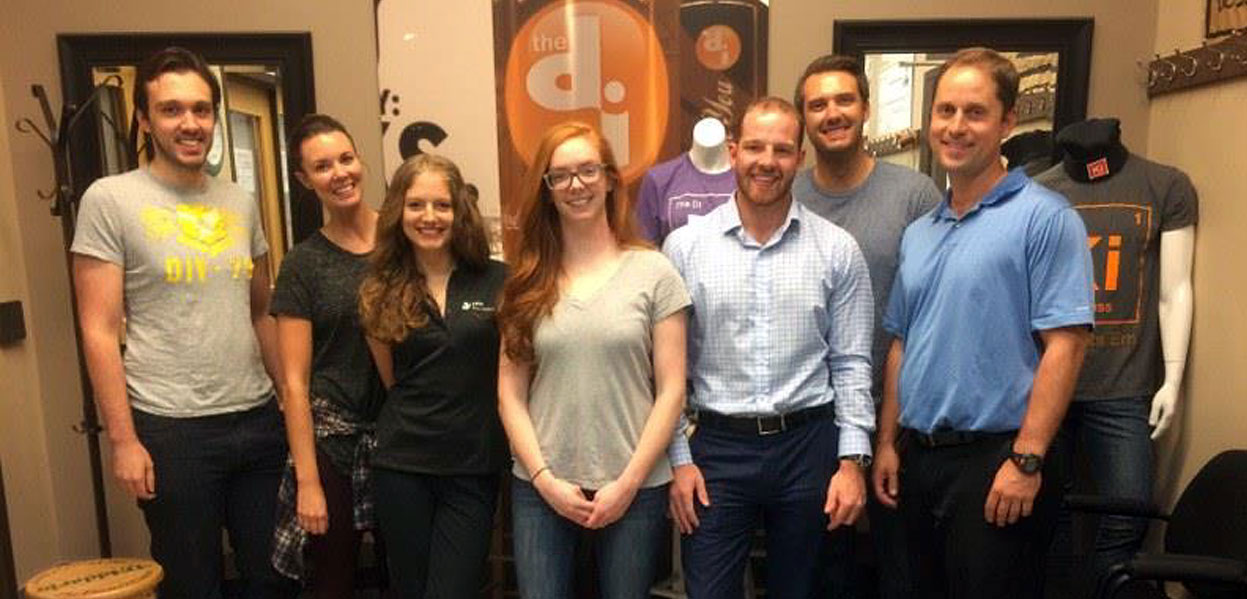 During such a difficult time in the industry, sometimes we tend to dwell on our own problems and forget that people struggle each day to grab a meal to try to fill their insatiable hunger. Some of these people at the Drop-In Centre are mothers, fathers, brothers or sisters that have a full time job, but tend to use their limited resources to help their family first. They simply need a hot meal and a bed for a night. Today, the DI has the capacity to shelter 1,100 individuals a night and they often serve over 3000 hot meals a day to people in need.
The spectrum of homelessness in our city is broad and often misunderstood. Individuals range from those with mental illness, to those with full or part time jobs that cannot afford the high cost of living in this city. Oftentimes there are homeless who are refugees of war from other countries that have never had the opportunity of formal education, with a large family to support. Most of them receive little to no help or respect. Everyone needs help sometimes, and any act of kindness, no matter how small, is ever wasted. As a reminder, the DI Centre accepts clothing and donations at all times of the year. A very convenient drop off location makes it quick, easy and meaningful.
I encourage CSEG members to please bring in new or used clothing (jackets, sweaters, jeans, gloves, boots, toques etc) as a donation for the cause. If clothing isn't an option the Calgary Drop-In Centre also has identified things like new razors, shaving cream, toothbrushes, socks and hand lotion as items in need. They can also collect cash or cheque donations. In addition to clothing and cash donations, CSEG members are encouraged to participate in the 'Mealshare' program that many restaurants in Calgary offer! When you order a Mealshare item at your favourite restaurant, one meal will be provided for a youth in need. Learning on an empty stomach is very very difficult and simply deciding to order a meal with the Mealshare logo next to it, is a very easy way to not feel guilty as you eat your 16 oz steak! Nearly every restaurant that you may eat at, either with clients or family members, partakes in this program. Next time you are out at a restaurant keep an eye out for it!
Our next CSEG member and student volunteer date is Thursday, October 20th. We ask volunteers to arrive at 5:30pm and we will be done when dinner service closes at 7:00pm. This will be a very fun and cheerful event and we invite you to attend! To sign up or for more info, please contact Kyle Dreher or Elizabeth Ramsey at kdreher@twinbutteenergy.com and Elizabeth.Ramsey@taqa.ca.
Thank you in advance, Kyle Dreher
CSEG 2017 Executive Elections
The CSEG often seeks volunteers from all professional levels for many positions, including serving on the CSEG Executive Committee. Resources are available on the CSEG website (cseg.ca/members/ executive-election) that provide our members with more information about the CSEG Executive Committee, positions, duties and responsibilities.
The CSEG Nominations Committee (Marian Hanna, Rachel Newrick and Rob Vestrum) has put forward a selection of candidates for the CSEG 2017 Executive Elections. The membership has until November 1st, 2016 to bring forward additional candidates.
Key dates in the CSEG 2017 Executive Elections are as follows:
October 1: Call for open nominations from the membership requiring five supporting members.
November 1: Deadline – Open nominations for Executive Elections.
December 1: Executive candidate profiles published in the RECORDER and Election opens.
January 15: Deadline – Election closes.
For more details, see the CSEG elections web page: cseg.ca/members/executive-election.
University of Calgary CSEG/EAGE Student Chapter Talk Series
We would like to invite you to attend CSEG/EAGE Talk Series at the University of Calgary. Talk Series have the goal to give attendees an insight into the world of Geosciences. The purpose is to provide attendees an opportunity to interact with experts in various geophysical and geological fields and learn about the latest advances in our challenging and ever changing field.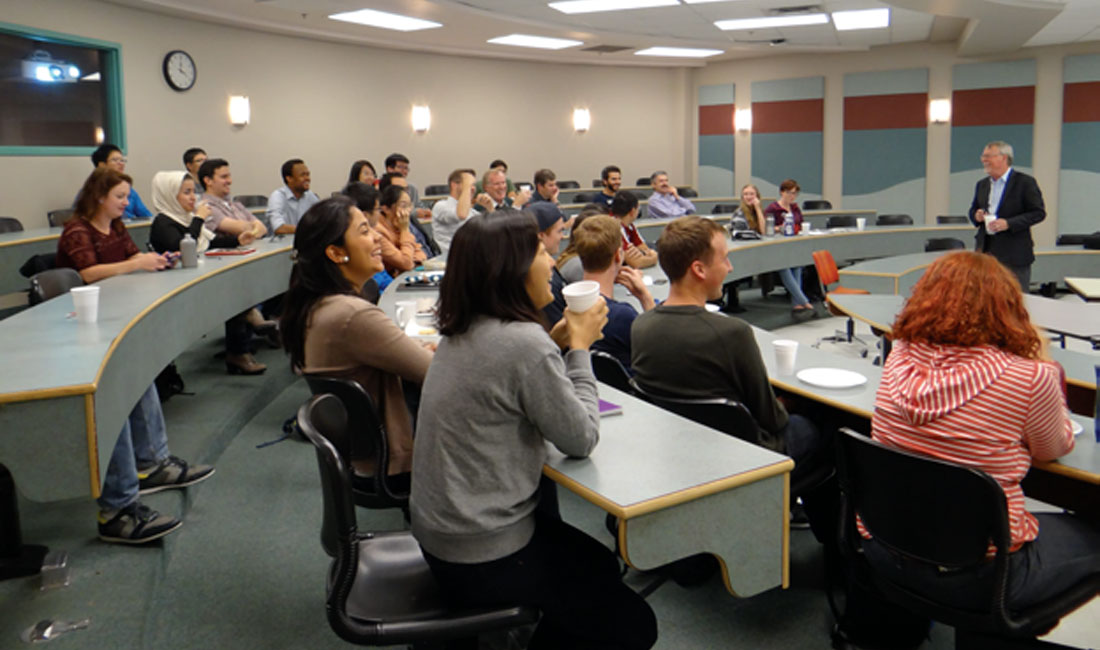 The talks are approximately 30-45min and are held bi-weekly on Mondays (4:00-5:00pm) at University of Calgary in the room SB-142. Full information on the upcoming talks and other events can be found on our website: http://people.ucalgary.ca/~eageuofc/index.html. Do not forget to bring your mug, as coffee and cookies are provided.
Thank you to our sponsors
We would like to thank our sponsors who kindly took an opportunity to support our student chapter: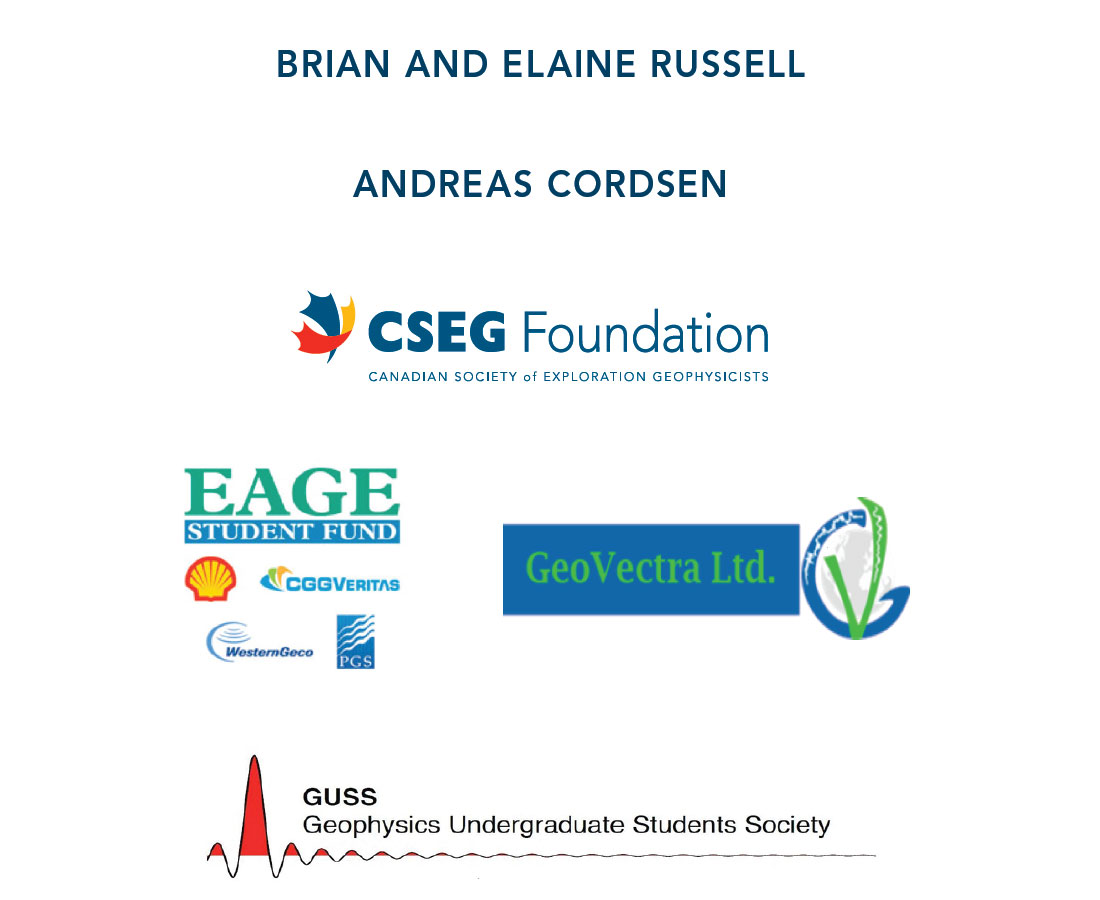 Contact us
To get in touch with us please email the University of Calgary EAGE/CSEG Student Chapter Executive team:
Volodymyr Vragov (Collaboration and Joint Events): volodymyr.vragov1@ucalgary.ca
Anton Biryukov (Sponsorship opportunities): anton.biryukov@ucalgary.ca
Emma Lv (General Questions and Concerns): siming.lv@ucalgary.ca
Jing Zhao (General Questions and Concerns): jing.zhao@ucalgary.ca
Adriana Gordon (Organizing Joint Events): adriana.gordon@ucalgary.ca
Follow us on:
LinkedIn: https://www.linkedin.com/groups/8562272
Instagram: @csegeage_uofc
Facebook: https://www.facebook.com/2016eagecseguofc
2016 WiSE Golf Tournament
The 16th annual Women in Seismic golf tournament was held on a blustery day, but no snow this year... 60 golfers enjoyed networking and playing a very fast 6-9 holes of golf, depending on their pain tolerance for hail stones! Over $7000 was raised for the Alberta Cancer Foundation through raffles and sponsorship dollars, that is earmarked for breast and ovarian cancer research. The WiSE Committee would like to thank Fox Hollow Golf Course and all of our major sponsors for their support:
Katalyst, Sigma, Divestco, Geomage, Investors Group, Signature Seismic, Maxam, Copyseis, the Calgary Geoscience Data Managers Society, Rodan + Fields, Cariboo and Ionex. The theme this year was "Think PINK" and the winners of the Sean Callaghan Spirit Award were the Pink Ninjas. Thank you for your patience while we work with Mother Nature to come up with a warm day for next year.