Happy October! Fall is back in the air, although if I recall correctly, some areas of Calgary had snow way back in August (Newfoundland probably did too for that matter).
Save the Date: CSEG Doodlespiel
The 2016 Doodlespiel is right around the corner, and will be held in Banff the weekend of January 22nd to 24th, 2016! Additional information will be available in the November Grapevine.
Calgary Geoscience Data Managers Network
"Learn @ Lunch"
Wednesday, October 28th, 2015, 12pm – 1pm
Katalyst Data Management has generously donated a meeting space in the Aquitaine Auditorium, +15 level of 540 - 5 Avenue SW for this and future luncheons.
This session, our presentation will highlight: Introduction to the Business Ethics of Seismic Data Brokerage, with Trent Olson, VP Seismic Data Marketing at Sigma Explorations presenting.
The meeting is free but space is limited so please RSVP to Kate Smiley at rsvp.cgdmnet@gmail.com.
We invite all those who are interested to join our LinkedIn group 'Calgary GeoScience Data Managers Network' or check out our new website at http://www.cgdms.ca/
Future Luncheons planned: Managing Canadian Well Locations in November. Stay tuned for more details!
We welcome any and all ideas at info@bgdms.ca.
NEOS Acquires Denver Land Processing Business from ION
NEOS GeoSolutions, Inc. and ION Geophysical Corporation (NYSE: IO) announced that NEOS has acquired – for cash and other consideration – ION's Denver land seismic data processing operation. The addition of this business line expands NEOS's multi-physics service lines to now include seismic data processing and imaging. The rest of ION's data processing business, including ION's land data processing capabilities in support of its 3D ResSCANTM land programs, is unaffected by this transaction. ION's Denver processing group has completed nearly 400 subsurface imaging projects since 2003 for customers that include some of the largest international and independent E&P companies in the world. The Denver team specializes in 'hard rock' processing in structurally complex geologic environments ranging from Bolivia to the North Slope of Alaska.
Jim Hollis, President and CEO of NEOS, commented, "We are delighted to welcome ION's Denver land data processing group to NEOS. During my career, I've had the pleasure of working with many on their team and I can't think of a more talented group than the twenty seismic imaging professionals that will be coming over to NEOS. The addition of a seismic imaging offering to our toolkit clearly supports our strategy of offering a portfolio of best-in-class multi-physics, subsurface imaging solutions to our global customer base. We'll now have the capability to process, integrate and simultaneously interpret both seismic and non-seismic geo-datasets to render the most complete 'basementto- surface' images in the industry."
Contacts for Additional Information:
NEOS GeoSolutions
Chris Friedemann (Executive Vice President & Chief Commercial Officer)
+1.713.425.0510
ION Geophysical
Chris Usher (Executive Vice President, Operations Optimization & Software)
+1.303.717.8871
2015 Annual Doodlebug Summary
On August 20th – 22nd the 63rd Annual Doodlebug was held in Kimberley B.C. The weather was great and the Great White North theme was a blast! This year's event crowned a new champion and Ed Slobodian took home the Mr. Doodlebug trophy. Congratulations to the following ceramic winners:
Flight 1 (Doodlebugs) – Ed Slobodian
Flight 2 (Supervisors) – Cam Fink
Flight 3 (Party Chiefs) – Adam Walsh
Flight 4 (Interpreters) – Adam Westlake
Flight 5 (Processors) – Brian McCue
Flight 6 (Shothole Inspectors) – Brian Ingenthron
Flight 7 (Surveyors) – Steve McLeod
Chuckwagons – Neil Rutherford, Kelly Speth, Tim Carry, Derek Boeckx
Beyond the golf and outstanding food there was excellent live entertainment throughout the weekend including a comedian, a duelling piano player and a live cover band! This year's Doodlebuggers were extra generous in supporting the charity of choice – Heart Beats. Heart Beats is a local Calgary volunteer charity that supports children with congenital heart disease along with the families involved. Together the participants raised an astonishing $12,000 in a mere two days!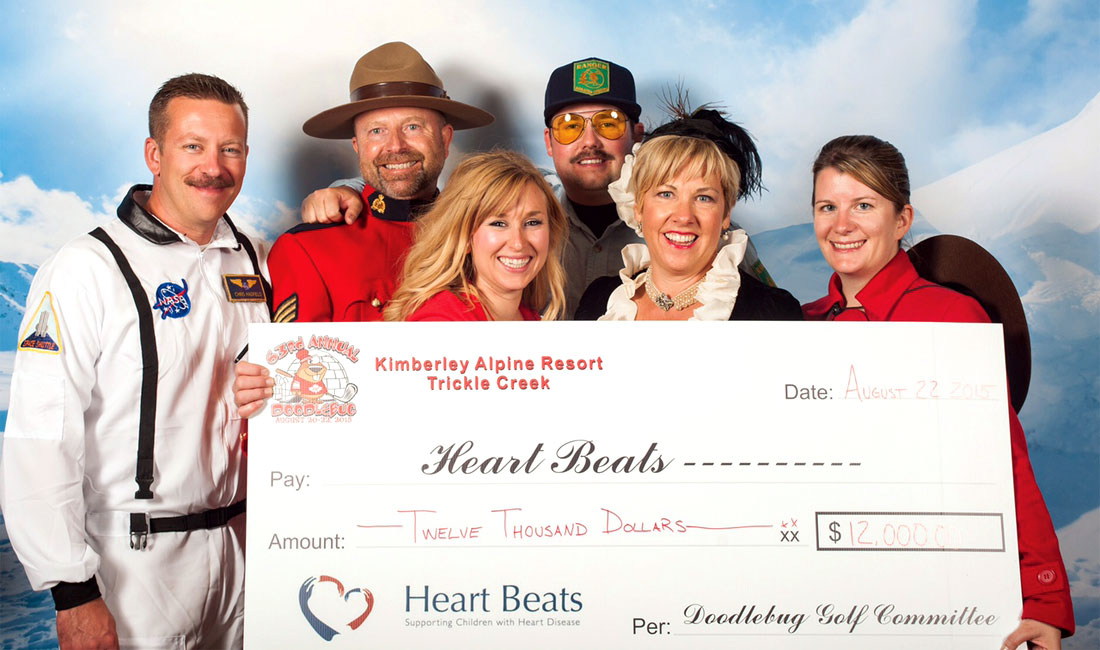 Pictures of this year's event will be available soon at doodlebuggolf.ca.
On behalf of the 2015 Doodlebug committee I would like to thank all of the generous sponsors who supported the Doodlebug and allowed its long lasting traditions to flourish, especially during this economic downturn. The continued support of these sponsors has allowed the Doodlebug to continue to be one of the premier social events of the Canadian Society of Exploration Geophysicists.
As with all CSEG events all members are invited to join for Doodlebug fun. The 2016 event will once again be held at the beautiful Kimberley Alpine Resort Trickle Creek Lodge on August25th – 27th.
My final note as outgoing chairman is to express my confidence that even with an uncertain economic forecast we can be sure that the 2016 Doodlebug Committee will put on yet another top notch event.
Brendan Smith
2015 Doodlebug Chairman