Happy March! At time of writing: oil is sitting just above $50; Calgary is having a Chinook while the East Coast is getting hit by their third major snowstorm in a week; the Jets, Canucks, Flames and Canadiens are all in playoff contention (knock wood…) and the CSEG Symposium honouring Dave Grey is looming. I worked with Dave previously: brilliant AND a nice guy too... looking very forward to hearing people speak to his achievements.
Doodlespiel 2015 Results
The 43rd annual 2015 Doodlespiel has now come and gone and this year we had 86 teams with over 400 participants. The host town of Banff and the Banff Curling Club again created an amazing venue for the Doodlespiel that was enjoyed by all.
The A event final had the Hansen rink against the Gill rink and it was an exciting back and forth game as the lead changed hands several times. In the end, the Hansen rink consisting of Sterling Hansen, Matt Ng, Joel Kotkas, Igor Senek, and Daniel Perez won the A event. This win is the second Doodlespiel championship for the Hansen rink.
Other event winners include:
B Event:
Sandy Jenkins
Scott Law
Jeff Deere
Andrew Boland
D Event:
Victoria Joliffe
Scott Sverdahl
Grant Williams
Chris Baldwin
C Event:
Warren Murray
John Ropchan
Brian Irwin
Christian Eastham
Cathy Parr
Holeplug:
Shawn Traxler
Geoff Castle
Victoria Yung
Meaghan Wright

Team Spirit best costume awards go to:
1st Place: Mario Kart – Team Jeroncic
As Chairman of the 2015 Doodlespiel, I would like to take the opportunity to thank all of the sponsors of the 2015 Doodlespiel. Without the continued support of the industry, this great event would not be able to continue. Sponsorship and overwhelming participation of our industry continue to make this the largest curling bonspiel in Western Canada. As outgoing Chairman I am confident that next year's Doodlespiel committee will no doubt deliver another excellent event. The committee wishes everyone a safe, healthy and prosperous 2015 and look forward to seeing everyone in Banff for 2016.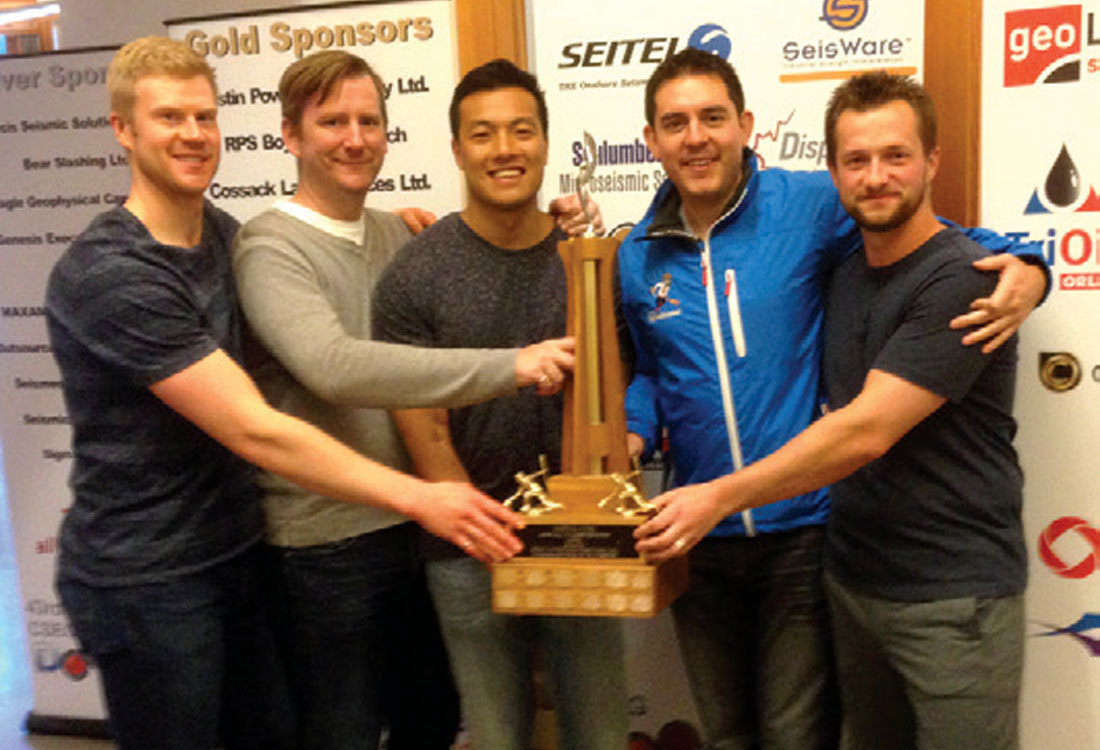 Trent Olson, Chairman – 2015 Doodlespiel
Calgary Geoscience Data Managers Network
"Learn @ Lunch"
Wednesday, March 18, 2014, 12pm – 1pm Katalyst Data Management has generously donated a meeting space in the Aquitaine Auditorium, +15 level of 540 – 5 Avenue SW for this and future luncheons.
This session, our presentation will highlight: "Lidar"
We are excited to have Martin Maric, Corporate Sales Manager at Airborne Imaging, presenting a talk on Lidar. The meeting is free (BYO Lunch) but space is limited so please RSVP to Denise Freeland at rsvp. cgdmnet@gmail.com.
Thanks so much to Sigma for offering to provide fruit and veggies, Katalyst for water, Divestco for cookies and donuts, Santos for cheese and meat platter and Seisland for cupcakes!
Future luncheons planned: 'Electronic Contract Signature' in September and a Networking Social in April. Stay tuned for details!
We invite all those who are interested to join our LinkedIn group 'Calgary GeoScience Data Managers Network' or check out our website http://www. cgdmnet.com/ We welcome any and all ideas at ideas. cgdmnet@gmail.com
Women In Seismic 15th Anniversary: Save The Date
Please keep Thursday, September 10th open for the 15th Annual WiSE Golf Tournament at Fox Hollow. Registration for the event will open on April 1st for players. In keeping with past years, we will once again be raising money for the Alberta Cancer Foundation to help find cures for ovarian and breast cancers. 2015's theme will be "Superheroes: Fighting for Freedom From Women's Cancers for 15 Years!". Stay tuned for additional details.