Happy New Year! Hopefully everyone had a healthy holiday season, and that you have come up with some achievable resolutions for 2015… I am thinking something like eating chocolate for breakfast daily may be considered achievable, and mentally rewarding. In all seriousness, 2014 had a lot of positive successes for our society, and showcased our membership giving back to the community. One such case was the Women in Seismic tournament that was held in September, where $20,000 was raised for the Alberta Cancer Foundation: $15,000 from the generosity of the sponsors and players, and an additional $5,000 was donated by Fox Hollow in the name of the tournament. It is through our CSEG membership that we continue to generate goodwill for so many causes that affect our membership and our communities as a whole. I am looking forward to seeing what 2015 holds.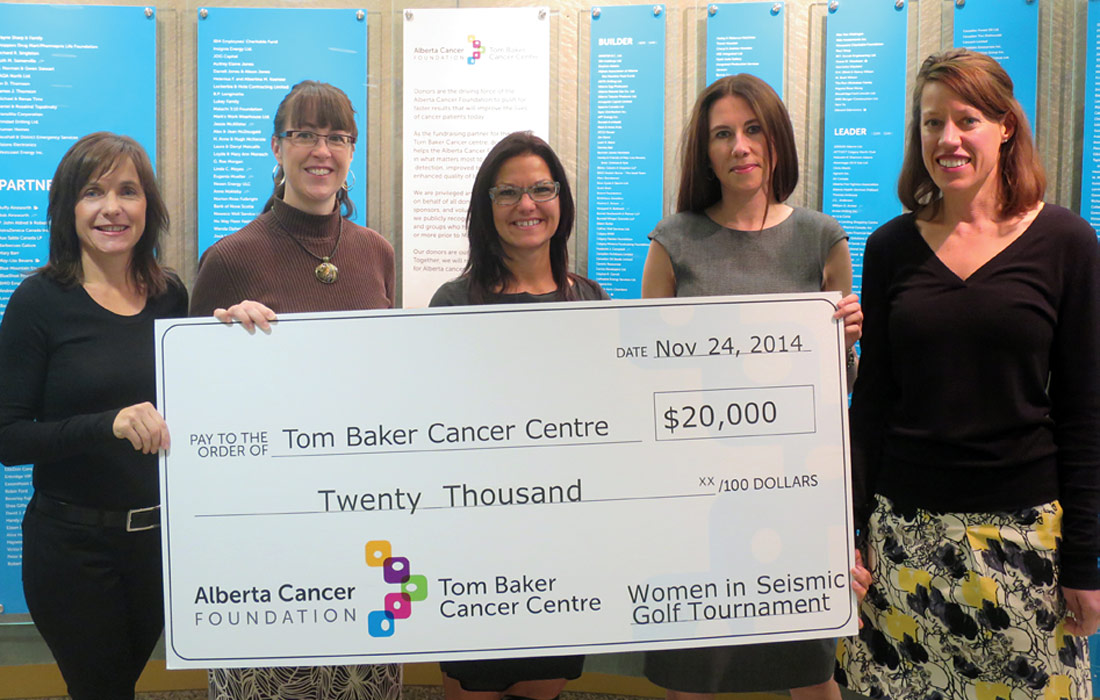 Calgary Geoscience Data Managers Network "Learn @ Lunch"
Wednesday, January 21st 2015, 12pm – 1pm
The 43rd Annual DOODLESPIEL is scheduled for January 23-25, 2015, in Banff, Alberta.
Katalyst Data Management has generously donated a meeting space in the Aquitaine Auditorium, +15 level of 540 - 5 Avenue SW for this and future luncheons.
This session, our presentation will highlight: "Basic Seismic Processing Concepts"
We are delighted to have rescheduled Patrick Tutty, Business Development Manager at Earth Signal, to present his talk on the basics of seismic processing. The meeting is free (BYO Lunch) but space is limited so please RSVP to Denise Freeland at rsvp.cgdmnet@gmail.com.
Future luncheons planned: Stay tuned for details!
We invite all those who are interested to join our LinkedIn group 'Calgary GeoScience Data Managers Network' or check out our website http://www.cgdmnet.com/
We welcome any and all ideas at ideas. cgdmnet@gmail.com.
Save the Date: GeoSkills 2015
GeoSkills will be held February 6, 2015 at the Metropolitan Conference Centre in Calgary. This event will gather speakers, students and professionals together for a day of seminars, networking and learning about the tools to succeed in the profession. It will include an evening mixer, where attendees can enjoy food and converse with fellow professionals and students. All professional geoscientists and geoscience students are welcome to attend.
Registration will open December 2014. Sponsorship opportunities are available. Please visit apega.ca/events/geoskills.html for more information.
Doodlespiel 2015
The 43rd Annual DOODLESPIEL is scheduled for January 23-25, 2015, in Banff, Alberta.
The mandate of the Doodlespiel is to bring our industry members together promoting fellowship and competition in a unique, fun and social setting. It's my belief that the Doodlespiel is one of the best social events our industry offers, and without the continued support of participants and sponsors the event wouldn't be possible.
We would like to encourage participants to be present for door prizes and dinner on Friday night after registration. Cash prizes will be handed out for the team with the best costumes/team spirit.
Additional information regarding host hotels, schedule of events, draw, rules and regulations, registration and sponsorship information will be posted to the website www.doodlespiel.com when available.
Each year, the committee seeks contributions to ensure the continued success of this event. The DOODLESPIEL committee is confident that, through the continued support of our industry partners, this year's bonspiel will continue to be a first class event. Your level of support will be acknowledged throughout the weekend by means of numerous sponsorship boards, banners, announcements, as well as being posted on the DOODLESPIEL website all year round.
Sponsorship levels are as follows:
Sheet Sponsor ($1750), Platinum Sponsor ($1200), Gold Sponsor ($750), Silver Sponsor ($500)
For questions regarding sponsorship opportunities, please contact Andreas Georgousis at andreas.geogousis@rci.rogers.com.
Without the exceptional and continued support that this event receives annually, we could not continue to provide the level of competition and fun for which the DOODLESPIEL is renowned.
Trent Olson,
Chairman,
2015 CSEG Doodlespiel
Ski Spree 2015 Registration Information
The 2015 CSEG Family Ski Spree committee would like to invite you and your family to the 48th Annual CSEG Family Ski Spree in Fairmont, B.C. to be held from February 20th – 22nd, 2015! Reconnect with your family and old friends and make some new ones on this fun filled weekend! These are the memories your family will cherish for years to come... Take in a little friendly competition in the ski and snowboard races (all ages and skill levels), a kids obstacle course and scavenger hunt or unwind in the Hot Springs and at age appropriate social events with games and crafts planned for adults, teens and small children.
The CSEG Family Ski Spree is an extremely popular event in the Geophysical Industry with nearly 400 attendees every year, so don't miss your chance and reserve your spot by ensuring you do the following:
Registration is on a first come first serve basis so send it in as soon as possible. Applications are only accepted when accompanied by full payment for registration.
Hotel Reservations will be made by the committee, on your behalf. Please ensure you include your room reservation requests with your application and registration payment.
Previous year's room allocations are held until January 15, 2015. For those looking to upgrade their current room, the earlier you register, the better the chances of obtaining one of the handful of special rooms that become available.
Mark your calendars on your Apples, Oranges, Blackberrys and Blueberrys – this is a family event you don't want to miss!
Registration applications will be available on the CSEG Ski Spree website at www.csegskispree.com.
Sincerely, the 2015 CSEG Family Ski Spree Committee