Spring is in the air! I know, I am a native Calgarian and should know better, but I am a glass (red wine preferably) half full type of gal. Well, this is my debut article, so please, be gentle. For those who don't know me, I am an Account Manager for the Canada Data Library at CGGVeritas and was asked to take over the Grapevine article for Kristy, so here I am. I want to thank Kristy for her past submissions to the Grapevine, it will be big shoes to fill (or in my case Nine West high heeled shoes), but I will give it a try – now let's get to the real news shall we...
2009 CSEG 42nd Annual Family Ski Spree
This year's Ski Spree was another fabulous weekend of family fun! The weather was perfect for an afternoon of racing on the ski slopes. The kids were all enjoying themselves with the snow snake hunt, crafts and scavenger hunt. Everyone always enjoys the hot springs pools, hot wheels car race and camaraderie that takes place with the event.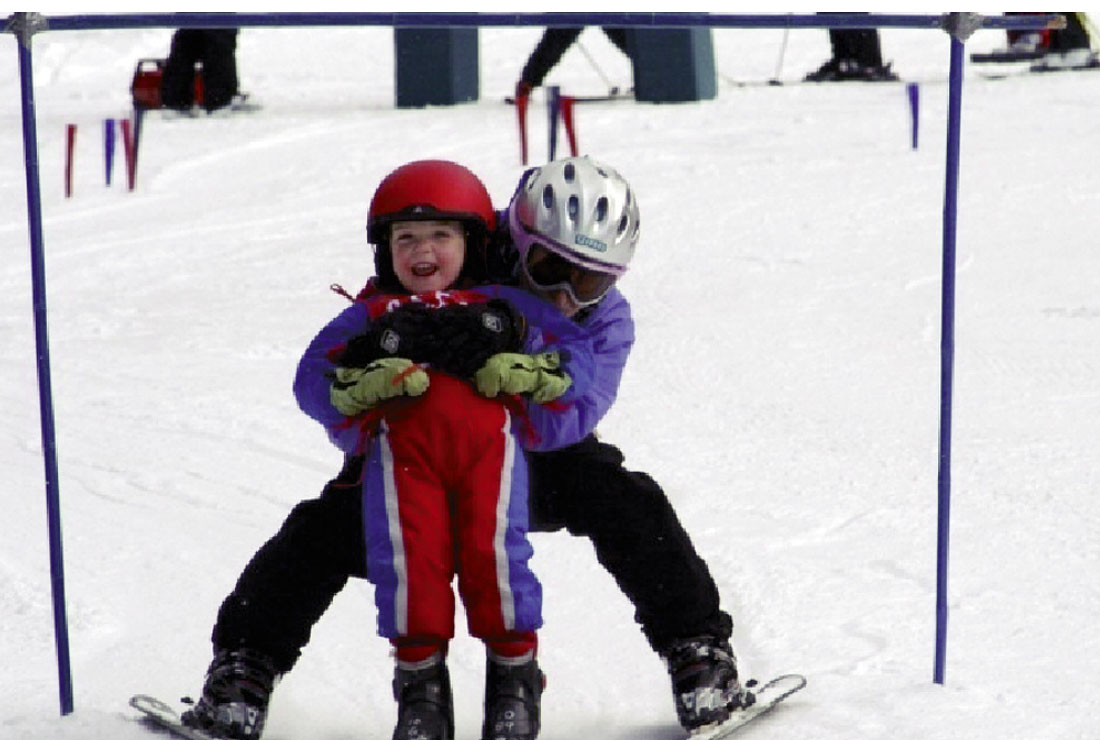 A special award that is given out each year is the "Mr. and Mrs. Ski Spree". The year's recipient was Kelly and Dawn Zamiski for their years of attending and contributing to the event.
Congratulations! Mr. & Mrs. Ski Spree, Dawn & Kelly Zamiski
A new addition to the event this year was a charity raffle to support ALS Society. It was chosen in honor of Barb Quirk, a long time attendee and volunteer of the Ski Spree. A donation was made to the ALS in the amount of $1,560.00. Thanks to all those who supported the cause!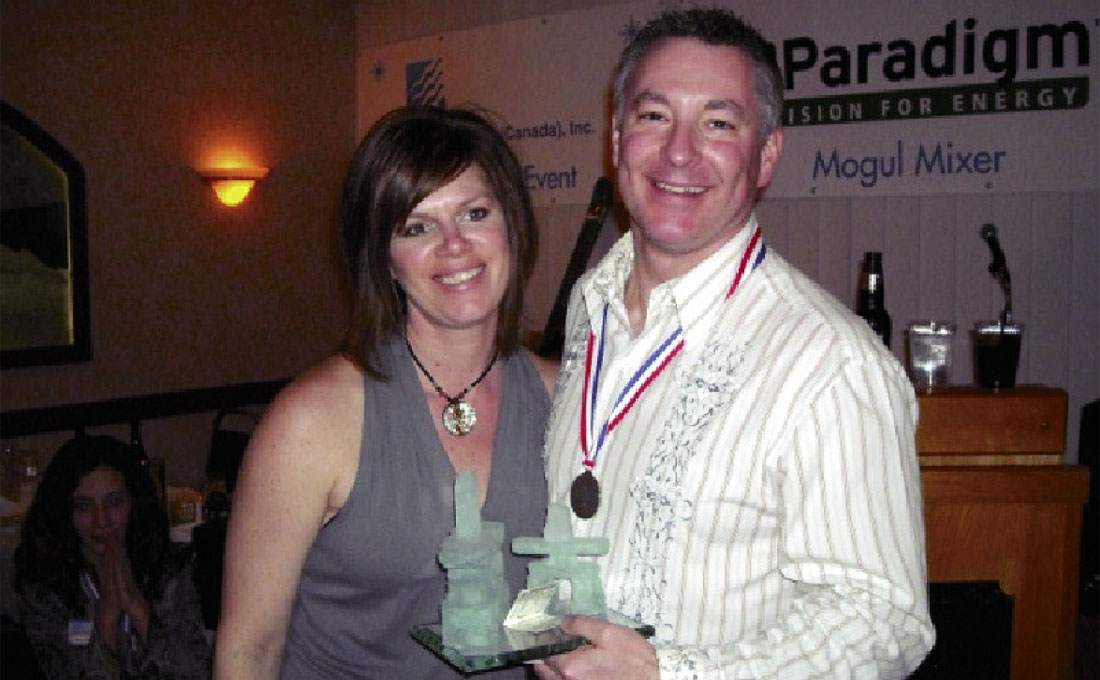 This year's event was held a few weeks later in the year, putting separation between the CSEG Doodlespiel and Ski Spree. You can mark February 26-28th, 2010 on your calendars for next year's event.
The success of the Ski Spree is dependent on the support of industry sponsors, a dedicated Ski Spree Committee and the wonderful group of attendees. Thank you for making it another memorable year!
Thank you,
Zoe Ferguson, 2009 Ski Spree Chair
Telus World of Science
Calgary has committed to an exciting $160 Million project to build Canada's first new science centre in more than 25 years. The New Science Centre 2011 Project has already received equal support from all three levels of government – federal, provincial and municipal, amounting to $120 million. This new facility will be a world-class interactive learning centre with diverse and ever-changing exhibits unparalleled in Calgary and Southern Alberta.
"By showing support for TELUS World of Science and the New Science Centre 2011 Project, the Government of Canada, along with the other two levels of government, are demonstrating their tremendous vision for the future of Calgary and the long-term benefits that informal learning organizations have on the community," says Jennifer Martin, President & CEO of TELUS World of Science – Calgary.
The New Science Centre 2011 Project is shovel-ready and will begin construction later this year. On 15 acres of land north of the Calgary Zoo, the new TELUS World of Science will be more than 153,000 square-feet and equipped to welcome up to 500,000 visitors annually. Guests can look forward to four new feature galleries, an impressive atrium, the Werklund Foundation Learning and Leadership Centre and a new Discovery Dome Theatre. The new centre will provide science, art and technology learning opportunities for guests of all ages – children, teens and adults.

For sponsorship opportunities or more information on the New Science Centre 2011 project, visit www.newsciencecentre2011.ca.
Seismic Source Names Bob Heath as International Sales Manager to Support Growth Initiatives
Seismic Source, an Oklahoma-based manufacturer of a wide variety of seismic instruments and data acquisition systems is pleased to announce that Bob Heath joins them as International Sales Manager. Bob brings with him over three decades of land seismic acquisition, sales and marketing experience. The company's product line includes hardware and software for Oil and Gas Exploration, Seismology, Structural Monitoring, Seismic Site Evaluation, Civil Engineering and Industrial Vibration Monitoring. Its latest product, the cableless land seismic system, "SigmaTM" is the world's first next-generation multi-purpose seismic recorder, and has recently been successfully demonstrated on field trials. SigmaTM will be sold and marketed though a new company – iSeis, the International Seismic Company.
Volunteers & Donations Needed!
Volunteers needed! The Light Up The World Silent Auction has been part of the CSEG convention for five years, raising awareness and funding ($52,000 to date) for this most worthy endeavour. LUTW is a Canadian humanitarian initiative whose chief goal is to assist the poor in the developing world to obtain affordable, safe and environmentally friendly White Light Emitting Diode based home lighting powered by renewable energy sources. Find out more at www.lutw.org.
Please keep an eye out at the C3Geo Convention for the auction tables, located on the exhibition floor, along with information about the LUTW organization. The Auction will be open on the Monday and will be concluding at the end of the exhibits day on Tuesday.
Sean Callaghan, Aguila Exploration Consultants, is the coordinator of the silent auction this year, and if you are interested in joining the team or donating please phone Sean at 403-819-4190 or email scallaghan@aguila.ca.
WiSE Annual Golf Tournament!
Save the date! The annual Women in Seismic golf tournament will be held on Monday, August 10th, 2009 at the Fox Hollow Golf Course in Calgary. It is an annual event to provide a fun networking opportunity and to help raise funds for the Alberta Cancer Foundation.
Danielle Harrison, Divestco, WiSE Chairman, will be providing registration and sponsorship information shortly. Please contact her directly if you have any questions: danielle.harrison@divestco.com.