Welcome to March! This is the last Grapevine I get to write for two years... yes, I know you are all MOST sad by this turn of events... but, I am taking on new responsibilities on the CSEG Executive, thus cannot continue to be a regular columnist… sigh. That said, I have found a most suitable replacement, and one who works right down the hall from me. Lorna Engleson from CGGVeritas fame will be taking over Grapevine duties starting in April. She and I will be overlapping next month, so until then, please...
2009 CSEG Doodlespiel Results
Many thanks to all those who participated in the 2009 CSEG Doodlespiel held in Banff and Canmore January 30 to February 1 this year. In total we had over 400 members participate with 64 teams in the main event and 24 teams in the holeplug division. After three grueling days of non-stop curling the results were as follows:
A Event
Alan Richard led his team of seasoned veterans to a final match victory over the Sterling Hansen team in a dramatic, down to the wire, last match. Third place was shared by the Robert Pike team and the Garry Kelman team. (See photo following.)
B Event
The Rob Langill team took first in the B defeating the Dave Timko team in a riveting final game. Third was shared by the teams skipped by Dale Johnson and Brad McDonald.
C Event
The James Wenzel team gave a good fight but eventually fell to the Bob Bleaney team who took first place in the C. The third place runners up were the Kevin Mullie team and the Sandy Jenkins team.
D Event
The Andy Williamson team bested the Chris Barton team taking first in the D. Third went to team Trevor Meier and team Rey Javier.
Holeplug Event
The returning champs led by Kim Hedin defeated team Rob Doroshenko to win the Holeplug for the second year in a row. Third place went to the Jared Atkinson team.
Congratulations to all of the event winners! Complete player rosters for the winning teams are available on the Doodlespiel website at www.doodlespiel.com.
We would also like to extend our sincere thanks to all of our generous sponsors who are essential to making this event such a success. Sponsorship support makes up a significant portion of the Doodlespiel's annual operating budget and it allows us to keep entry fees as low as they are. To view this year's sponsors please visit the Doodlespiel website.
Next year's Doodlespiel event has been scheduled for January 29, 30 and 31, 2010. Once again we're hoping to be able to return to Banff and Canmore but a planned Banff Curling Club expansion will present some unique challenges for the coming year. Visit the Doodlespiel website for complete details in late September 2009.
2009 CSEG Doodlespiel Committee
Armin Schafer, Chairman
Morgan Steeves, Past Chairman
Hillar Lilles, Vice-Chairman
Cam Moore, Finance
Victor Irwin, Sponsorship
Dave Swagar, Sponsorship
John Bertsch, Housing and Special Arrangements
Roger Edgecombe, Housing and Special Arrangements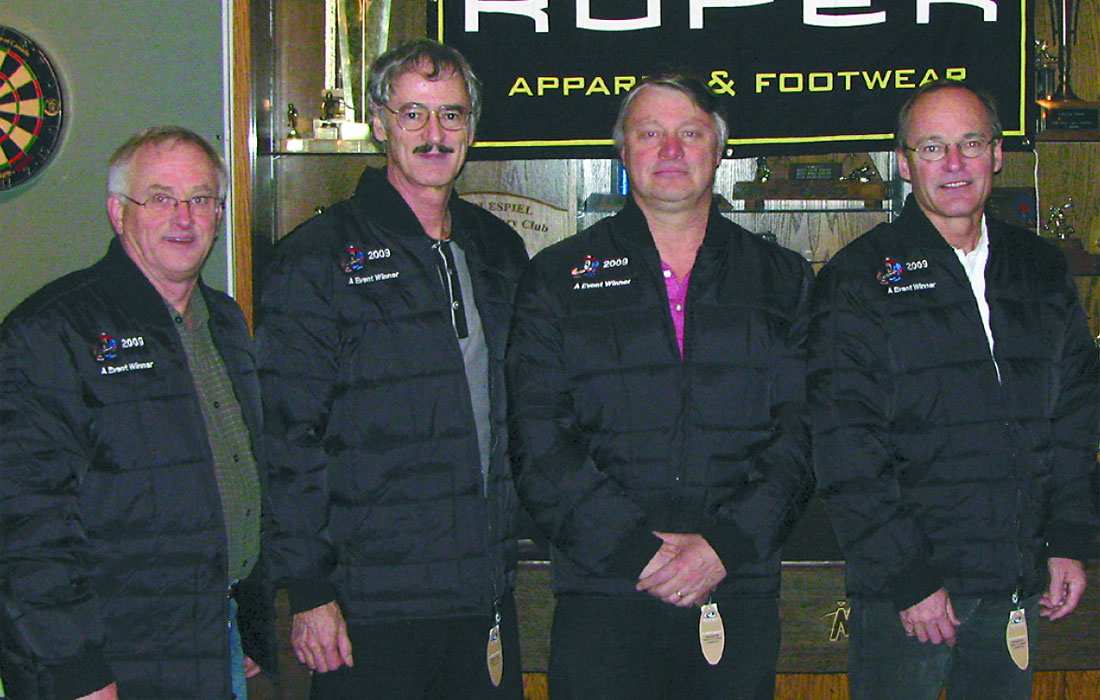 WIUGC 2009 Thanks the CSEG!
The tradition continues as geosciences students from across western Canada came together for the 45th annual Western Inter-University Geosciences Conference WIUGC) this past January. This year's conference was held in Vancouver and hosted by the geosciences students of the University of British Columbia.
We were joined by students from the University of Alberta, University of Calgary, University of Saskatchewan, Douglas College, Langara College University of Northern BC, University of Manitoba, Simon Fraser University. In addition, this year we had had the privilege of being joined by students from the University of Oregon and the University of Alaska (Fairbanks). Together with industry guests, including CSEG representatives, Stephen Kotkas and Lori Barth, the conference continued its legacy of students presenting their research through posters and technical presentations, as well as creating a venue for students to get to know fellow students, industry professionals, and potential future colleagues. Preparations are already underway for the next WIUGC being hosted by the University of Saskatchewan.
The University of British Columbia and the WIUGC 09 would like to thank the CSEG, and specifically the CSEG Outreach for your contribution to this year's conference. UBC and future Western Inter-University Geosciences Conferences look forward to your sponsorship in the future. We truly value your participation and support of student research through your award for the best student geophysical presentation.
Sincerely,
Ehsan Salmabadi, 2009 WIUGC Chair
Transform Software and Services Inc. Opens Canadian Office
Transform Software and Services Inc. opened its Canadian sales and support office this week in the center of downtown Calgary, Alberta. Located in the Roslyn Building on 4th St, and 5th Ave, the Transform office is conveniently located to support current and future customers throughout Calgary and other Canadian markets. The new office will focus on providing Transform customers with the support, training and project services needed to extract the most value from Transform's TerraSuiteTM software. Additional office roles include local business development and facilitating communication with corporate headquarters located in Littleton, Colorado to ensure that Transform's leading-edge technology meets the unique requirements of Canadian customers.
The Calgary office will be managed by Mark Tobin, a proven problem-solver of Canadian E&P challenges. As Canadian Account Manager for Sales and Support, Mark will work with existing and emerging Transform customers to tackle the unique reservoir challenges of subtle plays, shale gas, heavy oil and other opportunities in the Western Canadian Sedimentary Basin, Atlantic regions and beyond.
Mark comments, "Our customers in Calgary are looking for new ways to improve the role technology plays in extracting, analyzing and integrating critical geophysical, geological and engineering information. Transform provides workflow based technology that enables end-users to accomplish "Next Generation" workflows that traditional legacy software can't. In conjunction with our software offering, the local office will provide support and consulting services tailored to the Canadian market. The focus of the Canadian office is to streamline the adoption of Transform technology by Canadian customers – ensuring efficiencies in start-up, transition, integration and skills development".
Transform Software and Services, Inc. is a leading software innovator in the E&P industry, targeting major unconventional and conventional reservoir challenges. Established in 2004, Transform has developed powerful visualization and interpretation technology spanning geophysical, geological and engineering workflows for tight-gas, heavy-oil, and most unconventional reservoirs. Transform's software suite, comprised of: TerraViewTM, TerraFusionTM Prospect, TerraFusionTM Interpretation and TerraMorphTM; integrate, automate and simplify the analysis of seismic, micro-seismic, tiltmeter, well log, VSP, and many other E&P data types.
Contact Mark Tobin at (403) 668-9530 or at mark@transformsw.com for more information.
C3GEO – Silent Auction Needs Donations!
As you probably know already, the CSEG, CSPG and CWLS will be having their joint convention May 4th to May 8th, 2009 at the Stampede Roundup Centre in Calgary. As part of our convention and commitment to our community, we will be holding our sixth annual charity event and silent auction on Tuesday, May 5th, 2009 from 4 pm until 6 pm. We have raised over $67,000 to date with our silent and live auctions.
This year the proceeds will once again be going to Light Up the World (www.lutw.org), which was founded in Calgary. LUTW is a Canadian humanitarian initiative whose chief goal is to assist the poor in the developing world to obtain affordable, safe, and environmentally friendly White Light Emitting Diode (WLED) based home lighting powered by renewable energy sources.
LUTW projects have brought tangible social, environmental and economic gains to communities by enhancing their health and safety, fostering local education, helping to develop an economic infrastructure, and protecting the physical environment by reducing the amount of carbon based fuels used for lighting. Over 100,000 people have been impacted directly by this new and innovative approach to development. LUTW's goal of reaching approximately 2 billion people worldwide without access to electricity or proper lighting is ongoing.
We invite you to be a part of this worthy cause by generously contributing products or services for the silent auction. If you can help out with a donation or if you would like to work on the committee for the silent auction please contact Sean Callaghan at scallaghan@aguila.ca or 403-819-4190. Your support is greatly appreciated.
(Kristy's aside: as one of Sean's Silent Auction Committee members... I know it's a rough year for many companies, and promotional budgets have been seriously impacted, so any help you can give would be greatly appreciated... not only by the committee, but also by the people the LUTW group helps. Thanks!)