Dear Grapevine Readers,
I hope everyone had a fantastic summer. As some of you might be aware, I will be off on maternity leave as of October. In my absence, Nicole Collard of Divestco Inc. will be taking over my duties with the Grapevine Column. Please contact Nicole with any information you would like included. Or, even drop her a line to introduce yourself! Nicole would appreciate hearing from you.
LunchBox Geophysics Back by Popular Demand!
LunchBox Geophysics are back again with 2 sessions in September and October. These are informal free sessions where attendees bring their own lunch.
State and capabilities of land instrumentation in the industry today.
Nigel Thorburn (Sercel Inc.) and Howard Watt (Veritas DGC Land Inc.)
Friday September 17, 2004, noon to 12:45
Aquitaine Auditorium, +15 level of 540 - 5 Avenue S.W.
Seismic Modelling: An Essential Interpreter's Tool
Gary Margrave and Peter Manning
Gary Margrave (University of Calgary)
Thursday October 7, 2004, noon to 12:45
Aquitaine Auditorium, +15 level of 540 - 5 Avenue S.W.
Gary's talk was previously done at the CSEG convention and he was asked to do it again by popular demand.
The Second Annual Doodle Train begins in November
The CSEG Continuing Education Committee proudly presents the second running of DoodleTraining Week from November 1-5, 2004. Some of the industry's most renowned instructors will be here to present some excellent courses. Our course list is designed to appeal to everyone from support staff to geophysicists and geologists. Click here to see more information on courses offered and how to register or phone the CSEG office at 262-0015. http://cseg.ca/education/doodletrain
LYNX Seismic's Latest Software
LYNX Seismic is now employing its latest seismic vectorising software on a production basis. This is another big step forward for LYNX which can now digitize VDR and full colour variable intensity plots in addition to typical black-and-white wiggle and VAI sections. Read about it on the new LYNX web site, www.lynxseismicdata.com.
First Nations Visited the CSEG Convention in Calgary
The CSEG Convention Steering Committee provided complimentary passes to a delegation from the Northwest Territories to visit the convention this year. Here is a summary of their experience.
Recent Developments in the Northwest Territories
Recent developments in The Northwest Territories have created the potential for significant economic growth and development. The Mackenzie Gas Project is viable, several new oil and gas wells have been drilled, land sales have been good, there have been significant diamond mines established and all weather roads and bridges are proposed. In most cases Land Claims have been settled and the respective Access and Benefits Agreements are clearly spelled out.
Perhaps those who recognize this potential the most are political leaders and business owners operating within the Sahtu Dene/Metis Comprehensive Land Claim. An example of this was the delegation from the Tulia and Fort Goodhope area who attended the CSEG Convention this year. The delegation attended the Convention on their own initiative to meet prospective companies who could be operating in their area in the future . With the terms of the Land Claim clearly spelled out, political and business leaders from the area want to be well positioned to take advantage of future economic growth and development. The trip to the CSEG, initiated by the delegation, created new north / south business contacts and since the Convention several joint venture agreements have been signed or proposed.
The delegation would like to thank the CSEG Convention Steering Committee for their generosity in supplying one day passes for each of the attendees.
Here are the names starting from the right and working to left.
Andrew Bails – North-Wright Airways Ltd. • Lorraine Doctor – Bushmaster Catering & Vice President of the Tulita Land & Financial Corp. • Gordon Yakeleya – President Tulita Land & Financial Corp. • Jimmy Mendo – Willowlake Environmental Ltd. • Danny McNeely – Sahtu Contractors Ltd. • Absent from Photo are: • Chief Ronald Pierrot – Chief Fort Goodhope • Michael Widow – MacKay Range Contracting Ltd. • Willie McNeely – Sahtu Contractors Ltd.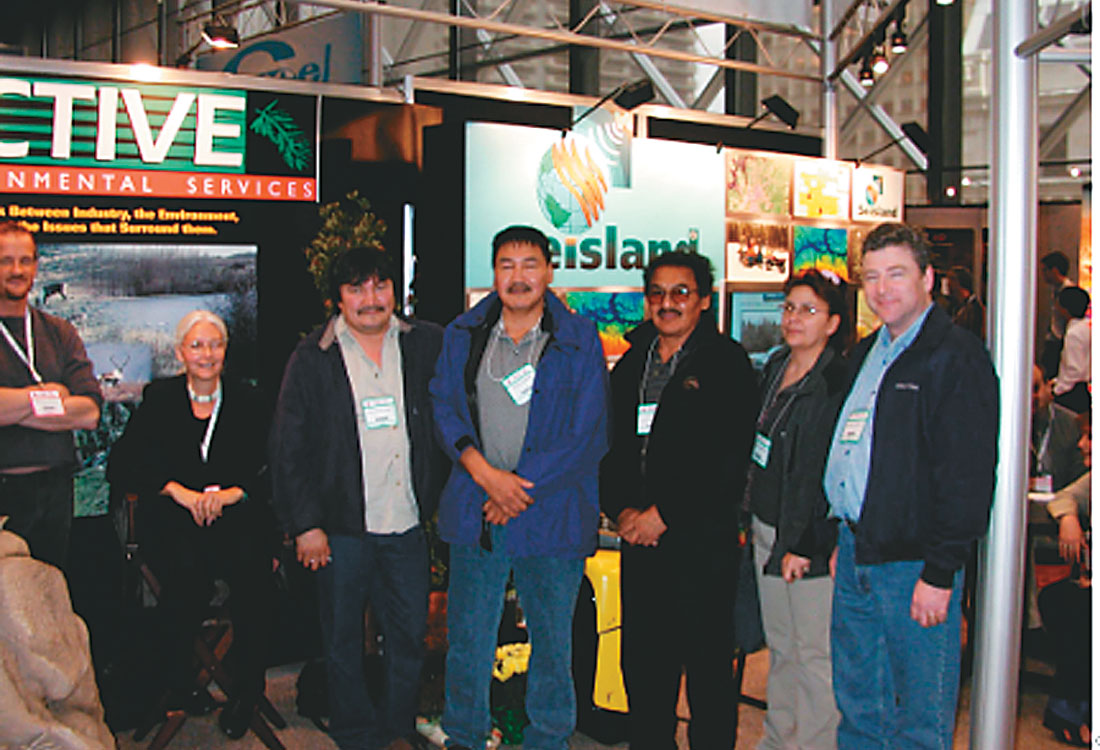 Companies on the Move…
macdonaldcole inc. (mci) have moved into new office and warehouse space. New address is 219, 11979 - 40 Street SE Calgary Alberta T2Z 4M3. Telephone and fax numbers remain the same. Web address is www.macdonaldcole.com.
Press Releases from Roxar
Roxar Announces Major Russian Expansion
Moscow, Russia, 8 June 2004. Roxar, a leading technology solutions provider to the upstream oil and gas industry, today announced that it will be expanding its operations throughout Russia and neighboring CIS countries through the opening of new offices in Kazakhstan and Tyumen.
The expansion will see Roxar almost treble its workforce in its Moscow office as well as in the regional offices in Kazakhstan and Tyumen. Roxar's target customer base will continue to be Russian & CIS companies and multinationals operating in Russia & the CIS with the product focus being Roxar's software and flow measurement tools for the E&P (Exploration & Production) industry.
Roxar wins a frame agreement extension in Qatar for its permanent downhole monitoring systems
Stavanger, Norway, 24 June 2004. Roxar, a leading technology solutions provider to the upstream oil and gas industry, has entered into a three-year frame agreement with Occidental Petroleum of Qatar (OPQL) for the provision, installation and servicing of downhole instrument systems for permanent temperature and pressure monitoring.
Since 2001, Roxar has delivered 35 downhole pressure and temperature monitoring systems to OPQL. The equipment is being used to assist OPQL in the reservoir management of their offshore Idd El Shargi and North Dome developments.
About Roxar
Roxar is a leading international technology solutions provider to the upstream oil and gas industry. The company creates value for its customers through innovative products and services that help optimize production and maximize recovery from oil and gas reservoirs.
With its head offices in Stavanger, Norway, Roxar employs 400 staff across a network of wholly owned offices in Europe, the Americas, Africa, Asia Pacific and the Middle East. Founded in May 1999, the company generated revenues of US$85 million in 2003. Roxar's International customer base includes all of the multinationals, major independents and the majority of national oil companies.