May is fast upon us and the Great Explorations 2004 CSEG National Convention is quickly approaching. I hope to see you at this year's conference and look forward to hearing about the Hospitality Suites and highlights during the Convention.
2004 CSEG Exhibits Committee Hosts Forum
On Wednesday, February 25, 2004 the 2004 CSEG Exhibit Committee held a Public Forum for the purpose of designing the Exhibit Floor for the convention in May. All companies that were accepted to exhibit at the convention w e re invited to attend the forum and participate in designing the Exhibit Floor. The companies selected the location of their booth based on a predetermined priority ranking. This was the first time that exhibiting companies were invited to participate in a "transparent" process of designing the Exhibit Floor.
The forum was held at Malcolm's in Fifth Avenue Place and was attended by representatives of over 50 companies. There were a few bumps along the way, but they were handled in an expert manner by Jeff Crowhurst (Allied Seismic), Dave Swagar (Western Explosives) and Terry Symington (EMP Ltd.) Feedback from the event has been positive and the Exhibit Committee would like to thank everyone for participating.
Divestco Knights Win World Cup!
The Divestco Knights Hockey Team has lots to cheer about this year as they take home the World Cup. In March, the Knights entered the Western Canada Regional Championships in Vancouver and won the CARHA World Cup division.
The hockey team, originally known as the Oil Kings, was formed in 1988 by Derek Boeckx of Esprit Exploration. The Knights consist of a high percentage of oil patch players with 8 regular players being members of the CSEG. On their winning roster in Vancouver, the Knights had 6 CSEG members in the line up.
Derek Boeckx and Team would like to thank their sponsors Divestco and Synterra Technologies.
Congratulations Team!
The players pictured in the photo are from left to right:
Back Row: Tom Podivinsky (CSEG), Charlie Goodwin, Neil Groeneveld, Jason Nycz (CSEG), Dan Sturko (CSEG), Derek Boeckx (CSEG), Geoff Thio, Dion Lobreau.
Front row: Terry Barnhart (CSEG), Trevor Sedgwick, Rob Anderson, Colin Ranger, Scott Hanson, Neil Garritty.
Missing from photo: Marc Houle (CSEG).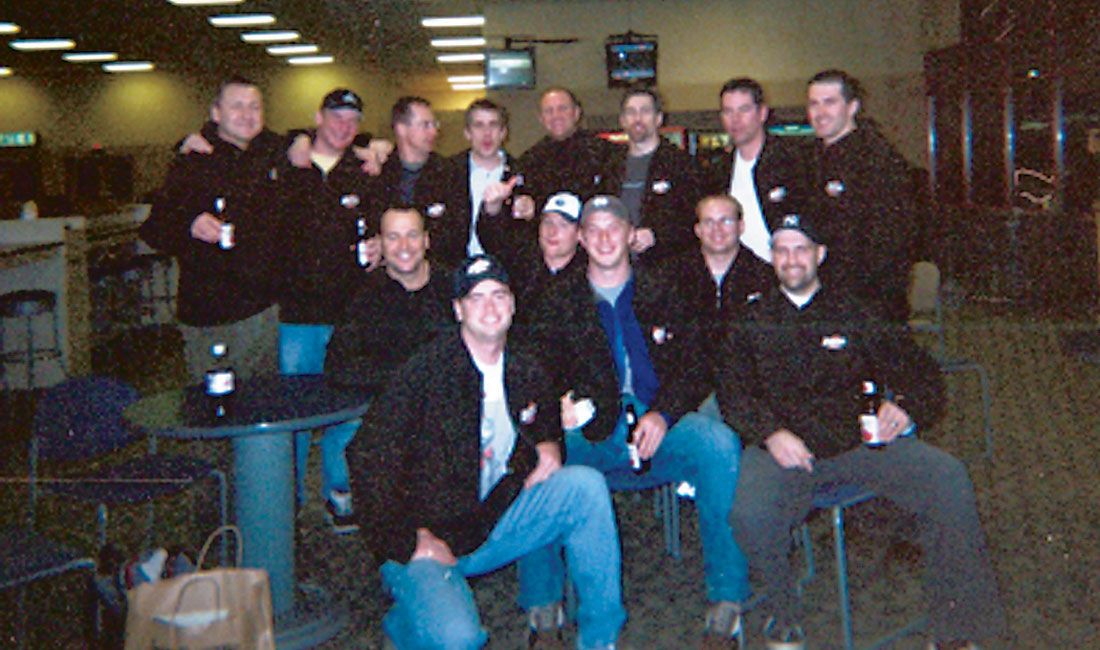 Schlumberger $16.7 Million Software Donation to Support Southern Alberta Institute of Technology Petroleum Engineering Programs
CALGARY, March 30, 2004—Schlumberger Information Solutions (SIS) today announced that it has contributed a package of ECLIPSE* reservoir simulation software and the popular Merak® Peep® economic evaluation and decline analysis application software to the Southern Alberta Institute of Technology (SAIT). Valued at $16.7 Million, the comprehensive package of geoscientific, reservoir simulation, economic evaluation, and decision analysis software applications will enhance the quality of education in geosciences, especially in oil and gas reservoir characterization and economics.
"The software will be used to broaden student exposure to state-of-the-art software currently used by companies in the energy industry," says Dr. Faramarz Azar-Nejad, an instructor for SAIT's Bachelor of Applied Petroleum Engineering Technology program.
The Schlumberger Worldwide University Software Program is part of a global Schlumberger initiative begun in 1998, with the idea of providing students and staff of Earth Sciences Departments all over the world with hands-on experience of E&P and simulation software.
Schlumberger is the world's leading oilfield services company supplying technology, project management and information solutions that optimize performance for customers working in the oil and gas industry.
Contacts:
Linda Silinsky-Kephart
Manager, External Communications
Schlumberger
Tel: 281-285-4270
E-mail: silinsky@slb.com
ACE Explosives Host Hospitality Suite – Change of Venue
Ace Explosives is hosting a hospitality suite after the CSEG Convention on May 11th, 2004 from 6:00pm until 9:00pm. The Suite is located at the Convention Center, Glen room #209, plus 15 level. Everyone is welcome and ACE looks forward to seeing you.
Paradigm Reinforces its Presence as a Leading Service Provider to the Oil and Gas E&P Industry
LONDON, April 22—Paradigm, the premier global provider of advanced petroleum geoscience and drilling technologies to the oil and gas exploration and production industry, announced today that it has acquired the assets of the Reservoir Technologies Division ("RTD") of Core Laboratories N.V. RTD is a leading provider of seismic data processing and depth imaging services to the E&P industry. The acquisition, together with Paradigm's long-term investment in geoscience technology, further establishes Paradigm's Services Division's position as one of the world's premier competitors in geophysical services.
Core Lab's Reservoir Technology Division has many years of experience and market leadership in both land and marine time and depth processing throughout the United States, Canada and Mexico. Paradigm will immediately gain strong synergies in its service capabilities from the transaction, which will complement its extensive integrated product portfolio of processing, imaging and reservoir characterization software. The combined suite of services and products assure s Paradigm's transformation into a global geoscience force , uniquely focused on the delivery of geoscience knowledge.
According to Eldad Weiss, CEO of the Paradigm Group, "The acquisition of Core Lab's Reservoir Technologies Division demonstrates our commitment to setting a new standard for the highest quality service and deliverables to our clients in the E&P industry. We are confident the combined experience, relationships, compute power and technical expertise of the Paradigm and RTD services groups will make us the provider of choice for subsurface and reservoir imaging solutions. Our products and technologies are complementary, with the result that the ultimate beneficiaries of this transaction will be the customers of both companies."
2004 Ski Spree at Fairmont Resort
This year's CSEG Ski Spree held at Fairmont Hot Springs and Resort was another successful event. The weekend was a sell out as CSEG friends and family hit the slopes. Here are some photos taken over the weekend. The committee looks forward to seeing you next year.