Thank you to everyone reading this first fully digital version of the RECORDER! I am writing this update the Monday following the CSEG Doodlespiel, and once again would like to thank the Doodlespiel Committee, and specifically their Chairman, Dan Perez for putting on a stellar event. I will have a full report for April's issue, and photos of our winners!
Petrel Robertson Consulting Ltd. on India Trade Mission
The Alberta Government, in conjunction with Global Affairs Canada and Export Development Canada, led a trade mission to New Delhi, India from December 4 to 10, 2016. Petrel Robertson was one of eighteen companies selected to represent the oil and gas industry from Alberta. The trade mission provided opportunities for one-on-one meetings with potential joint venture partners, national oil companies, agents, and producers.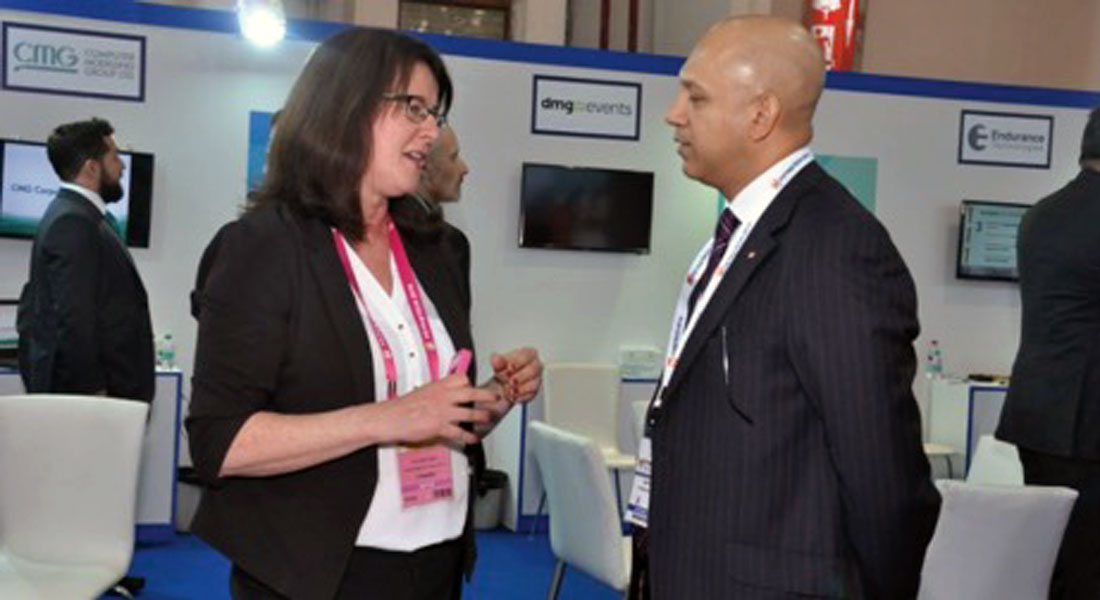 The trade mission also participated in the Petrotech 2016 Conference which was an excellent platform for Alberta companies to meet with specialists and experts to discuss business opportunities within the Indian oil and gas industry. Kathleen Dorey, Managing Partner represented Petrel Robertson during the Alberta trade mission and at the Petrotech 2016 Conference and also had the opportunity to meet with Canada's High Commissioner to India, Nadir Patel (above).
Earth Science for Society (ESfS) 2017
The 7th annual ESfS exhibition will be held on March 19-21, 2017, at the Big Four Building, Stampede Park. The 2016 ESfS event welcomed over 2500 enthusiastic attendees, including grade school students, Scouts, Girl Guides, teachers, parents and members of the general public. This event would not have been possible without the valued contributions received from our generous sponsors, dynamic exhibitors and energetic volunteers. If you or your organization is interested in supporting this great event by volunteering or becoming an exhibitor or sponsor, please visit the ESfS website (http://esfscanada.com/) for more information.
Welcome to the 65th CSEG Doodlebug!
September 8-10th, 2017 – Banff Springs Golf Course / Moose Hotel & Suites/Ptarmigan Inn Banff, Alberta
The CSEG Doodlebug Golf tournament is one of the premier social events of the Canadian Society of Exploration Geophysicists. Each year members of the society gather to determine who will reign as Mr. Doodlebug, the Champion Golfer of the CSEG.
The Doodlebug Golf Tournament started in 1953 and has been handed down to succeeding generations and has continued in many changing formats. This year we are excited to announce that the event will return to Banff for the first time since 2000. Members of the CSEG are slotted into flights of eight, where players go head to head in match play, on day one. The overall winner of each flight will be determined in stroke play format during day two.
This year's event will be condensed into an action-packed weekend. The Doodlebug will start with a Friday Night Icebreaker, golf rounds will be played Saturday and Sunday morning. There will be a Saturday Night dinner and dance, and a golf awards ceremony on Sunday afternoon in the clubhouse. Spouses and significant others are welcome and encouraged to attend, with a full program of guest entertainment.
As with all CSEG social events, all members are invited to join the Doodlebugs in Banff.