Student Mentorship, ASEC, Challenge Bowl & GIFT
Mentorship
Nathan Fester
The end of the 2013 University winter curriculum officially brought to a close the CSEG Foundation mentorship program's most successful year to date. In its fourth year, the program saw its mentorship pairings more than double from 21 to 46, with mentees hailing from Universities all across Canada. Along with the exceptional growth in the program, there was also a focus in maximizing our mentee/ mentor interaction. To this end, a mentor workshop and discussion forum was organized and held in January of this year. The feedback we received from our mentors was invaluable and will help us better support our mentorship pairings in the future.
The success of this year's campaign was celebrated on April 30th with the annual Mentorship wrap-up party. Mentors and mentees joined the organizing committee at Ceili's Irish pub for food, drinks and a good time. A big shout out to the reigning marshmallow structure contest winners captained by Dennis Ellison and Zoe Vestrum—Tetrahedrons for the win! The organizing committee would like to extend its thanks to everyone who came out for the year-end wrap-up. We would also like to thank each of our professional mentors who committed themselves to the program this year. Your continued support of this program allows us to continue to grow and is helping us develop successful professionals for the future.
The greatest success of this year was the feedback we received from both mentors and mentees. With that we have another big year planned when Mentorship starts up again in September. The first event is an Employability workshop planned for October for all of our program mentees. The focus of this event will be to prepare students for the coming hiring season, including advice on resume writing, interviewing and general traits that build a more employable young professional. In November we will hold an open mentor discussion forum and in January mentors will attend a follow-up to this year's very successful mentor workshop. Be sure to check the mentorship website for updates, including FAQs and mentorship goal-setting templates.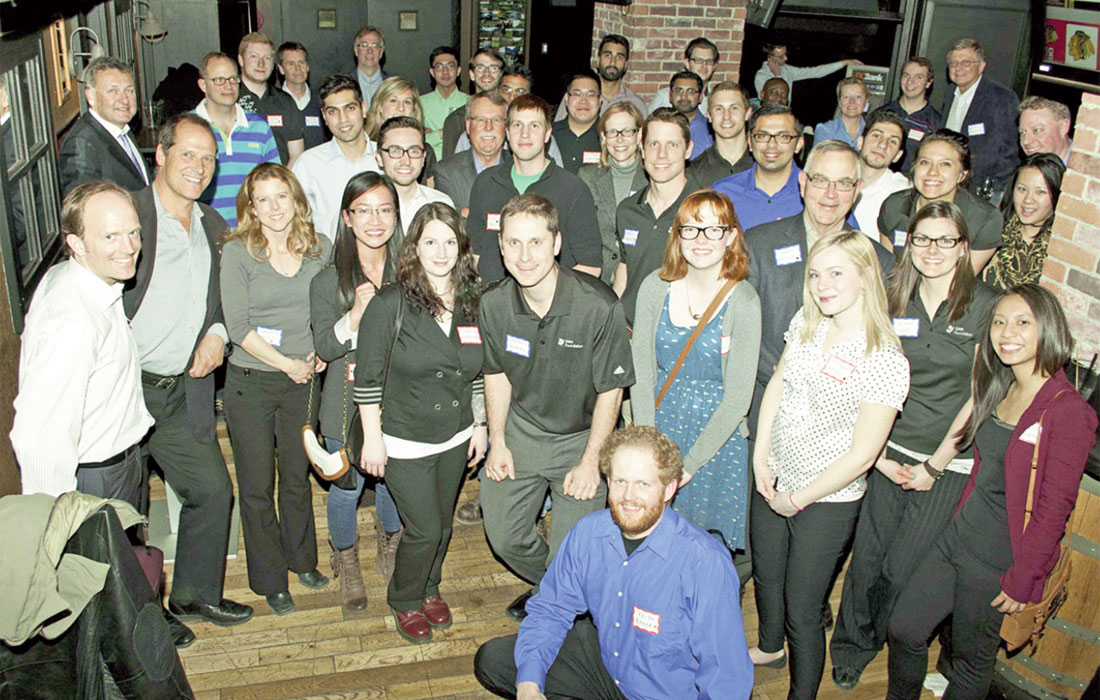 In order to keep growing this program we need the continued support of our professional community. If you are interested in becoming a mentor through the 2013/2014 school year please contact us at mentorship@ cseg.ca.
On behalf of the Mentorship Committee 2013, thanks again.
Paul Hausmanis (CNRL), Committee Chair; Jessa Lee (Apache), Vice Chair; Alex Shrake (Chevron); Nathan Fester (Tundra); Stephen Kotkas (Sigma).
Alberta Student Energy Conference (ASEC) 2013 Overview
Philip Butler, P. Geo.
The CSEG Foundation was a sponsor and participant in the 2nd annual Alberta Student Energy Conference (ASEC). The conference took place on March 1st, 2013, at the Calgary Telus Convention Centre. Major sponsors of the event included Cenovus, ConocoPhillips, APEGA, Suncor, Baker Hughes, Shell, and Enbridge.
This unique occasion allowed over 500 of Alberta's top students in the fields of geoscience, engineering and finance to engage in seminars regarding Canada's oil and gas sector. The educational portion of ASEC 2013 included presentations on bitumen extraction techniques (SAGD, etc.), market conditions, employment and environmental challenges.
The CSEG assisted the conference by providing volunteer geoscience professionals. This facilitated the networking portion of the event by allowing industry insiders to communicate directly with the student attendees. According to the CSEG volunteers, most of the student-professional networking involved discussions pertaining to job-seeking strategies, career planning and workplace preparation. CSEG volunteers included Stephen Kotkas, Phil Butler, Rick Green, Stephen Anford, Stephen Adeniran, Mark Lane, Jane Ling and Riyadh Ebrahimi.
The CSEG strongly encourages its members to inform their student contacts of the event. It's a wonderful platform for students to potentially get their proverbial 'foot-in-the-door.' It's also an excellent forum for employers to acquire new grad contacts.
More information and details on the conference and sponsors can be found at: http://albertastudentenergy.ca.
2013 Challenge Bowl
by Tiffany Piercey
The 2013 CSEG Foundation Challenge Bowl was held on Wednesday, May 8th during the week of the Annual CSPG/CSEG/CWLS Annual Convention at the Telus Convention Centre in downtown Calgary. The Challenge Bowl is an action-packed geoscience quiz game for geological and geophysical student members. The quiz show format features intense competition as the contestants attempt to buzz in first with the answers to challenging geoscience questions. Each year teams from different Canadian Universities compete for the grand prize – an expenses-paid trip to the SEG Annual Meeting.
This year nine teams from universities across the country competed head to head for the privilege to represent Canada at the SEG Annual Meeting in Houston. The University of Manitoba team, Tim Hayward and Taras Zaporozan, emerged the winners at the end of the third round of competition. They beat teams from the University of Saskatchewan, the University of Victoria, Simon Fraser University, the University of Calgary (GUSS and CREWES), the University of Alberta, McMaster University, Dalhousie University and Memorial University. We wish the best of luck to Tim and Taras as they travel to Houston to uphold the Canadian reputation as Global champions!
For more information about the global Challenge Bowl at the SEG Annual Meeting in Houston, please visit: http://www.seg.org/education/misc/challenge-bowl.
2013 CSPG/CSEG/CWLS Annual GeoConvention
by Tiffany Piercey
Student Outreach had a successful representation at the GeoConvention this year. The CSEGF University Student Outreach (USO) committee shared a booth again this year with the CSPG Student Outreach group. The hope was to meet as many Canadians students as possible, to encourage them to become student members of both societies and to bring them up to speed with all the current programs that we offer.
The USO volunteers were able to entice new student members to sign up to add to our constantly growing total, as well as help fill up spots for our Geophysical Industry Field Trip (GIFT) with students from across the country. The CSPG and CSEG committees also hosted a student networking event on Wednesday after the Challenge Bowl was completed. Over 100 students were in attendance!
Current student members were very grateful to be able to apply for and receive travel funding to travel to the GeoConvention through the Foundation's travel subsidies program. It's clear that the USO's programming and Foundation's funding is starting to have a profound influence on the student population across the country. We hope to continue that trend next year!
Geophysical Industry Field Trip 2013
by Alishah Nayani and Jeff Calvert
On June 6th 2013, the CSEG Foundation held the fifth annual Geophysical Industry Field Trip (GIFT). The previously daylong event has expanded and transitioned into a three day program, which not only consisted of being in the heart of downtown Calgary but also included a visit to the Canmore Museum and Geoscience Centre along with a geological hike to the Grassi Lakes area. These activities are meant to bridge the gap between a student's education and future professional career. This year's event brought together 42 geoscience participants from 12 different universities across Canada: Memorial, Dalhousie, McMaster, Queen's, University of Ottawa, University of Western Ontario, University of Toronto, University of Manitoba, University of Saskatchewan, University of Alberta, University of Calgary and Simon Fraser University. Venue host companies provided technical presentations and insight into their respective specializations, including seismic survey design, acquisition, processing and interpretation.
The first day began with technical presentations provided by Imperial Oil. Sean Contenti from Imperial Oil presented talks on the overview of the Cold Lake area and its challenges along with the latest methods of passive microseismic monitoring. Next, Joaquin Aristimuno and Michael Wamsteeker briefly touched on seismic acquisition parameters and gave an in-depth look into the interpretation of the depositional setting of fluvial systems. After lunch Lochlann Magennis gave a live interactive demonstration of a 3D seismic dataset, which provided students with an insight into techniques used to interpret seismic data from a highly challenging area.
The second half of the day was spent with Jason, a CGG Company, where students received an introduction to different inversion methods by James Johnson and Lamuail Bashir. Their presentation showed the advantages of performing an inversion as opposed to only interpreting with reflectivity data. Lamuail expanded on the uses of pre-stack inversion and utilized cross-plotting techniques in a case study scenario. Students were engaged through hands-on material and grasped concepts effectively.
To complete the first day, students attended a Sponsor Appreciation Mixer, where they were given the opportunity to network with senior industry professionals from GIFT's sponsors. In addition, attendees were also given the chance to network with other geoscience students.
The second day was divided into four sections. The first portion included a presentation by Domenic Raimondi at ARCIS Seismic Solutions, where he discussed aspects of seismic survey design. This was followed by an overview of seismic acquisition by Bruce McFarlane and his team at SAExploration. Students had a chance to view the facilities and were given the opportunity to explore the equipment. Once we completed our tour, we were given a presentation by the 2012 CSEG Foundation distinguished lecturer, Lee Hunt. He discussed ways to mitigate risk in oil and gas exploration not only with seismic data but also using other geoscience techniques. His talk was followed by a processing talk given by Charles Ursenbach of ARCIS. Our group then travelled to Canmore, where a BBQ was held at the Canmore Museum and Geoscience Centre. We ended the day with a guided tour of the museum and a short presentation by our distinguished guide Rick Green about the history of the museum, some significant geological features in the local area and also about his interesting career in geophysics.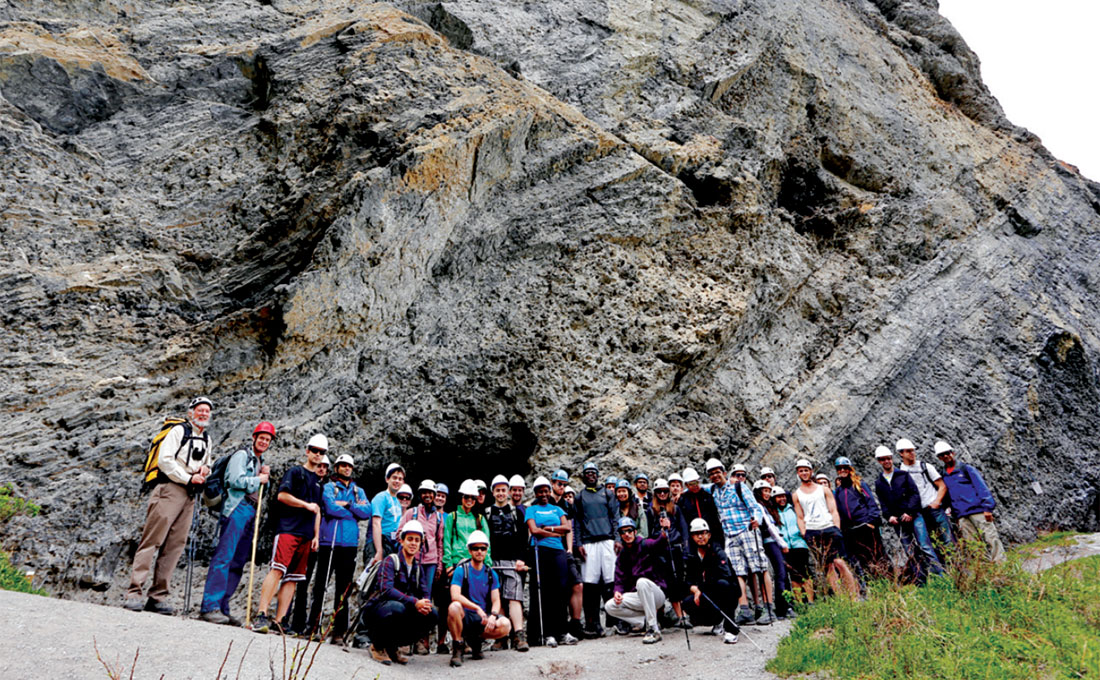 Our last day included an overview of the geological history of the Canadian Rockies, presented by Ben Gadd. To complete the weekend's festivities, the entire group went on a hike guided by Ben Gadd and Karen Chong to learn about the geology found in Canmore. On the hike we discussed the processes that were involved in forming the magnificent structures that we see today.
On behalf of the attending students and organizing committee we want to thank the CSEG Foundation, our sponsors, venue hosts, and volunteers for making this event possible. The extension of our program would have never been a success without a talented group of individuals and the generous financial support from our sponsors. GIFT's continuous growth has had an invaluable and positive impact on students across Canada.
Platinum Sponsor – Imperial Oil
Silver Sponsor – Talisman
Bronze Sponsors – CNRL, PetroBakken (Lightstream Resources), Bonavista, OSUM, ARCIS, and Jason, a CGG Company.
2013 GIFT Committee Organizing Committee – Daniel Loas, Stephen Kotkas, Tiffany Piercey, Alishah Nayani, Chris Chalcraft, Jordan Domin, Victor Hoang, and Jeff Calvert.
Distinguished Guide – Rick Green