Westmount School Presentation
In February I made a presentation on geoscience to students of Christine Crane, a grade 7 teacher at the new Westmount School in Okotoks. Rachel Green, my great niece, had initiated it. The presentation was on behalf of the Canmore Museum and Geoscience Centre and CSEG-F Outreach. I showed a powerpoint presentation of about 45 slides, which included lots of pictures of mountains and how they are formed, using the school's smart board, and I talked about my career as a geophysicist.
I had discussed the grade-specific content with the teacher to ensure a fit with the curriculum, and had given her the CSEG Teachers' package and some DVD movies that might be interesting for the class. Several days before the presentation I took to the school a number of posters on topics such as earthquakes, stratigraphic charts, rocks and fossils, surface geology, pictures of folded mountains and a seismic line. In addition, I took the CSEG banner and outreach materials.
On the day of the 50 minute presentation, two classes of students sat on the cleared floor (Figure 1). I put up the posters on both sides of the room. The CSEG computer, projector and banners were set up at the front of the room while another table contained rocks and fossils, some of which I passed around while I was presenting. There was some good interaction with the students and during the lunch period I chatted with some of the keener students. It was a great experience.
I started my presentation with a review of my geophysical career in the Arctic, recording earthquakes for the Federal Government, and in Calgary, Denver, New Orleans and Houston with Amoco Canada Petroleum Company Ltd. I continued with a simplistic discussion of my work at Talisman Energy Inc. in the Monkman area of NE British Columbia shooting seismic programs and drilling wells. I talked about oil and gas traps (source, reservoir and seal) and used the CSEG Mac computer and banner to show what a seismic wave looks like. A seismic line (compliments of Pulse Seismic Inc.) along Highway1A from Mt Yamnuska past Jumping Pound Gas field was shown and I discussed the financial rewards of finding oil and gas fields. Of course, while addressing students from Okotoks, it was important to point out the proximity to the Turner Valley Oil Field and to make some comments about the "Big Rock" glacial erratic near Okotoks. I also talked about the traits and abilities that would be helpful to a geophysicist – solid training as a geophysicist, experience, careful preparation and good presentation skills, persistence, team work, and hard work. Seeing one's ideas tested by the drill bit makes for an exciting career.
The teacher wrote a very nice thank you note. She said "It was our pleasure and honour to have Rick Green speak to 86 of our grade 7 Science students on February 15 for 50 minutes. Rick used an engaging powerpoint, seismic projections, at least 50 posters, and at least 20 rock samples including core samples and fossils". Her letter ending by saying "Rick's enthusiasm and passion for his field of study was contagious to the students and we look forward to future presentations from him."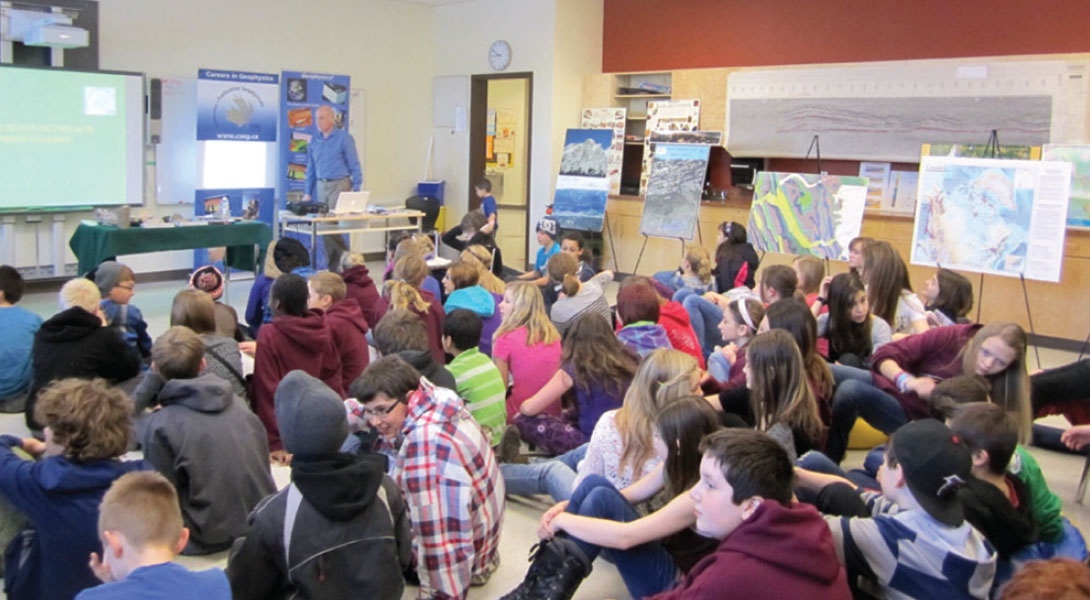 CSEG Foundation Fundraising Campaign Recognition
September 2012 – March 2013
We are very pleased with the initial response to our first-ever fund raising Campaign. We announced the CSEG Foundation appeal at the September Technical Luncheon and we wrote to every CSEG member in December. The response was outstanding. We have now received $470,000 in donations and pledges, nearly all of it from individual donors. This is a wonderful start toward our goal of $3,000,000.
Please review this list of donors to our current campaign. Many of our members are contributing, and as you can see, some have made very significant contributions and pledges. Did you know that we are recognizing both actual contributions and pledges for future years? Our policy is similar to that of the SEG. In addition, future 'Recognition' documents will include 'lifetime' or cumulative gifts.
The CSEG Foundation has always invested in GIC's and will continue to keep sufficient funds in fixed income investments in order to provide a secure base. We have also decided to join many other Calgary groups and place some of our endowment with the Calgary Foundation, which has a successful record of investing its own capital and that of its partners.
More than two hundred CSEG volunteers are active with all of our programs. We are soliciting Scholarship applications from University students across Canada, have created two scholarships for Technical Institutes and are planning two entry-level scholarships for high school graduates into a Faculty of Science towards a degree in geoscience. In addition, we are planning two scholarships for graduating 'children of CSEG members' – towards degrees in any faculty.
The Distinguished Lecture Tour has been a great success. Don Lawton is discussing the Christchurch, New Zealand earthquake and the subsequent seismic survey by the University of Calgary. The lecture will be given to more than 25 Canadian Institutions and, by invitation, to the University of Houston and Stanford University.
You can help. We are starting a Corporate Campaign and you can help promote this to your management. You can make a donation yourself and join this distinguished list of CSEG members who are contributing financially. Recognition levels are cumulative, so even a modest donation repeated every year could help to make the Foundation Activities financially independent of the society and to finance new activities. Our website: www.cseg.ca/foundation will soon have a list of all of our contributors, since inception of the CSEG Foundation in 2006. We hope you will encourage your employer to contribute, as well as consider a gift yourself. We'd love to have every member's name on that list.
Thank you for your outstanding support.
Brian Russell, Hampson-Russell Software
Co-Chair, CSEG Foundation Appeal
John Boyd, RPS Boyd Petrosearch (retired)
Co-Chair, CSEG Foundation Appeal
CSEG Foundation Fundraising Campaign Recognition
September 2012 – March 2013
$100, 000-$499,000
Andreas Cordsen
$50,000-$99,999
Anonymous
Larry Herd and Vicki Austin
Brian and Elaine Russell
$25,000-$49,000
Athena Resources Ltd.
CNRL Investor Relations
John and Nancy Peirce
$10,000-24,999
John Boyd
Brian and Heather Curts
Kendall Geophysics Ltd.
Perry and Karen Kotkas
Neil Rutherford
$1,000-$9,999
Martin Armitage
Marc Boulet
Bob Comer
John Duhalt
Tooney Fink
Don E. Gale
GeoSpace Technologies Canada Inc.
Dan Hampson
Helen Isaac
Cecil Keeping
Klukas Family
Kohlhammer Subsurface Geoscience Ltd.
Tako Koning
Stephen Kotkas
Ron Larson
Glenn Malcolm
Annette Milbradt
Kim L. Nevada
Tiffany Piercey
Jack Pullen
Laurie Ross
SAExploration
John Townsley
Frank van Humbeck
$100-$999
Ian M. Baker
Charles Boyer
Jim D. Bushell
Robert (Bob) A. Charters
Kevin Collings
Penny Colton
Gregory Davidson
Elizabeth Earl
Bruce Fenwick
Don J. Gendzwill
Donald Good
William N. (Bill) Goodway
V. Richard (Rick) Green
Ken Hedlin
Yajaira Herrera-Cooper
Blaine F. Holitzki
Terrence Jackson
Norman Kalmanovitch
Garry Kelman Todd M. Knight
Pat Kong
George Kostashuk
Don Lawton
Larry Lines
Yongwang Ma
Desmond V. Maguire
Larry Matthews
Robert James McGrory
David Nordin
Ernest Pallister
David W. Paterson
Mike Perz
Arnold M. Rivett
Robert Stuart
Gary G. Taylor
Richard Willott
Thank you to another 80 Foundation supporters who donated up to $99 for a total of $2,595.75.
The Foundation gratefully acknowledges all gifts from our donors. Unfortunately due to space constraints, it is not possible to list the name of donors who gave less than $100. It is our intention to acknowledge our donors gratefully and accurately. If we have made a mistake, please accept our apologies and let us know by contacting Laurie Ross at laurie.ross@ geo-x.ca.