Seismic in Motion for Students 2012
CSEG-F Outreach was again pleased to be able to bring students from Calgary high schools to the CAGC's Seismic in Motion for Students (SIMfS), which was held near Waiparous in early October. Seismic in Motion allows acquisition companies and associated industries, such as medical evacuation teams, helicopter support and search and rescue, to display and explain seismic acquisition technologies, advances, procedures and career opportunities. A record number (164) of High School students and staff from Juno Beach Academy, Career and Technology Centre (CTC), Henry Wise Wood, Canmore Collegiate, James Fowler and Centennial saw all aspects of seismic field acquisition, appreciated the careers displays and enjoyed the day out in the field, which culminated in demonstrations of dynamite explosions and helicopter operations.
Despite the snow and cold, the exhibits were enjoyed by all and many students expressed their appreciation. One CTC student who attended SIM last year was introduced to geophysics and inspired by the presentation and field day to enrol in a combined Geology and Geophysics major at UofC this year.
We also guided 53 students from the University of Calgary, Mount Royal University and SAIT, whose buses were sponsored by APEGA.
CSEG-F Outreachers Louis Blinn and Mohammed Al Ibrahim gave in-school presentations to the high school students prior to the field trip. Over the three days experienced guides Annette Milbradt, Brian Gamble, David Manthei, Gabriel Solano, Greg Davidson, Helen Isaac, Jeff Gautreau, John Pedersen, Keith Millis, Louis Blinn, Mark Lane, Michael Smorodin, Tal Hogbin and Vince DeWolfe were joined by new volunteer guides Adam Flynn, Adrian Smith, Husayn Nathoo, Kayla Hicks, Marc Boulet, Marissa Whittaker, Mikael Sabo, Teddi Herri, Sharon Gray, Habib Ajala and Rick Green to escort the groups in a timely manner around all the exhibits. Much climbing and descending of slopes was experienced by all!
Annette Milbradt and Helen Isaac took shifts in the careers tent and gave dynamic overviews of seismic activities and how seismic data are used in oil and gas exploration, as well as offering career information to the students. One student said it was really cool to see what her geophysicist grandfather actually did, and that it was "cool to be here today".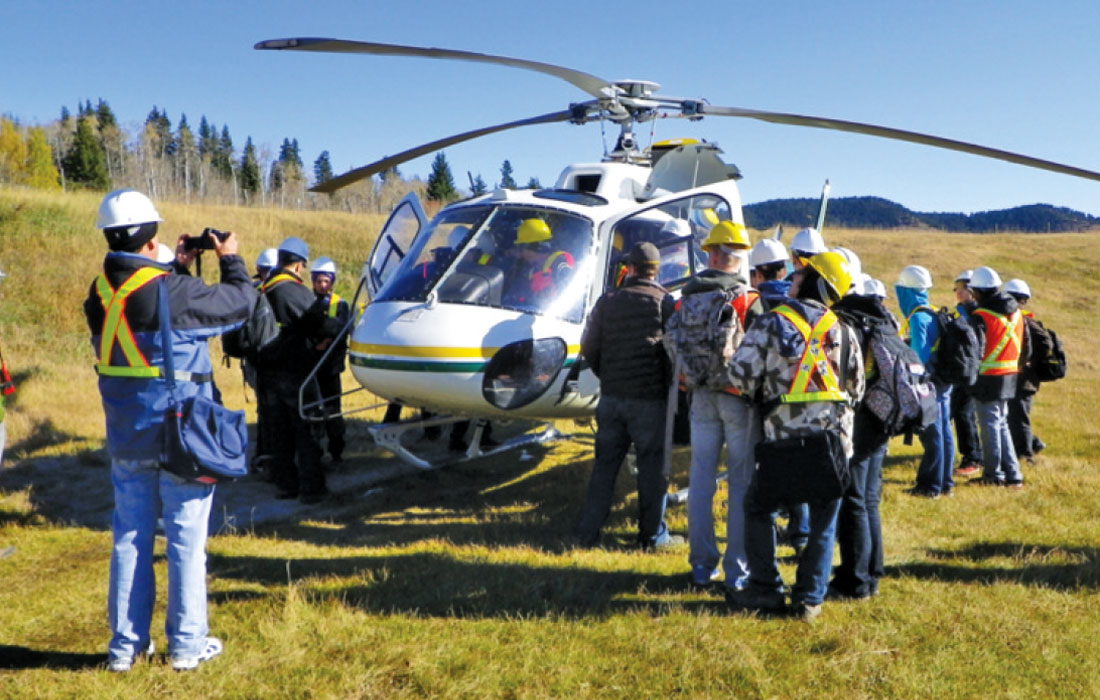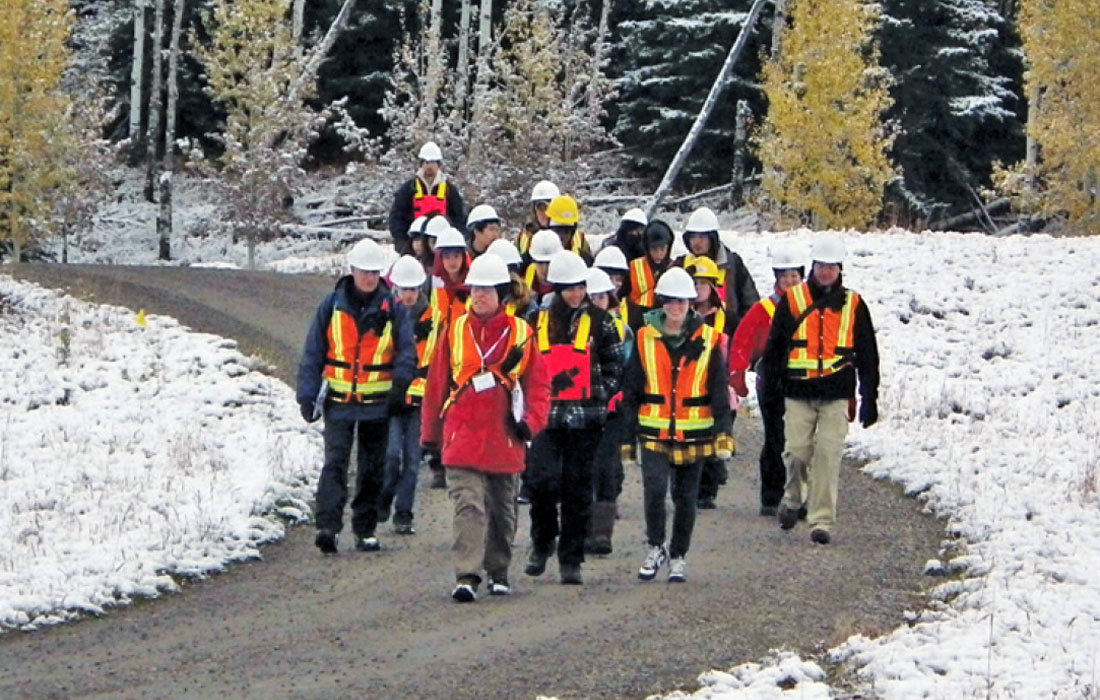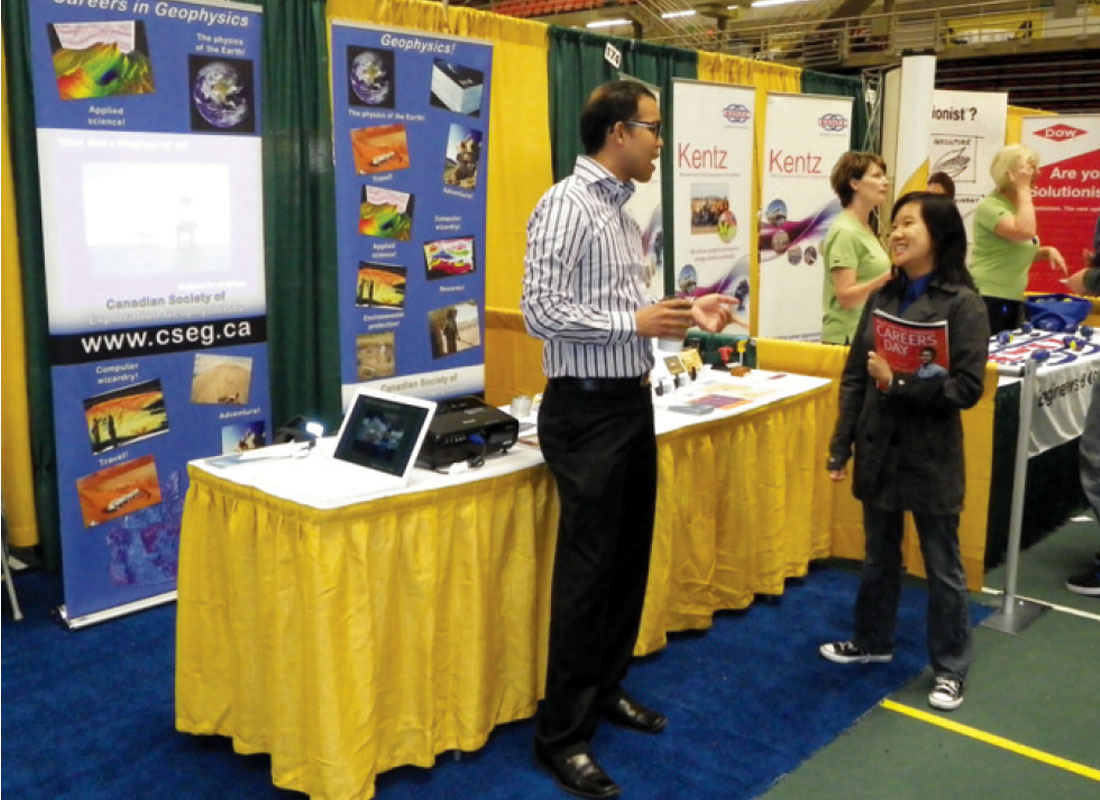 We would like to thank very much the generous corporate sponsors of SEISMIC IN MOTION FOR STUDENTS!
We appreciate your sponsorship of this very worthwhile community project that helps raise awareness and the profile of the science of geophysics.