Outreach volunteers hosted or participated in several interesting events in late 2010 to market the CSEG to the public and to students, both secondary and post-secondary. The active and enthusiastic University Student Outreach subcommittee continues to promote student activities, fellowship and CSEG membership across the country, often in conjunction with our ambassadors program. Outreach representatives attended the Honorary Address, the See Your Future career fairs in Saskatoon and Regina, the Edmonton career fair and the BC Career Educators Society symposium. Mark Sun, our West Coast ambassador, attended a high school career fair in Vancouver.
Ambassador Event in Saskatoon
On November 1 the Saskatoon Geophysical Society and the CSEG-F Outreach Committee Ambassador Program cohosted the second (hopefully) annual networking evening for about 40 Saskatoon and area geophysicists, students and professors. Louis Blinn from CSEG-F Outreach Calgary, in town for the See Your Future career fair, gave an introduction to the CSEG for the benefit of students and was followed by three technical presentations. Craig Funk, Chief Geophysicist of Potash Corp, and Matthew van den Berghe, UofS geophysics student, gave presentations on potash mining and the use of geophysics in mine safety and hazard avoidance, highlighted by Matthew's review of his summer project on the acquisition, analysis and interpretation of ground penetrating radar data. Marc Peltier, one of the key organizers of the Saskatoon Geophysical Society, reviewed the relative accuracies and inconsistencies of his aeromagnetic data, which were acquired using different equipment. The evening was considered to be a great success and the CSEG gained some new student members.
Craig Funk and Marc Peltier's efforts in organizing this event were invaluable in making it a success for the CSEG-F Ambassador program.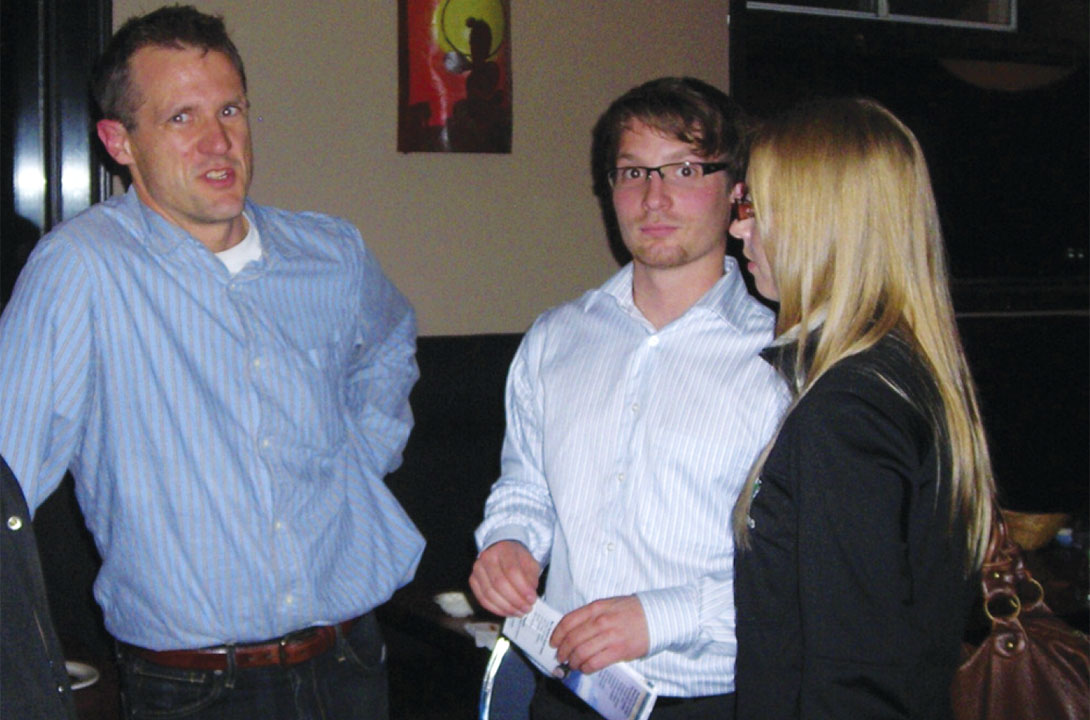 Atlantic Universities Geologic Conference
The Atlantic Universities Geologic Conference (AUGC) is the oldest conference in Canada organized and fundraised entirely by students. It has reached a milestone 60 years with no signs of slowing down. Earth Sciences students at Memorial University of Newfoundland (MUN) raised funds to send 23 students to the annual AUGC in Wolfville, N.S., from the 28th to the 31st of October, 2010. It is with great appreciation that we thank the CSEG-F for its kind donation to help offset travel costs from Newfoundland and Labrador.
Each year one of six Atlantic universities (Dalhousie University, St. Mary's University, Acadia University, St. Francis Xavier University, University of New Brunswick and Memorial University of Newfoundland) hosts the conference, which provides a forum for undergraduate students from Atlantic Canada to come together in both academic and social environments. Honours candidates from each university present oral presentations or posters of their thesis research. These are judged by faculty members and industry professionals, who award the best presentations in various categories. The conference also includes geologic field trips, an industry-student luncheon and opportunities for all students to network with both industry and academic representatives as well as colleagues from other universities. This year there were 85 student delegates, numerous professors and a large contingent of industry representatives, including professionals from ExxonMobil Canada East, Nova Scotia Department of Natural Resources, Acadian Mining, the CSEG and the CSPG.
Award winners from this year's AUGC were:
APICS – NSERC Award: Travis McCarron (St. FX) for his talk on "The Origin and Composition of Polyphase Inclusions in Tourmaline from the Greenbushes Pegmatite, Western Australia".
Imperial Oil Poster Award: Nor Afiqah Mohamad Radzi (Acadia) for her poster on "Petrography of Stratigraphic Units in the Subsurface of the Phetchabun Basin, Thailand".
CSEG Best Geophysical Presentation: Matthew Vaughan (Dalhousie) for his presentation on "High Resolution Seismic Stratigraphy (GPR) of Braided Channel Complexes in the Triassic Wolfville Formation – Controls on Reservoir Heterogeneity".
Frank Shea Memorial Award:
Sarah Gordon (UNB) for her presentation on "The Petrogenesis of Calc-Alkaline Lamprophyres from Mali, West Africa".
CSPG Best Petroleum Geology Presentation Award: Frank Ryan (MUN) for his presentation on "Early Jurassic Gordondale Member – Shale Gas Potential and XRD, Wireline Log and TOC Analysis".
The AUGC also hosted the Eastern Canada Challenge Bowl competition. The winners, Anne Belanger and Matthew Vaughan from Dalhousie University, have won a trip to the CSPG/CSEG annual convention recovery2011, to compete in the Challenge Bowl Canadian regional final. The winners of the Canadian finals will have their trip to the SEG Challenge Bowl finals at the annual meeting in San Antonio in September 2011 funded by the CSEG-F.
Thanks again from all the students of Memorial, Frank Ryan, Fundraising Chair AUGC 2010 Past-President Alexander Murray Geological Club Memorial University of Newfoundland.
University of Calgary Geoscience Open House
University Student Outreach members attended the recent Geoscience Open House and Current Research Symposium held on November 25, 2010 at the newly developed downtown campus location of the University of Calgary. The event provided the opportunity for industry professionals, students and faculty members to witness and explore the showcase of fundamental and applied research currently taking place on campus.
Research poster sessions ran all afternoon, giving faculty and students the opportunity to discuss topics ranging from solid earth and planetary science to the advances in unconventional oil and gas reservoir characterization methods. Visitors were welcomed and treated to refreshments as they examined the collection of hard work and innovative research that is contributing to the Geoscience discipline. A brief lecture on the regional dynamics of sedimentary basins was given by Dr. Magdalena Scheck-Wenderoth from the German Earth Sciences Research Institute in Potsdam.
The main purpose of the Open House was to attract industry members and display the value of university research projects. The University of Calgary hopes to create partnerships between academic research and industry by providing courses at the downtown campus that promote professional development. This collaboration is essential for creating advancements in the field of Geoscience. Hopefully this vision will allow interest to grow among members of the professional community thus elevating the support for future research endeavours and the future of young geoscientists.
Jeffrey Calvert and Daniel Loas,
University of Calgary students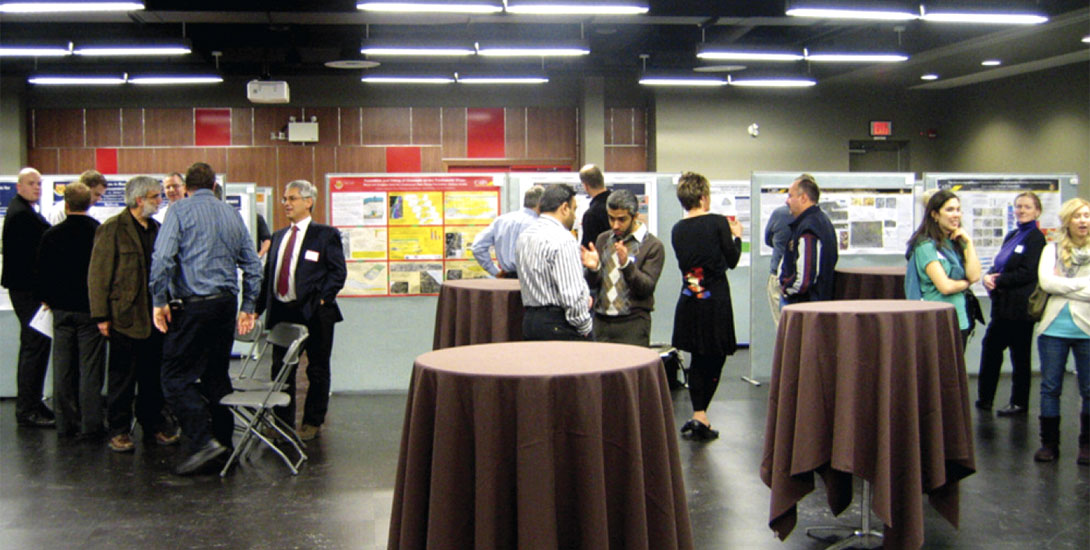 GeoSkills Day 2011
The fourth annual GeoSkills Day Student-Industry Training Day, and Mixer will be held on February 2, 2011, at the Metropolitan Conference Centre. GeoSkills Day is an event held annually in downtown Calgary organized and attended mainly by students from the University of Calgary, University of Alberta, Mount Royal University, Grant McEwen University and SAIT. The event was created to provide a networking opportunity between current university students and industry professionals. It is designed to teach students skills and concepts that are important to their futures in the industry. The day is made possible by funding by the CSEG-F and other corporate and society sponsors.
This year, Dave Halwas will open the day with a presentation on Softskills followed by an informal lunch. The lunch gives students an opportunity to meet peers from across the province. The afternoon session will consist of a series of geological and geophysical talks. At the end of the day there will be an evening mixer attended by students and industry professionals. It will provide a valuable opportunity for students to meet and greet professionals and receive valuable insight into their future lives. Confirmed presenters so far include:
Henry Lyatsky, P.Geol., P.Geoph. – Off-Shore Exploration in the Shelf of British Columbia
David Bethune, P.Geol. – Hydrogeologists Without Borders
Dr. Rainer Tonn, P.Geoph. – Depth Conversion and Seismic Lithology Inversion of a McMurray Oil Sands Reservoir
Dr. Dana Naldrett, P.Geol. – Environmental Science
Benoit Beauchamp – Arctic Exploration
The planning for GeoSkills was initiated by the APEGGA University Liaison Committees. GeoSkills Day provides additional benefits to the students involved in the planning of the event. This includes learning the basics of event planning, collaborating in a team of individuals, experience in fundraising, public speaking and presentation skills.
Adam Flynn (RPS Boyd PetroSearch),
CSEG University Student Outreach Committee
CSEG-F events in 2011
| Event Date | Event Name | Location |
| --- | --- | --- |
| May 8-10 | Earth Science for Society during the CSEG/CSPG/CWLS convention | Calgary, AB |
| May 10 | CSEG Challenge Bowl during the convention | Calgary, AB |
| May 28 | Canmore Geoscience Day | Canmore, AB |
| June 23 | Geophysical Industry Field Trip | Calgary, AB |
| Oct 4-6 | Seismic in Motion | Waiparous, AB |
| Oct 20 | AUGC and Eastern Challenge Bowl final | St Johns, NF |