Seismic in Motion for Students 2010
CSEG-F Outreach was again pleased to be able to bring students from three Calgary high schools to Seismic in Motion for Students (SIMfS), which was held near Waiparous in early October. The CAGC's annual Seismic in Motion allows companies to display and explain seismic acquisition technologies, advances and procedures. Students and staff from John G. Diefenbaker HS, Henry Wise Wood HS and Centennial HS saw all aspects of seismic field acquisition, appreciated the careers displays, thought the food was great and enjoyed the day out in the field. The teacher from Centennial HS said that on the following day all the students were very animated about their SIM experience and their new level of knowledge in this area of the oil and gas industry. Their visit perfectly augmented the curriculum of the pre-Engineering program. Students from the University of Calgary, Mount Royal University and SAIT, whose buses were sponsored by APEGGA, were also guided around the exhibits.
CSEG-F Outreachers Louis Blinn and Helen Isaac gave inschool presentations to the high school students prior to the field trip. Annette Milbradt, Bob Parker, Charles Welsh, Chris Savels, Jeff Gautreau, Jen Elgar, Kathryn Welsh, Mark Lane and Michael Smorodin were guides for the high school and post-secondary students during the three days of field trips. Annette Milbradt and Helen Isaac were in the careers tent and presented an overview of seismic activities and how they fit into the big picture, as well as offering career information to the students and to the other visiting groups. Listeners were particularly interested in seeing how marine acquisition is done with boats, airguns and streamers.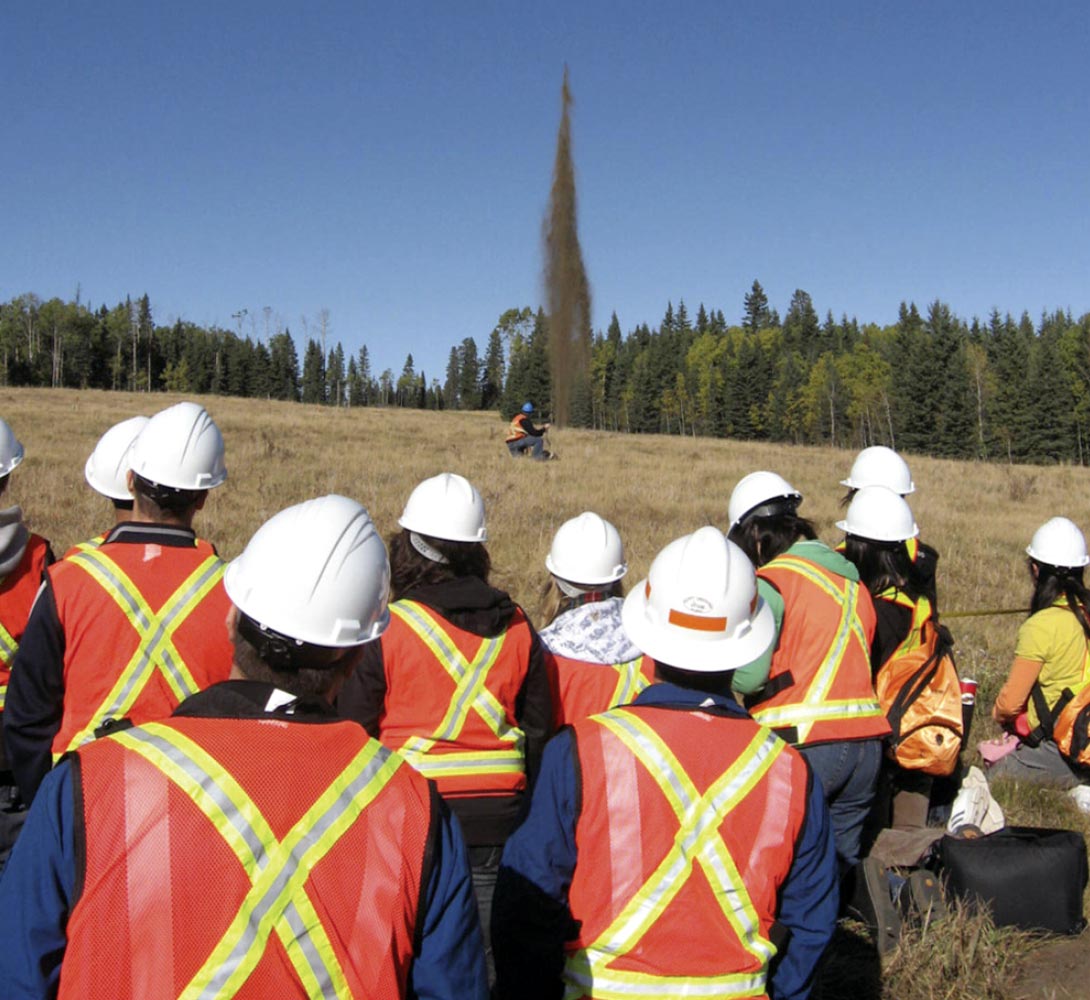 CSEG Student Member Sponsorship Boyd PetroSearch 2010 and Apache 2011
The value of funding CSEG student memberships has been recognized by various sponsors since 2007. The CSEG University Student Outreach Committee would like to extend their gratitude to Boyd PetroSearch, the sponsor in 2010, and to Apache for funding the 2011 CSEG student memberships. As the baby boomers enter their retirement years, the need for qualified professionals to fill their shoes is paramount. The geophysics community is no exception to this. Having companies sponsor our student membership fees allows a dynamic pathway for students to be integrated into the industry, guaranteeing we will have qualified geoscientists in the years to come.
The purpose of this funding is to give undergraduate geoscience students the opportunity to be CSEG members at no cost to themselves and to reap the benefits of being part of the geophysical community. To a student the idea of interacting with industry professionals and obtaining a job is quite daunting. CSEG student members are integrated into the industry in a professional setting through many different events such as Seismic in Motion, the CSEG industry field trip and the JGF.
Each year we have a committed team which upholds the standards from the previous year and also finds new and innovative ways to encourage student involvement within the industry. This year we introduced the student mentorship program. This creative new idea pairs a student with a mentor who can offer advice, provide a window into today's business realities, share experiences and provide career guidance. Although we are constantly moving forward as an organization, each year is an important stepping stone for us. When we first started we had around seventy five student members. Cost of tuition, books and other education expenses have continued to increase, so industry assistance to the student population is received with gratitude. Now, with the help of our sponsors, we have around two hundred and fifty student members. If it were not for our sponsor companies, our ability to spread the good fortunes offered through CSEG membership would not be possible. They deserve accolades for their valued support.