Doodlebugging in Saskatchewan: A Wife Remembers 1950-1954
By Elizabeth Sawatzky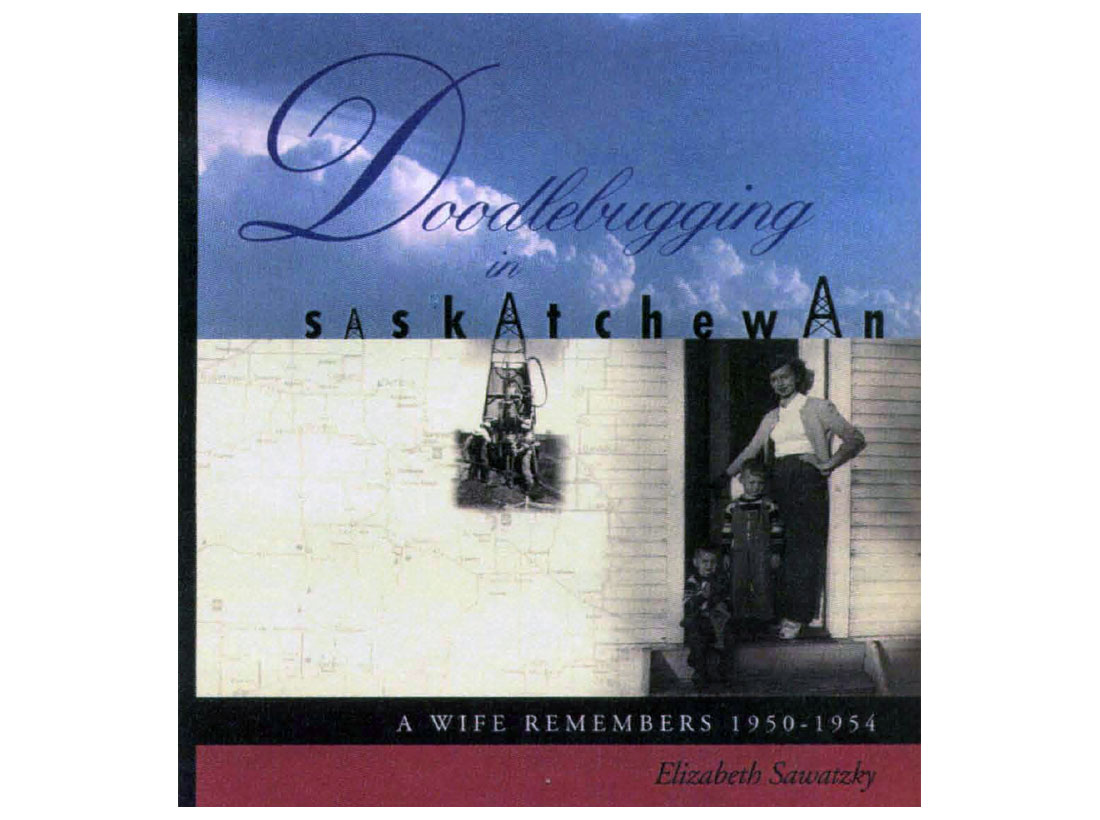 A doodlebug is an insect that burrows in the earth and the early seismic crews, whose data recordings are based on dynamite blasts, were soon given this nickname. A doodlebug crew travelled from town to village to city then back again, mapping the earth's subsurface, searching for buried treasure - oil.
A doodlebug family lived a gypsy lifestyle following the crew, never knowing if the next roof over their heads would be an abandoned telephone office, a farmstead shared by several families or the local RCMP barracks. Doodlebug wives learned to make a home out of any shelter, be it attic or banquet hall, and they unearthed the real treasure: friendships and memories lasting a lifetime. The doodlebug life challenged those who explored the depths of the earth to discover the depth of their characters.
Doodlebugging in Saskatchewan: A Wife Remembers 1950-1954 chronicles the years of wash lines and seismic lines Elizabeth Sawatzky spent with her husband and small children as members of Seismic Party #60 during the infancy of the oil industry in western Canada.
Elizabeth was recently honoured at the 1999 Awesome Seniors Awards held in Calgary, Alberta, where she received the Seniors Award of Accomplishment in Writing.
This book "captures Saskatchewan's real greatness, its humanity and its compassion."
Dr. Aubrey Kerr, geologist and author of petroleum history
"This wonderful little book gives a firsthand account of life on the field crew in the 1950s and I highly recommend it to anybody who wants to get a glimpse of this life before it fades completely from our collective memories."
Brian H. Russell, president, Society of Exploration Geophysicists (and a Saskatchewan doodlebugger)
"It is a rare experience when a book can take one back 50 years so vividly...the conversational style and the great collection of photographs just about put one at the kitchen table with the tea kettle on the boil."
Peter J. Savage, geophysicist and patron of the arts
More than just an excellent, detailed, historical account of postwar Saskatchewan, Doodlebugging is about life under the most trying of conditions and serves to illustrate how far we have really come. Thank you, Betty Sawatzky, for revealing the secrets behind doodlebugging."
Larry Schneider, president, Prairie Implement Manufacturers Association, former mayor, City of Regina
Available at: ANNIE'S BOOK COMPANY, 912 16th Avenue N.W. Calgary, AB 282-1330.