A New World
What is the New Science Centre 2011 Project? For those individuals from the geoscience community who did not attend the recent 'model tour' presentation at TELUS World of Science – Calgary, this might be a tough question to answer. In our quest to bring clarity to this question, our hope is to capture your attention long enough to make you ponder what your role could be, as we forge ahead with an exciting new opportunity for Calgary and Southern Alberta.
Amidst the economic woes that our country is facing, there is a breath of optimism that remains, particularity if you are intimate with Calgary`s soon-to-be iconic landmark, the New TELUS World of Science. A brand new world-class facility is about to break ground in our dynamic city. This $140 million capital project will be located on a former brownfield site adjacent to the Calgary Zoo and is sure to help increase Calgary's growing international profile. The new facility will be twice the size of our current location and will be the first 'purpose-built' science centre in Canada in over 25 years. The intersection at Deerfoot Trail and Memorial Drive will never be the same…for that matter, nor will we. How exciting!
Calgary is about to witness a transformation unlike any other in the science centre world. We are building a new science centre because it's time and science education really does matter. The new TELUS World of Science is going to be an incredibly powerful and positive influence for the development and cultivation of much needed future scientists. For a society like ours that depends on science and technology to drive the economy, I'd say that's extremely important.
It is truly a new world that we live in. A world that requires new understanding, new thinking, new skills, and new ways of engaging with each other, our community, our society, and the world itself. Science, technology and art all play a pivotal role in our society, but imagine what can happen to those disciplines when they are incorporated into a radically different science centre environment. If we think beyond just the façade of the exterior building, and re-imagine the role that our new science centre can play, we have an amazing opportunity to create elevated potential on many fronts. To create an intersection of collaborative experiential learning that stretches our innovative capacity beyond what traditional norms have expected, is what we are aiming to achieve.

A New Audience
I'm sure that when you think of a traditional science centre, you probably think of young children. You're certainly right in your assumption, but imagine what could happen if we expanded that audience to encourage involvement from teens and adults. A powerful combination, don't you think? Science, technology and art are not just for young learners. Their effects and directions are impacted and influenced by audiences of all ages. The importance of each group and what they would like to experience at the new TELUS World of Science is vastly different; hence our focus on learning environments that resonate for each audience and have a lasting influence on their interest in science.
For children, our continued focus will remain on stimulating a curiosity for science, art and technology in ways that encourage exploration, experimentation and naturally, a whole lot of fun. Stimulating an interest is only one part of our process; the other is to ensure that they do not lose interest in science as they move into their teenage years. Through program development and early mentor influence, we have a greater chance to enhance life-long science learning.
For teens, our challenge is to engage their interests in a way that connects on a very personal level. Our fundamental focus for this age group is to create experiences that will encourage independent thought while cultivating creativity. Ultimately, our goal is to help teens recognize their personal potential, enough to influence their decisions about future career possibilities – thereby having a powerful impact on the future work force for our City, our Province, and our Country.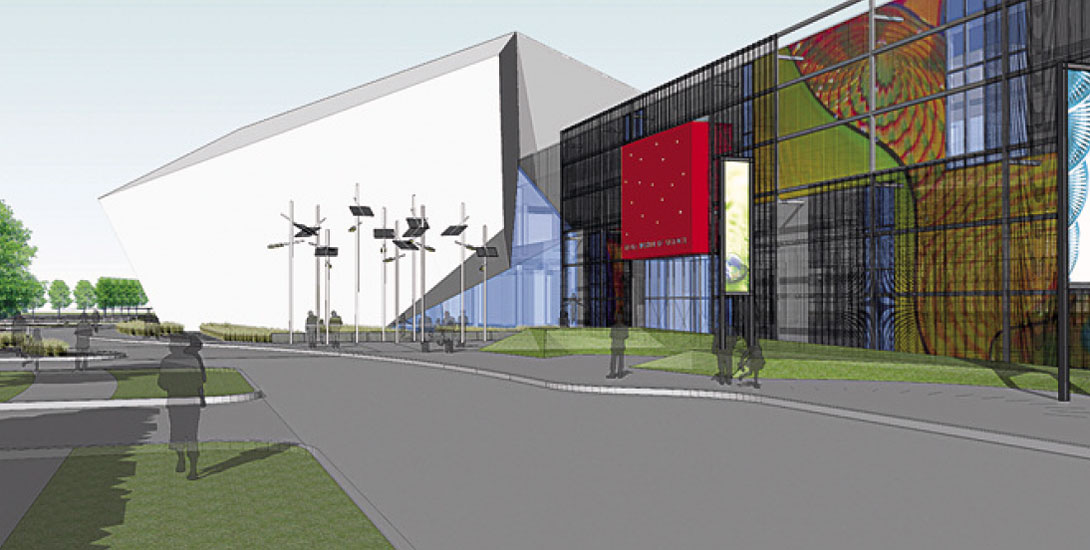 Imagine what it would be like to channel a greater interest and appreciation in earth science to positively impact the energy sector. It should be no surprise that industry and economy are driven by a knowledge-based society. Our province is highly reliant on young adults pursuing careers in science to fuel the innovation and development of the energy sector. With a steady decline in enrolment for science careers, it is imperative that Calgary's energy industry support and foster creative learning environments like the TELUS World of Science to inspire the next generation of scientists and create an environment that fosters the future work force needed to sustain the energy sector.
Imagine for a moment, that you didn't understand the importance of science and technology in our ever-changing world; that due to the pace of advancements and complexity, you were unsure of how to navigate through the 'sea of confusion'. For those who 'get' science, this may be a ridiculous notion. But, for the vast majority of adults, this is reality. Today's adults are typically engaged in science, art and technology vicariously through children. Sadly, the lack of authentic adult engagement has hindered an understanding of the increasingly complex and changing world we live in.
For adults, the new TELUS World of Science is going to be a place where they can go for relevant information about science, technology and art; a valuable source to assist in the understanding of the many facets that are influencing today's changing world. It will be a collaborative and interactive environment that will elevate an appetite for learning, reinvigorate knowledge and re-energize an inner curiosity and sense of fun.

A New Commitment
The New Science Centre 2011 Project is no small feat. It has taken over 10 years to orchestrate the detail required to see this incredible project come to fruition. Additionally, it has required the full support from all three levels of government before we could even begin to forge ahead.
Support often implies the weight of something heavy. In our case, the heavy load is about to take shape with the start of construction in early July, just in time to kick up the dust for Stampede. Heavy loads require support in many forms; not the least of which is monetary. However, monetary support aside, belief, commitment and knowledge sharing can also carry an idea a very long way. Aligning a talented project team is one part of this pragmatic equation. The other part is cultivating and maintaining valuable partnerships and commitments from corporations, philanthropists, and citizens province wide. Our goal is to maintain engagement long after the doors are opened in our new facility.
Make no mistake, the new TELUS World of Science – Calgary will have a far-reaching impact – locally, provincially, nationally and internationally. The New Science Centre 2011 Project is an exciting opportunity to help shape our future and have a positive, lasting impact upon future generations. What we are providing will extend beyond our four walls and have significant relevance to audiences we only dreamt of reaching a short time ago.
To learn more about the New Science Centre 2011 Project, log onto our website at www.newsciencecentre2011.ca. If you would like further information about how you can contribute, contact Kathryn Vincent, Campaign Executive Assistant at kathryn.vincent@calgary-science.ca.