On Tuesday November 3, 2009 approximately 170 geophysicists gathered for the 7th Junior Geophysicist Forum (JGF) at our new venue on the 35th floor of The International Hotel. The new venue was a great change as it provided much more space and allowed people to engage enthusiastically in our Icebreaker game and enjoy the delicious food. If anyone left hungry it was because they chose to do so.
Here is a Quote from Dr. Rob Vestrum who has attended all the past JGF's:
"Rooms were perfect size and pleasantly lit. Main function room was small enough to feel cozy but large enough to hold everyone comfortably. Everyone could mingle about freely. I especially liked the side rooms, where I went for a quiet chat with a student a few times. Great place to take a break from the hub-bub of the party."
The purpose of the JGF is to allow current students and recent graduates of Geophysics, and geophysicists with less than five years of experience the opportunity to network with established geophysicists in the industry.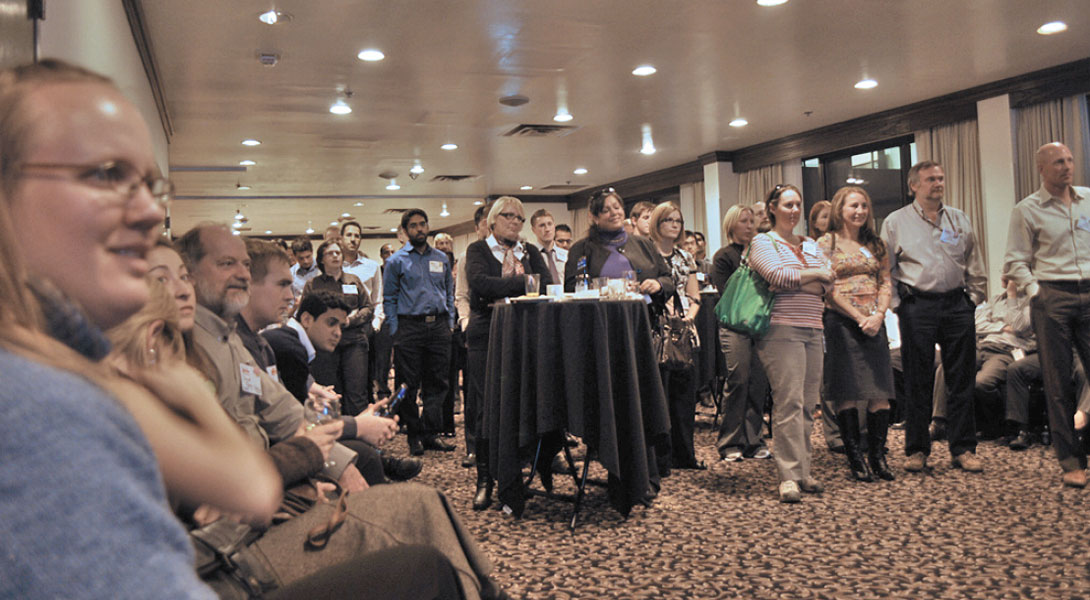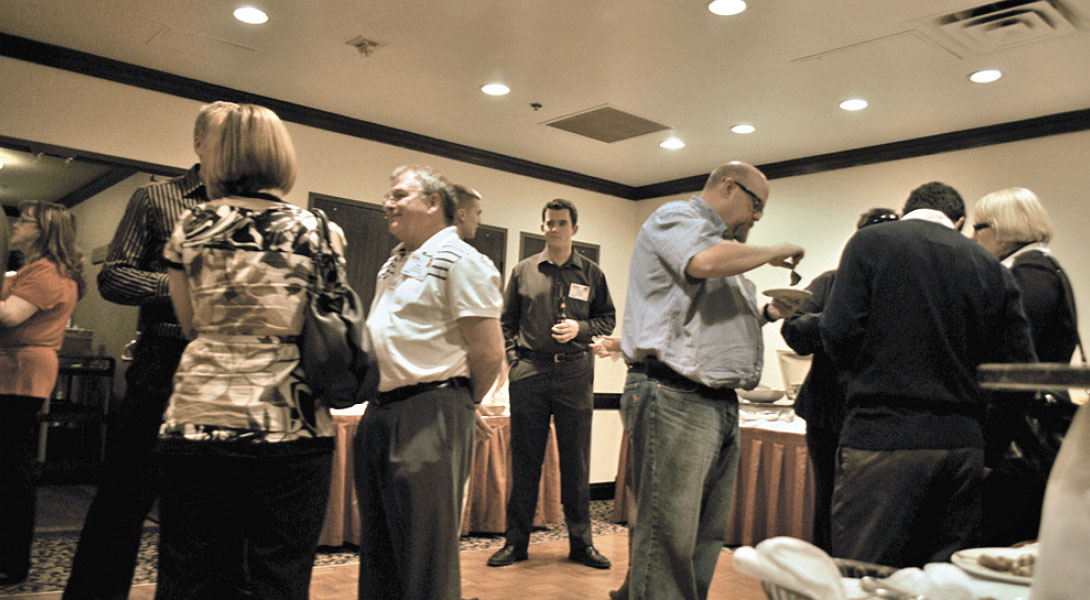 The first attempt to have the JGF this year unfortunately failed back in the spring due to lack of funding from our sponsors who, like most, have been tightening their belts and cutting spending due to the world wide economic downturn. Though this was unfortunate it only made the JGF Committee try harder and look further for sponsorship. We would like to pat ourselves on the back for managing to pull a JGF together during the Doodletrain week. We want to sincerely thank our sponsors: Nexen Inc., Devon Canada, BG International Group, ConocoPhillips, PennWest Energy Trust, Talisman Energy Inc., Encana Corp., Galleon Energy Inc., Hunt Oil Company of Canada, Petrobank Resources Ltd. , and Waldron Energy Inc. It would not be possible to continue this great event without their support.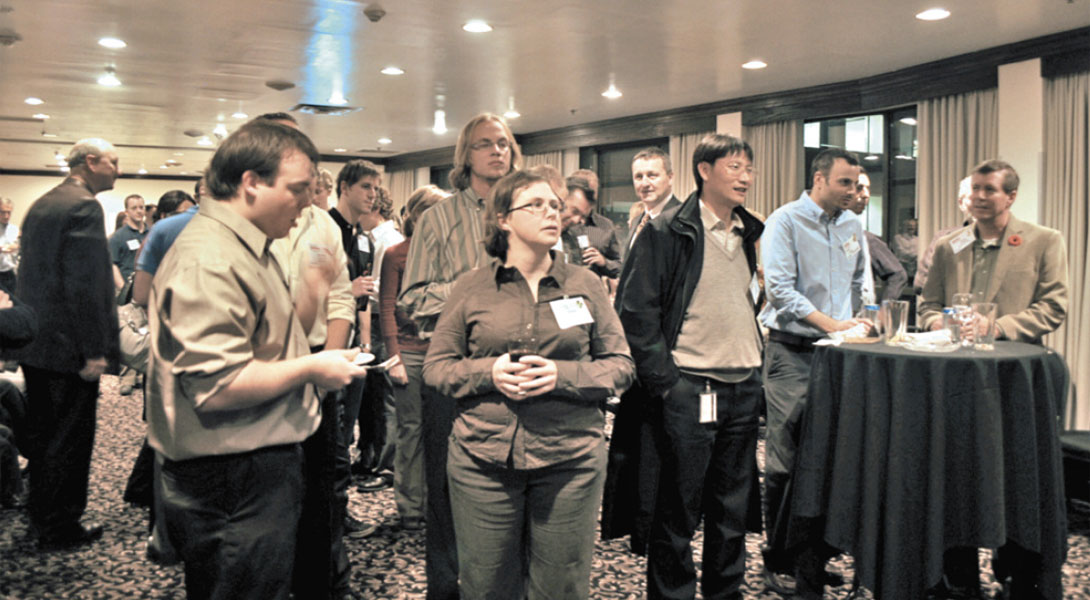 Andy Williams from Galleon Energy Inc. talked briefly about a new mentorship program for geophysicists from CSEG Outreach called the "CSEG Geophysics Mentorship Program". The CSEG would like to create the opportunity for mentoring relationships to occur between students studying geophysics in their third or fourth year and industry geophysicists. Interested applicants would first need to fill out the mentor or mentee application form. Following this step the Mentorship Committee will then match students with a professional geophysicist who has similar interests. Participants will then be contacted by email or phone by the program coordinators to ensure a successful paring. The mentor/mentee is expected to coordinate a 15-25 minute conversation at least once a month to allow for the mentoring process. Before this time make sure to have some good questions to ask in order to develop a relationship. The Mentorship program runs from September 1st to June 30th annually. Anyone interested in this mentorship program should check out the CSEG website at cseg.ca/students/geophysics-mentorship-program. Andy called upon Senior Geophysicists to volunteer for the program and for juniors and students to sign up for this very promising program.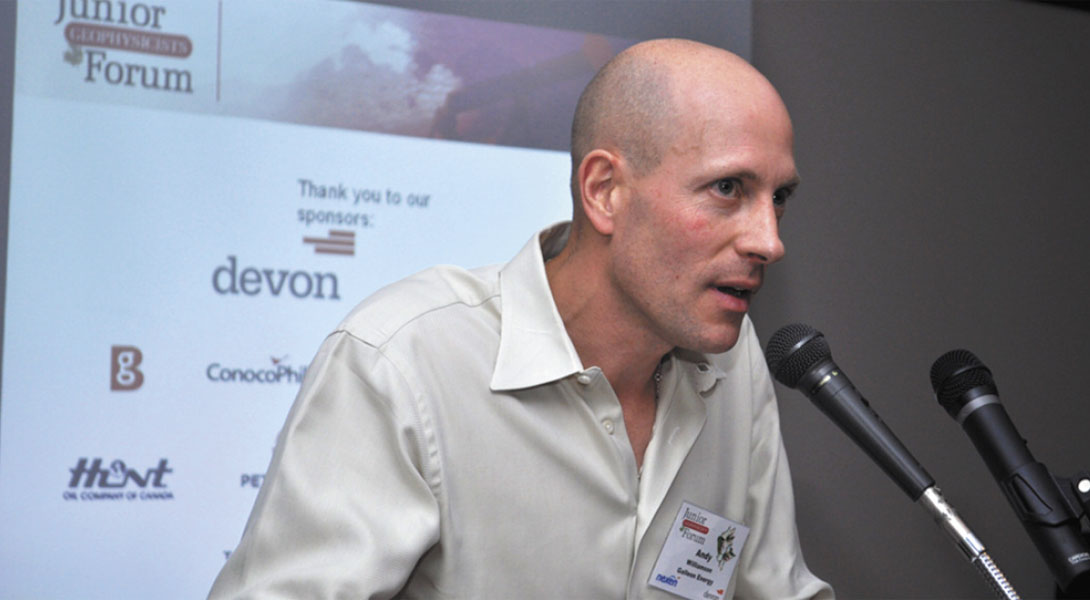 One of the main events at the JGF is the speaker and we had the pleasure of having Ian Dawes from Talisman give a very entertaining talk about his past 21 years in the industry. Ian Dawes is the mentor of Tim Wardell of the JGF committee and Tim introduced our speaker. The title of his talk was: 21 years behind the mouse (I wish I knew now what I thought I knew in 1988). Although he was off to a rough start after admitting he used to be a geologist…. Here are some of the quotes he entertained the crowd with:
"Lucky beats smart every time… (But smart can do it again)"
Uncertainty is inherent in the geophysical method (that's why they call it an interpretation and not 'the answer' –don't confuse the two)
"I would rather be vaguely right than precisely wrong"
"It's all about the rocks, stupid…".
Ian had a few words of advice to the juniors and students in the room that you can learn from mentors and people you work with.
"That old person down the corridor might just have learned something in the process of getting old"
"ask questions and LISTEN to the answers"
"All opinions are not equal"
"If your mouth is moving, there's a strong chance you are not listening"
"Never throw up during an interview or take your trousers off…"
Well Ian is British so we let him keep those slides…
One of Ian's strongest points was on communication:
"There is no point in doing the work if you can't communicate the results"
"Clarify, not simplify"
'90% of your results are achieved in the 10% of your work that explains what you were working on for the other 90%"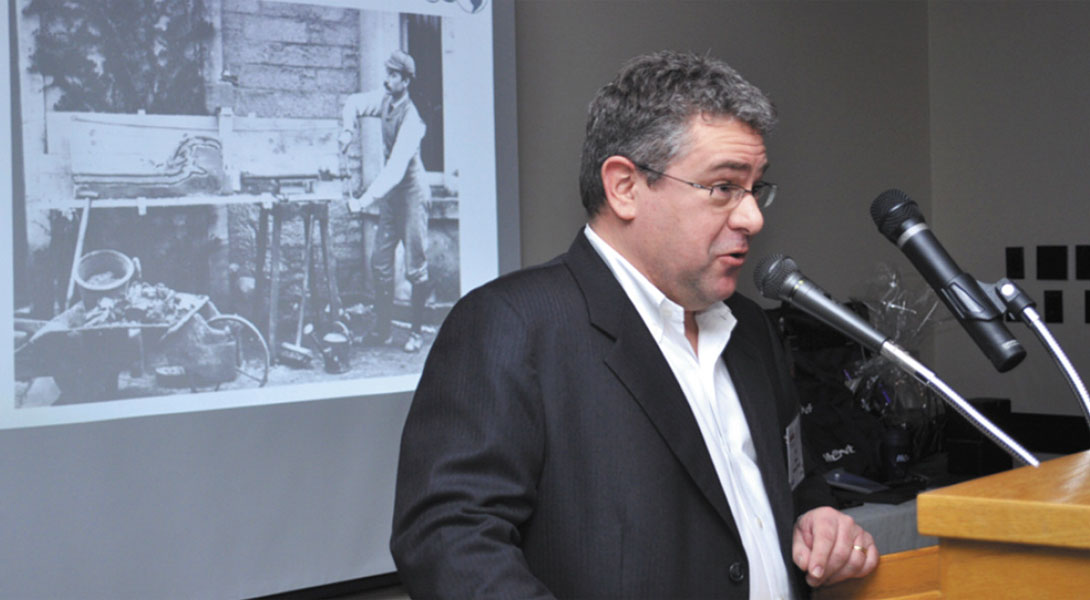 One of the objectives of the JGF is to get geophysicists of all experience levels to mingle and we always have an icebreaker game to get this going and get people out of their shell. As people arrived they got their nametags and on each tag there was a sticker that would identify the team for a scavenger hunt. Much fun was had and a lot of connections were made as each team had to find a number of items. Below are some of what the teams had to locate in the crowd.
10 business cards, not from your group
Rock or Mineral
Recorder or 3 component geophone
A wavelet
Something anisotropic
Something refractive
A resonant frequency
8 business cards from sponsors
The winning team- actually located all 30 items on the list. Great networking!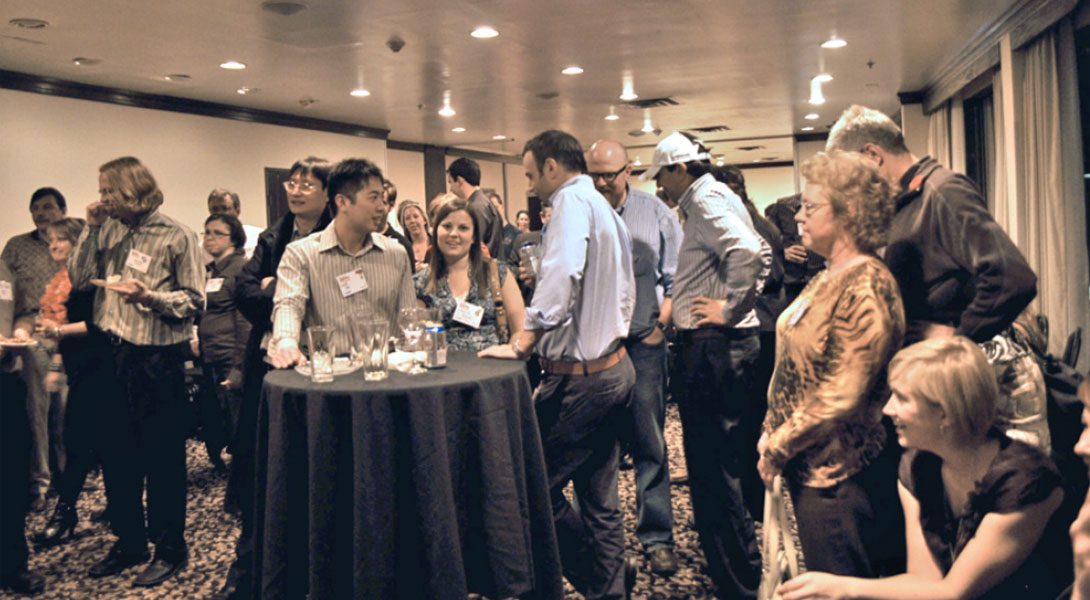 We also had a large number of door prices from our sponsors and at least 40 people went home with a memento form the event.
Our venue, The International Hotel also donated a gift basket. Thanks again to the sponsors who stepped up and generously donated items for the event. Petrobank, Hunt Oil and Galleon.
The JGF committee would like to extend our thanks to Jennifer Welsh who manned the door to the venue and kept everything on track. We would also like to thank Raluca Grosos for taking pictures at the event. Well done ladies!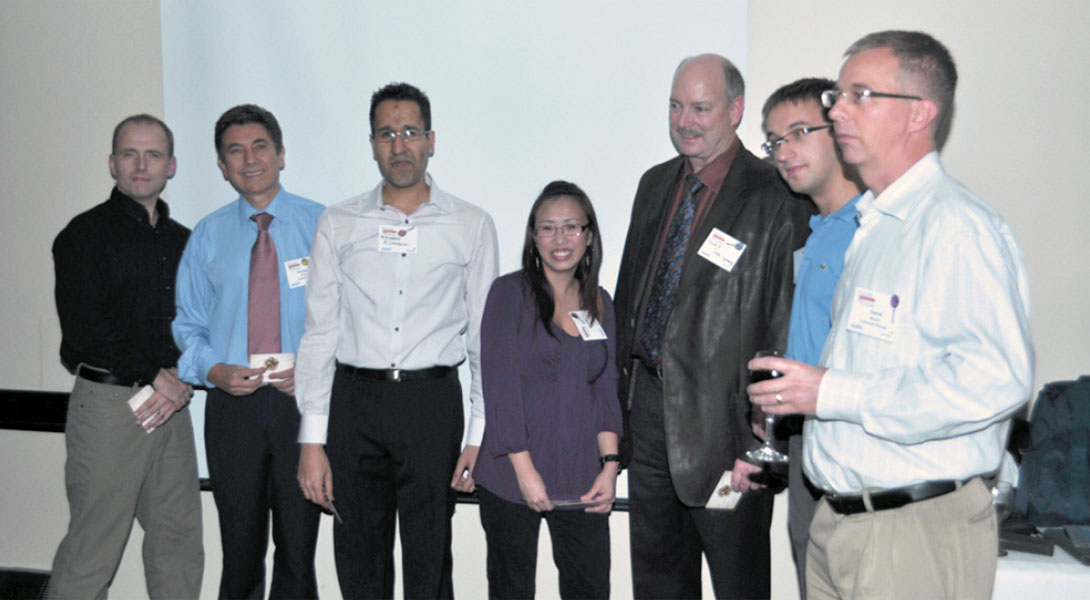 We want to thank everyone who attended despite the flu season. The experienced geophysicists that came to share their wealth of experience and knowledge; the junior geophysicists that shared enthusiasm and excitement; and, the student geophysicists who had a chance to mingle and make new contacts in the industry. We look forward to another year and we will see you all at the next JGF in 2010.
If you have any suggestions, or would like to receive further information on the next JGF, you can email us at jgf@cseg.ca.
JGF Committee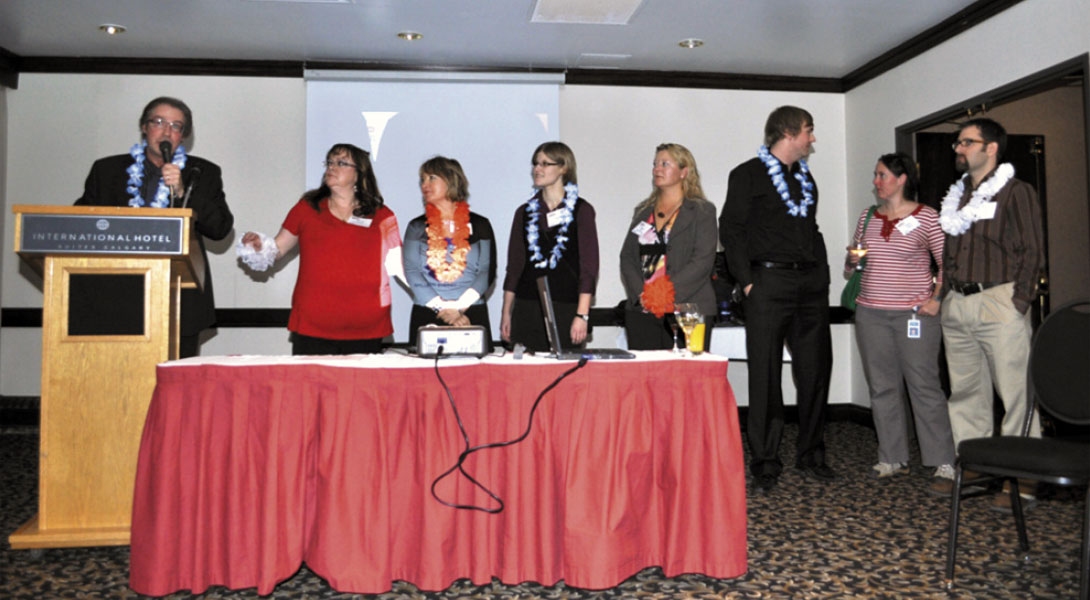 This year's committee is composed of the following people. If you have any questions or comments on the JGF please feel free to contact the committee at jgf@cseg.ca. See you at the 2010 JGF!
Carmen Swalwell
Swalwell Resource Consulting
Nanna Eliuk
Waldron Energy Inc.
Doug Colvin
Talisman Energy Inc.
Susan Thomson
EnCana Corporation
Katarina Rothe
Canadian Natural Resources Ltd.
Jeff Gautreau
Independent
Tim Wardell
Talisman Energy Inc.
Sarah Dwyer
University of Calgary,
4th Year Geophysics Student
Photos courtesy: Raluca Grosos, University of Calgary.