Background
The idea of an International Year of Planet Earth (IYPE) was launched in 2000 at an IUGS Council meeting. Proclamation of an International Year was seen as a potentially powerful means of demonstrating how society could benefit from the accumulated knowledge of the solid Earth as part of System Earth. Following a feasibility study, immediate support was provided by UNESCO's Earth Science Division, making it a joint initiative by IUGS and UNESCO (Initiators). After broad consultation, it was decided in 2002 to seek proclamation of the International Year of Planet Earth by the General Assembly of the UN, with a view to providing the best possible exposure to national governments.
On August 26, 2004, the joint Council of IUGS and the International Geological Congress, together re p resenting Earth science communities in 140 countries and regions, adopted a Declaration on the International Year. This invited UNESCO's Executive Board to adopt an International Year of Planet Earth, considering that:
the geosciences can contribute significantly to a safer, healthier and wealthier world;
this potential contribution is seriously under-used by society and should be substantially increased;
Proclamation of an international year under the aegis of UN member states would help the Earth sciences to make their full contribution to the sustainable stewardship of the planet.
Proclamation of 2008 as the International Year of Planet Earth was effected at the UN General Assembly in New York on 22 December 2005. At least three years will be needed to realize most of the ambitious science and outreach plans, and the Year's triennium will thus run from 2007 to 2009.
IYPE is an ambitious program of outreach and research activities designed to raise global awareness of the vast (but often under-used) potential of Earth Sciences to improve quality of life on the planet. The program envisages a significantly expanded role for the Earth Sciences in building a healthier, safer and wealthier society. The aim is encapsulated in the Year's tag line: "Earth Science for Society". The program is based around ten scientific themes: Groundwater, Hazards, Earth and Health, Climate, Resources, Megacities, Ocean, Deep Earth, Soil – Earth's Living Skin, and Earth and Life, with a strong emphasis on outreach to ordinary citizens of the planet. More information can be obtained at: www.yearofplanetearth.org.
The Canadian National Committee and its Plans
National committees have been established in more than sixty countries.
The Canadian National Committee (CNC) was established in late 2006 under the Chairmanship of John Boyd (see www.iypecanada.org for a full listing). It released its first brochure in time for the May 2007 meetings of Canadian earth science societies and has recently released a new one aimed at fund raising (this latter version is available as a download under "Media Kit" at the national web site – see above).
The CNC has adopted a theme entitled: WHERE on Earth, WHERE in Canada in which WHERE stands for Water, Hazards, Energy, Resources and Environment. It will focus its effort on increasing public awareness of Earth Sciences in Canada. To that end, projects have been solicited from across the country and fund raising is currently in progress to support the projects. About twenty proposals have been made including a new popular book on the Geology of Canada called Four Billion Years and Counting: Canada's Geological Heritage (for more information please visit http://cfes-fcst.ca/fby/). The book will be a joint product of the Canadian Federation of Earth Sciences and a private publisher, yet to be identified. It will be published in late 2008. Other proposals include a web site to give details to students on Earth Science careers, Earth Science through music in the schools, a national lecture tour, a national contest on awareness of the importance of resources in our lives, workshops for teachers of Earth Sciences, facts sheets on Earth Sciences as well as several regional projects in different parts of the country.
Former Canadian astronaut, Dr. Roberta Bondar is the Honorary Patron of IYPE in Canada.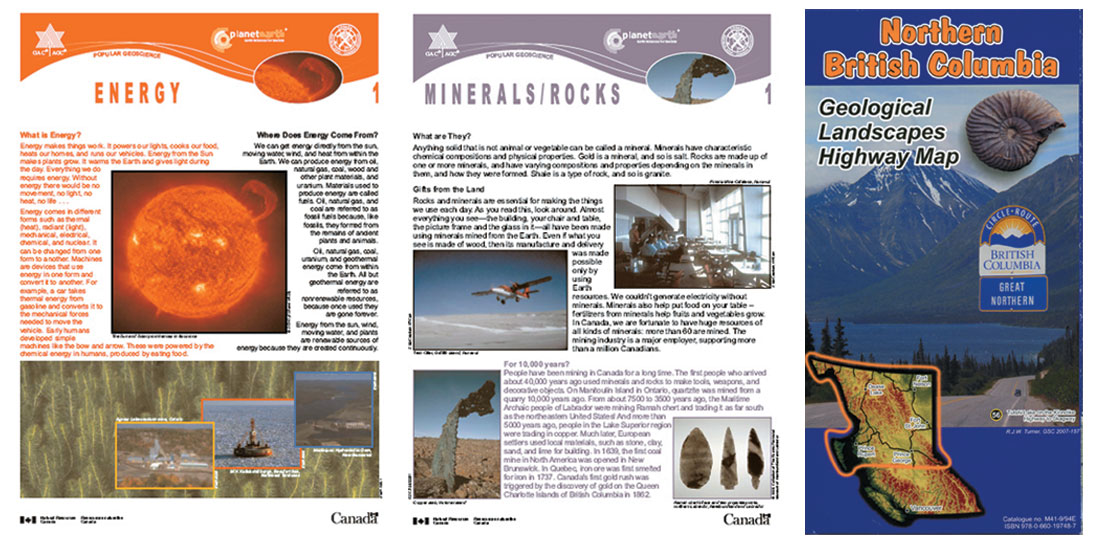 Some Completed Projects
A number of projects have already been completed. Canadian IYPE was a co-sponsor of a new Canadian Broadcasting Corporation five-part television series called A Geologic Journey (www.cbc.ca/geologic/). The series was shown in September and October 2007 and an advertisement for IYPE was shown twice during each airing of the shows.
A series of thirty-two fact sheets on Mineral and Energy resources has already been released on the Geological Association of Canada web site at: www.gac.ca/populargeoscience. These are available for free download and are a valuable source of simple information on many resources topics including such things as gas hydrates, uranium, oil sands, gemstones, mineral deposits and industrial minerals. The fact sheets were put together by a team of authors based at the Geological Survey of Canada in Calgary, with contributions from specialists in many institutions.
One of the principal proposals for IYPE is the concept of a GeoTime Trail. The prototype has been partially completed in the Waterloo region. The Geotime Trail is designed to be a 4.567 km long trail that will eventually make its way from a common start and end point as a loop trail. The distance of the Trail corresponds to the current estimates of the age of the Earth at 4.567 billion years. Every metre along the trail represents one million years of geological time, and each single millimetre represents 1,000 years. The first part of this trail was opened on 21 October 2007. If you are interested in more information on this trail, please contact Alan Morgan at the University of Waterloo.
A small poster on the mineral and energy resources required to build and run a snowmobile has been released by Mining Matters of the Prospectors and Developers Association of Canada in association with staff from the Geological Survey of Canada. This handy poster provides information on the minerals required to build a snowmobile and where in Canada and elsewhere in the world they can be found. If you are interested in obtaining this product, please contact Mining Matters at: Mining Matters@pdac.ca.
Another recent release is the Northern British Columbia Geological Landscapes Highway Map a joint project of the B.C. Geological Survey and the Geological Survey of Canada (B.C. Geological Survey, Geofile 2007-1; see also www.nrcan.gc.ca/earth-sciences/. This is a basic geological map with descriptions of all the key geological regions and a compendium of sixty-eight photographs of a variety of geological localities along the highways of northern British Columbia. The map covers the area from Kitimat and Quesnel north to the border with the territories and includes the Queen Charlotte Islands.
A poster has been prepared for display at the many scientific meetings that take place in the last quarter of the year.
Get Ready and Get Involved
The success of the year will depend on both the success of the fund-raising campaign and the degree to which Canadian earth scientists support the various IYPE ventures. If all goes well, it could be a banner year for earth science that results in many products that will serve to enlighten Canadians for many years to come.