George D. Hobson
January 8, 1923 – April 16, 2015
Director of the Polar Continental Shelf Project 1972 – 1988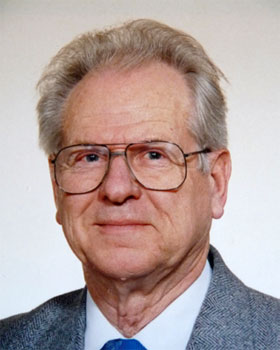 George passed away peacefully, in his 93rd year, at home surrounded by family.
George attended Delta Collegiate (a high school well known to Hamiltonians) and was Student President in 1940-41. He received a degree from McMaster University in Mathematics and Physics and then a Master's degree from the University of Toronto in Petroleum Geophysics in 1948. Arlie and George were married in May, 1948 and immediately moved to Edmonton where George began his career as a geophysicist with Heiland Exploration. (*CSEG Connections: Heiland Exploration, named after Carl A. Heiland of CSM, ran a key seismic survey over the Leduc reef area in 1946 for Imperial Oil. The CSEG started in 1949, after Imperial's Leduc discovery in 1947. The Edmonton Geophysical Society began in 1958 and dissolved in1973 and the EGS files were transferred to the CSEG in Calgary).
After 10½ successful years in the oil patch, in the fall of 1958 the family moved to Ottawa when George joined Energy, Mines and Resources. He served as Director of the Polar Continental Shelf Project from 1972 to 1988. (See History and early CSEG Connections to The Polar Continental Shelf Project: History of Polar Continental Shelf Program on the next page.) During his time at Polar Shelf, George was immensely proud of the Arctic ice island, coincidentally named "Hobson's Choice" in 1983 when discovered, and which drifted around the Arctic for the next 9 years serving as a platform for scientific exploration. George's work in the Arctic allowed him to fulfill what he saw as an opportunity, indeed an obligation, to make regular contact with arctic communities through their local councils and to keep northern residents aware of scientific projects in their areas of concern – their backyards. He always believed that communication between scientists and northern residents was essential.
George distinguished himself in the scientific exploration of many of Canada's remote regions, notably the Arctic and has been recognized over the years with many awards for his vision and vigour in helping many other Canadians – including native people, students and artists – to share in the exhilarating experience of discovering the physical and psychological reality which has so aptly been called 'la nordicité canadienne'.
George proudly counted himself as a "Franklin Fanatic" and was a key participant on teams exploring the mysteries of the lost Franklin Expedition in 1994, 1995 and 2000, discovering important relics left behind by the fated crew. He was thrilled last summer with the discovery of the HMS Erebus, and tracked the current expeditions and media coverage with great interest and enthusiasm through to the days immediately before his passing.
For his work as a scientist, as an explorer and as a leader, Dr. George Hobson received many awards over the years including The Massey Medal (1991), Northern Science Award (1991), Camsell Medal (1998), The Golden Jubilee Medal (2002), Fellow of The Royal Canadian Geographical Society (2009), The Diamond Jubilee Medal (2012), and the Sir Christopher Ondaatje Medal for Exploration (2014). George was awarded an honorary Doctor of Science from McMaster University in May, 1991.
Together George and Arlie loved to travel during their almost 67 years of joyful marriage – whether for George's work or in retirement exploring new places – they travelled extensively in India, Tunisia, Afghanistan, Pakistan, Guyana, New Zealand, The Caribbean, Antarctica, throughout Canada – coast-to-coast-to-coast, and widely throughout the USA. Over the years, time spent at the family cottage at Farren Lake was special and a place of rest and relaxation. There George spent time building a stone fireplace, chimney and walkways with rocks that he had gathered during his trips all over the world. George had a strong desire to show his children the vastness and greatness of Canada, and many family summer holidays were spent driving, with tent trailer in tow, from the East Coast to the BC Interior.
George had a life-long love for music beginning as a boy soprano in Hamilton choirs, continuing through barber shop quartet singing and the church choir. He was an avid stamp collector and was a familytradition steeped supporter of the Hamilton Tiger Cats.
He was an enthusiastic member of the Manotick Kiwanis Club, particularly as a key organizer of volunteers for the Kiwanis Music Festival (Ottawa) for many years, a devoted member of the United Church of Canada and the long-serving Treasurer of one of the Farren Lake Cottagers associations. He was a sought-after speaker and an expert who was consulted by many clubs, organizations and advisory committees for his experience and insights as an Arctic explorer and adventurer.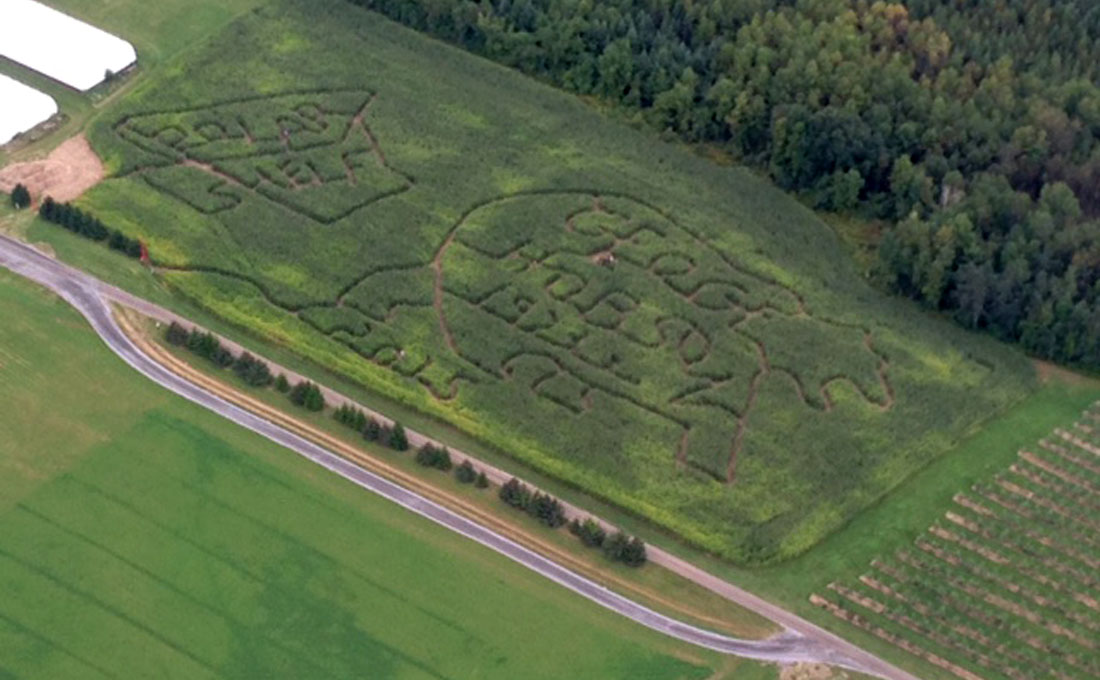 Particularly in his retirement years, George focused his passion and talents into volunteer opportunities involving science, logistics organization, the Arctic and passing on his knowledge and enthusiasm to future generations. He was a guest lecturer and specialist on over 15 Arctic cruises and did several speaking tours across Canada for the Royal Canadian Geographical Society. A particular highlight for George was being the Project Manager stationed at Kluane Lake, Yukon, for the Mount Logan '92 expedition. This climb, sponsored by the Royal Canadian Geographical Society, was undertaken to accurately measure the highest mountain in Canada.
George lived his life as an adventurer, an explorer, a man of deep spiritual faith, a person who felt he had the best job in the world, a devoted husband and father, and one who strongly believed in, and expressed to others, the phrase: "Have a good life, and BE PART OF IT."
(Above adapted from: tubmanfuneralhomes.com/families-care/?id=1111)
Additional connections to the history of the CSEG, early geophysics exploration successes, and the growth of the Canadian petroleum industry:
George Hobson was interviewed in 2001 by David Finch, author of CSEG's history book: Traces through Time, © CSEG 1985
See: https://www.glenbow.org/collections/search/findingAids/archhtm/extras/piohp/PIOHP_Hobson_George.pdf
1946 – Heiland crews at Leduc AB: See: http://csegrecorder.com/features/view/reflections-200009 (Reflections, by Aubrey Kerr)
Pete Bediz Interview 2000: http://www.glenbow.org/collections/search/findingAids/archhtm/extras/piohp/PIOHP_Bediz_Peter_2000.pdf
History and early CSEG Connections to The Polar Continental Shelf Project: History of Polar Continental Shelf Program
(From: http://www.nrcan.gc.ca/the-north/polar-continental-shelf-program/polar-shelf/10007)
The story began in 1957, with the launch of the Soviet satellite Sputnik. Although the Arctic's economic and strategic value had long been recognized, the sudden onset of the space race turned out to be the first in a series of events that triggered Canada's new scientific exploration policy in the Arctic.
Shortly after Sputnik was launched, the United States asked Canada for Arctic gravitational data required for its space program, and Canada agreed to make the information available. Then, in 1958, the U.S. submarine Nautilus completed the first under-ice crossing of the Arctic Ocean.
That same year, the United Nations Conference on the Law of the Sea gave nations the rights to mineral and other resources on their continental shelves to a depth of 200 metres. Canada was now claiming jurisdiction over a polar continental shelf about which it knew virtually nothing: for all the Canadians knew at the time, it might as well have been the dark side of the moon.
The only information available on the High Arctic, other than that gleaned from the preliminary findings of Operation Franklin in 1955, was scant. Most of it was based on studies made by a 1913-18 Canadian Arctic Expedition, and on maps published in the United States and the Soviet Union.
In answer to all these emerging pressures, in the spring of 1958 the Government of Canada established the Polar Continental Shelf Project. Since its first scientific forays into the field in 1959, Polar Shelf has built up a logistics support network that stretches approximately 2160 km from Alaska to Greenland, and from the Arctic Circle to the geographic North Pole. In the intervening 50 years the PCSP has played a major role in advancing Arctic science in Canada.
The name of the Polar Continental Shelf Project was broadened to the Polar Continental Shelf Program. As an on-going entity for more than 50 years, and given the nature of its activities, it is better described as a program than a project. This change allows PCSP to retain its name recognition and the history of the organization which is well known by both the Canadian and international scientific community.
Some dates to remember
1958, May 26: The Government of Canada creates the Polar Continental Shelf Project (PCSP).
1959, March 9: The first Polar Shelf field party sets out to begin research that continues to this day into the geology, geography, climate, ecosystems, culture and history of the Canadian Arctic.
1960: PCSP mounts its first full-scale, systematic survey and research program. At the peak of operations, there were 70 scientists and technicians in the field. PCSP establishes its first base at Resolute, Cornwallis Island.
1964: Polar Shelf establishes a base at Mould Bay on Prince Patrick Island in the western Arctic. The base was moved to Tuktoyaktuk in 1968. (See the June 2008 RECORDER article "Personal memories …" by Pierre Marechal, CSEG long time member).
csegrecorder.com/articles/view/personal-memories-of-the-first-seismic-survey-in-the-canadian-arctic
1981: A three-volume Sea-Ice Atlas of Arctic Canada is published showing the results of 19 years of observations from the logs of PCSP pilots, among others.
1979: Launch of the multi-disciplinary LOREX project to study the nature and origins of the Lomonosov Ridge – an underwater 3000-metre-high mountain range running from the continental shelf off Greenland and Ellesmere Island to the Siberian continental shelf.
1983: The Canadian Expedition to Study the Alpha Ridge (CESAR) brings back core samples that contain three million years of history of the Arctic Ocean.
1984: Polar Shelf erects seven wooden buildings and a runway on an ice island – a 3000-year-old chunk of freshwater ice measuring roughly 8 km x 3 km that broke off Ellesmere Island's Ward Hunt Ice Shelf. The runway would melt each summer and would be rebuilt at the start of each spring field season.
1985: Scientists carry out seismic experiments on the ice island to glean information on the structure of the polar continental shelf.
1986: PCSP becomes strictly a logistics coordination agency; the last of its scientific staff return to their host agencies.
1993: The Ice Island drifts southward among the Arctic Islands and breaks up; the research station is decommissioned.
1994: PCSP establishes a Traditional Knowledge Program, providing logistics support to northern community programs involving elders and youth with a focus on preserving traditional aboriginal knowledge and skills.
1996: In partnership with the Canadian Antarctic Research Program, PCSP establishes the Canadian Arctic-Antarctic Research Program to encourage scientific collaboration among Canadian Arctic research scientists and their Antarctic counterparts.
1998: In its 40th anniversary year, Polar Continental Shelf Project is providing support to approximately 800 scientists from Canadian federal and territorial government agencies, northern land claims resource co-management boards, northern communities, Canadian universities and research scientists from other countries involved in roughly 150 research programs throughout the Canadian Arctic.
2008: PCSP celebrates its 50th anniversary. A special lecture series to celebrate the event is held at the Canadian Museum of Civilization in Ottawa, Canada. Recognition is given to past Directors of PCSP and to scientists who benefit from PCSP.
Personal memories of the first seismic survey for oil exploration in the Canadian Arctic Islands
Pierre Marechal, Retired geophysicist
CSEG RECORDER | June 2008 | VOL. 33 No. 06
csegrecorder.com/articles/view/personal-memories-of-the-first-seismic-survey-in-the-canadian-arctic
https://csegrecorder.com/assets/pdfs/2008/2008-06-RECORDER-Personal_Memories.pdf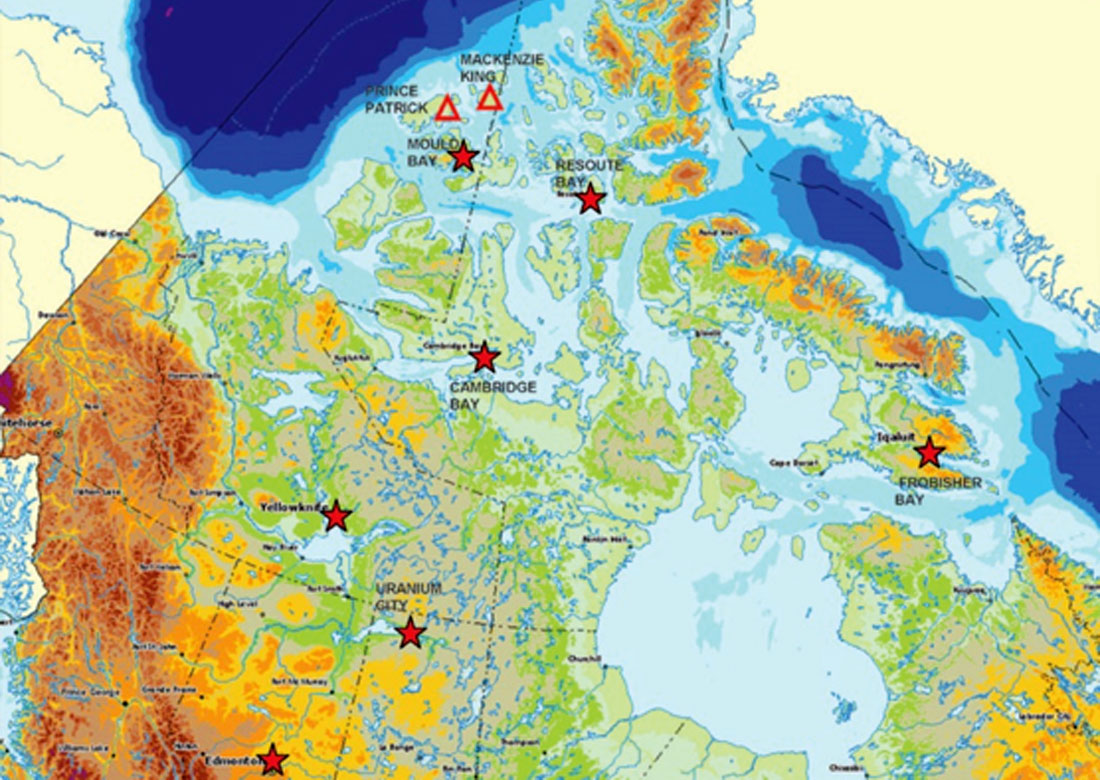 "...It also included a plane ticket on a PWA monthly flight from Resolute Bay to Edmonton and Calgary for the last week of April, and a short note from R.G Levy telling me: "do not worry Pierre, in March it is already spring time in the Arctic".
Two months later, carrying my warmest mountaineering clothes, I arrived in Ottawa where I met with several people of the Polar Continental Shelf Project and The Dominium Observatory. Some of the names I remember were Tony Overton, George Hobson, and George Sander. Unfortunately many others are now forgotten.
Like the rest of the crew, I was then issued standard arctic equipment (parka, mukluks, aviation pants, arctic sleeping bags, etc…) which soon proved to be much more useful than my own "warm gears".
A few days later, on board a chartered DC4 loaded with cargo and people, I had my first taste of "spring time in the Arctic" when landing at Frobischer Bay, Resolute Bay and finally Mould Bay with a balmy -45 degrees temperature."