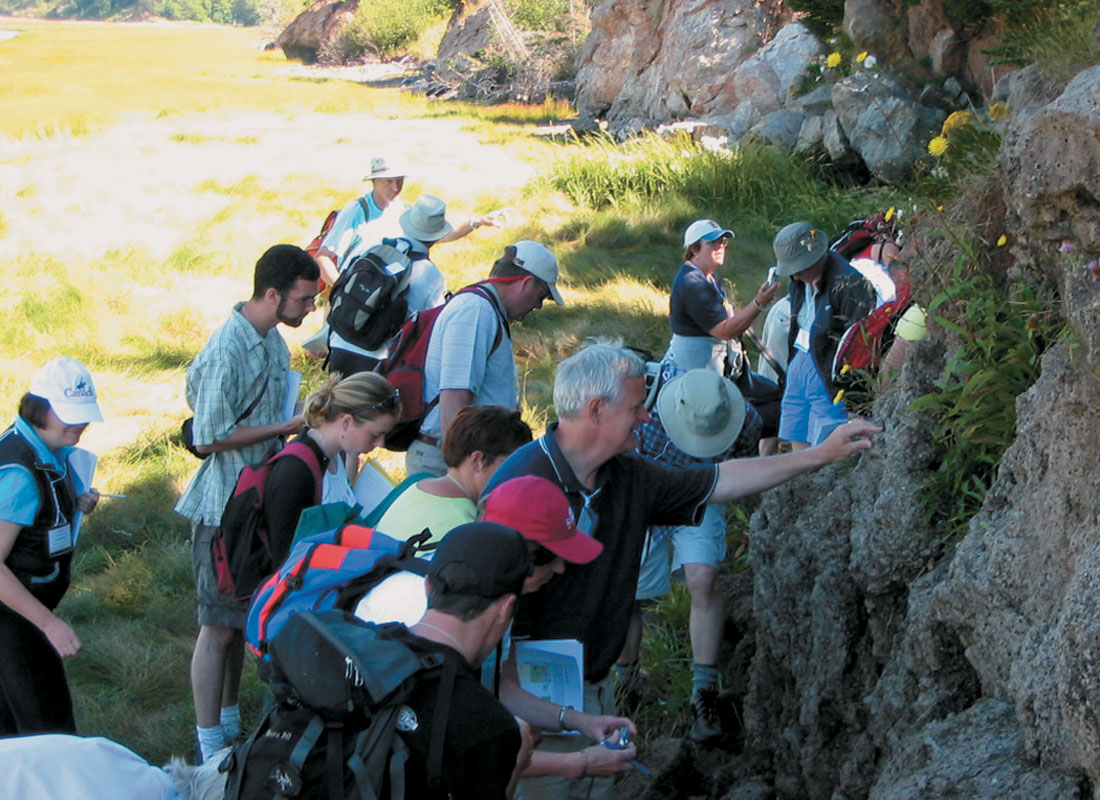 EdGEO, is a national program which supports local workshops on Earth science for Canadian teachers. Grants of up to $3000 are provided per workshop. EdGEO is coordinated by the Canadian Geoscience Education Network (CGEN) of the Canadian Federation of Earth Sciences (CFES) and is funded primarily by the CSPG (Canadian Society for Petroleum Geologists), CFES and CGEN.
EdGEO workshops are organized by local geoscientists and teachers, and aim to provide teachers with enhanced knowledge, classroom resources, hands-on activity ideas and increased confidence. By providing these opportunities for today's teachers and, through them, their students, EdGEO seeks to cultivate a heightened awareness and appreciation of our planet. The expected result is an improved capacity on the part of Canadians to understand the Earth and to make wise decisions, especially with regard to the use of its mineral and energy resources, the maintenance and remediation of the environment, and response to geological hazards.
In 2007, EdGEO supported 12 workshops (six in BC, two in Alberta, two in Ontario and one each in Saskatchewan and Nova Scotia) for a total of 287 teachers. Of these, 108 were student teachers primarily in BC and Saskatchewan.
Some comments from the 2007 teachers;
"This workshop has given me skills knowledge and resources that I want to implement in the classroom."
"Interesting topic, look forward to teaching it."
"I thoroughly enjoyed this workshop – helpful, meaningful, educational and most of all, fun!"
"This is the best Pro-D I've attended for years. The resources that were given out are awesome and I will use them in my teaching."
"I really liked the hands-on aspect, trying out experiments before hand is always good."
"Great classroom activities."
"Resources very valuable to my teaching career."
"Great basic knowledge."
"The presenters were outstanding. It is wonderful to have individuals give such great insight into local geology."
"I will be able to teach this unit (Grade 4 rocks and minerals) with a lot more knowledge, enthusiasm and appreciation of the Earth's crust."
"The field trips were a great inspiration."
2008, the International Year of Planet Earth, promises to be very exciting for EdGEO. We have already had five highly successful workshops in Saskatchewan, and many more are organized for other parts of the country. Come and join us! For more information on the EdGEO program, or to apply for funding for a workshop in your local area, visit our website at www.edgeo.org.